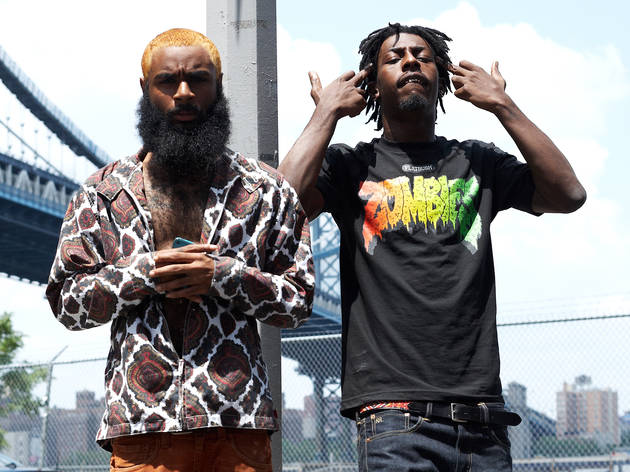 SXSW roundup
Hip-hop ruled at South by South Vegas.
We came, we saw—my sweet Lord, did we see—and we returned home with our hearing fully intact. But what did we learn at this year's SXSW festival?

RECOMMENDED: All SXSW coverage

Well. SXSW 2013 was officially the longest SXSW ever, kicking off on a Tuesday and finishing up Sunday night. People, that's five whole days of nonstop music. And by nonstop, we mean you can hear it from your hotel room when you wake up and when you go to sleep, and just about anywhere else in Austin, you'll hear a minimum three bands blaring out of any random bar, café or pop-up spot. Is this a good thing?

Sometimes, absolutely. On Thursday I all but dropped my fork at lunch and grabbed the check so I could run across the street to see what I was hearing—a band that sounded like a funkified Dirty Projectors and turned out to be fronted by twin sisters from Portland, Oregon. So what if they had one of the worst names this writer has ever encountered—Acoustic Minds (shades of Sparkle Motion)? They're changing their name to AM (phew!), and the music is astonishingly good.

The other bonus of wall-to-wall live music, and the subsequent gig fatigue it produces, is that it drives attendees to the conference center. Let's not forget that SXSW is not just a music festival, but also a conference: a gathering of music-industry professionals and musicians, locked in a kind of strange dance together. Bands hoping to catch their big break and get signed (as many do; see our slide show), A&Rs looking for artists to rep, publicists publicizing, writers writing… And then there are the talks—which this year were uniformly excellent. In one day, I saw (and, yes, tweeted) three utterly fascinating talks that couldn't be more different from each other.

Kicking the day off, Dave Grohl took the stage as the SXSW 2013 keynote speaker. Some fans had arrived at the center at 7am to get front-row seats, and their excitement was justified. Grohl is every bit as deliciously charismatic as all those nicest-man-in-rock accolades suggest. He's funny (he likened the sound of his first guitar to those goats-yelling YouTube videos), self-effacing (at age 13, Grohl and his band played the Stones' "Time Is on My Side" in a nursing home) and candid. About halfway through his talk, he started to say, "When Kurt died…," and then stroked his mustache and thought for a moment. The enormous, jam-packed ballroom was completely silent. Grohl continued, explaining how he'd been unable to listen to music at all at that time, that hearing anyone else articulate their pain was too difficult. His speech ended on an upbeat note, with a vignette of his two little girls dancing to the Beatles. It felt like one had truly been given an insight into Grohl's inner life, as well as his working life.

Next up, a talk in a tiny conference room, hosted by Sylvie Simmons, author of the recent Leonard Cohen bio, I'm Your Man. Joining this feted rock writer were Cohen's two backing singers and actor-singer Ronee Blakley, to discuss performing with Cohen. Naturally, this included some fairly blue anecdotes; Leonard has flashes of locker-room humor. The talk closed with Blakley singing an a cappella take on Hank Williams's "Your Cheatin' Heart," which made the little gray room feel pretty darn close to heaven.

If there was a hero of SXSW, though, it was Kendrick Lamar. The super-hot hip-hop star played killer sets throughout the week, and truly has a pandimensional appeal. And here he was, in conversation with Rap Radar's Elliott Wilson, discussing success. At first impression, Lamar is young, humble and funny; he joked about how it wasn't so long ago that he and his crew were eating dollar meals at McDonald's. He said that no, he didn't need a vacation—the touring is enough; his L.A. neighborhood, Compton, is a bubble, he said. He's 25 now, and at 23, he'd never even visited the Hollywood Hills. When he gets back from touring London, or Berlin, or whichever exotic locale he's been to, he tells his old crew, "Yo, Miss Washington wasn't lying—they really do talk like this!" But Lamar—as anyone who's listened to his magnificent album, Good Kid, M.A.A.D City, will tell you—is also a rare talent: imaginative, driven, and super-smart. Asked by the presenter when he'd be sharing footage from the recording studio, Lamar replied that he might in a few years' time—when it's classic, and won't date. He knows what he's doing.

But what of the live music? Who was amazing at SXSW? For this writer, the best show of the fest—and one of the best shows I've seen in years—was Nick Cave and the Bad Seeds. Who knows how old Cave is these days? 40? 50? 60? He's a truly magnetic performer, and at Stubb's expansive outdoor venue, it felt like Cave had distilled the best of everything; his writing every bit as intense as it's ever been, from the dark humor of new songs like "Push the Sky Away," an apparent ode to Hannah Montana, to such breathtakingly, soul-stealingly lovely lines as "I watch your hands like butterflies landing" ("Wide Lovely Eyes," also from this year's Push the Sky Away album). He was electric onstage, moving like a hellfire preacher for songs like Bad Seeds classic "Deanna," his gangly limbs clawing at the air, kicking the ground, the band no less animated. Most music junkies are secretly in search of some kind of transcendental, quasi-epiphanic moment at a live show—and this was mine.

But rock was not what energized SXSW this year. Not the buzzy, scuzzy indie-rock bands that blared out of every other bar on 6th Street, nor Dave Grohl's Sound City Players at Stubb's. Grohl is an awesome talent (see above), but with special guests galore and gleaming sound, the show was just…boring. To these ears, it plodded, and dragged. I crossed the highway to get to Peter Rosenberg's NYC hip-hop showcase. Walking in to the North Door venue was like having a massive gin and tonic at the end of an exceedingly hard day. The room crackled and sparked and smoked. A three-man crew bounded on stage, two of them just kids, bouncing menacingly across the stage, occasionally taking running jumps into the crowd. I was awestruck, and asked a rangy young woman with a feather hair-band if she knew who was performing. Blankly, she replied, "A black guy." I didn't have any words to respond then, nor do I even know where to begin now. Suffice to say, A$AP Ferg (the lead MC, as it turned out) delivered "Black Man, White World" with impeccable timing.

That same night I headed to Bar 96 to see Flatbush Zombies (whom we previewed here), and again was wowed and inspired by the group's hot-wired energy and fuzz-frazzled psychedelia. By coincidence, A$AP Ferg was up again, and just as impressive as the first time. Veteran Southern rap hero Killer Mike closed the set.

Hip-hop and R&B loomed large at SXSW's big "secret" shows this year, too. Justin Timberlake played for MySpace, and the Doritos Stage (have we sunk to a new low, naming art venues after chips?) hosted a stacked one-nighter with LL Cool J, Ice Cube and Doug E. Fresh. I'm pretty sure that even if I'd hauled in Pope Francis as my plus-one I still couldn't have gotten into that one.
Which brings me to my biggest SXSW grumble. The celebrity secret shows are obscenely fun and exciting, when you can get into them (check our Kanye West coverage from 2011). But most of the time, most people can't. The biggest show this year came from Prince, and while I would've gnawed my way through bars of steel to get in, Samsung called the shots on this one, and we didn't get press access. The competition for tickets was won by members of the public who checked in at various hotspots to win various food items, and maybe a Prince ticket. Like I say, awesome for those who can get into these superhyped and certainly amazing shows. But it rather casts a shadow over the festival's regular ol' headliners, like Vampire Weekend—back in brilliant form with a brand-new album, but ultimately, not Prince.

The corporate world has truly sunk its claws into SXSW. But then again, hasn't it sunk its claws into everything? Aren't artists trying just about any means to make their craft viable? To be able to make a living or (heaven forbid) secure health insurance while making music? At a conference-center panel discussion, the controversial singer Amanda Palmer talked about her self-constructed empire, and the social-media slog that's required to get from A to B to C (which may as well stand for artist, blogosphere and cash) these days. She said she's genuinely worried as to what will become of those artists shy of self-promotion, the Elliott Smiths of today. I believed her, and share her concern. Doritos aren't going to sponsor the loser kids, are they? And the cool kids—the future Nick Caves—probably wouldn't take 'em anyway.

One thing that resounded at SXSW, though, is that for all its overt quasi-Vegasisms, the spirit of DIY is still alive and in fighting form. From Dave Grohl showing us how he multitracked as a kid using two shitty cassette recorders onstage, to Kendrick Lamar making the music he liked as a teen, cracking the jokes he thought were funny, to Palmer gearing up to play 32 shows around the world in fans' houses: Whatever it is they're trying to say, the musicians, by and large, still mean it, man.

See Marley Lynch's SXSW recap