SXSW roundup
A recap of the marathon gig.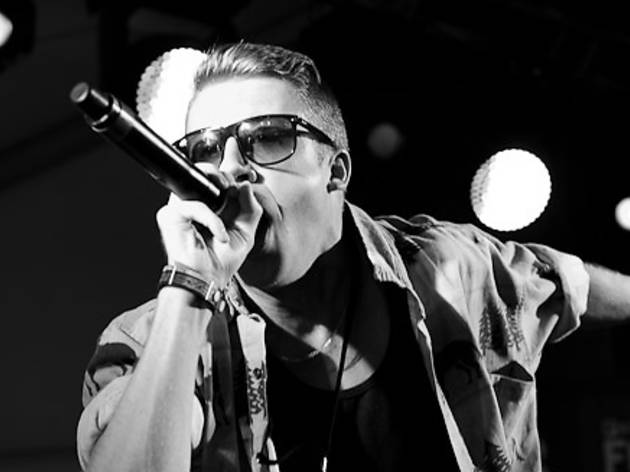 After a few nights of substantial sleep and meals not consisting solely of chips and queso (hello again, green leafy things!), I've successfully put my brain back together in order to relay what actually happened in Austin during SXSW 2013. What follows is my account of what I heard, unearthed and conquered during the big Texas fest.

RECOMMENDED: All SXSW coverage

For all of its reputation as a medium "for indie artists get discovered," it's getting increasingly difficult to discover an act from scratch in the land of many bands. For starters, there's the draw of big-name musicians on the marquee, this year more than ever: Justin Timberlake, Prince and Smashing Pumpkins are just a sample of the festival closers on Saturday night, within mere miles of one another. Besides carrying the perpetual bug to find new tunes, I had my heavyweight ambitions: Kendrick Lamar,Yeah Yeah Yeahs and Vampire Weekend. Seeing those three acts in the span of a couple days was an aural dream, and came with its share of revelations. Hip-hop hero Lamar is brilliant, humble and well mannered; the long-awaited YYYs comeback will not disappoint, and new material like lead single "Sacrilege" is sinfully good; and the polished Vamps have wizened for their upcoming third album, incorporating swaggering observations into their lyrics, rockabilly and electro influences into their familiar jangle, and even pogoing dancing onstage.

On the other end of the spectrum were those blossoming artists whose debut is freshly released or yet to come, but who've attained an inkling of prominence through commercial licensing or viral YouTube videos. SXSW is the place for them to prove their mettle as more than one-hit wonders. One of those acts, and one of the most hyped to appear last week, was Icona Pop, a Swedish duo responsible for the massive endorphin-boosting anthem "I Love It." It's safe to say that 99 percent of the band's following couldn't name a song besides that one smash—myself included. Yet the synth-poppers drew capacity crowds to nearly every set—myself included. And we weren't disappointed. With high-octane hair-whipping and even higher-octane EDM beats, the two ladies rattled the walls with unbridled cuts that dripped with just as much punk irreverence as the one that put them on the map. And when that cult favorite came on, well, you haven't lived until you've jumped and shouted, "I crashed my car into the bridge / I don't care. I love it!" with every ounce of your lung power, in unison with hundreds of strangers.

For me, it was the experiments of these B-list buzz bands that captivated most. Transfixing me not once but twice over the course of the week was British 20-year-old Charli XCX, whose appearance places her miles from the mainstream; three encounters with the lady (including one offstage) saw her dressed in variations of high-waisted plaid bottoms, Spice Girl–era crop tops and platform sneakers, with a leather dog collar around her neck. But her sound is pure pop, and onstage she exudes untortured confidence, gyrating her hips in a PG-rated style with irresistible synth goodness. A highlight of her slim catalog is '80s-throwback jam "Nuclear Seasons," produced by Ariel Rechtshaid (Vampire Weekend, Blood Orange); if her debut, True Romance, out next month, follows that lead, she'll have easily accomplished her stated goal of making powerful pop music.

Also bending expectations in a spine-tingling way was Autre Ne Veut, the project of Brooklynite Arthur Ashin. Bringing bedroom artists out of their recording environment can be a risky proposition, but the falsetto-voiced singer-songwriter hypnotized a boozy daytime crowd into swaying submission with his glitchy sex soul. Live, clattering drums and studio add-ins (sharp feedback, pitch-shifting, creaking doors) layered over patchwork synths and introspective lyrics put him in a stable with artists like Miguel and the Weeknd, taking R&B into exciting, uncharted territory. Ashin recently released his second LP, Anxiety, on indie label Software, and this writer wouldn't be surprised if he landed a bigger deal after this auspicious week.

Somewhere in between are the buzzy acts like Solange, Toro Y Moi and Unknown Mortal Orchestra, who constitute the biggest tier of bands but feel way too monitored by a constant Twitterrific stream of Pitchforkian blogs to be considered under-the-radar. Testing their staying power last week were rappers Macklemore & Ryan Lewis, whose horn-blaring chart-topper, "Thrift Shop," recently took them from Seattle faves to indie titans. Unlike most live acts who save the buzziest for last, the duo kicked off with the song. Sure, plenty of people filed out of the venue once they'd heard what they came for—but they missed a triumphant, red-hot spectacle of rapid-fire rhymes and inspirational wordplay, with a guest spot from Talib Kweli, no less. From queer-equality anthem "Same Love" to uplifting closer "Can't Hold Us," it was gloriously moving, too. And when Macklemore waxed on "the hunger of being an artist," we were reminded what drives all 2,500 acts of the fest, from groups like Iggy and the Stooges with nothing left to prove to the anonymous keyboardist playing on the sidewalk with no one listening. Fortunately, in a festival—and a world—populated by music lovers thriving with a relentless hunger to uncover new material, there's always room for new voices and fresh visions.