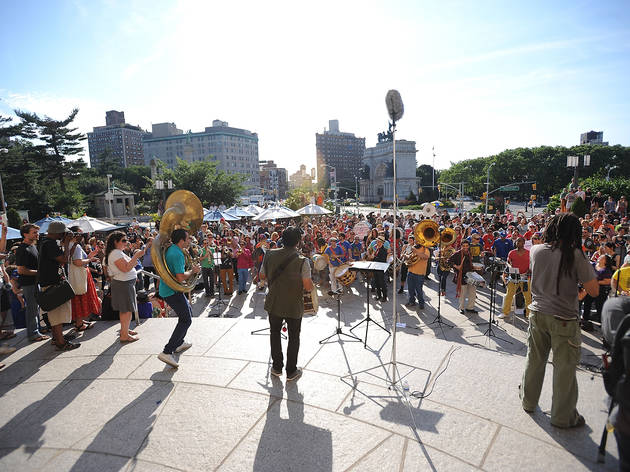 The 10 best performances to see at Make Music New York 2015
With 1,200 free performances, this awesome citywide outdoor event can get overwhelming—use our timed guide to make sense of the proceedings
Tons of great outdoor summer concerts happen in NYC every year, sure, but the schedule is never more packed then when Make Music New York rolls around. The annual event, happening Sunday, June 21, presents more than 1,200 musical performances all over the city, at venues from Central Park to the Marine Park Vitamin Shoppe. Our guide highlights some of the best ones at each point in the day.
What to see at Make Music New York 2015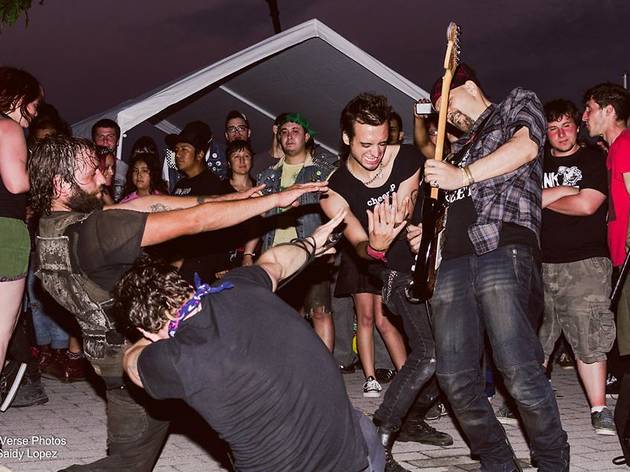 Saidy Lopez
10am–9pm Punk Island at Coast Guard Plaza and Pier, Staten Island
Expect St. Marks to be suspiciously empty today, as more than 100 punk bands—of the gutter-punk, hardcore-punk and ska-punk varieties—take over seven stages on Staten Island.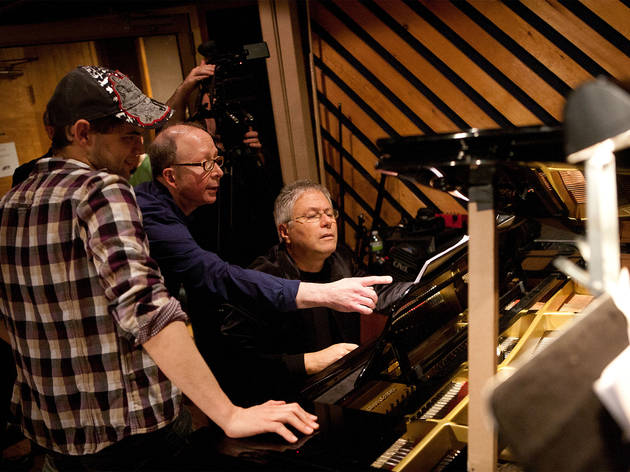 Photograph: Matthew Murphy
11am–2pm Street Studio at Trans-Pecos, 9-15 Wyckoff Ave, Queens
Stop by this mobile recording studio in Ridgewood, one of 12 around the city, to contribute a vocal or instrumental snippet to the music being created on the spot.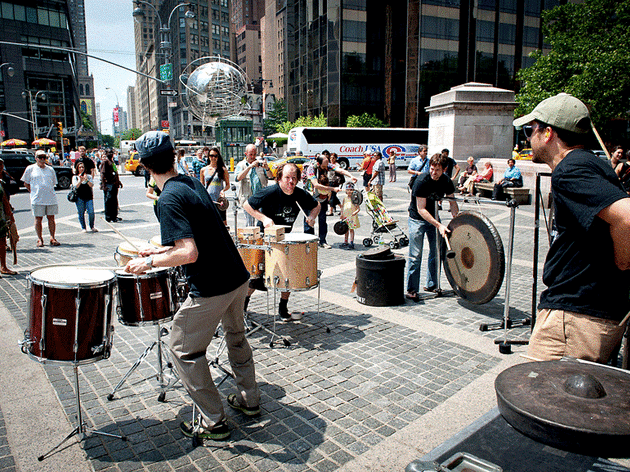 Noon–1pm Mass Appeal Gongs at Grand Army Plaza, Brooklyn
One of MMNY's single-instrument Mass Appeal get-togethers, this improvised performance, led by Loop 2.4.3., features gongs galore, including a four-octave set of tuned Thai nipple gongs.
1–5pm Porch Stomp at Governors Island
Bluegrass, old-timey folk, and Americana acts such as Homesick Hound Dogs and Gypsy George gather for an afternoon hootenanny.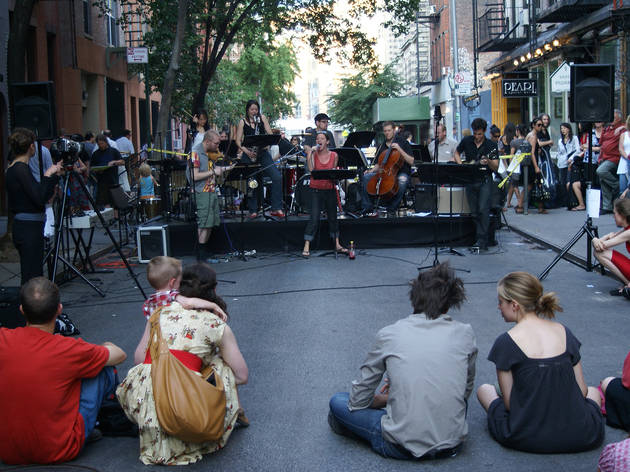 Photograph: Rick Levy
1:30–4:30pm Concerto for Buildings, Greene Street at Broome Street
The structures aren't just the setting here—they're the instruments, as 24 percussionists and an orchestra resonate through the cast-iron facades of eight buildings.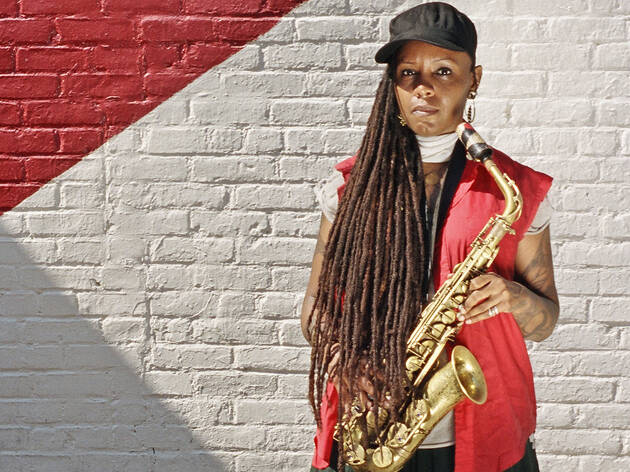 Photograph: Evan Hunter McKnight
2–4pm Exquisite Corpse hosted by Matana Roberts at Abe Lebewohl Park, E 10th St at Second Ave
The local avant-jazz saxist leads an interactive improvisation: Bring your own horn or ax and join in.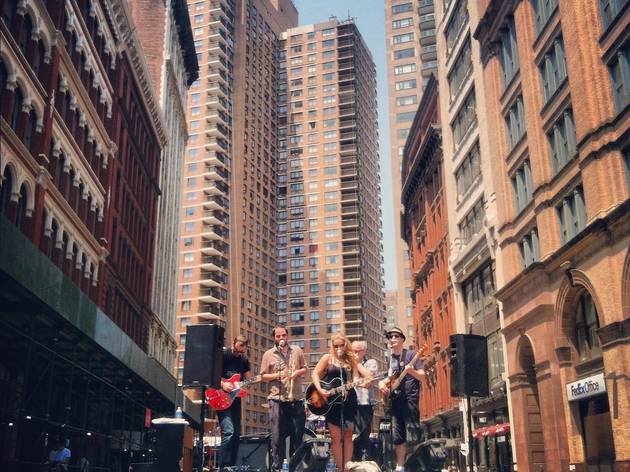 3–3:45pm Mass Appeal Klezmer Violins at Joe's Pub Block Party, Astor Place at Lafayette Place
A horde of fiddlers converges outside Joe's Pub to perform horas and freylekhs and other klezmer tunes.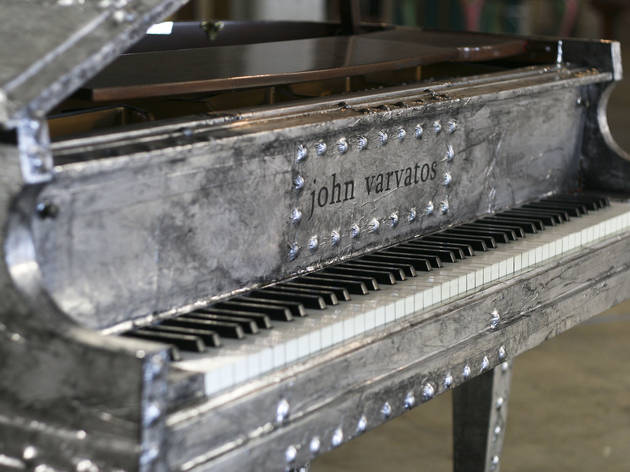 Photograph: Lori Leverknight
4:30–5:15pm Clavinova Piano Bar at Carnegie Club, 156 W 56 St
Pianist Nate Buccieri does Sinatra from the back of a pickup truck, playing five 45-minute sets around town. Sidle up and he'll even toss you the mic.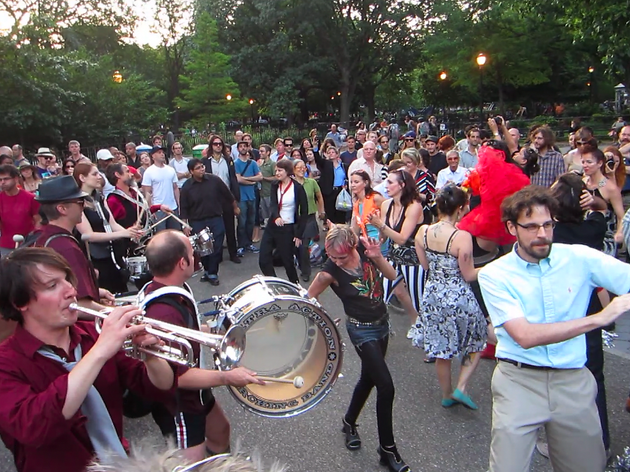 5–7pm Percussia: Echoing Drums at 40th Street MTA parking lot, Queens
Queens ensemble Percussia sets up drums under the 7 train in Sunnyside for a series of booming duets.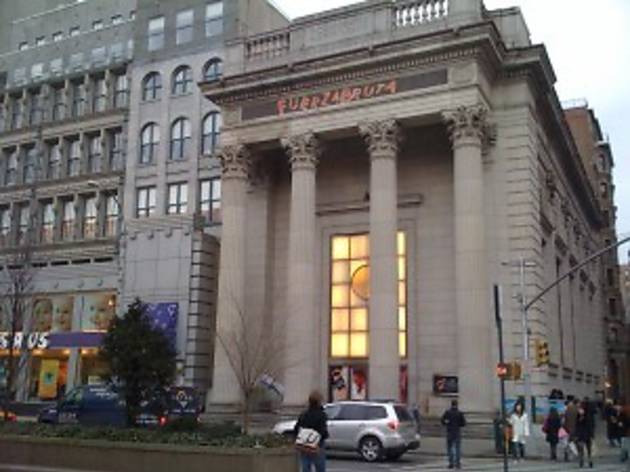 6pm Pop-up musicals at Daryl Roth Theatre, 101 E 15th St
Catch the last stop of this roving Broadway revue, in which performers sing tunes from musicals such as Hair, Avenue Q and The Last Five Years.