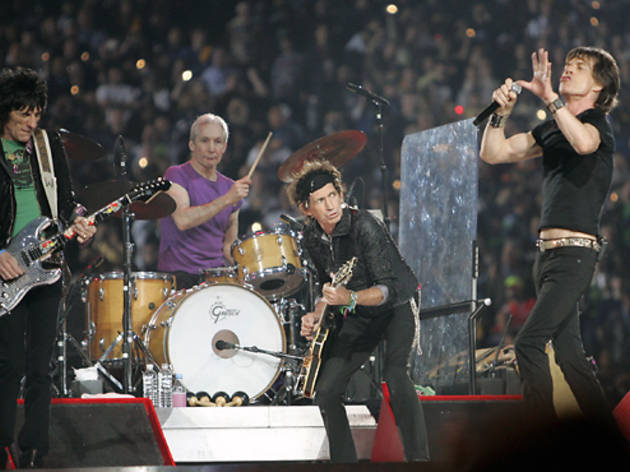 The Rolling Stones guide to New York City
As the Rolling Stones hit town for shows at the Barclays Center and Prudential Center, we look back on their five-decade fling with the city that never sleeps.
To celebrate their 50th anniversary as a group, Mick, Keef & Co. will spend three highly anticipated nights together in the greater New York area, kicking things off this week in Brooklyn (Barclays Center, 620 Atlantic Ave at Flatbush Ave, Prospect Heights, Brooklyn; 800-745-3000, barclayscenter.com; Sat 8 at 8pm; available tickets $454.50–$754.50) before heading across the Hudson (Prudential Center, 25 Lafayette St between Broad and Mulberry Sts, Newark, NJ; 973-522-4800, prucenter.com; Dec 13, 15 at 8pm; available tickets $450–$750). As the Stones' only scheduled U.S. dates, the shows' announcements created a sizable buzz. But it's hardly the first time the rockers have caused a stir in NYC—as these moments attest:
The Stones play Carnegie Hall (154 W 57th St between Sixth and Seventh Aves; 212-247-7800, carnegiehall.org) a mere four months after that other oddly coiffed band from England does. A gaggle of screaming teenage girls goes apeshit—supposedly some get so excited they uncontrollably urinate themselves as the lads pound out peppy blues covers.
A similarly chaotic scene erupts during the Stones' first appearance on The Ed Sullivan Show (Ed Sullivan Theater, 1697 Broadway between 53rd and 54th Sts). The host is reportedly so irked by the commotion that he swears the band won't be back. (That threat doesn't stick—not to suggest that things become amicable. During his fifth appearance on the show, in 1967, Jagger reluctantly, per Sullivan's demands, sings, "Let's spend some time together" instead of "Let's spend the night together.") Peep videos of the group's gigs on Sullivan and other programs, as well as 70 rare photos, at the "Rolling Stones: 50" exhibit (The Paley Center for Media, 25 W 52nd St between Fifth and Sixth Aves; 212-621-6600, paleycenter.org; through Jan 6; $10, seniors and students $8, children under 14 $5).
The single "Have You Seen Your Mother, Baby, Standing in the Shadow?" drops. Never opposed to stirring up controversy, the boys are pictured dressed in drag outside 124 East 24th Street (between Lexington Ave and Park Ave South) on the back sleeve of the U.S. release.
The superstars host the season-four premiere of Saturday Night Live, performing a noticeably sloppy "Shattered." (They seem pretty boozed up throughout the taping; after the episode wraps, gossip spreads that Richards was cut from two sketches at the last minute because he was too blotto.) Jagger reportedly penned the aforementioned song in the back of an NYC taxi, an appropriate setting for a tune that nods to late-night partying (he was a regular at Studio 54), garbage-piled sidewalks, fashionistas, rats and other references identifiable with late-'70s Manhattan.
Director Michael Lindsay-Hogg shoots the music video for "Waiting on a Friend" (the best bromance song ever?) in the East Village. Mick sings on the stoop of 96–98 St. Marks Place (between First Ave and Ave A)—the same building pictured on the cover of Led Zeppelin's Physical Graffiti—while Keith smokes, smirks and saunters down First Avenue. The Glimmer Twins then meet up for drinks with the rest of the band at a now-shuttered dive.
En route to a press conference announcing their Bridges to Babylon tour, Mick, Keith, Charlie and Ronnie cruise over the Brooklyn Bridge (get it?!?) in a swanky convertible.
Martin Scorsese, as ardent a Stones fan as they come (just check out his movies' soundtracks), captures the Stones' show at the Beacon Theatre (2124 Broadway at 74th St; 212-465-6500, beacontheatre.com) for his 2008 doc, Shine a Light. The filmed concert (with appearances by Jack White and Christina Aguilera) proves that the group, some 40-plus years into its career and in spite of all rock & roll clichés, can still bring it.