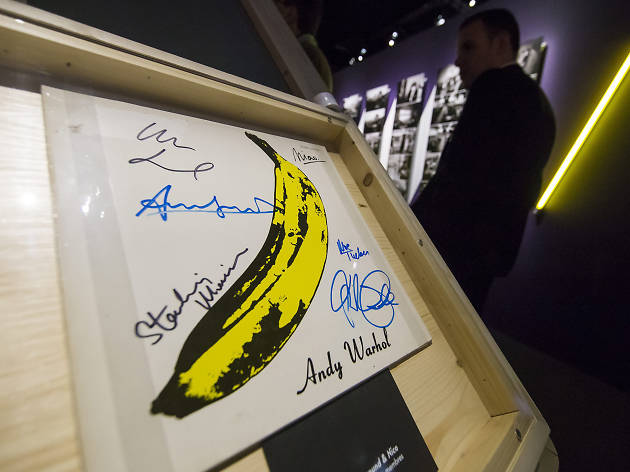 Inside the new "Velvet Underground Experience" coming to NYC
Legendary rock band the Velvet Underground is the subject of a new exhibit hitting Soho this fall.
In 1964, the Velvet Underground formed in New York City, where the band would later meet Andy Warhol, join the Factory scene and record many of its greatest songs. So it only makes sense that a new multimedia exhibition about the quintessential New York band is opening here, starting on October 10. First mounted at La Philharmonie de Paris more than two years ago, "The Velvet Underground Experience" documents the band's story through music, film and photography, with more than 1,000 objects on display. We recently spoke with the show's curator, Christian Fevret, to discuss seven of the exhibit's highlights and their significance to the group's history.
"The Velvet Underground Experience" takes place at 718 Broadway from October 10 to December 30 (velvetunderground-experience.com). $25–$50. Buy tickets.
The Velvet Underground in Seven Items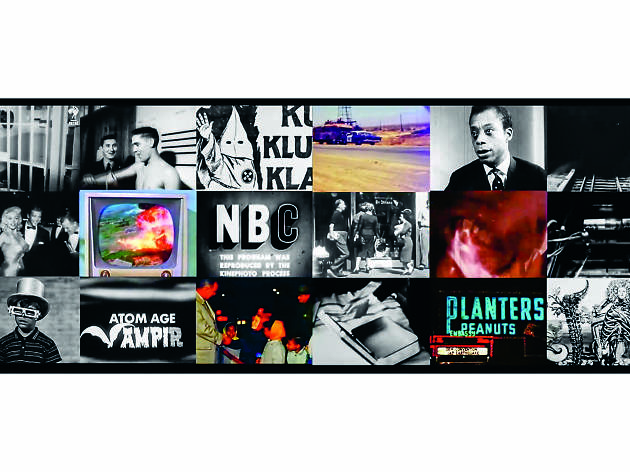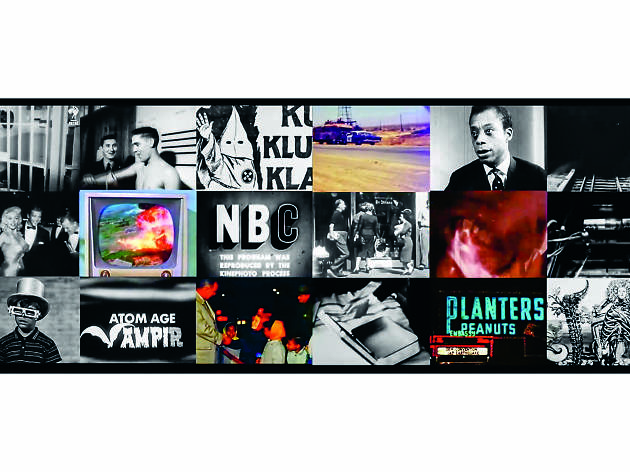 Photograph: Courtesy Cité de la Musique-Philharmonie de Paris, Un Monde Meilleur
Visitors at the exhibit will see filmmaker Jonathan Caouette's "America America," a visual mash-up of archival clips and images that depicts U.S. history during the postwar boom before the Velvets formed; a narration of Allen Ginsberg's 1956 poem "America" accompanies the film. "We want people to feel from the very beginning of the exhibition how America was at the end of the '50s and the beginning of the '60s when Lou Reed began to write songs and John Cale arrived in New York," says Fevret. "On one hand, America was a consumer society at its biggest. On the other, you had the counterculture in movies, literature and politics."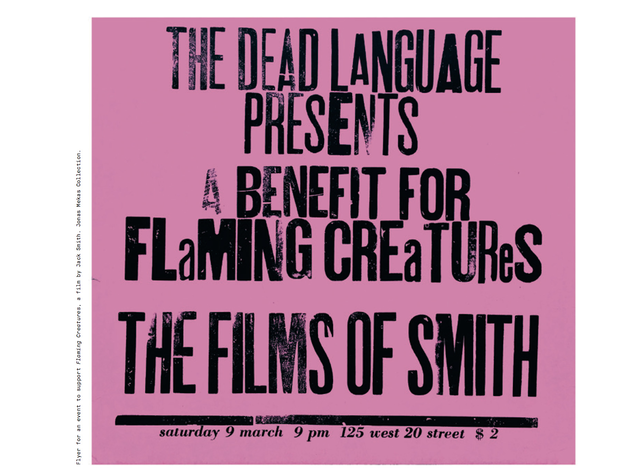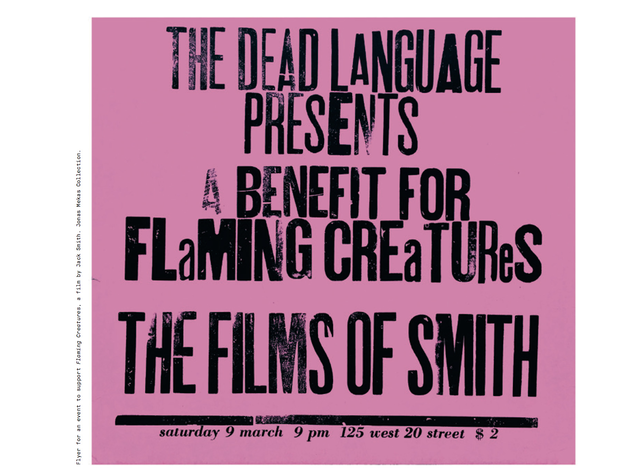 Photograph: Courtesy Jonas Mekas Collection
Fevret selected this vintage flyer for the exhibit to represent avant-garde filmmaker Jonas Mekas, who was arrested in 1964 for screening Jack Smith's experimental and controversial film Flaming Creatures. It was Mekas who founded the Film-Makers' Cinematheque, formerly located on West 41st Street, where the Velvets performed several dates in February 1966. Mekas also filmed the band's appearance at the Delmonico Hotel. "He heard about the band from the very beginning. The Cinematheque was the first space where the Velvet Underground really played in public together," says Fevret. "It is interesting to see the link between music and cinema—how the musical underground worked with the movie underground."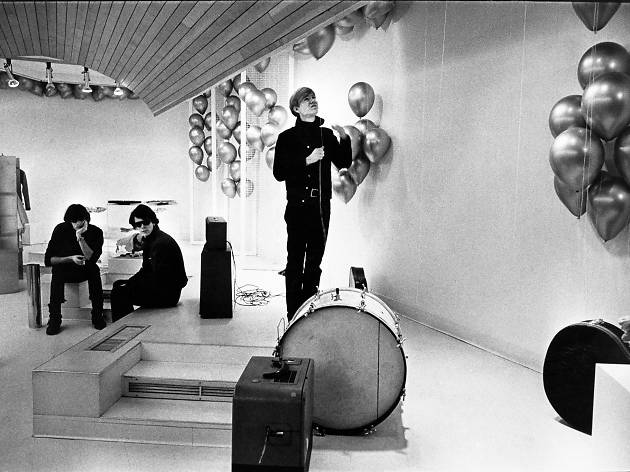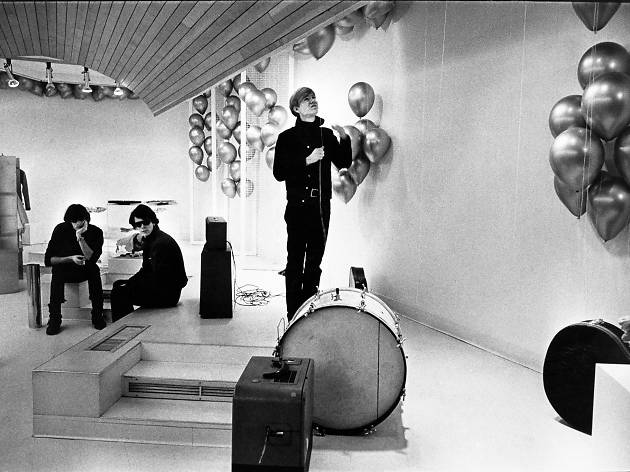 Photograph: Courtesy Nat Finkelstein Estate
The Velvets and Warhol at Paraphernalia
In March 1966, the Velvet Underground performed at the opening of Paraphernalia, a clothing store on Madison Avenue. Nat Finkelstein's photo of Warhol, Reed and Sterling Morrison shows them preparing for the event. "The band was already rehearsing and hanging out at the Factory [Warhol's studio on East 47th Street]," says Fevret. "Each time Andy Warhol was asked to do something, he took the band with him. For the opening, [fashion designer] Betsey Johnson invited Warhol and the Velvets to do the show. In the picture, you can see Warhol preparing the balloons and Sterling and Lou. Two years later, John Cale would marry Betsey Johnson."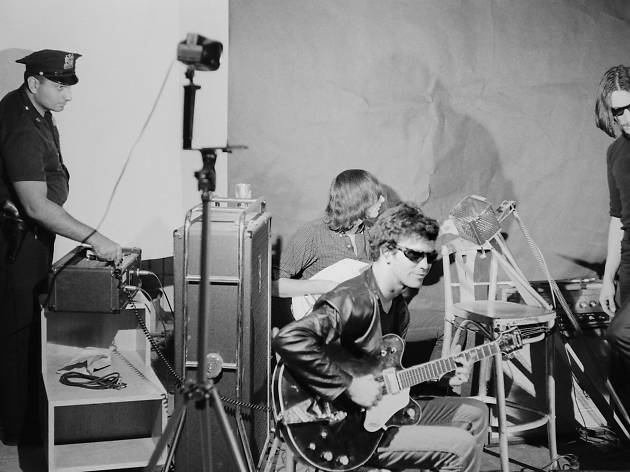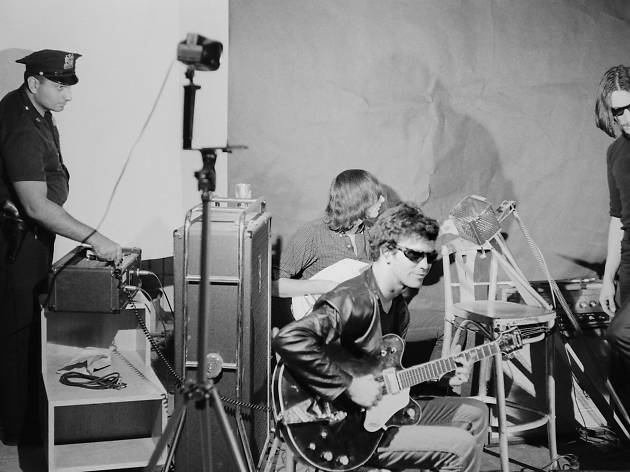 Photograph: Stephen Shore/Courtesy 303 Gallery New York
The Velvets and a cop at the Factory
Acclaimed American photographer Stephen Shore was only in his teens during the mid-'60s when he took photographs of the Velvets (shown here are Reed, Morrison and Cale during a rehearsal) as well as Andy Warhol and his associates at the Factory. The noise generated by the band attracted the attention of Warhol's neighbors and, eventually, New York's Finest. "The police came in and said, 'Shut down everything,' " Fevret explains. "But the Velvets continued to play, so the policeman went to cut the amplifier. Shore managed to take the photo exactly at that moment. It's a historical and quite funny picture."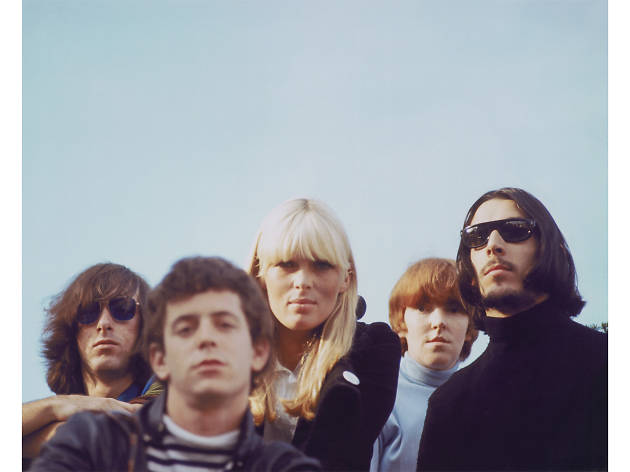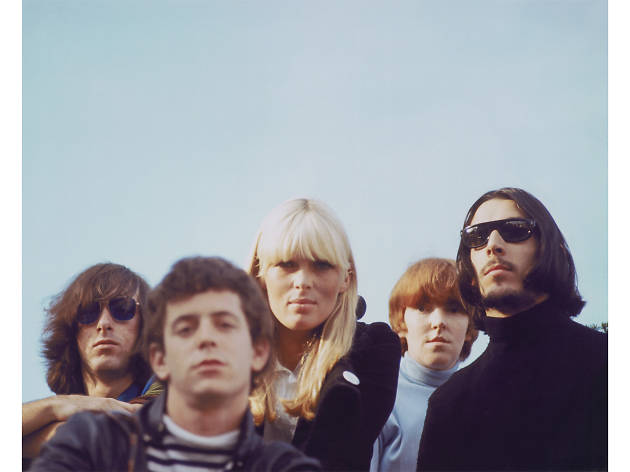 Photograph: Courtesy Cornell University - Division of Rare Manuscript Collections
A color photo of the band and Nico
This photo from 1966 is one of the few to capture the Velvets, including German singer Nico, in color, according to Fevret. That year, in addition to performing as part of Warhol's multimedia show Exploding Plastic Inevitable and working on its first album, the band traveled to Los Angeles to play at the Trip club for a scheduled long engagement. Through no fault of the band, the authorities shut down the club after the first few dates. Fevret notes: "The reception in L.A. from the press and the audience was very bad because they didn't understand. It was the middle of Flower Power, and suddenly, you had this dark band coming from New York. This gap between the L.A. audience and the Velvets' music made the encounter almost impossible."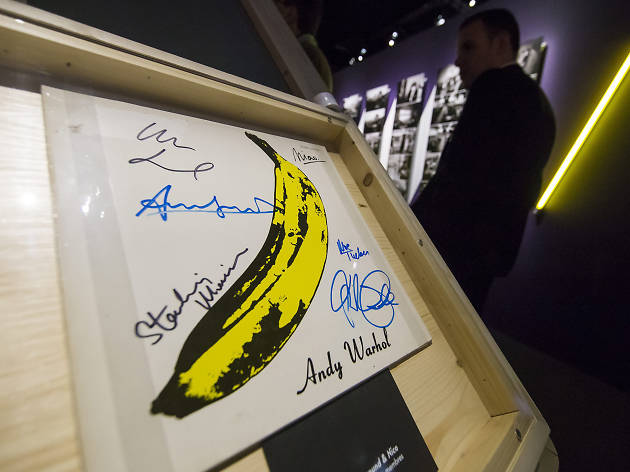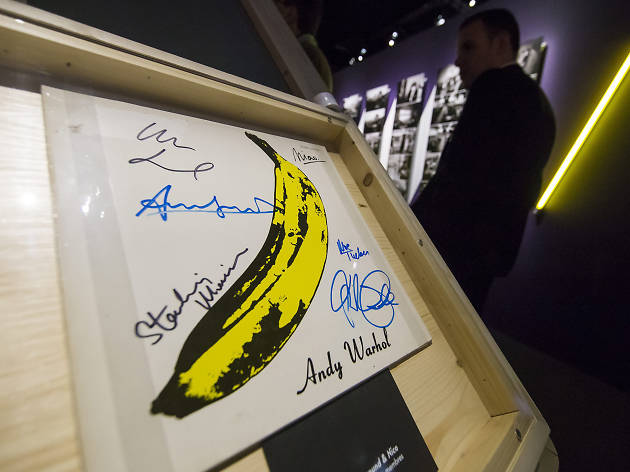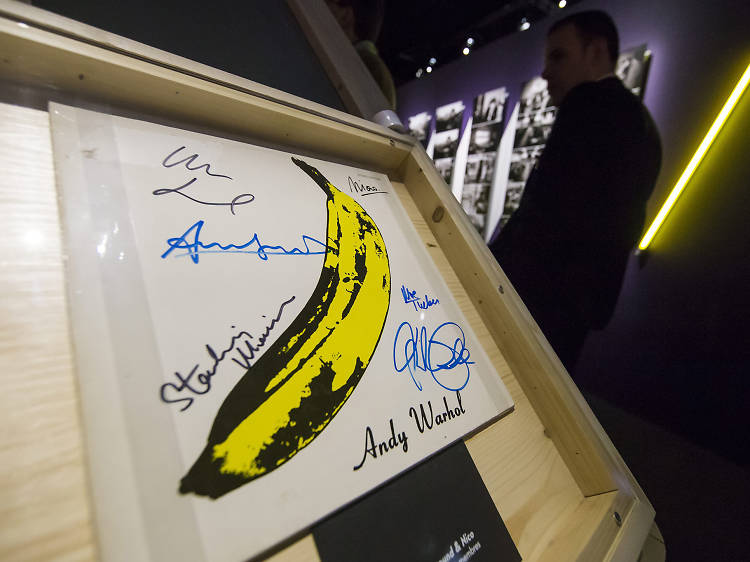 Photograph: Ian Langsdon/Epa/REX/Shutterstock
A rare and signed copy of the "Banana" album
While it didn't make a commercial dent when it was first released in 1967, The Velvet Underground and Nico is considered one of the greatest and influential albums in rock history, highlighted by its famous Warhol-designed banana cover. A rare copy of the record signed by the band members will be on display at the exhibit. "We worked with a lot of great collectors," says Fevret, "and one of these collectors has this fantastic item. I think he spent years to get each signature one after the other."
Photograph: Courtesy Claude Ventura Collection
Video of the ex-Velvets reuniting in Paris
After their departures from the Velvet Underground, Reed, Cale and Nico performed together at the Bataclan theater in Paris in early 1972, an event filmed by Claude Ventura (and released on CD decades later). According to Anthony DeCurtis's book, Lou Reed: A Life, the Bataclan concert would be the last time Reed and Nico would perform together onstage. Newly restored footage of that show will make its debut at the New York exhibition. "Not only will the New York audience have the opportunity see this [25-minute film] in color with fantastic sound but also with a new master in conditions nobody had before," says Fevret. "We didn't have it for the Paris show—we just had one song and with bad quality. We wanted it to be fantastic for New Yorkers."