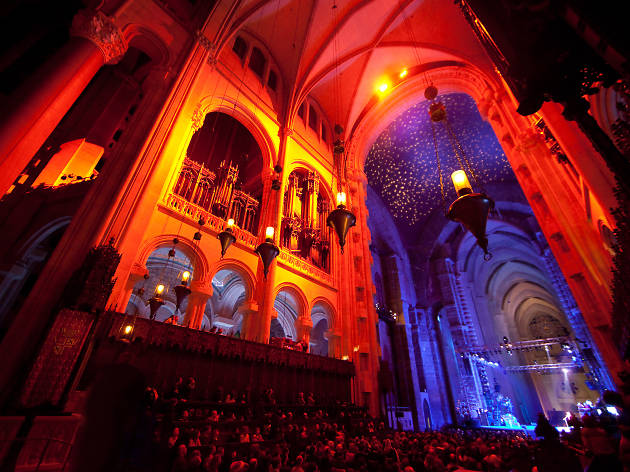 Having trouble deciding which one of your friends' apartments to use to host this year's solstice bonfire and ritual sacrifice? Avoid all that messy virgin blood, and try a more modern tradition: Paul Winter's annual concert. You'll see a slew of dance and musical guests, including Procol Harum singer Gary Brooker, and of course, the Paul Winter Consort—with Winter himself on sax, right where he belongs.
Rating Breakdown
5 star:

2

4 star:

0

3 star:

0

2 star:

1

1 star:

0
My friend and I attended last night and found it sophomoric, boring, and dated. We left after intermission. I imagine it was wonderful back in the 70's when people didn't care if their concert had sound that was highly reverbed (high ceiling and all cement surroundings) with strong base and little high notes, when lighting was unrelated to the show. The show was 3 minute acts/songs one after the other without any connection between the two. Each solo performer was lost on the large empty stage. The audience did not move with the music and politely clapped before and after each performer. As you see in the picture at right, just over Paul's shoulder is a large tree-like object. That was awkwardly moved onto stage and rotated with gong-ing happening. Not magical at all. Don't know what mood they were going for. I thought of a big spiral kitchen pot holder. From the ceiling was suspended a man hitting a large gong. It's sound didn't fill the room, he seemed like a stick figure. The new age songs typically were not emotionally moving, having no beginning or end. I'd think with the large ticket volume that the budget would be higher. If you're on drugs, feeling sentimental, need something soporific, have impaired hearing or just like sitting in big characterless spaces with mostly women like myself (late 50's-early 70's), then I recommend this for you.
For my family, this show has become a tradition. Visiting the cathedral and hearing the music each year marks the start of our holiday season. We always seem to leave happy.