Heads up! We're working hard to be accurate – but these are unusual times, so please always check before heading out.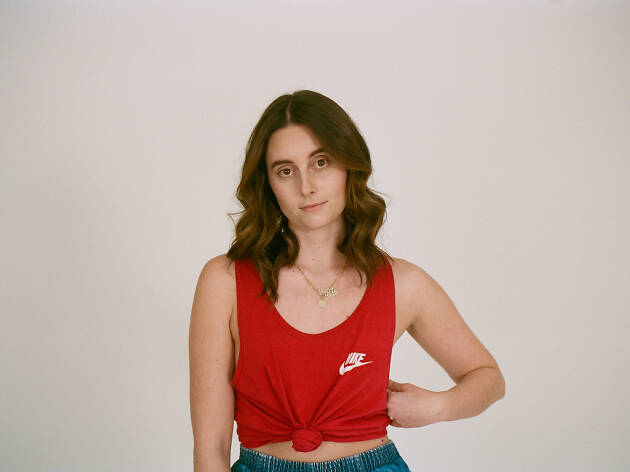 Mary Beth Barone's guide to ruling the East Village
The stand-up comedian and stunt queen shows us where she likes to perform, party and shop in her Manhattan kingdom
As stand-up comedy's dark angel, Mary Beth Barone employs brilliant deadpan observations, cutting jokes about sex and religion, and a spirit of vengeance when it comes to the fuckbois of the world. We asked the East Village empress and host of the monthly comedy show the Exhibition about her favorite places to shop, dine and perform in style.
Getting around: Select Bus Service
"I love living in my neighborhood. When I dropped out of college, I moved here and lived in Chinatown for several years, so downtown really felt like home, and it still does. I love living off the F train, as much as people shit on it, and I am recently very into taking the bus. I've gotten to know some of the bus routes and they're extremely powerful. And low key: A lot of hot people take the bus. Let me tell you that the M15 select bus service on First Avenue—and Second Avenue, quite frankly'you can't beat it. It's so fast. The M21 and the M14-A are also great. I give those my recommendation as well.
Photograph: Courtesy Carly Hoogendyk
Comedy: The Exhibition
"I started this monthly show with my cohost, Michael Cruz Kayne, a little more than a year ago. We host it at the PUBLIC Hotel, which feels very fancy. We try to be really thoughtful about who we book—a mix of big names, up-and-comers, experimental comedy, musical comedy. We want it all. The hotel's PUBLIC Arts space is traditionally a nightclub, so it has a different feel from other shows. It's comedy with a touch of glamour!"
Comedy at the Knitting Factory
"I recently performed there for the first time, and I just think that what Marie [Faustin], Sydnee [Washington] and Aminah [Imani] have there is so special. The supportive audience is amazing. It's also kind of a hang for comedians, so it's fun to go see people."
New York Comedy Club
"Another venue I love. I feel like the crowds there are take-no-prisoners. If you don't have jokes, they hate you. It's a good environment to throw yourself into and go: OK, what are the jokes I can hit them with right away? Because sometimes the sets there are short. Performing there has really helped me become a better comedian."
Going out: Drexler's
"When I first moved to New York, I was 20 years old, and I felt like my youth would never end. I went out a lot. Being 27 and having a lot of my nights filled with shows and hopping around, I don't go out as much as I used to, but when I do it's really important to me that the places are within three blocks of my apartment. If I have a nice date, which happens about twice a year, I'll go to Drexler's, which is right across the street from where I live. It's kind of a nice bar. It used to be called Ella [Lounge], and I used to go there and do a lot of molly and dance in the basement. That was in my early days of being in New York. They still have dancing there now, but it's more upscale."
Double Down Saloon
"It's a place that I avoided for a long time, but it actually has a kind of cool vibe. It smells, but other than that, it has cheap drinks, it's very dive-y, but it's a very different vibe. It very much is Harley Davidson people, but it's also fun."
2A
"I love going to 2A, which is a little bit more lowkey. It's right across the street from my apartment. That place has been there forever, even when I was a teenager coming to visit my brother and sneaking into bars with a fake ID. It has a lot of memories; my sister-in-law and I both saw David Cross there separately, before his problematic comments about Asian people, so that was pretty exciting."
Supper
"If I'm going out for a nice dinner with friends, Supper is right across the street from my apartment. It's cash only, but really good Italian food. And they own a few different restaurants, like Little Frankie's. When my mom comes to the city, that's where I take her. If mom's paying, I'm going for the avocado salad and the bolognese with gluten-free pasta."
Photograph: Courtesy Bea Helman
Fashion: Brandy Melville
"I love fashion, and I put a lot of thought into what I wear onstage. For many years, I would wear lots of feminine silhouettes, and for those I would go to Reformation—it has really amazing clothes. But, lately, I've been in more of a streetwear vibe, and I wear crop tops almost exclusively. For crop tops, you're obviously going to Brandy Melville. I don't even know if they make full shirts there, but they have a crop top in every cut, every style. If the shirt looks like it could fit a middle-school boy, I'm buying it."
Army & Navy Bags
"For bottoms, I go to the Army & Navy store on Houston. You can get cargo pants for $30. I love that vibe. It's so cheap because it's all military-uniform stuff."
Photograph: Courtesy Bea Helman
Relaxation: SoulCycle
"There's only two places in New York where I can truly relax: One is SoulCycle Noho, and the other is JJ Eyelashes at Herald Square. I go to SoulCycle to clear my head and have 45 minutes of no interruptions, no cell phones allowed—so that's that. And, honey, I can go there any time. There are classes every day, even on Christmas and Thanksgiving."
JJ Lashes
"The second place I go to truly relax is the JJ Lashes in Herald Square. They do lash extensions, and I was off the lash extension train for a while but I'm truly back on. It changes the whole face. Can't speak highly enough of lash extensions, it's so important."
Sure, you could stay home and watch the best stand-up comedians' specials, or you could head out to the best comedy clubs in NYC and see some world-class performances in person. Below you'll find our picks of the absolute best shows happening this month, from improv to open mic nights and everything in-between.