15 awesome things to do in NYC this weekend
Posted: Thursday February 22 2018, 2:16pm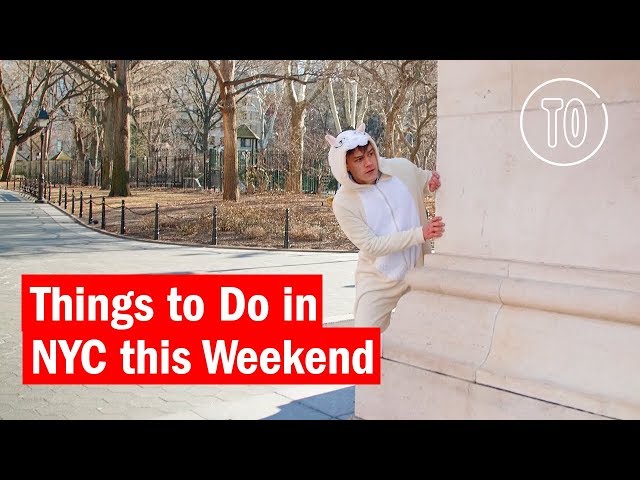 Fri 23
Dance Yourself Clean Baby's All Right; 11pm; $10
Indie-pop junkies come together for a night of rapturous dancing at this monthly bash, which began in Seattle before expanding to Los Angeles, Brooklyn and Portland, Oregon. Lose yourself to jams from Purity Ring, CHVRCHES, Charli XCX, Robyn, Daft Punk, Empire of the Sun and, of course, LCD Soundsystem.
The Illuminati Ball Weylin; 8pm; $100–$200
Inspired by Marie-Hélène de Rothschild's outrageous 1972 ball that brought a masked Salvadore Dali and Audrey Hepburn to Paris, this smashing party attracts 1,000 of the most creatively-dressed revelers in the city to descend on the former Williamsburg Savings Bank for a night of magic, tantalizing occult rituals, dances, performances and enigmatic encounters.
Athena Film Festival Barnard College, Altschul Hall; 6pm; $5–$12, all access pass $75–$100, some screenings and workshops free
This annual event that celebrates powerful women behind the scenes and onscreen features workshops, films and discussions. 2018's honorees include J.J. Abrams and Bridget Everett. Catch features such as Wonder Woman and I Am Not a Witch and documentaries including Chavela and My Year with Helen.
Everybody Hates Us (But Not Tonight) The Mockingbird; 8pm; $5–$7
Betsy Kenney and Dara Katz have liberated themselves from the opinions of peers and friends, and at their unbeatable new show, they ask you to do the same. Joining them for some blissful, cathartic confidence-building is a killer lineup including Mary Beth Barone, Pat Regan, Kiko & Tuna, Larry Owens and Fareeha Khan, with support by the Mockingbird's house band and liquid confidence from the bar's menu of signature margaritas.
Phoebe Bridgers + Soccer Mommy Music Hall of Williamsburg; 9pm; $15
LA singer-songwriter Phoebe Bridgers has a knack for delicately spun folk explorations of relationships, as evidenced on her entrancing debut LP, Stranger in the Alps. She's been collecting so many cosigns from indie darlings—Conor Oberst, Ryan Adams, Julien Baker—it's safe to say she's well on her way to becoming one herself.
Sat 24
Bananarama PlayStation Theater; 8pm; various prices
It may be winter, but we can get down to some "Cruel Summer" this weekend. The three original ladies from Bananarama (Keren Woodward, Sarah Dallin and Siobhan Fahey) come together to play their pop hits at PlayStation Theater for one night only.
Blunderland Variety Show House of Yes; 7pm; $15, at the door $20, VIP $30
NYC's most bananas burlesque and variety night promises gags, stripteases and spectacles that have to be seen to be believed. February's outsize bash boasts Tigger, Sequinette and Shane Shane, The Brides of Burlesque, The Maine Attraction, Fancy Feast, LadyStraps and Daisy Press.
Phantom Thread with a Live Score BAM Peter Jay Sharp Building; 8pm; $35–$85
If you've heard talk of Johnny Greenwood's entrancing score to Paul Thomas Anderson's new romantic tragedy Phantom Thread, witness the film with a live score at this special Brooklyn screening. Wordless Music Orchestra and conductor Robert Ames take the reins of the haunting melodies.
Candi Pop: A Bubblegum Pop Dance Party Baby's All Right; 11:55pm; $10
For one night, Baby's All Right becomes a millennial pop paradise. Dance to hyperpositive boppers by 98 Degrees, Miley Cyrus, Hanson, Britney Spears, Whitney Houston and other favorites from the TRL era and beyond. If you're rusty on the choreography from 'N Sync's "Pop," now's the time to study up.
The Color Urkel The Tank; 10:30pm; $7
Jordan Temple—the man behind the devilishly sharp stage satire Hidden Fences—returns with this ingenious one-act follow up. Expect Temple to take on the twisted racial politics of TV and film in this second round.
Tyler, the Creator Theater at Madison Square Garden; 8pm; $44
Anarchic Odd Future leader Tyler Okonma moves beyond the now played-out shock rhymes and into surprisingly earnest territory on his latest, Flower Boy. From liberatory lines like "Tell these black kids they can be who they are" to sexual revelations ("I've been kissing white boys since 2004"), the rapper tapers his confrontational tactics in favor of newfound relatability. It's a new side of Tyler, the Creator, but make no mistake—though more elegantly hewn, his rougher edges remain as sharply anti-social as ever.
Brooklyn Flea *Mini* Record Fair + Winter Smorgasburg Industry City; 10am; free entry
Can't wait until the weather warms up so you can go record shopping at Brooklyn Flea's Record Fair? Well, here's your holdover winter opportunity indoors, at which you'll find new and used records from local stores and labels like Anthology Recordings, Boom Service, Rare Limiteds, Sepiatone, Trash American Style and more. Hungry? Thirsty? Smorgasburg vendors such as Big Mozz, Dough, Pop Pasta, Ube Kitchen, Wowfulls and more so you can get delicious food while you shop and DJs spin.
Sun 25
The Oscars Trivia Videology Bar & Cinema; 8pm; free
And the Oscar goes to... you and three of your friends, provided you truly are the Academy Awards junkies you think you are. Emerge victorious from five rounds of trivia and you'll win a round of free drinks and your team's very own Oscar!
Brooklyn Mac and Cheese Takedown Brooklyn Bazaar; 2pm; $25
Say cheese and open wide for macaroni goodness. Chefs and homemade mac-and-cheese experts compete to earn the judges' choice of most supreme dish. Cheese lovers can taste mounds of different combos, like bacon mac, lobster mac, you name it. Let the meltdown begin!
Shady Ladies of the Met Museum The Metropolitan Museum of Art; 2:15pm; $59
Discover the true stories behind the muses of some of the Met's most fabulous artworks, including nude models in Ancient Greece, Venetian poets and courtesans, and the true identity of John Singer Sargent's Madame X.
Share the story