It may seem counterintuitive, but the Brooklyn Museum's newest exhibition got its start in Los Angeles.
A couple of years ago Spike Lee had a small exhibition at the Academy Museum of Motion Pictures in Los Angeles in which items from his extensive collection of memorabilia were on display. During an interview with The Los Angeles Times about the exhibition, Lee was quoted as saying, "This is really a very, very small part of all the stuff I have. I could fill the Brooklyn Museum." Him saying this opened the door to discussions between the Atlanta-born, Brooklyn-bred director and Brooklyn Museum. Now, just over two years later, Lee is currently the subject of an immersive installation, "Spike Lee: Creative Sources," on the 5th floor of Brooklyn Museum that has been teased since we first reported it was coming back in July. Before the exhibit opens to the public on Saturday, October 7, Time Out New York was invited to a preview.
The exhibit's curator, Kimerbli Gant, says the Brooklyn Museum had been interested in working with Lee for a while. "It was really just figuring out what made sense," she tells Time Out. "We really wanted to present Spike as a Brooklyn storyteller, but also as a preserver of history and culture." With Lee being one of the most prominent and influential filmmakers and directors of all-time, this exhibition could very well have been put together as a self-absorbed display of his highlights and achievements, but it's far from that. Much of the exhibit is paying homage to the many different people who inspired him along his journey. "We obviously have representations of his films, but not extensively," says Gants, the curator of modern and contemporary art at the Brooklyn Museum. "We didn't want this to be a show that's really focusing on his movie career, [instead focusing] on what fuels that."
The "Spike Lee: Creative Sources" exhibit consists of over 450 works from Lee's personal collection and every bit of it was put together with a heightened attention to detail. The walls are filled with photos, artwork, portraits, artifacts and magazine covers—many of them highlighting the Black plight which is a recurring theme in much of Lee's films.
Some other themes heavily reflected throughout the exhibition are also prevalent in many of Lee's works, including music, sports, family and Brooklyn. There are live instruments that represent his love for jazz music and hip-hop, portraits of his family from over the years, items from his alma mater Morehouse College, a wall with newspaper stories celebrating Lee and a wall dedicated to the influence of Michael Jordan.
There's also a small section showcasing a handful of trophies and awards—two Peabodys, the Director's Guild of America Lifetime Achievement Award, an Academy Award for Best Adapted Screenplay and more. There are a few rooms where clips from some of his most popular films are playing including BlacKkKlansman and Malcolm X.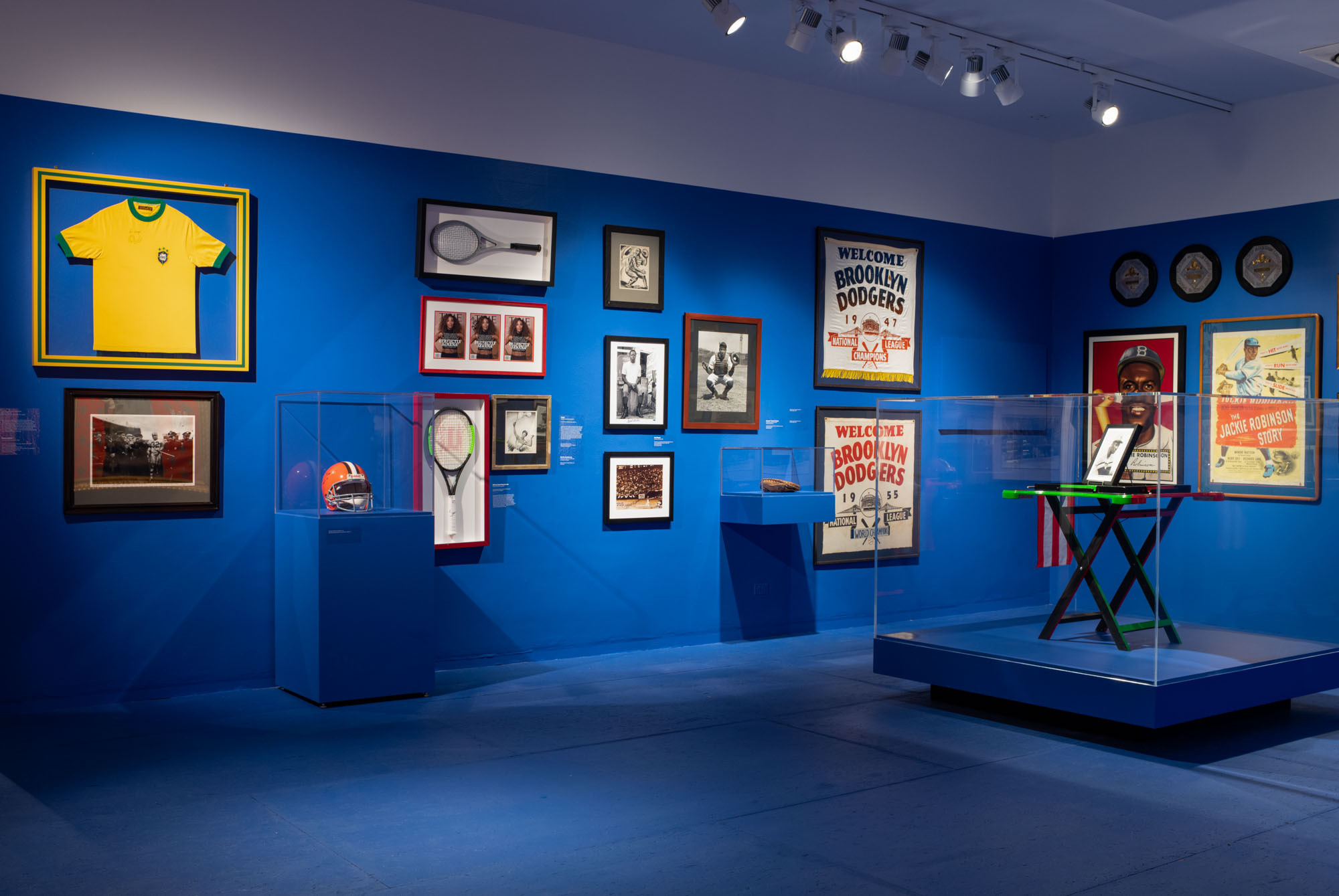 And of course, it wouldn't be a Spike Lee exhibit if there wasn't an entire room dedicated to his beloved New York Knicks. For all that Lee has accomplished in the world of film, in NYC he's almost as recognizable for being a Knicks superfan. The room is completely full of items commemorating the history of one of professional sports' most storied organizations. More than 10 retro jerseys from some of the franchise's greatest players occupy the Knicks-blue walls and hang from the ceiling, with signed photos and artwork of famous Knicks stars filling the spaces in between.
The creative process of the exhibit was spearheaded by Gant, but Lee was involved in approving ideas and making suggestions. It's been just under two years since they first started working on this project, and it's a relief to all parties involved that the final product is ready to be consumed by the public. As the curator of the show, Gant says it was important to her to create a strong sense of curiosity for the viewers and make sure people realize "that we are all kind of 360 whole beings. She says, "I want multiple generations to come because I want different generations to connect with different things. For famous figures, we're only going to see a very narrow sliver of what's presented. What Spike's collection offers you is a reminder that people are much more complex and nuanced than anything this society can present."
The exhibit will be on view at Brooklyn Museum on Wednesdays through Sundays from 11am to 6pm and is slated to run through February 4, 2024. To purchase tickets and for more information on "Spike Lee: Creative Sources" visit here.