When genius meets genius, there's often an explosion of creativity and inspiration but sometimes it leaves relationships in shambles. Enter Édouard Manet and Edgar Degas—two of modern art's biggest players—who were actual "frenemies" to the very end.
In fact, the relationship was so fraught that Manet once ripped a beautiful Degas painting in half!
Drama among artists is what we live for, so this fall, The Metropolitan Museum of Art's new exhibition, "Manet/Degas" will be the one to see. Starting September 24, it is the first art show to put the French impressionists' relationship on blast and expose the sort of dialogue they had together through their art.
Across 160 paintings and works on paper, "Manet/Degas" unfolds a tale of two wealthy French artists who were undeniably inspired by each other but just couldn't keep it together.
"Manet and Degas produced some of the most provocative and admired images in Western art," said Max Hollein, The Met's Marina Kellen French Director and CEO. "Anchored by the unparalleled holdings of their work in the collections of The Met and the Musée d'Orsay, in addition to incredible loans from more than 50 other institutions and individual collectors, this exhibition offers a riveting new perspective on the storied pair of artists."
RECOMMENDED: NYC art exhibitions we're most excited about in fall 2023
Two peas in a pod
Manet and Degas were born just two years apart in the 1830s and had similar wealthy upbringings—Manet's father was a senior civil servant and his mother was a diplomat's daughter and the goddaughter of the king of Sweden, while Degas' family was in banking and business in Paris, Naples, and New Orleans.
Both of them went to prestigious schools and they both abandoned their studies in law and decided to be artists, which you can imagine did not thrill their parents. They both were into portraiture and frequently did their own etchings of artwork in galleries around Europe, including The Louvre, aiming to study the Western masters over and over again.
Both visited Italy several times in the 1850s (Manet also traveled to Holland and Central Europe), but the men most admired the works of Jean Auguste Dominique Ingres and Eugène Delacroix.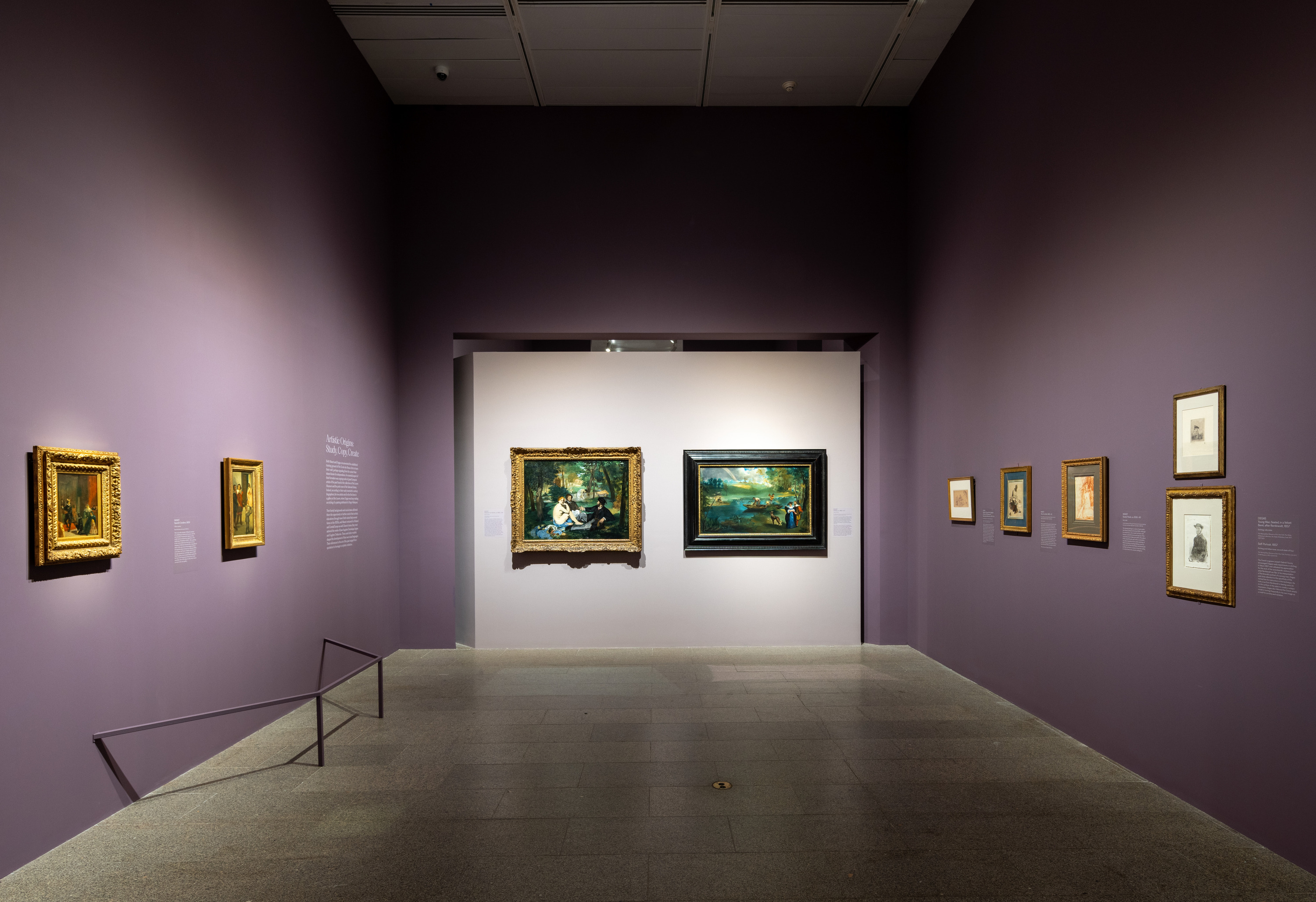 These influences and each artist's painstaking work to study these works of art can be seen across the gallery. In a rather cool move, The Met places similarly themed works by each artist side by side to show differences and parallels.
Because they ran in the same circles and had so much in common, it's easy to see why they'd be friends. In fact, they seem to have been the closest in the late 1860s, when it appears Degas captured Manet's likeness in several portraits and etchings. As far as we know, Manet never etched or drew a portrait of Degas, but featured his own wife, Suzanne, an accomplished piano player, and her son all the time.
Sour grapes
Soon, the relationship would sour.
In 1869, Degas captured a sweet, intimate moment in a painting that he gave to Manet. In it, Manet is listening to Suzanne play the piano.
Clearly not happy with it, Manet slashed the righthand side of the canvas, slicing off his wife's profile (it's said he may have hated the way Degas portrayed her). This angered Degas so much that he took the painting back and returned a small still-life painting Manet had once given him.
Decades later, the still unmarried Degas still kept the painting hanging in his apartment. You can see it now in this exhibit.
The Met took another cue from the relationship (specifically the sliced painting) and designed its gallery with thin cuts into its walls, allowing visitors to see through to the other side for a moment.
This fraught moment was the first rupture in their relationship. They continued to fraternize and in 1870, when France declared war against Prussia, the two men were drafted into the National Guard to help protect Paris and served as volunteer gunners.
It was only through letters to others that their thoughts about each other were made known—equally admiring and critical, according to The Met. According to author George Moore, their friendship was one "jarred by an inevitable rivalry."
Creating impressionism together, separately
Despite that, both of them were leading the impressionism movement … in their own ways.
When the juried Salon held by the Académie des Beaux-Artslon rejected Manet's work he would showcase it at alternative venues—in private galleries, shop windows, and his studio.
Meanwhile, Degas exhibited annually at the Salon until 1870, before abandoning it to establish independent exhibitions with fellow artists who later became known as the Impressionists. Degas took it upon himself to organize the first Impressionist exhibition in 1874.
Manet would not join him and his colleagues in planning it and instead kept submitting his work to show at the juried Salon.
"Manet still refuses to join us," Degas wrote in a letter.
Perhaps the most telling thing about their relationship is seen at the end of this beautiful exhibition at The Met. After Manet died prematurely in 1883, Degas made it his mission to collect as many artworks from his friend as he could and declared publicly: "He was greater than we thought."
"Manet/Degas" is on at the Met between September 24, 2023 and January 7, 2024 in its Tisch Galleries.