Many museums start with some kind of orientation, like a map or remarks from a docent. But not The House of Cannabis (a.k.a. THC NYC), the new weed museum opening in Soho on Friday, April 7. Instead, this museum starts, quite fittingly, with a trippy "Disorientation Room."
While the museum boasts plenty of mind-bending multi-sensory bells and whistles, it also showcases art, highlights science and confronts the social justice issues baked into cannabis prosecution. The museum, the first of its kind at this scale, packs every inch of its four-story, 25,000-square-foot space at 427 Broadway with fascinating facts and delightful immersive experiences fit to entertain both tokers and non-smokers alike. Tickets ($45/adult) are on sale now in advance of the opening. Here's a sneak peek at what to expect from NYC's newest museum.
RECOMMENDED: The everything guide to weed in NYC: what marijuana legalization actually means
"Cannabis culture has a very rich history from every angle, whether it's music, art, social reform issues that need to be addressed. It's all about connectivity and community, and nobody had ever done anything like this," THC NYC co-founder Marcelle Frey tells Time Out on a walkthrough tour of the museum. "No one had ever created a home for cannabis that merged all of those ideas together. So we're joining design and art and telling the narrative and the story of cannabis in a way that's really elevated and true to what it is and its impact on human culture for so many years. We just felt that it deserved a home that had this gravitas."
No one had ever created a home for cannabis that merged all of those ideas together.
She founded the museum with her husband Robert Frey, a Las Vegas club owner. The couple came up with the concept five years ago and have been working on it ever since, Marcelle Frey says. Though it took several years of development, THC NYC may be launching at the perfect time: Just as recreational weed is legal in New York and a few weeks before 4/20. Just to be clear, though, there's no cannabis for purchase at the museum.
Inside THC NYC
A powerhouse creative team led by Creative Director Dan Kough meticulously thought through every inch of the space, leaving no hallway or staircase untouched. Here's what you'll see inside.
The Disorientation Room, a trippy welcome
After tripping out over the funhouse mirrors and green lighting in the Disorientation Room, you'll see a video showcasing cannabis culture, from skaters to Snoop Dogg and even Martha Stewart. While the film celebrates this culture, it also points out the War on Drugs, setting the stage for the educational component of the experience.
The Euphorium, a musical adventure
Next up, you'll head to The Euphorium, a massive spinning record you can sit or lay on while listening to music, from The Doors to Santana. With the room's impressive light show and hazy vibes, it's like a merry-go-round for adults.
The Forum, exploring social justice issues
A section called The Forum highlights real stories of New Yorkers who describe how cannabis punishment disproportionately affects people of color. The museum partnered with the Drug Policy Alliance to tell five stories of people who have personally been affected or suffered ramifications of the War on Drugs. This room also offers calls to action for people to get involved.
The Joint, a rotating art show
Designed like a pop-up art gallery, The Joint showcases artists and makers at the nexus of cannabis culture and art. Right now, the exhibit is called The Art of Sneakers where you'll see painted sneakers, oversized renderings of shoes and shoe photography.
The Grow, an urban grow site
A sea of plants will fill this space age-y grow site, the first urban grow location in New York City, per the museum's leaders. You'll get to see every aspect of cannabis cultivation, from mothers and clones to propagation and the grand finale, the flowering or budding phase.
The Microverse, a macro photography show
After stepping out of the greenhouse, close-up cannabis photos by Chris Romaine of Kandid Kush showcase the beauty of the plant through practically alien-like images. Bright green, pink and orange hues pop up in the artwork, which is hung on glittering silver walls.
The Olfactory, an aromatic experience
The sense of smell comes into play in this olfactory experience featuring the concept of terpene aromatics. You'll get to smell the sensations of lust, laughter, energy, sleep, creativity and calm. Ambient music, videos and colorful designs add to the experience in what Kough describes as "a visual ballet of emotion when people walk into the room."
Seed to Soul, poetry you step into
Rapper Curren$y created an original poem for the museum, which is projected along the floor of a cavernous space. As you step inside, an image of your body reflects on the wall with the words filling in your shape.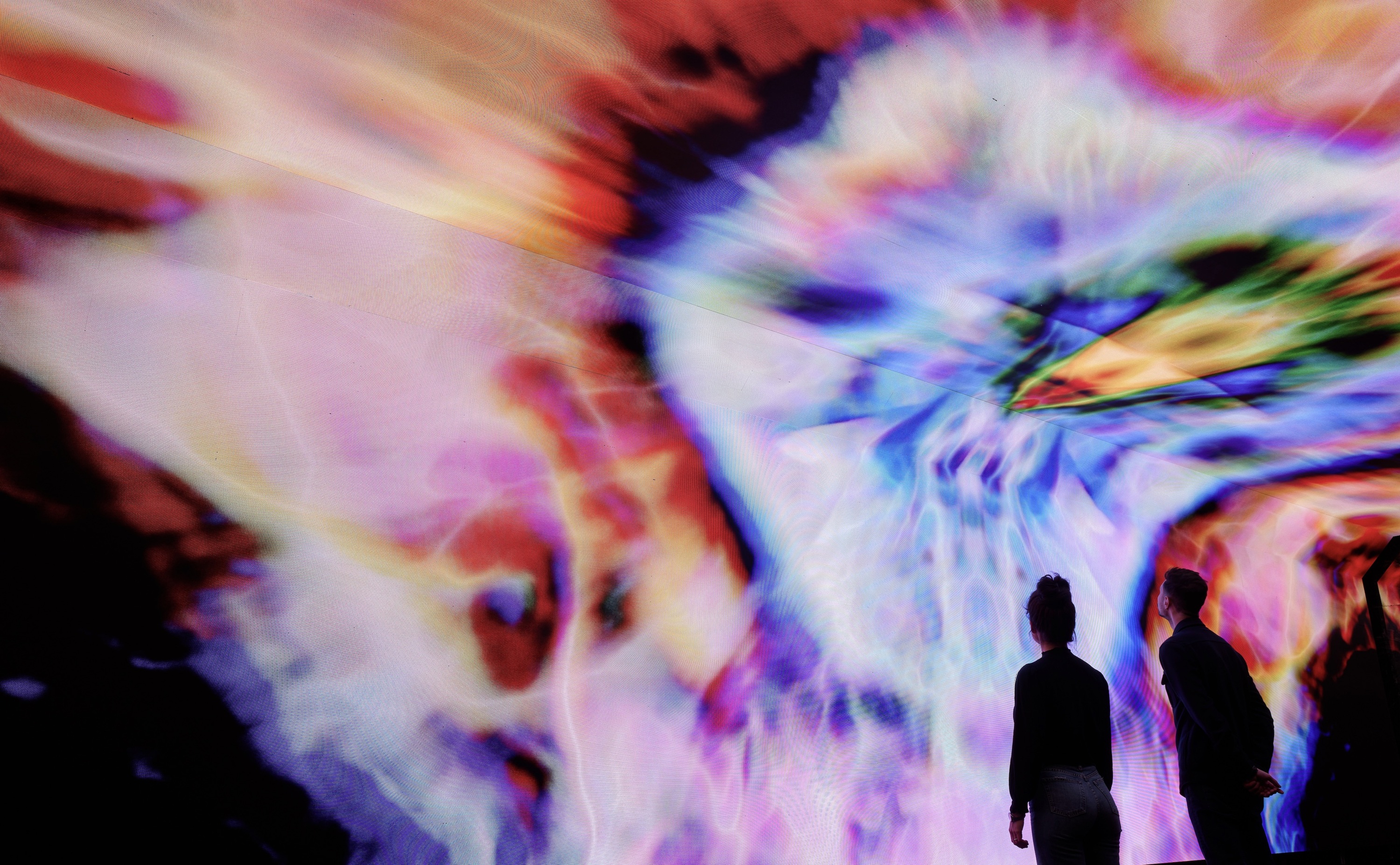 The Hypnodrome, a brainwave video
Finally, lie back into a plush seat while watching a 10-minute video exploring the question: "Is it possible to feel high without being high?" This video installation was created by Benjamin Gordon, a visual artist, who tracked his brainwaves while smoking weed. He "translated those patterns into this incredible immersive experience. This is what it's like to be high without actually being high, so you can see all of the movement and all of the beauty that happens," Kough explains.
More to see
In addition to the museum, there's a room called The Spot designed for classes, talks, and entertainment; a fourth-floor lounge; and a first-floor retail space filled with glass blowing, a cafe and apparel.
"Our hope is that this is on everyone's bucket list," Frey says.