From The Marcy Houses to the biggest stages in the world, Jay-Z has always represented Brooklyn. Now Brooklyn is radiating that love back to him with a major, free exhibition called The Book of HOV on view at Brooklyn Public Library.
The exhibit chronicles the journey and impact of Shawn Carter through thousands of archived objects, including original recording masters, never-before-seen photos, iconic stage wear, prestigious awards and videos. Roc Nation created the exhibit as a surprise to the renowned hip-hop star as the city celebrates 50 years of the genre that started right here in New York City. See it at Brooklyn's Central Library along Grand Army Plaza during regular library hours through December 4, Jay-Z's birthday.
RECOMMENDED: Celebrate 50 years of hip-hop with these NYC events and exhibits
Inside The Book of HOV
While The Book of HOV showcases Jay-Z's music, awards and apparel in fascinating detail, it also documents the iconic rapper's philanthropy and social justice work. The team behind the exhibit hopes it will serve as a reminder that "no matter where you start, with talent, hard work, and a little bit of that 'Empire State of Mind,' you can change the world."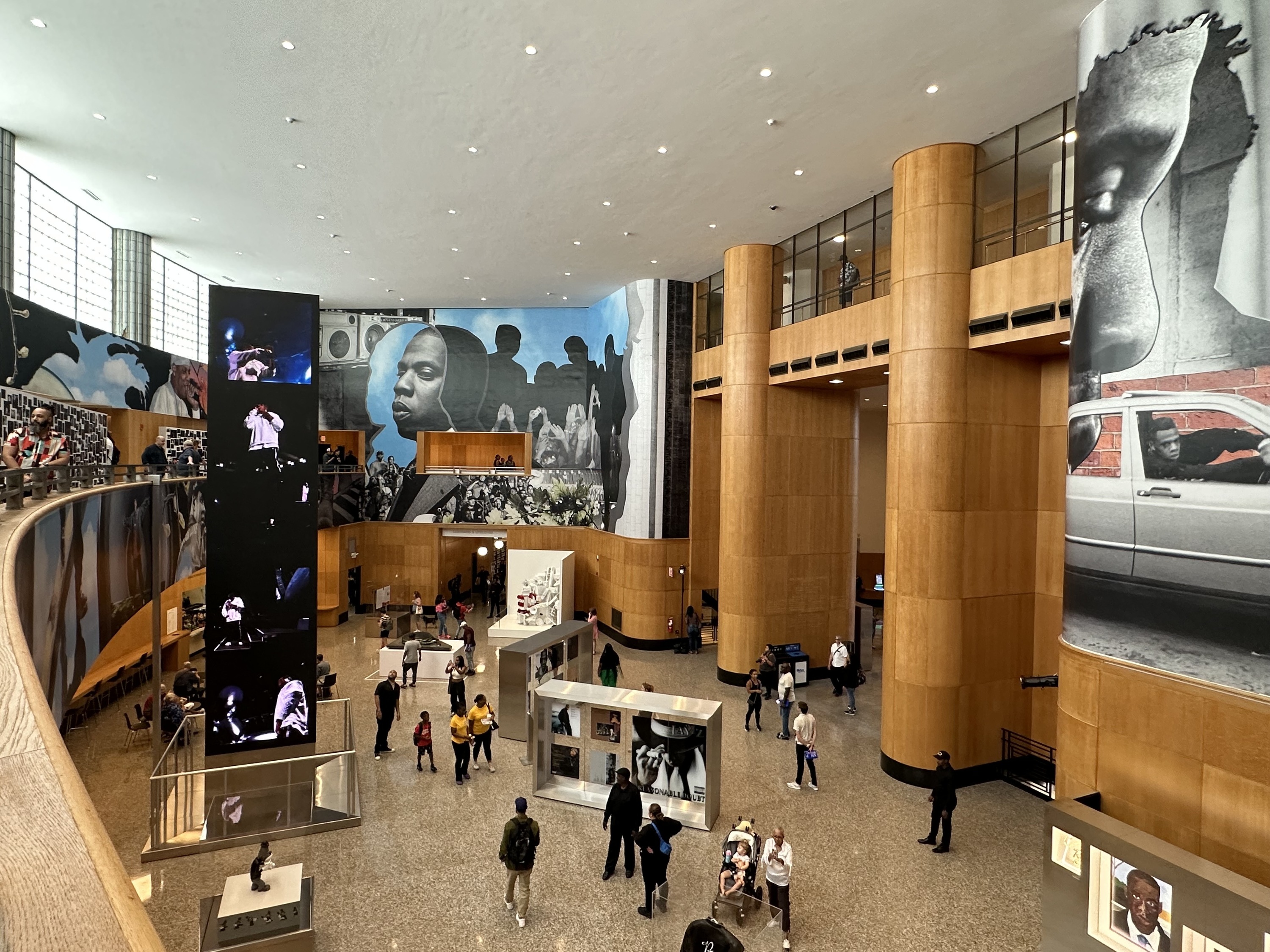 "He was here last night, big smile on his face, so I think he was really impressed and humbled by what his team created," said Christine Schonhart, director of Brooklyn's Central Library, speaking about a private event held by Roc Nation at the library last night. (Beyonce and Blue Ivy also celebrated the exhibit opening, per The Daily Mail.)
The exhibit begins even before walking inside the library. In black-and-text, Jay-Z lyrics, from "Hard Knock Life" to "Justify My Thug" and more, cover the front of the library. Those lyrics popped up this week and were the only sign that something special was coming to the library, as the exhibition was kept extremely tight-lipped until it opened this morning.
Upon entering, a sculpture made of volcanic ash and pyrite depicts Jay-Z's hands in his signature "throwing up the roc" symbol. The artwork then gives way to the massive lobby of the library filled with depictions of his album covers, artwork of Jay-Z and the sculpture from The Blueprint 3 album cover. The "Tower of Power," a large pillar, anchors the space with projections of lyrics and concert footage.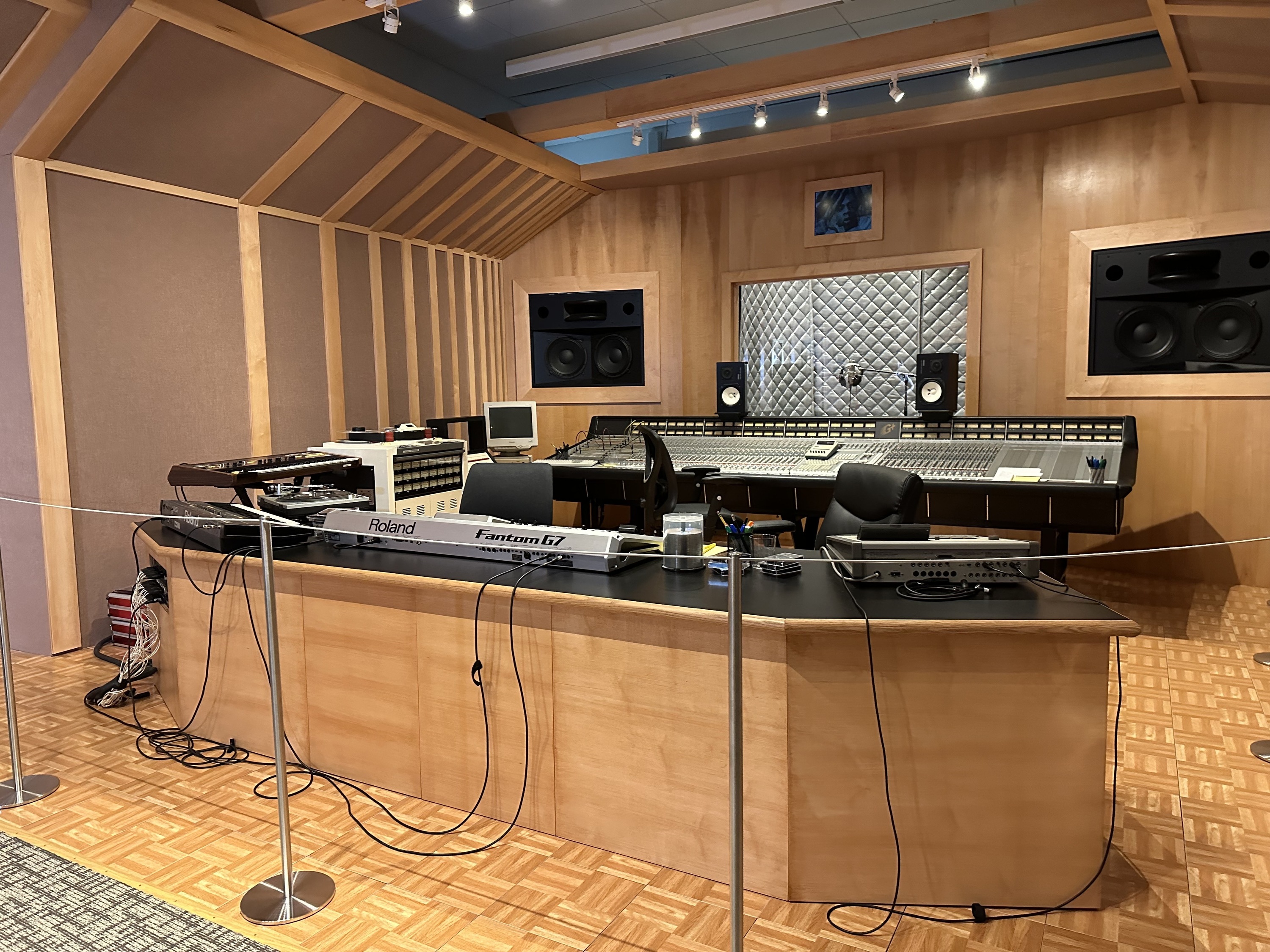 Another section of the exhibit pays homage to Baseline Studios, the Manhattan recording studio where Jay-Z recorded several albums. The room's filled with real recording equipment, offering a glimpse at what it would've been like to be there when Jay-Z unleashed his majestic, extemporaneous poetry at the mic. Be sure to bring headphones or earbuds so you can experience the exhibit's audio components.
Next, head to the youth area. First, there's a craft zone where kids and families can create paper planes, one of Jay-Z's favorite symbols depicting imagination and dreams. Continue on to learn about the artist's social justice work, philanthropy and businesses.
Also don't miss Jay-Z's bookshelf, a collection of books with special meaning to the star. Some of the books include In the Black Fantastic, The World Street Atlas of Street Fashion and Textures: The History and Art of Black Hair. All of the books are available to borrow.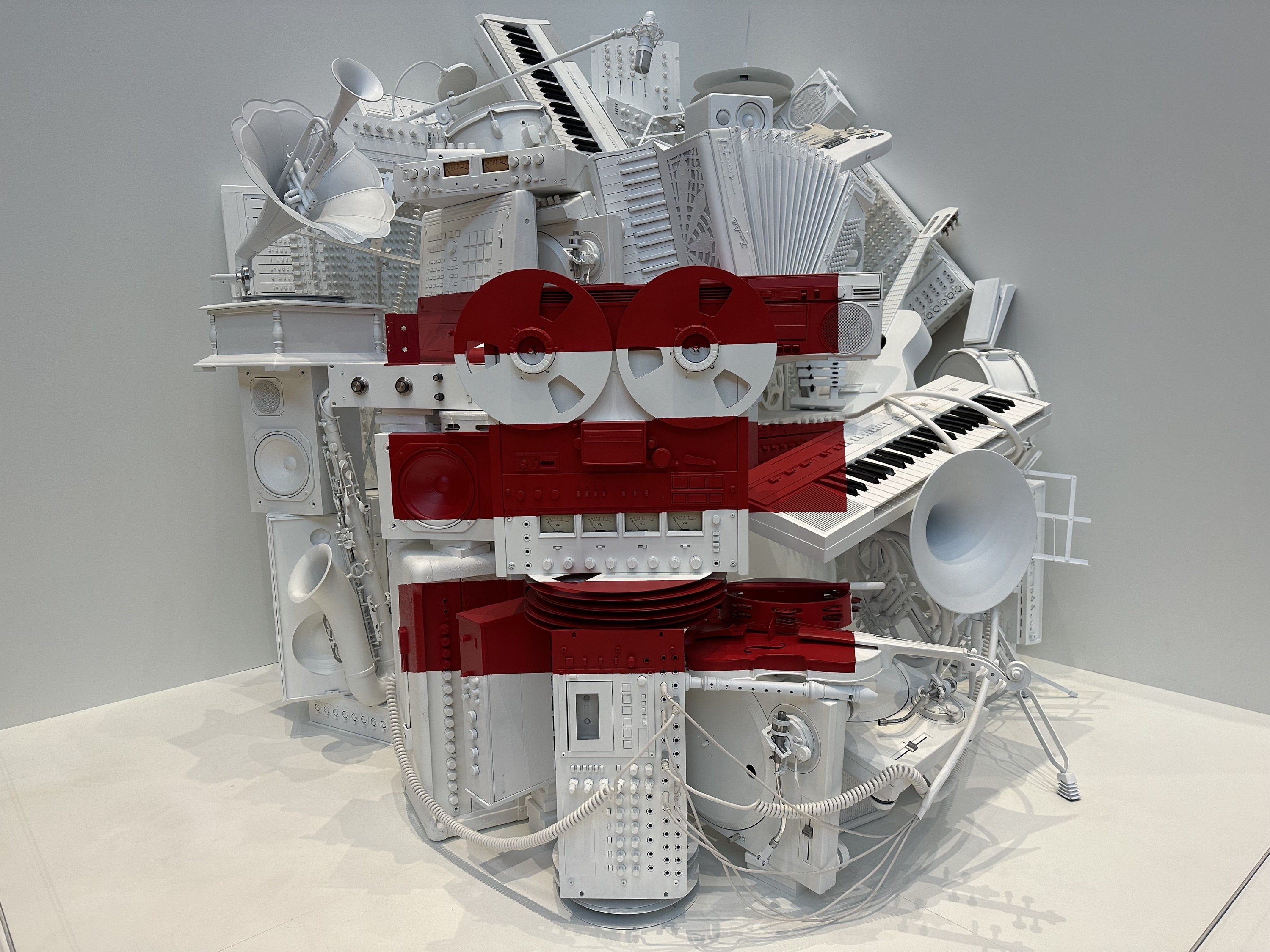 Look for listening stations throughout the first floor where you can hear Jay-Z's music. Roc Nation donated all 13 of Jay-Z's albums plus 220 more albums that he sampled from. Visitors can listen to the records onsite at the library or check them out to take home.
Finally, head upstairs to the "HOV Did That" section to see even more memorabilia, magazine covers and videos. Before you go, stop by the meditation space intended as a place to think back on the experience and about personal dreams and intentions.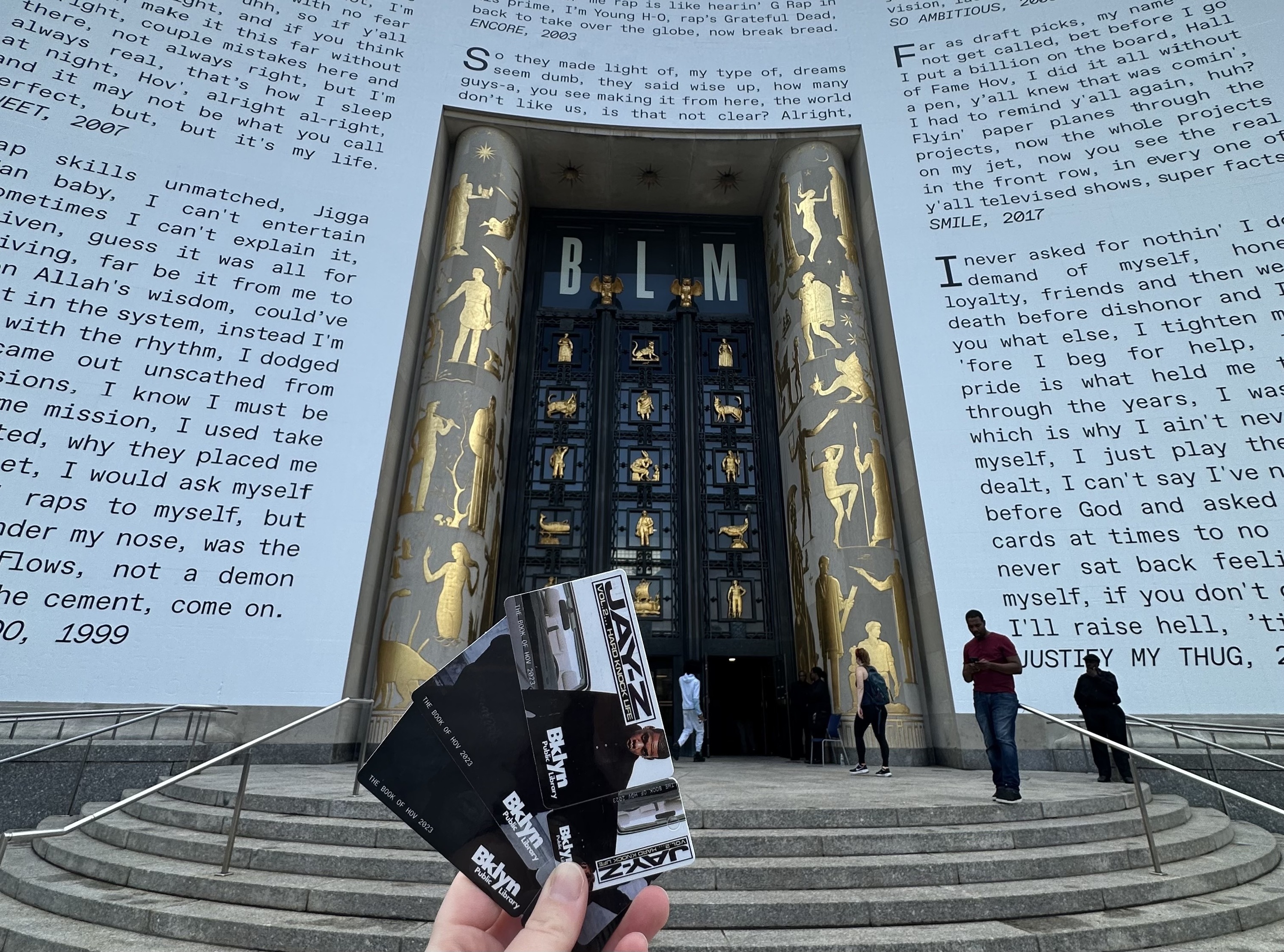 Special edition library cards
In conjunction with the exhibit, Brooklyn Public Library and Roc Nation created 13 limited-edition library cards, each one featuring art from an iconic Jay-Z album, from "Reasonable Doubt" to "4:44." Visitors can collect all 13 cards, available exclusively at Central Library and Marcy Library beginning July 14 and at library branches across the borough beginning August 7. The library will release a map showing where to get each card. As usual, library cards are available for New York state residents and taxpayers.
Christie's will offer one complete set of all 13 library cards hand signed by Jay-Z and arranged in a custom leather case. Bidding opens the week of July 17, closing on July 27 at 10am. The lot will be available for browsing online and on view at Christie's Rockefeller Center. All proceeds from the sale will benefit the Brooklyn Public Library.
New York Public Library also has special-edition hip-hop library cards right now; here's how to get one.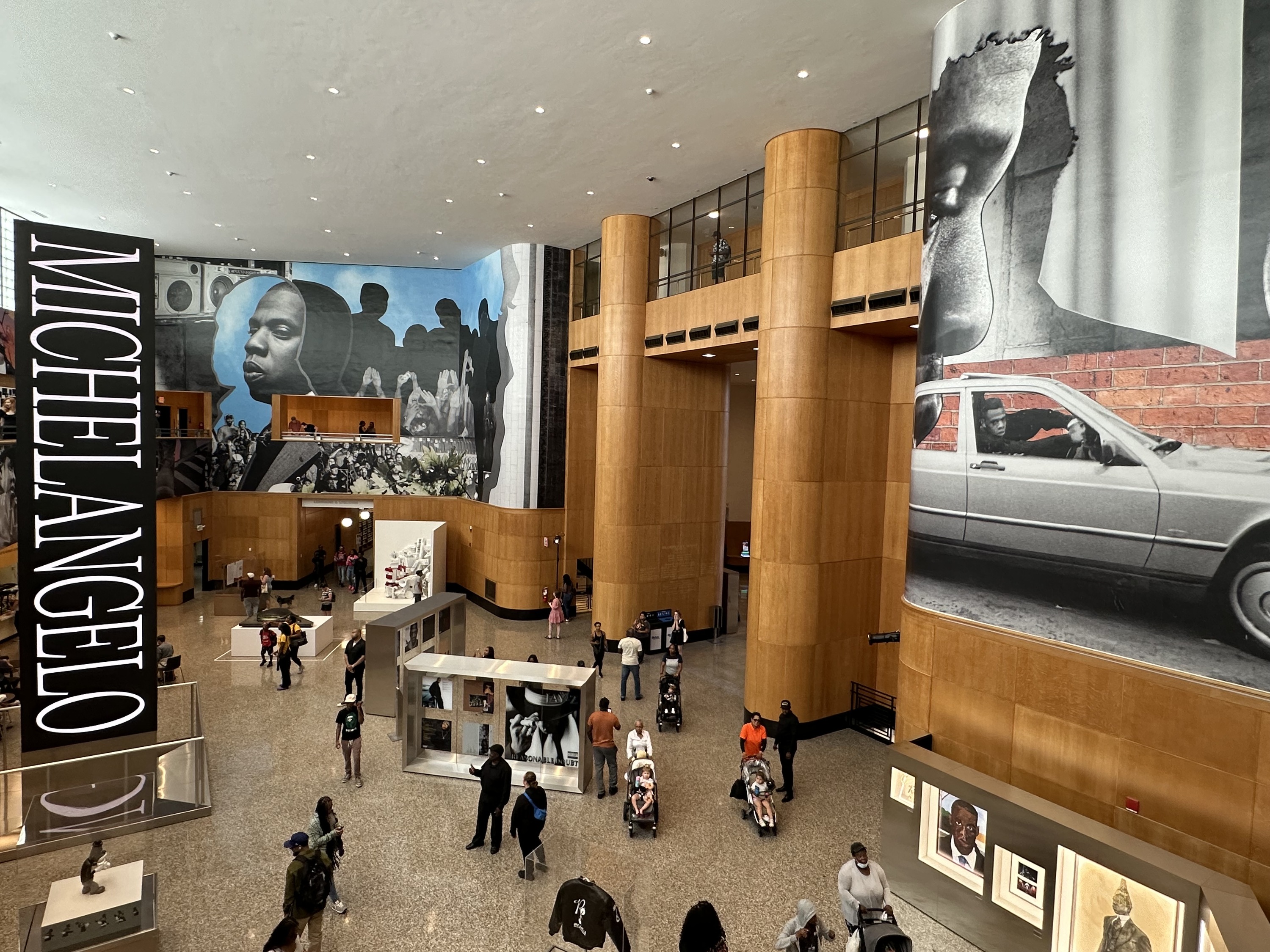 Free for all
Creating free, accessible programming is, of course, the hallmark of libraries, and that mission was pivotal to Roc Nation as well.
"It was important to Roc Nation that [the exhibit] land in a place that would allow for all walks of life to have a unique cultural experience without having to pay the prices you usually have to pay at a museum or other cultural institution," Schonhart said. Brooklyn Library is free and open to everyone, and I think it's a really perfect match for a story that's so well connected to Brooklyn."
Jay-Z's entertainment company Roc Nation covered the entire cost of the exhibition, leaving no expense to the library or to taxpayers. If library staff incur any costs, those will be reimbursed. Plus, in addition to donating the albums and books, Roc Nation will also make a monetary donation to Brooklyn Public Library.
Library staff hope the exhibit and library cards will bring new patrons into the space where they can check out millions of books, vinyl records, instruments, telescopes and much more, completely for free.