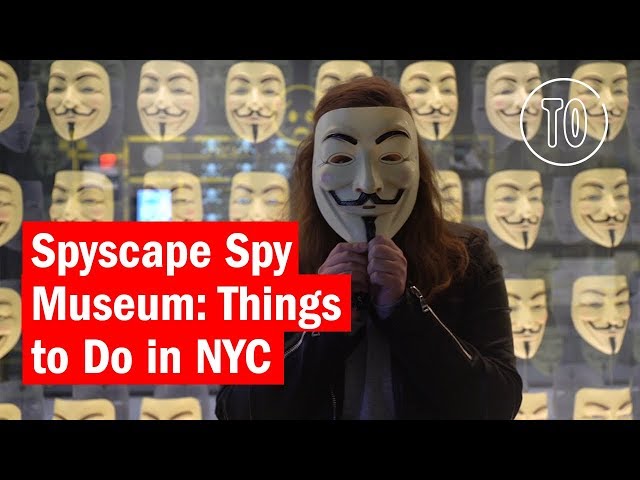 If you've ever watched a James Bond film and were like, "That doesn't look that hard" while popping another chip in your mouth or "Wow, he slid across a car, really impressive" while rolling your eyes, you can now find out how good of a spy you would actually be. Time to put up or shut up, ya backseat spier!
A flashy, 60,000-square-foot museum dedicated to all things espionage opens in Hell's Kitchen Friday morning. Designed by David Adjaye, (who recently received raves for his work on the gorgeous National Museum of African American History and Culture in Washington, DC) Spyscape is really three types of experiences rolled into one: a traditional museum, an interactive experience and an intimate journey of personal spy-themed discovery.
The museum aspect of the venue focuses on real-life spies and their stories, including WWII code breaker Alan Turing and the one-legged American spy Virginia Hall. You'll also see actual objects involved in the shadowy world of international espionage like code-breaking machines and encrypted documents.
As you move through the museum, an "identity band" wristband that you're given upon entry uses RFID technology to allow you to interact with various stations to complete a series of escalating tasks. You're able to try your hand at decoding messages, monitoring CCTV footage, taking a lie detector and, I kid you not, running through a hallway while dodging lasers. Daniel Craig makes that look a lot easier than it is, folks.
The final, more personal aspect of the museum culminates in a "debrief" at the end of your experience where an actual profiling system developed by a former head of training at British Intelligence will tell you what type of spy you are—from an agent handler to roles like hacker and intelligence analyst. So that seems like a fun thing to add to your dating profile.
Starting tomorrow, Spyscape will be open seven days a week from 10am–8pm. For opening weekend (February 16–19) students with a valid ID can reserve free admission online to check out the new space.
Sign up to receive great Time Out deals in your inbox each day.