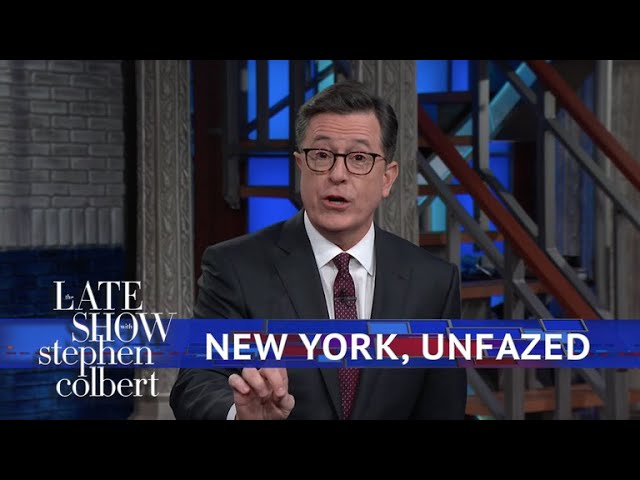 It takes a lot more than a non-fatal act of terrorism in the subway to stoke fear in New Yorkers.
On Monday morning, a would-be suicide bomber detonated a homemade pipe bomb in the pedestrian passageway between the Times Square and Port Authority subway stations, injuring three people. But the attack did little more than throw a wrench in morning commutes in Manhattan—something that locals have gotten pretty used to this year.
That sentiment was the subject of a bit in Stephen Colbert's monologue on The Late Show Monday night.
"Seriously? You tried to terrorize New York subway commuters? Nice try," he quipped. "New York commuters don't even flinch when the subway break dancers kick two inches away from their face. They have to battle rats for the seat, which, for the record, you should only give up if the rat is pregnant."
The host didn't stop there—he continued to dig into the crummy state of much of New York City's mass transit infrastructure.
"You tried to sow chaos and confusion in the Port Authority bus station," he said. "That is the normal state of affairs in the Port Authority bus station. There's a pretty good chance your little explosion may have scoured some of the grime off the wall. Thanks."
"You tried to terrorize New York and you failed," Colbert continued. "We're stronger than that. The worst you did is make the subways run late, and the MTA does that just fine without your help."
New York has seen its fair share of tragedy this year, and has responded with the strength and grace that's at the core of the city's identity. Times Square returned to its tourist-ridden state a day after a car collided with pedestrians on a midtown sidewalk along Broadway in May, killing one person and injuring several others. And when another car attack killed eight people on a bike path near the Hudson River on Halloween, New Yorkers responded by carrying on just hours later with another badass iteration of the Village Halloween Parade.
New Yorkers are an unshakeable bunch, and a Monday morning subway hiccup isn't going to change that.
Sign up to receive great Time Out deals in your inbox each day.