New York City residents will soon be able to easily compost their trash thanks to an expanded curbside program that mayor Eric Adams announced during his State of the City address last week.
Just last year, the pilot project, the largest one of its kind in the nation, kicked off in Queens. The city was able to pick up compost from every singly residence in the borough of Queens throughout the trial period. Officials were so happy with the results that they have decided to extend it to all five boroughs by the end of 2024.
Considering that NY1 reports that "experts say one-third of the city's waste can be composted," this is clearly a very big win for locals.
The city released the following timeline, hoping to kick off the program in each neighborhood in the near future:
Queens: March 27, 2023
Brooklyn: October 2, 2023
Bronx and Staten Island: March 25, 2024
Manhattan: October 7, 2024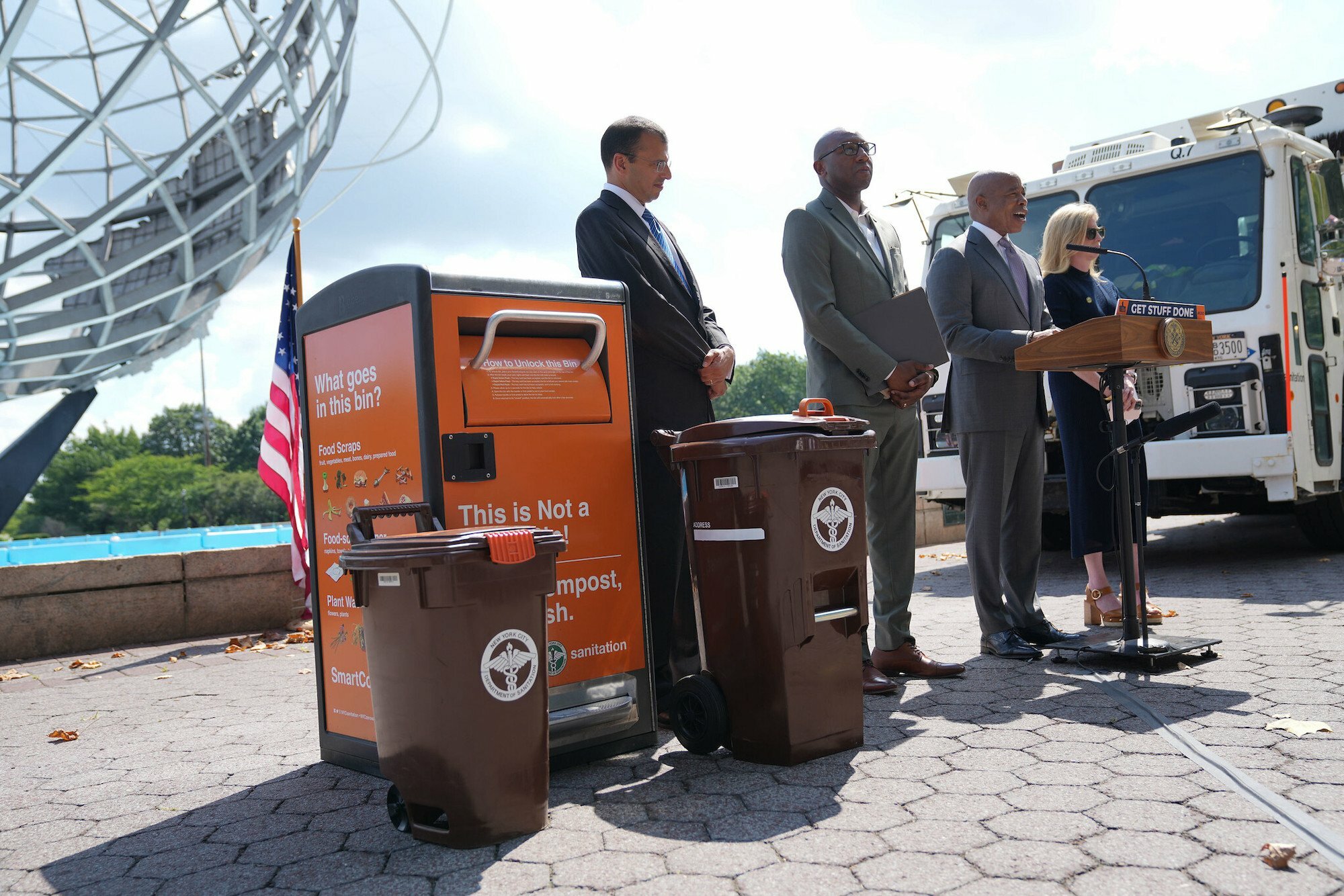 For those not familiar with the natural process, composting is basically a way to recycle organic matter (think fruits, grains, bread, tea, nuts, eggshells, vegetables and more) into actual fertilizer that can then be used on plants and soil.
Although New Yorkers will not be forced to compost their scraps, advocates do hope that the new program will encourage more people to actually partake in the eco-friendly practice, effectively helping solve city-wide issues that have plagued residents for years now.
As residents might have already noticed, there are also 250 composting bins across the city where folks can drop off their trash—a complement to the newest developments that is sure to make a difference as well.
"We can be fighting litter, reducing the opportunity for open dining for rats, and fighting climate change all at the same time, while turning it into a material that's that's usable pretty easily," said Julie Tighe, the president of the New York League of Conservation Voters, to NY1. "Everyone's going to be able to have a bin that they can put their materials in just like there's a blue ribbon for your recyclables, like your your glass and your plastic and your paper. There'll be a brown bin that will be available for food waste."
"In just three months, a pilot composting program [...] in Queens kept nearly 13 million pounds of kitchen and yard waste out of landfills," said the mayor in his address. "That's more than the weight of 300 city buses. Imagine how much we will accomplish when every family in the city is participating. A lot of people have talked about this issue, but this administration is getting it done. [...] By the end of 2024, all 8.5 million New Yorkers will finally have the rat-defying solution they've been waiting for for two decades."
If you're ready to start composting immediately, more power to you! Here is an official map of drop-off composting sites around NYC for you to consult.