For the first time ever, Rooftop Cinema Club will extend its season into November. While rooftop movies are traditionally a summertime activity, the fun now continues through November 12 at Rooftop Cinema's Midtown location.
On the lineup: Fall romances, Barbie on the big screen and holiday favorites to kickstart the festive season. Showtimes run on November 3-5, November 10-12 and November 17-19. Get tickets here.
RECOMMENDED: NYC events in November 2023
The lineup includes: Serendipity, You've Got Mail, The Holiday, When Harry Met Sally, Die Hard and Home Alone. Plus, transport yourself to Barbie Land with a screening of Barbie on November 4.
With temperatures dropping into the 60s and 50s in the next few weeks, be sure to bundle up for the show. Guests are welcome to bring a blanket or buy one at the venue.
Rooftop Cinema Club's menu is always known for its vegan popcorn and themed cocktails, and the menu's now got an autumnal twist with hot cocoa and apple cider to make the experience even cozier. Other snacks on the menu include hot dogs, Bavarian pretzels, nachos and popcorn. Classic movie candy, like M&Ms, Sour Patch Kids, Red Vines and Skittles are available for purchase, too. There's also a full bar on site complete with beer and wine.
The cinema's cashless, so be sure to bring a debit or credit card for snacks. As for tickets, be sure to buy them in advance; prices range from $19.50 to $28.50, depending on the time/date and seating options.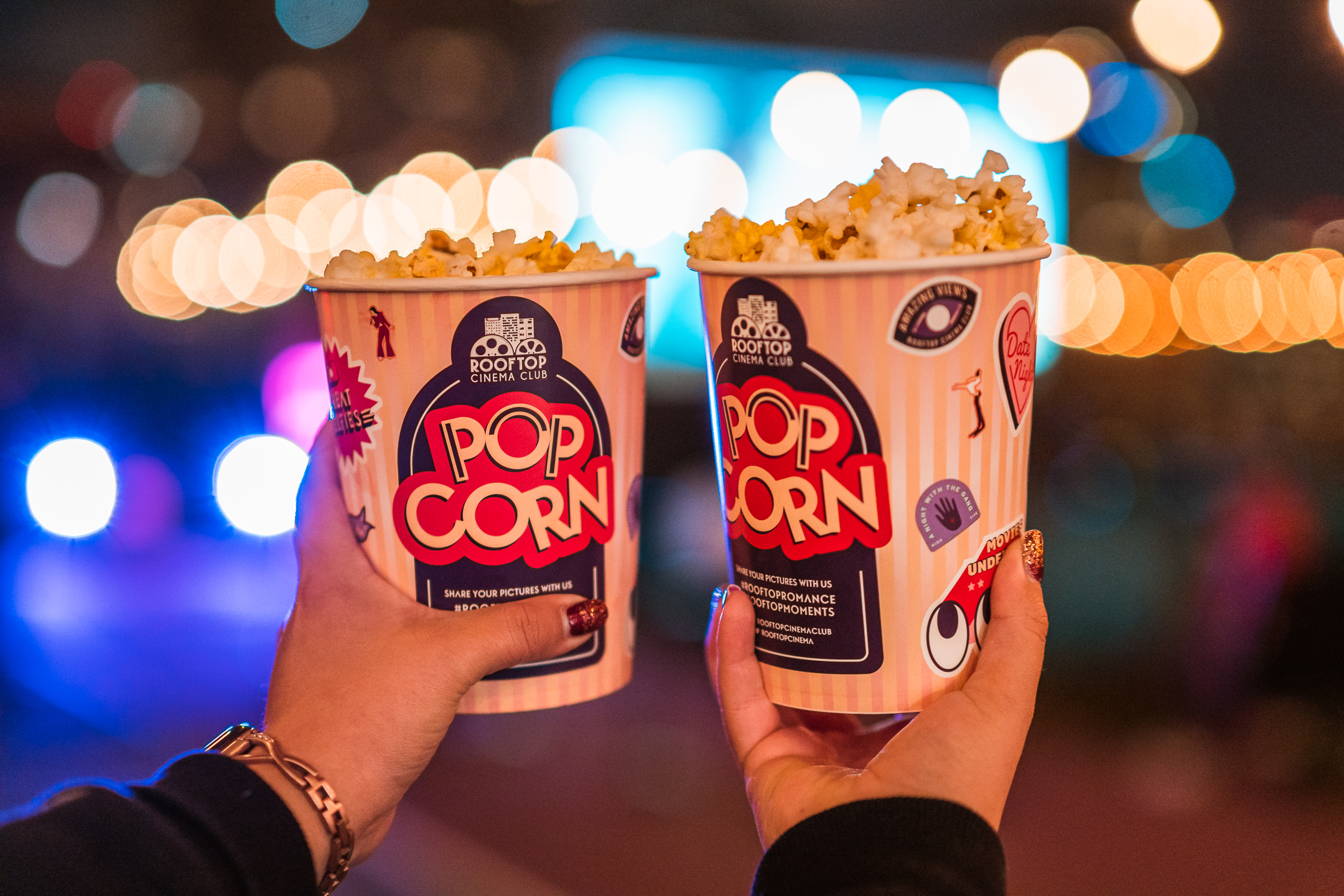 The rooftop theater sits atop the Embassy Suites Hotel on West 37th Street in Midtown where the skyline serves as a beautiful backdrop for the experience. But don't worry about background noise because each movie-goer gets their own wireless headphones.
Keep the outdoor fun going a little longer this year with a movie night—just be sure to wear a hoodie or a jacket for this fall festivity.