One of New York's most important historic sites is upping its education game.
The Green-Wood Cemetery, the 478-acre National Historic Landmark in Greenwood Heights, Brooklyn, just announced steps to become a prominent cultural center.
The much-beloved cemetery just began construction on a new $34 million, 20,400-square-foot Education and Welcome Center across from its Main Entrance at 25th Street and Fifth Avenue, and it's meant to enhance the cemetery as a critical center of the arts, history, architecture, and open green space.
RECOMMENDED: A new memorial at Green-Wood Cemetery remembers the victims of COVID-19
The project is scheduled for completion two years from now, in June 2025, and will offer Green-Wood's 450,000 annual visitors a welcoming space introducing the historic cemetery before exploring the grounds. Two exhibition galleries will also be in the space, to showcase Green-Wood's extensive art and archival collections. The center will offer educational events and programs, plus a center for scholarly research, staff offices, and meeting and event space for local nonprofits and community organizations.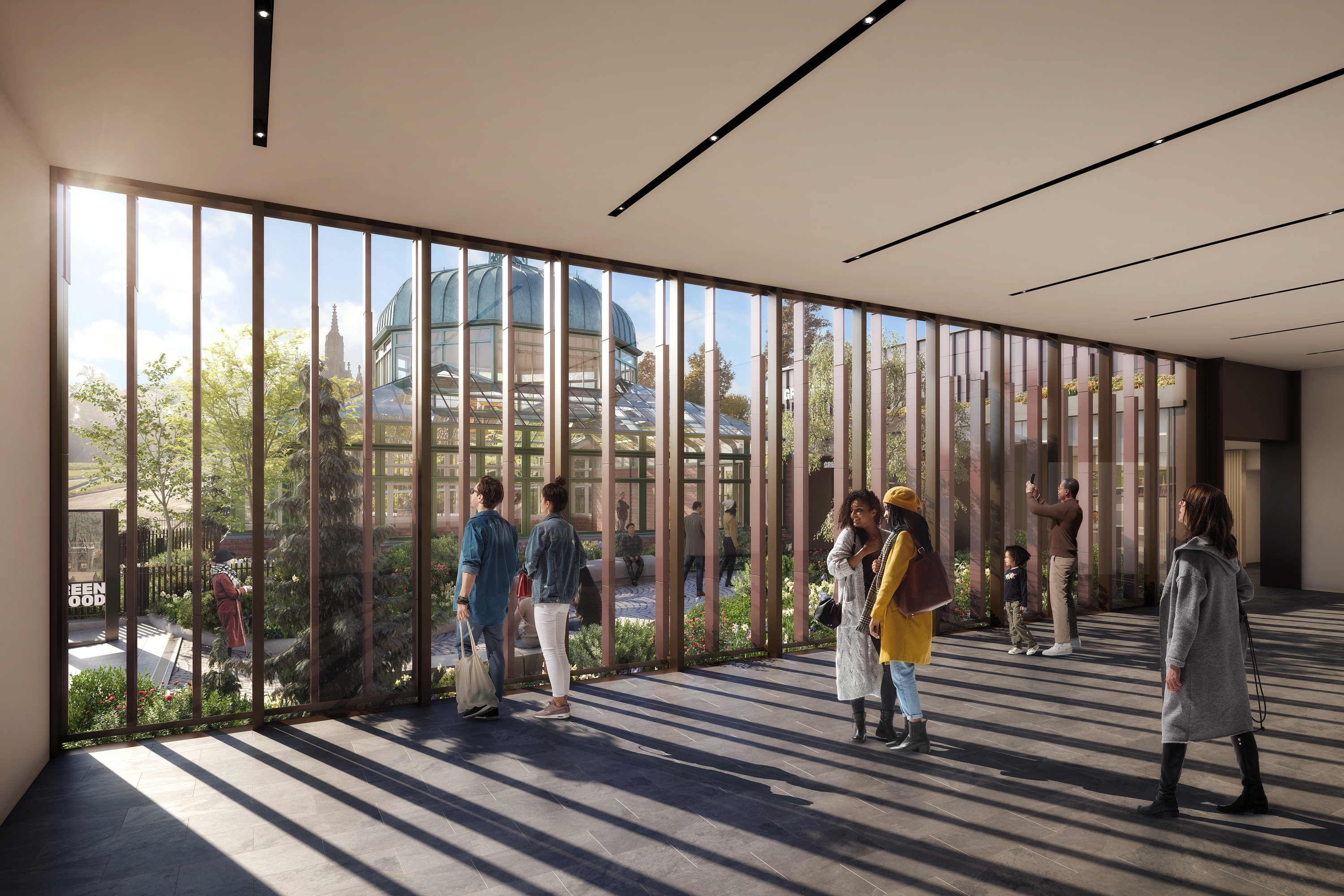 Significantly, the additional indoor space allows Green-Wood to expand its programming to a year-round schedule. To date, the project has received $4.1 million in state funds and $13.3 million in city funds, with additional financial support coming from philanthropists.
"Green-Wood Cemetery is not just the permanent residence for so many of our City's historic luminaries, it's also a nature reserve, an arts center, and education institution, all in one," said Laurie Cumbo, New York City Department of Cultural Affairs Commissioner. "With the creation of this new Education and Welcome Center, Green-Wood will be able to welcome even more visitors to experience its one-of-a-kind grounds and programming. We are proud to provide a substantial City investment in this exciting project on behalf of all New Yorkers."
The Center's focal point will be the Victorian-era greenhouse, restored by Page Ayres Cowley Architecture, LLC and Walter B. Melvin Architects. Attached to the historic building, a new building designed by the New York City-based firm, Architecture Research Office, will total 22,000 square feet of space.
"The Green-Wood Cemetery has been a peaceful and beautiful open space in Brooklyn for nearly two centuries," said Antonio Reynoso, Brooklyn Borough President. "Now the stunning Education and Welcome Center will exhibit the unique and deep history of the Cemetery and the countless lives it has touched for all to learn about. I'm excited to celebrate this building and for visitors to be able to fully appreciate this unique place."