The McKittrick Hotel looms above West 27th Street between Tenth and Eleventh Avenues. To a passerby, there is nothing about the building's façade that hints at the haunting world that lies within—except, perhaps, for the line of shifting individuals that nervously snakes along the curb.
The McKittrick Hotel is home to the world-famous production of Sleep No More, a "site-specific, immersive experience" that blurs the line between audience and actor, stage and seating. It began previews in March 2011 and has been continuously extended over the past decade. The show was created by the British theatre company Punchdrunk and produced by Emursive Productions in association with Rebecca Gold Productions.
But as the lights fade out on its 5,000th performance, in January 2024, Sleep No More will conclude its nearly 13-year run. The pioneering performance has hosted over two million guests and has a sister run still ongoing in Shanghai, China.
For those in love with the McKittrick Hotel, this is not a final "goodbye": the venue's other performances will continue on at West 27th Street … and we hear that Punchdrunk already has another large-scale production in the works.
Ahead of the closure, we had the pleasure of speaking with Ilana Gilovich-Wave, Emursive's Chief Storyteller, and Stephanie Geyer, the publicity envoy of the McKittrick Hotel, who shared some of the McKittrick Hotel's lesser-known facts and closely guarded secrets so you can enjoy it all the more before it's over.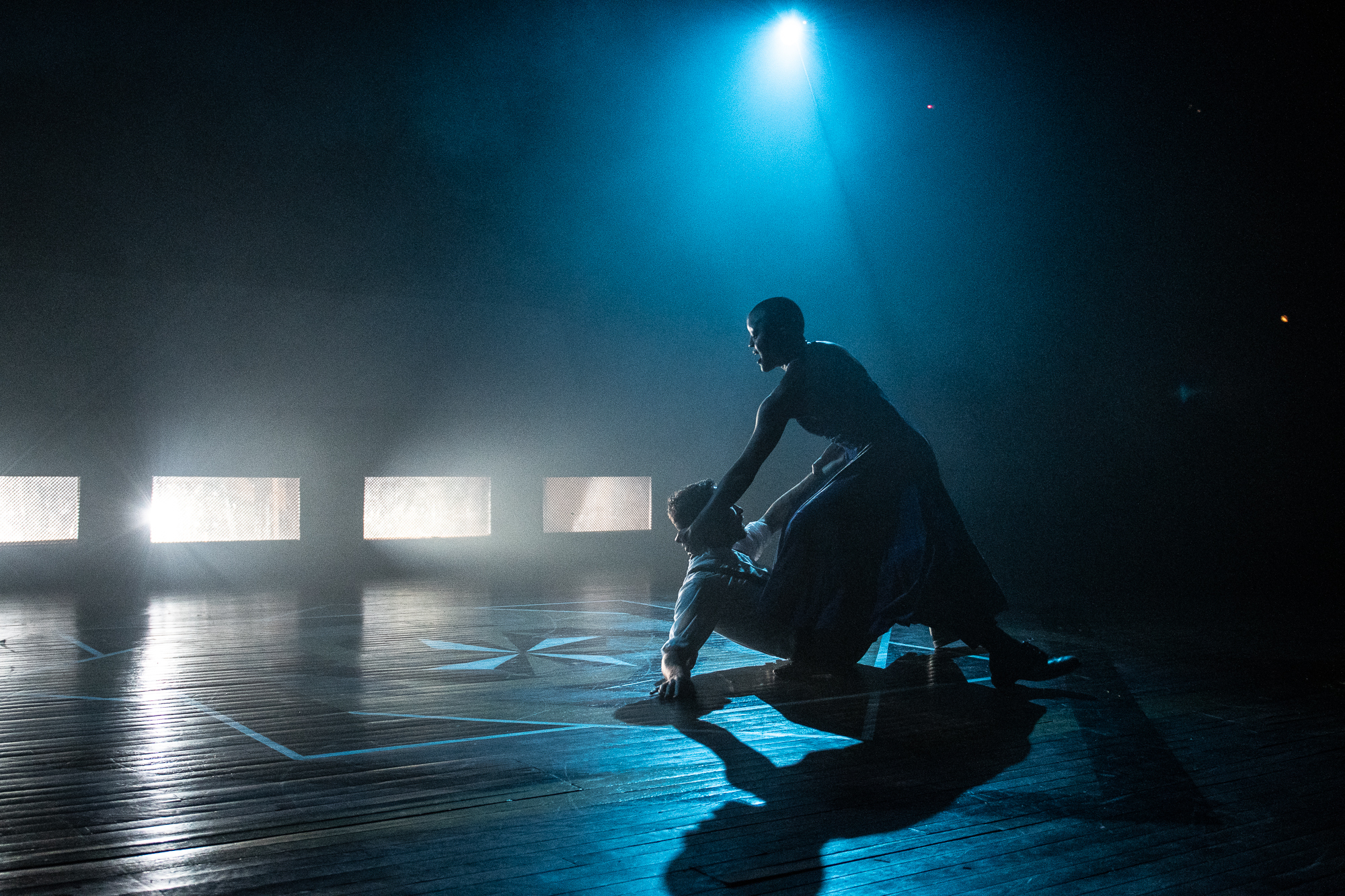 Know the inspiration behind Sleep No More
Sleep No More is primarily based on William Shakespeare's dark tragedy Macbeth. (Though, in accordance with a fiercely protected theater tradition, Punchdrunk and Emursive never actually refer to Macbeth by its name in promotional materials—only as the "Scottish tragedy"). But Sleep No More is not exclusively based on Shakespeare's tale of ambition and madness. Gilovich-Wave shared with me that the show draws on two other wellsprings for inspiration.
The first is Rebecca, the 1940 film noir classic by Alfred Hitchcock who, in turn, adapted Daphne du Maurier's 1938 novel by the same name. Sharp-eyed visitors will likely be unsurprised by this connection. The McKittrick Hotel's bar, the Manderley, is named after the story's famous estate. The 1930s glamour and "dark[] cinematic lens" that characterizes the vision of Sleep No More is a direct nod to Rebecca.
The second source of inspiration is a sad but true tale set in the glowering lowlands of Scotland. In 1697, in the town of Paisley, a local girl named Christian Shaw suddenly became deathly ill. Shaw allegedly began suffering from extreme seizures during which her body would violently extend and contract at alarming speeds. According to local records, the young girl began spitting out feathers and the carcasses of small animals. In a brief period of respite, she claimed to have visions of local women stabbing at her sides and forcing her to bite her tongue when she tried to pray.
At the urging of Shaw's wealthy father, the Scottish Privy Council launched an investigation and formally charged seven individuals with witchcraft. All seven were forced to stand trial. The youngest co-defendant, a boy named John, was only 11 years old. The oldest, a woman named Agnes, had actually visited the Shaw's homestead and prayed for Christian's health. It didn't matter. All seven were found guilty. They were hanged on June 10, 1697. Before the trapdoor was sprung, Agnes allegedly cursed the town of Paisley with all the venom of an innocent sentenced to death.
The fifth floor of the McKittrick Hotel, the King James Sanitorium and Birch Forest, take much of their inspiration from this tragic chapter of history.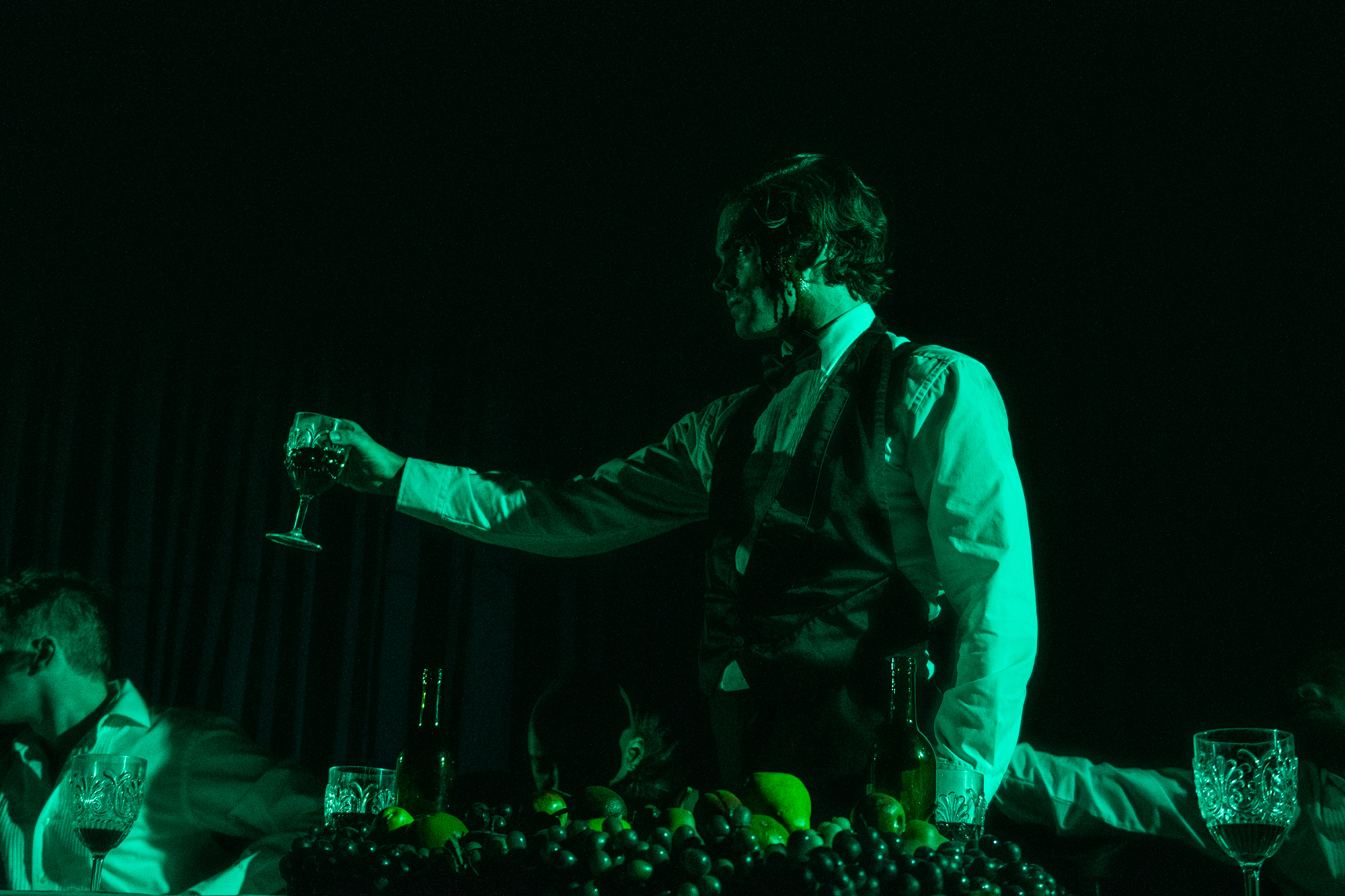 Take one of two approaches
While Geyer staunchly assured me that there was no "right" way to explore the all-consuming world of Sleep No More, Gilovich-Wave admitted that there were two different approaches one could take to get the most out of their experience.
The first approach is for the unconventional and adventurous. Take full advantage of the immersive nature of the set and wander the nooks and crannies of the McKittrick Hotel on an odyssey of self-discovery. After all, according to Gilovich-Wave, the set is just as much a character as any of the performers.
Pad down dark hallways lit by a lone, flickering lightbulb. Rifle through drawers and read letters scrawled in a frantic hand. Interact with performers one-on-one—you just might get pulled into a locked room or quietly ushered up to a shuttered floor. (When I went, I got whisked away by a nurse and thrust into a locked psychiatrist's office. I'd tell you more, but I made a promise to the nurse never to speak of it again.)
The world, which is constantly being changed and updated, is so immersive that you begin to forget yourself. When you take this approach—what Gilovich-Wave described as being "the camera in your own film noir universe"—you begin to merge with the production. By the end of your experience, you are no longer an audience member. Instead, you've become just another resident of the McKittrick Hotel. You stop being able to tell where fiction ends and reality begins.
The second approach appeals to the more narrative-minded. Pick one character and follow them throughout the set: Stay on their heels through the hotel lobby and its back rooms, trudge up behind them to the hay bales and pool table, and stroll through the cemetery in their shadow.
Each main character in Sleep No More is on an approximately one-hour storyline—the play roughly follows what Gilovich-Wave described as "a loop structure, a fragmented structure." The audience experience lasts about three hours, so you can follow three characters from start to finish if you stick to this approach the whole time. While Macbeth and Lady Macbeth are obvious candidates, Gilovich-Wave thinks following some of the less-famous characters can be just as enriching because of how Sleep No More's creators tinkered with their storylines. For instance, Malcom, the vengeful son of King Duncan in Macbeth, becomes the ultimate film noir detective in Sleep No More.
At any time before, during, or after the performance you can retreat to the Manderley Bar. It awaits you with a live jazz band. Sip on absinthe-based cocktails, nestle yourself among the red velvet walls, and enjoy the comfort of a more traditional audience experience.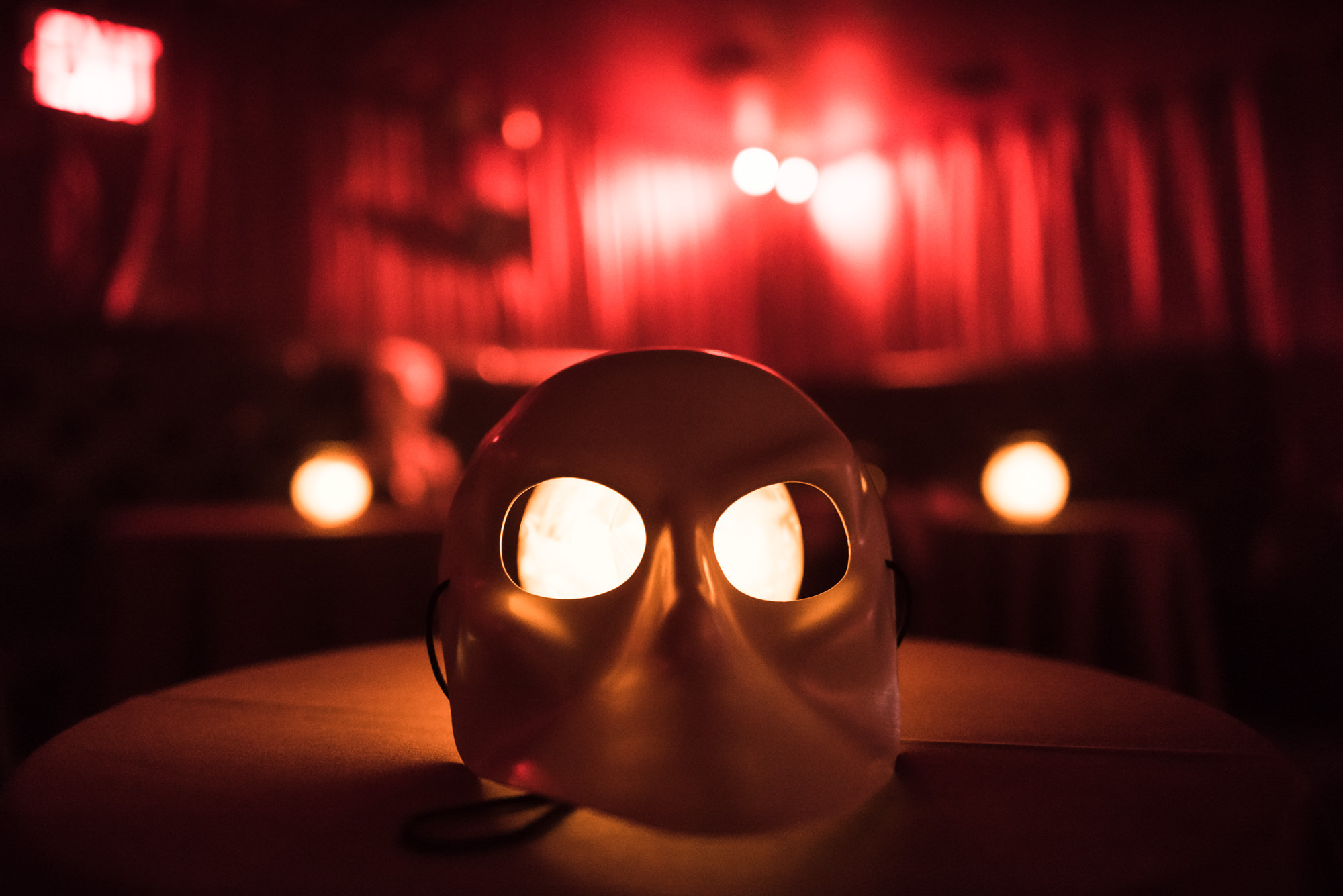 Dress stylishly but comfortably
As Chief Storyteller, Gilovich-Wave, left me with several insider tips for how to achieve the ultimate Sleep No More experience.
First, she recommends dressing in a way that is comfortable "yet distinct and radically self-expressed." This way you can manage climbing the various sets of stairs that take you between the floors while also drawing the eye of the performers. Audience members wear beaked masks (which vaguely resemble a sort of hip, new-age plague doctor's getup), so the best way to draw a performer's attention—and increase your chances of getting selected for a one-on-one vignette—is to dress apart from your fellow attendees.
Follow the music
At some point in the performance, you might become aware of pulsing, house-style music. Go towards it, Gilovich-Wave instructs, and be not afraid.
Notice everything
Try to notice everything. Soak it all in. According to Gilovich-Wave, Sleep No More was built "scene-by-scene" and was meticulously designed down to every small detail. Each room has its own distinct scent. Pay attention to the props—the handwritten letters, the repeated symbols embossed on books and walls and floors, and the personal belongings left carelessly behind. And—for the pedants among us—if you look closely enough, every single line of Macbeth can be found in some form throughout the set.
Gilovich-Wave left me with one last piece of cryptic advice: one might find it useful to look into the mirrors.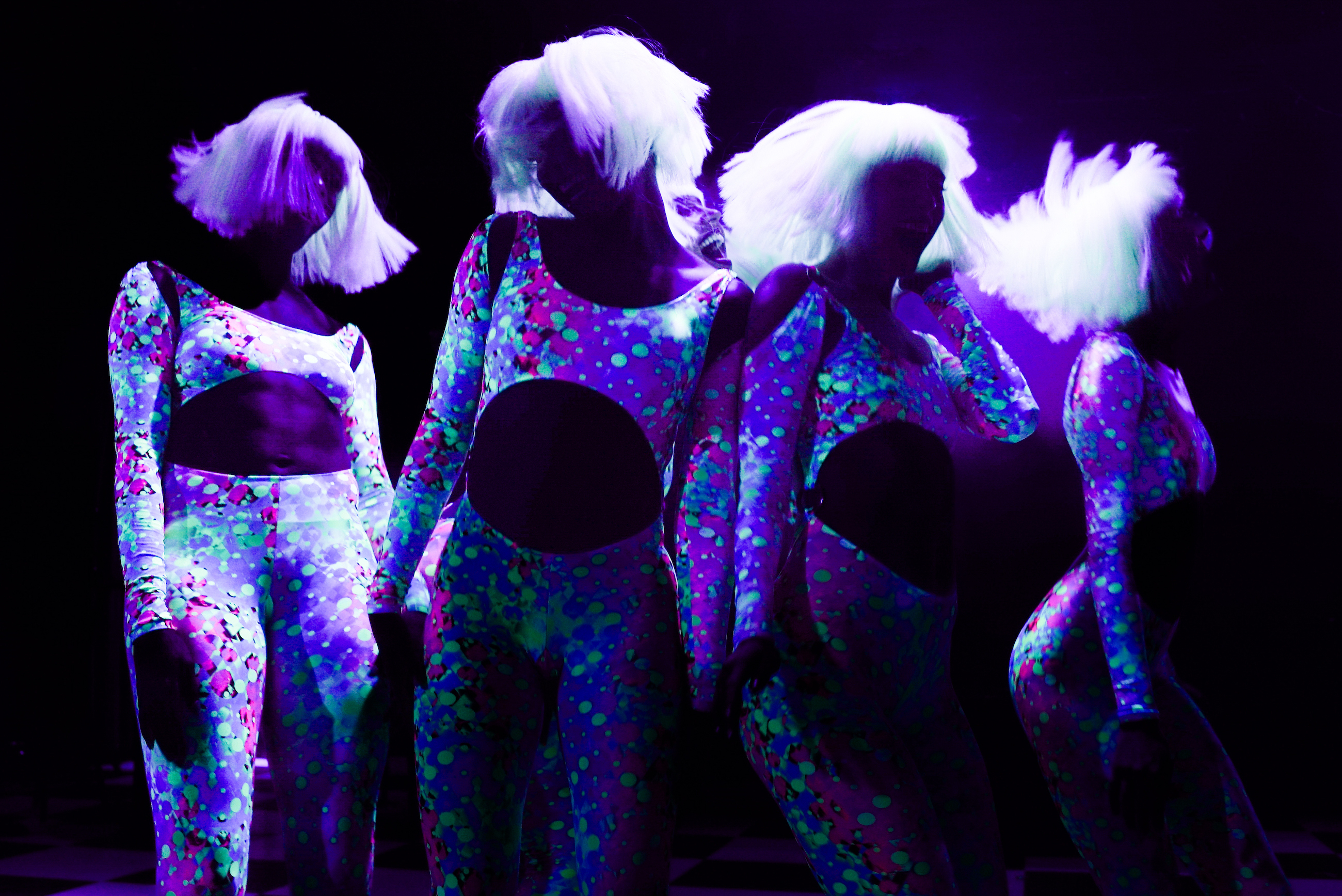 Try out McKittrick Hotel's other fantastical attractions
While Sleep No More is currently the premier attraction inside the McKittrick Hotel, Emursive offers its guests a tantalizing array of other experiences. During the warmer months, a restaurant and bar called Gallow Green (named after the grassy expanse where the Paisley witches were hung) is open on the McKittrick's roof. The hotel's main dining space, the Club Car, hosts two shows: At the Illusionist's Table, an intimate dining experience with world-famous illusionist Scott Silven, and Hypnotique, a "sultry late night dance party." The Overlook Bar is home to some of the city's best magicians who perform their tricks up close and personal in a show called Speakeasy Magick. And the McKittrick Hotel offers various soirées in the Sleep No More set throughout the year—its next big event is its New Year's Eve party.

Sleep No More closes on January 28, 2024.