Looking for a getaway from NYC this winter, I turned to an unexpected destination—Lake Placid. Instead of seeking out greener (and warmer) pastures, I chose the Upstate village known for its outdoor winter sports.
It's a long drive and freezing in February, but it was very much worth the trip.
Below, I'm breaking down what to expect from Lake Placid and how to spend the weekend there.
The Village
Set in the Tri-Lakes region, Lake Placid was founded in the early 19th century as an iron ore mining town. By 1932, it hosted the Winter Olympics and did it again in 1980. In 1972 and 2023, it was home to the Winter World University Games as well as the 2000 Goodwill Games.
When visiting, I found a beautiful downtown with a proud history seen in its massive Olympic Center; bustling businesses from souvenir shops to bakeries and breweries; and opportunities to have your own exciting sports moment with attractions like a giant toboggan chute and dog sledding rides.
It caters both to the wealthier skiing masses and the locals in town for a bite to eat—the gorgeous mountains and lakes bringing both together on Main Street.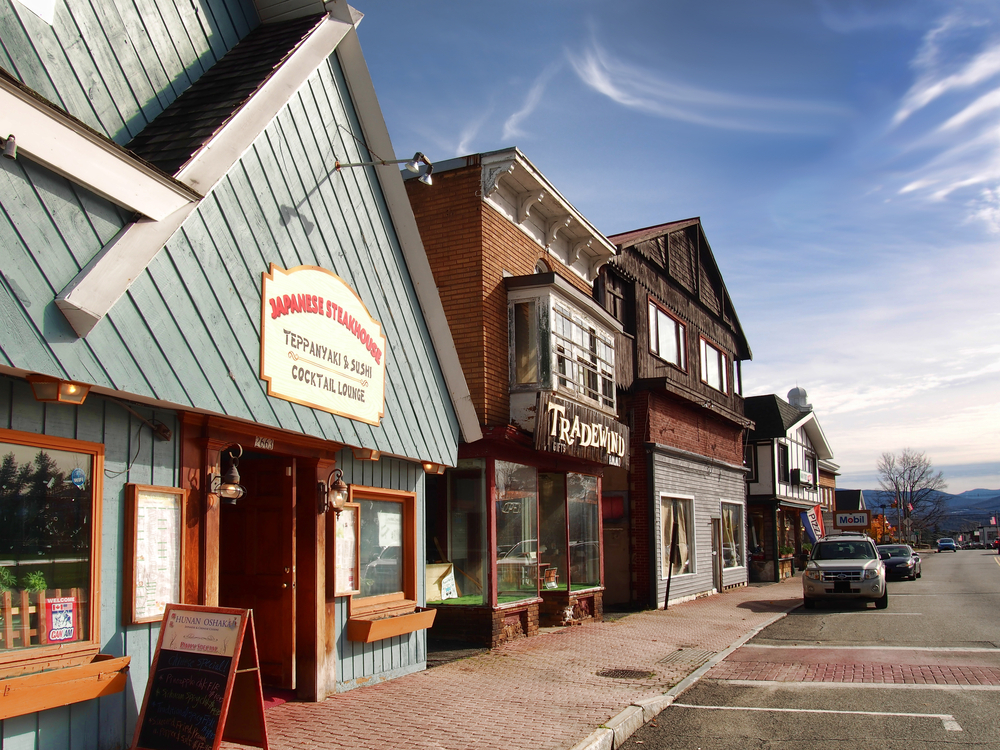 How to get there
Once you get out of New Jersey via I-95 and NJ-17, take I-87 all the way up to Lake Placid. It all takes about five hours. In the winter, the farther north you go, the more snow you'll see on the ground.
Things to do in Lake Placid from Friday to Sunday
Friday
6-8pm: Dinner at Marcy
Once we arrived in Lake Placid, we found municipal parking nearby the Grand Adirondack Hotel, which recently opened in 2022, and made our way to its restaurant, Marcy. It specializes in "regionally-inspired" cuisine and cocktails (read: wood-fired) and we were more than ready to order the poutine made of crispy potatoes, cheese curds and red wine-truffle gravy. It was the star of the show, outshining the entrees, which were the cooked-to-perfection steak and fries and the dry-aged Duroc pork chop. The cool chai cocktail was a sweet delight to drink in the rustic Art Nouveau-inspired space and a fitting introduction to the town.
8-10pm: Check-in at Eastwind Lake Placid
After a leisurely dinner, we drove five minutes to our hotel, the Eastwind Lake Placid. This boutique hotel, which opened in August of 2022, greeted us with a roaring fireplace inside its separate lobby (see below), which doubles as a bar, living room and stage for local artists who perform live weekly. We were escorted across the hotel's large yard and the squeaky wooden floorboards to our suite in the main building, which includes four guest rooms and a vintage library complete with thrifted books, furniture and a typewriter that looks out onto the yard and street. Our suite, which opened into a gorgeous alcove with a big claw-foot tub and gas fireplace, included a king-sized bed in the main bedroom, a twin-sized bed in a smaller room containing a nook for dining and reading, and a beautiful, full bathroom with deep green terracotta tiles. At $269 per night (at publication time in March), it was a lot of space for the price and offered a cozy night of sleep.
Saturday
8-10am: Breakfast and coffee at The Coffee Bar
Eastwind Lake Placid serves a breakfast basket it delivers in the morning that, when we got it, included small muffins and pastries, yogurt with blueberries, granola, a Thermos of coffee and a bottle of orange juice. There were no plastics to be seen—all breakfast food was in glass jars or wrapped in cloth.
We also stopped in town at The Coffee Bar to grab some warm drinks before heading out into the frigid lake air. The indy shop, which has a beautiful view of Mirror Lake, serves Fresh Adirondack Roasted Coffee (and a very tasty hot chocolate) as well as your typical breakfast fare (bagels and pastries) as well as lunch.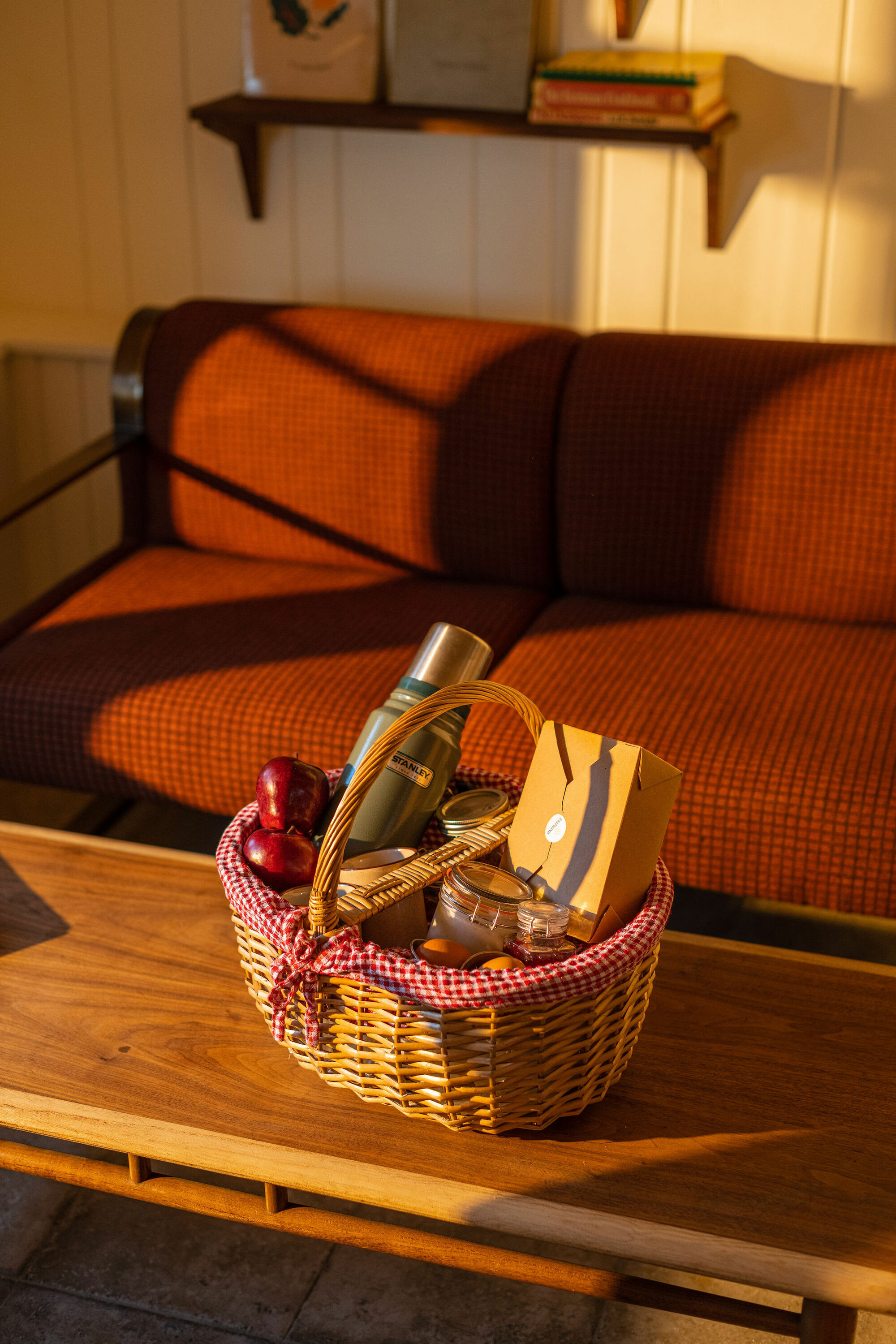 10am-noon: Dog sledding
After breakfast, we headed down to Mirror Lake to go dog sledding. As something typically reserved for the Arctic, I was not aware it was something regular people like myself could ever do. There are two companies that run the dog sledding—Thunder Mountain Dog Sled Tours and Mike Arnold Dog Sled Rides—for $20 cash per person starting the day after Christmas and Friday to Monday from 10am to 5pm. We waited in line for about 30 minutes because it is a popular experience, so we're glad we dressed warmly.
The dogs are given water, food, pets and breaks between mushes and only go out when the ice is thick enough. The companies check each morning before they go out and create a four-minute lap for the pups so they can easily traverse the frozen lake (you can read about that here).
It was an unforgettable, once-in-a-lifetime experience that I won't soon forget.
Noon-2pm: Ice skating at the Olympic Center
Lake Placid is most known for its role in the 1932 and 1980 Winter Olympics, where the "Miracle on Ice" game between Team USA and the former Soviet Union took place. You can learn all about the games at the Olympic Center a few minutes' walk away at its museum and visit the famous Herb Brooks Arena where the "Miracle On Ice" game was played. You can also go ice skating here inside or outside on its James C. Sheffield Speed Skating Oval for about $20 per person.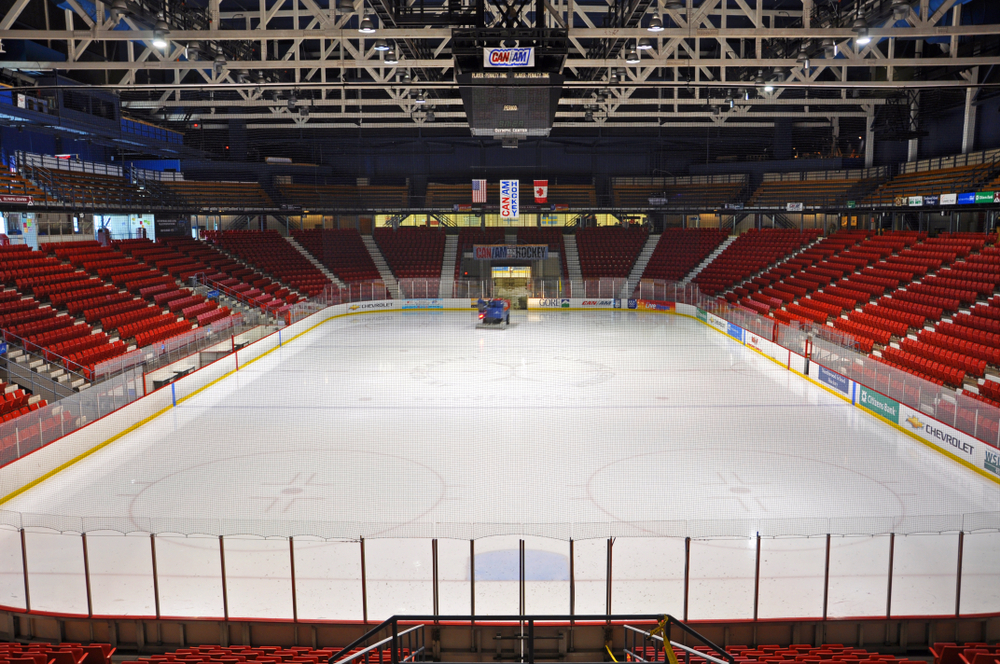 2pm-3pm: Lunch at The Pickled Pig
At this point, we worked up a big appetite, so we headed across the street to The Pickled Pig, a pub with fare with a Southern flare and ordered the succulent Baja BBQ Pulled Chicken Sandwich and the Crack Burger, which is made with two 4-ounce "smashed burgers" ground from local Donahue Farms chuck, short-rib and brisket, black garlic mayonnaise, homemade dill pickle chips, shredded green leaf lettuce, caramelized red onion confit, melted American cheese and "piggy sauce."
3pm-6pm: Bobsledding (or snowshoeing) at Mt. Van Hoevenberg
For more winter sports, we headed a few minutes south to Mt. Van Hoevenberg, which is another Olympic Regional Development Authority site and home to a state-of-the-art combined skeleton and bobsled track and Cross Country ski trails. It's also home to the popular mountain coaster. Every year, it hosts world-class Nordic biathlon and Nordic combined events.
We went bobsledding. Yes, full-on, wear-a-helmet, tuck-yourself-in, "Cool Runnings" bobsledding.
After signing waivers that made me question my decision and strapping on clunky, black helmets and goggles, we made our way over to the track and watched two groups slide down the starting hill ahead of us. "Not so bad," I thought, clearly trying to make light of the fact that we were about to speed 50mph down an icy chute.
Before I knew it, we were sliding down the same hill and it wasn't so bad … but then we picked up speed and went around our first couple of turns and I. lost. my. mind.
How could the Olympic teams handle going 80mph? Needless to say, I gained a new respect for those incredible humans.
If thrill rides are your thing, bobsledding is an awesome experience. Either way—whether you scream in fear of your life or out of pure joy, you can proudly say you've done it. For something a little less intense, do tobogganing at Mirror Lake.
View this post on Instagram
6pm-8pm: Dinner at Whiteface Lodge
Having just faced our own mortality, we were ready to go back to Eastwind Lake Placid to lay flat and process that our bodies had been going 50mph around a twisting track. We took this time to relax and get ready for a night out.
We also took advantage of the lobby space, grabbing free mulled wine from the bar. Unlike some hotel lobbies that simply look at the check-in counter and nothing else, Eastwind Lake Placid's is inviting with guests actually hanging out and socializing around coffee tables and the fireplace. On this night, we were treated to live music from Singer-Songwriter Anthony Cubbage (@ageofthebear). The hotel regularly schedules live music in its lobby for guests to enjoy.
We then made our way to Whiteface Lodge, about a 10-minute drive, for dinner at its restaurant, Kanu.
If you're like me and haven't been to a ski resort like Whiteface, it's a treat. The rustic, timber building is a marvel, including the dining room at Kanu decorated with hand-hewn log beams and granite stone fireplaces. The creamy lardon onion soup and the warm brie were divine appetizers and the drinks from its cocktail bar, Peak 47, were delicious and inventive.
Time Out Tip: Ask for the bartender's secret menu. It's a rotating, curated list of creative cocktails with drinks like the "Center of the Galaxy" (spiced rum, Chambord, Aperol, elderflower liqueur, Passou Passion, Pamplemousse, lime and pineapple juices and orange bitters); the "Naked and Afraid" (Mezcal, yellow chartreuse, Aperol, Pamplemousse, lime juice and an orange peel garnish); and the "Banana Nut What?" (Disaronno, Frangelico, Drambuie, spice rum, Grand Marnier, strawberry banana puree and coconut milk).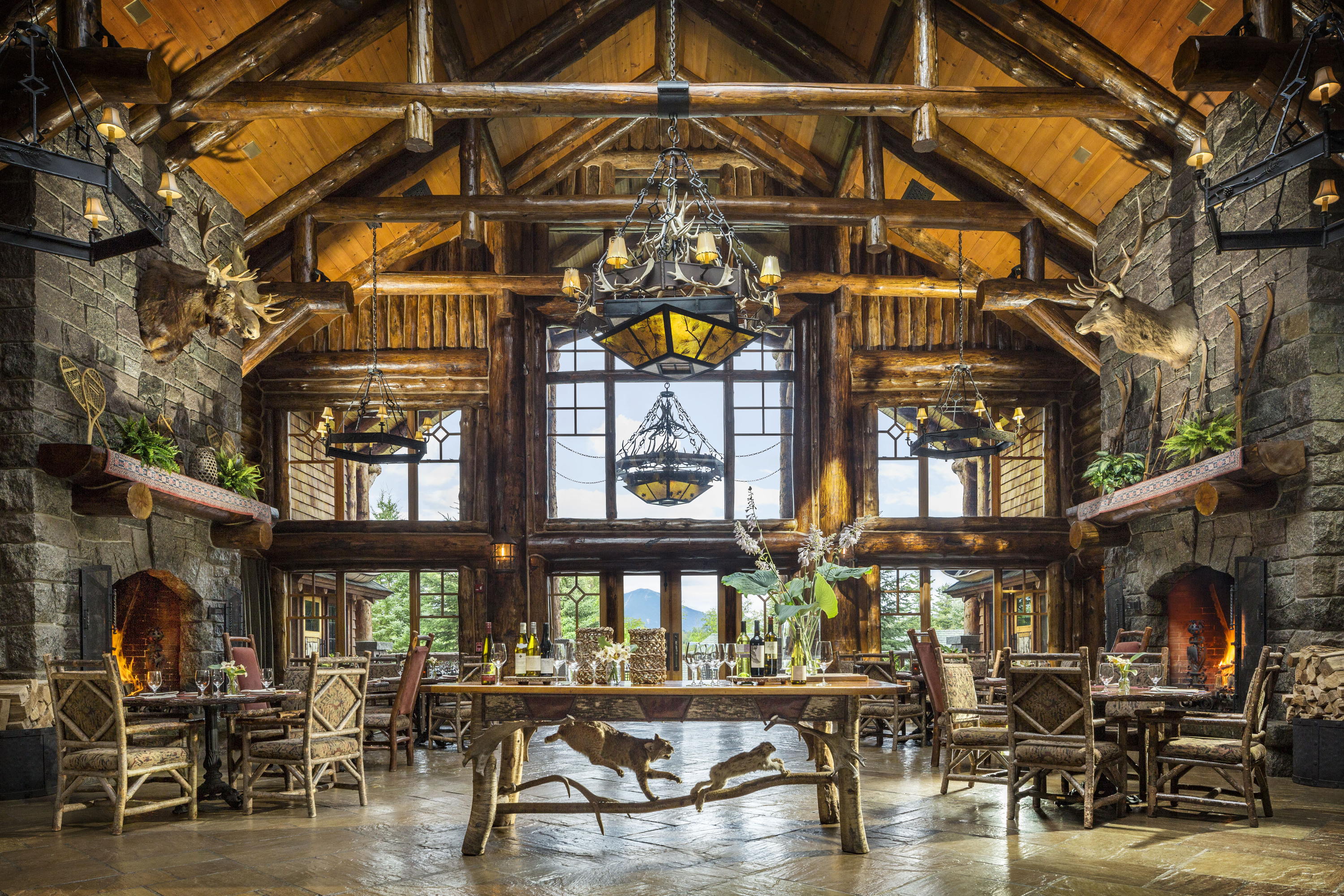 10pm-midnight: A nightcap at Zig Zags
We weren't done yet, so we headed back to Lake Placid for a nightcap at Zig Zags, the local watering hole on Main Street. It fit the bill for "local" with neon signs, a pool table, a rowdy crowd and a solid selection of beer.
We couldn't miss it—out front is a model bobsled that we posed in like everyone who has ever visited Lake Placid!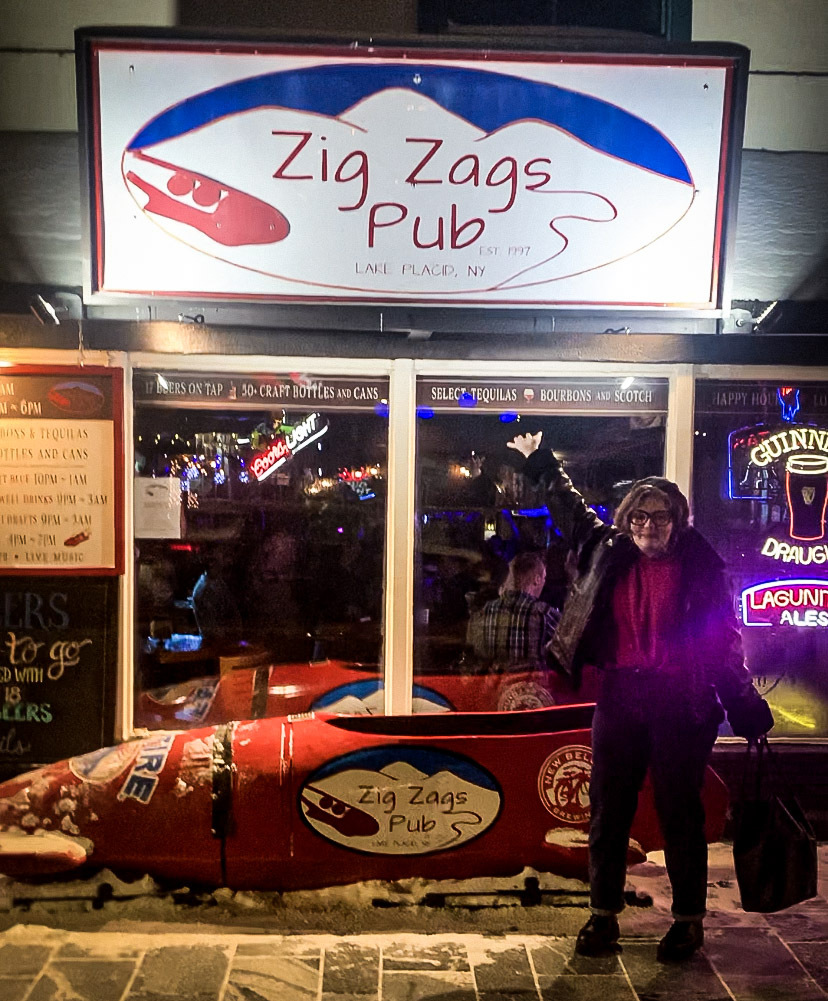 Sunday
8am-noon: Breakfast and shopping
Grab breakfast at the hotel or head out to The Breakfast Club known for its Bloody Marys, great French Toast and beautiful views of Mirror Lake.
View this post on Instagram
And before heading home, we got some shopping done at several of the local shops that line Main Street, including Adirondack Decorative Arts & Crafts, Critters and Little Blue House, to commemorate and remember our time in Lake Placid.