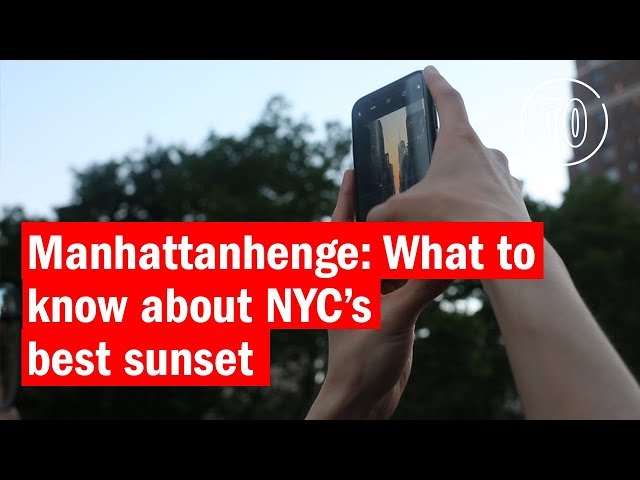 Manhattanhenge returned on Thursday evening, and it did not disappoint. The phenomenon occurs just four days a year when the sunset perfectly aligns with the grid of Manhattan, giving way for a rush of Instagram posts and phone-wielding pedestrians standing in traffic.
In cities that have a grid that runs exactly east-west, a "henge" effect takes place on the vernal and autumnal equinoxes. But it's hard to compare any other urban sunset to one that runs down the canyons of New York City's skyscrapers. Ours also occurs during the warmer months of the year (May and July), which makes viewing it all the more pleasant.
When the first 'henge of the year hit the city in late May, the sunset was blocked out by cloudy skies over New Jersey—Thursday night's did not disappoint. It served up the kind of realness that reminds New Yorkers how magical their city is.
If you missed the sunset last night, don't fret. Another "half sun" Manhattanhenge will occur on Friday night, which is indiscernible from Thursday's "full sun" one to the casual viewer. In the coming days and weeks, the sunset will still come close to aligning with the grid as well, so you can still get some semblance of a grid kiss.
Check out photos of last night's Manhattanhenge below. If you have any particularly magical shots of the sunset that you'd like to share with us, post them to Instagram with the hashtag #TimeOutNewYork.