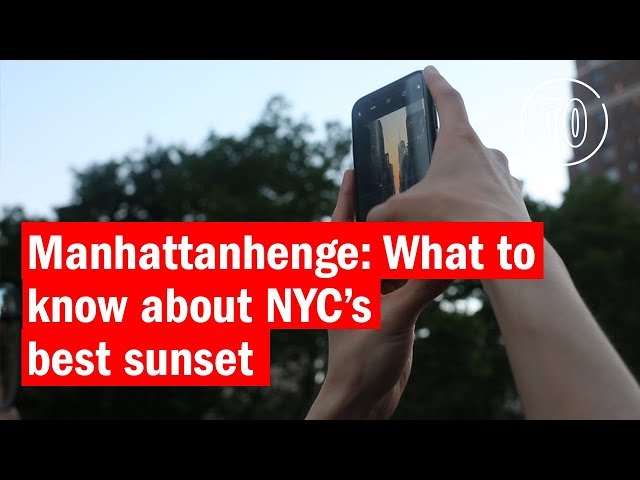 One of the best things to do in summer in New York is see one of the most breathtaking sunsets called Manhattanhenge 2019. NYC offers plenty of viewing spots, including rooftop bars as well as elevated NYC Parks like The High Line for capturing the perfectly pink-and-orange colored sky. However, there are specific streets (at very specific times) you should hit if you want the ultimate Manhattanhenge Instagram picture. Here's everything you need to know about the annual spectacle.
RECOMMENDED: Full guide to things to do in summer in NYC
What is Manhattanhenge?
Manhattanhenge is an incredibly photogenic event that happens when the setting sun perfectly aligns with Manhattan's east-west grid. It's also nicknamed Manhattan's Solstice.
When is Manhattanhenge?
According to zmescience.com, the two best days (known as "full sun on the grid") take place on Thursday, May 30, 2019 at 8:12pm, and Thursday, July 11, 2019 at 8:20pm. You can get a not-as-good-but-actually-still-pretty-great preview (known as "half sun on the grid") on Wednesday, May 29, 2019 at 8:13pm and Friday, July 12, 2019 at 8:21pm.
Where should you go for the best view of Manhattanhenge?
According to Neil deGrasse Tyson, the best cross streets are 14th, 34th, 42nd, 57th and 79th Streets, as they're wide blocks with interesting buildings for framing your photos. It is recommended to go east for the best views.