Lincoln Center will be a hot spot again this summer—for everyone!
Its "Summer for the City" festival will be back on June 14 through August 12 with hundreds of free events, from silent discos and outdoor film screenings to queer music festivals and orchestra performances, and more.
For the first time, the performing arts center's campus will also be completely transformed by Visual Designer Clint Ramos, who is planning a greenhouse treat, a new performance space, and fun decorative details around Hearst Plaza, among other things.
RECOMMENDED: Free Picnic Performances will return to Bryant Park this summer
The city's largest outdoor dance floor with a massive, 10-foot-wide disco ball—The Dance Floor at Josie Robertson Plaza—will return for social dance nights, silent discos, and more giant parties.
The Garden will be a greenhouse-like oasis for gathering with greenery designed in collaboration with Donyale Werle Design.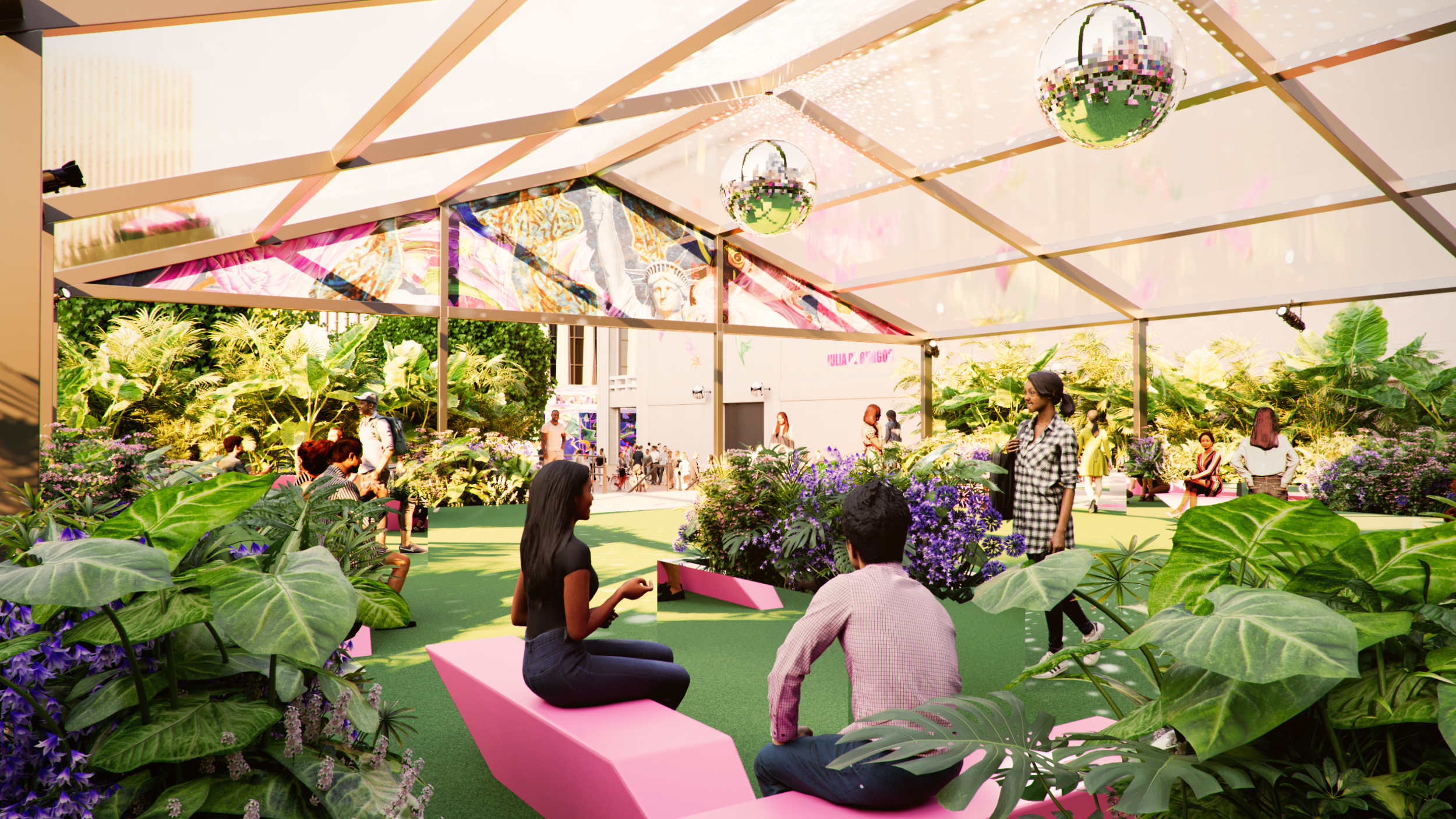 Hearst Plaza, which will be decorated with bright, neon lights, will be full of outdoor games, a new performance space, and al fresco dining and drink options from Lincoln Ristorante, Tatiana by Kwame Onwuachi, and nearby food trucks. All of this will be surrounded by 200 faux flamingos hanging out in the Paul Milstein Reflecting Pool.
On the western façade of the David H Koch Theater, the phrase "Y fui toda en mí como fue en mí la vida" ("And I was all in me as was life in me" from Julia de Burgos' poem "Yo Misma Fui Mi Ruta (I Was My Own Path)", will welcome visitors as vinyl botanicals adorn walkways and other building fronts.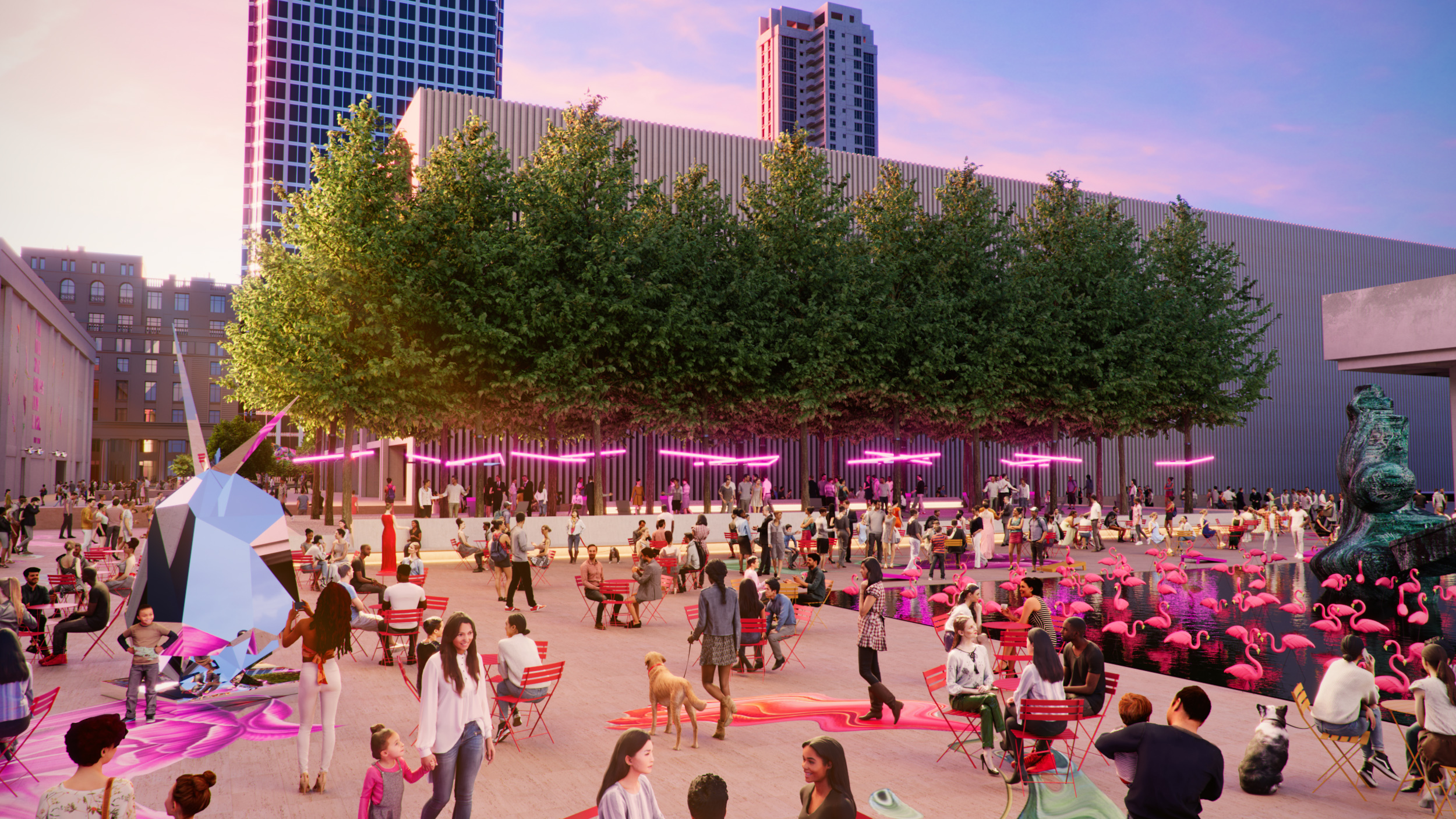 As usual, the center's underground parking garage and driveway will serve as a speakeasy-inspired performance venue called "The Underground at Jaffe Drive." This year, it's been expanded to hold more audience members.
There's a lot on the lineup this summer to keep everyone busy and coming back down to Lincoln Center, including Korean Arts Week, the New York City premiere of Octavia E. Butler's Parable of the Sower, the return of the BAAND Together Dance Festival, globalFEST, and Mostly Mozart Festival Orchestra concerts, and a week-long celebration of the 50th anniversary of hip-hop with performances by J. PERIOD, Rakim, Big Daddy Kane, a trap choir, and more, according to Lincoln Center.
"We are blessed to be in the heart of the most diverse city in the world, and to have 16 acres of outdoor space to celebrate the magic of this bustling global city," said Shanta Thake, Ehrenkranz Chief Artistic Officer of LCPA. "This summer builds on a city reimagining itself—finding hope in community, and planting seeds for the future. Over three months, we welcome all New Yorkers to come dance, love, and celebrate together with long-standing traditions of social dance and classical music, and new traditions like our wedding for hundreds of couples, and a 'second line' processional to honor lives lost."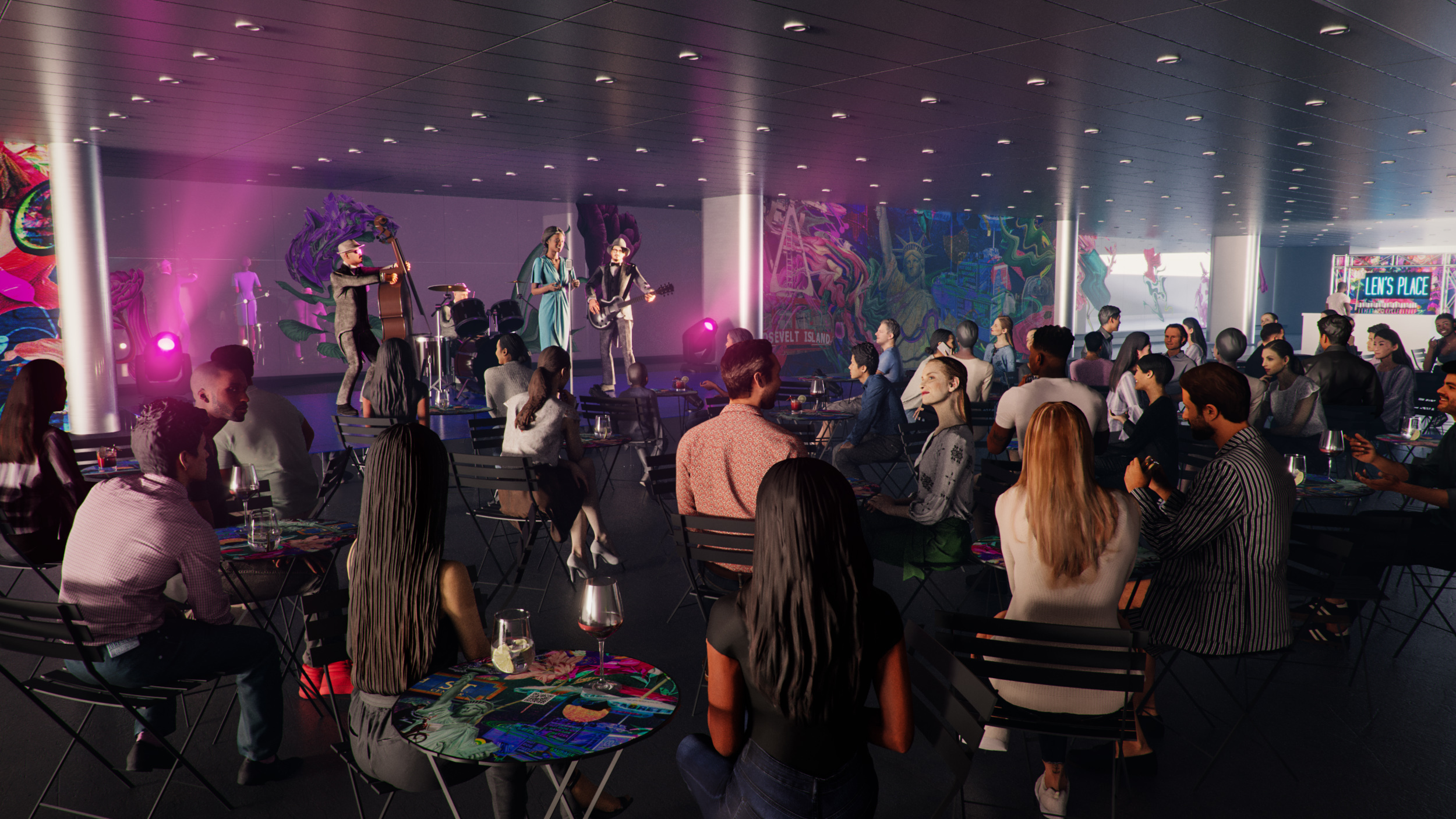 Below are some highlights from this summer's lineup:
Octavia E. Butler's Parable of the Sower: an opera by Toshi Reagon and Bernice Johnson Reagon based on Butler's prescient novel of the same name. The fully staged congregational opera recreates the sci-fi, Afrofuturist masterpiece, celebrating the novel's 30th anniversary in collaboration with Brooklyn Public Library, Queens Public Library, and New York Public Library.
The Mostly Mozart Festival Orchestra: A series of engaging and dynamic concerts in celebration of Renée and Robert Belfer Music Director Louis Langrée's 21st and final year with the Orchestra.
Pride Month: National Queer Theater's Criminal Queerness Festival; queer pop duo The Illustrious Blacks' silent disco; Mariachi Arcoiris de Los Angeles, the world's first LGBTQ+ mariachi group; and a tribute to Sylvester, one of the first openly gay artists in disco and R&B.
Cultivating Access Ecologies: a series of performances by Deaf and disabled artists including DJ Nico DiMarco, Jerron Herman, Crip Rave, JJJJJerome Ellis, Una Osato, and Pato Hebert.
Korean Arts Week: a K-Indie Music Night, DJs, a film festival, silent discos, K-pop, wellness events, family programs and more, along with a feature program with the Mostly Mozart Festival Orchestra.
Freedom is a Constant Struggle: an evening of orchestral performances and readings that highlight the African American struggle to reap the benefits of liberty and justice as part of American citizenry, conceived and curated by singer-songwriter and composer Tamar-kali, and performed with the American Composers Orchestra.
Damrosch Park film festival: complete with popcorn and drinks, and transmitted via Quiet Event headphones, in collaboration with Film at Lincoln Center.
Big Umbrella Day: a one-day iteration of Lincoln Center's Big Umbrella Festival, creating relaxed spaces which specifically welcome neurodivergent audiences through multi-sensory experiences, performances, installations, and workshops.
Sydnie L. Mosley Dances' PURPLE: "A Ritual in Nine Spells," an evening-length choreopoem inspired by Ntozake Shange, created with senior residents of NYCHA's neighboring Amsterdam Houses.
Hip-Hop's 50th Anniversary: a Live Mixtape with Brooklyn DJ J.PERIOD with Rakim and Big Daddy Kane; the Sainted trap choir; Jazz Está Morto with Arthur Verocai hosted by Adrian Younge and Brooklyn's own Ali Shaheed Muhammad; as well as family programs, outdoor dance parties, silent discos, and more.
Social dance: On The Dance Floor at Josie Robertson Plaza, Cuban music with salsa group 8 Y Más; the Stax Academy with a special appearance by soul icon Booker T Jones; José Alberto "El Canario"; Joe McGinty & The Loser's Lounge and Orquesta Broadway; a night of line dancing hosted by Stud Country, and performances and classes across a variety of dance styles including swing, hip-hop, merengue, salsa, line dancing, Lindy hop, and more.
Silent discos: following social dance nights on The Dance Floor multiple nights per week, dancing to adiverse range of dance styles from K-pop, salsa, Hip-Hop, Broadway, and more under the giant disco ball.
The Underground at Jaffe Drive: a speakeasy-inspired space with stand-up comedy nights, jazz nights with Jazz at Lincoln Center, and spoken word and poetry slams.
BAAND Together Dance Festival: Five of NYC's most iconic dance companies—Ballet Hispánico, Alvin Ailey American Dance Theater, American Ballet Theatre, New York City Ballet, and Dance Theatre of Harlem—perform together on one stage for five nights.
Juneteenth commemoration performance: Aaron Diehl, Alicia Hall Moran, Burnt Sugar The Arkestra Chamber will perform with special guests Vernon Reid and DJ Logic, and Ronald K. Brown's EVIDENCE Dance Theater.
Jazz at Lincoln Center's "second line" processional: the New Orleans tradition to mourn and celebrate lives lost comes to Lincoln Center
Deaf Broadway: A new rendition of Stephen Sondheim's Company, performed entirely by deaf actors in American Sign Language.
Wedding: Hundreds of couples can celebrate their love with a multicultural ceremony featuring music, poetry, social dance and more.
For the full lineup with days, times, and details visit SummerForTheCity.org.