Summer nights, after work or a day out, will once again be alive with music and dance thanks to Bryant Park Picnic Performances presented by Bank of America.
Starting in June, the Picnic Performances will bring the best of NYC to the stage, including the New York City Opera, Jalopy Theatre, Carnegie Hall, the Classical Theatre of Harlem and the American Symphony Orchestra.
RECOMMENDED: A massive spring market will be open for shopping at Bryant Park
Best of all, all 26 performances are free and open to the public! On these days, picnicking at Bryant Park will include a show.
"Thanks to Bank of America's support, Picnic Performances has become an established venue for major cultural events," said Bryant Park Corporation's President Dan Biederman. "There is no easier way to experience NYC's extraordinary music, theater, and dance: just come to Bryant Park, grab a free blanket or chair, and enjoy."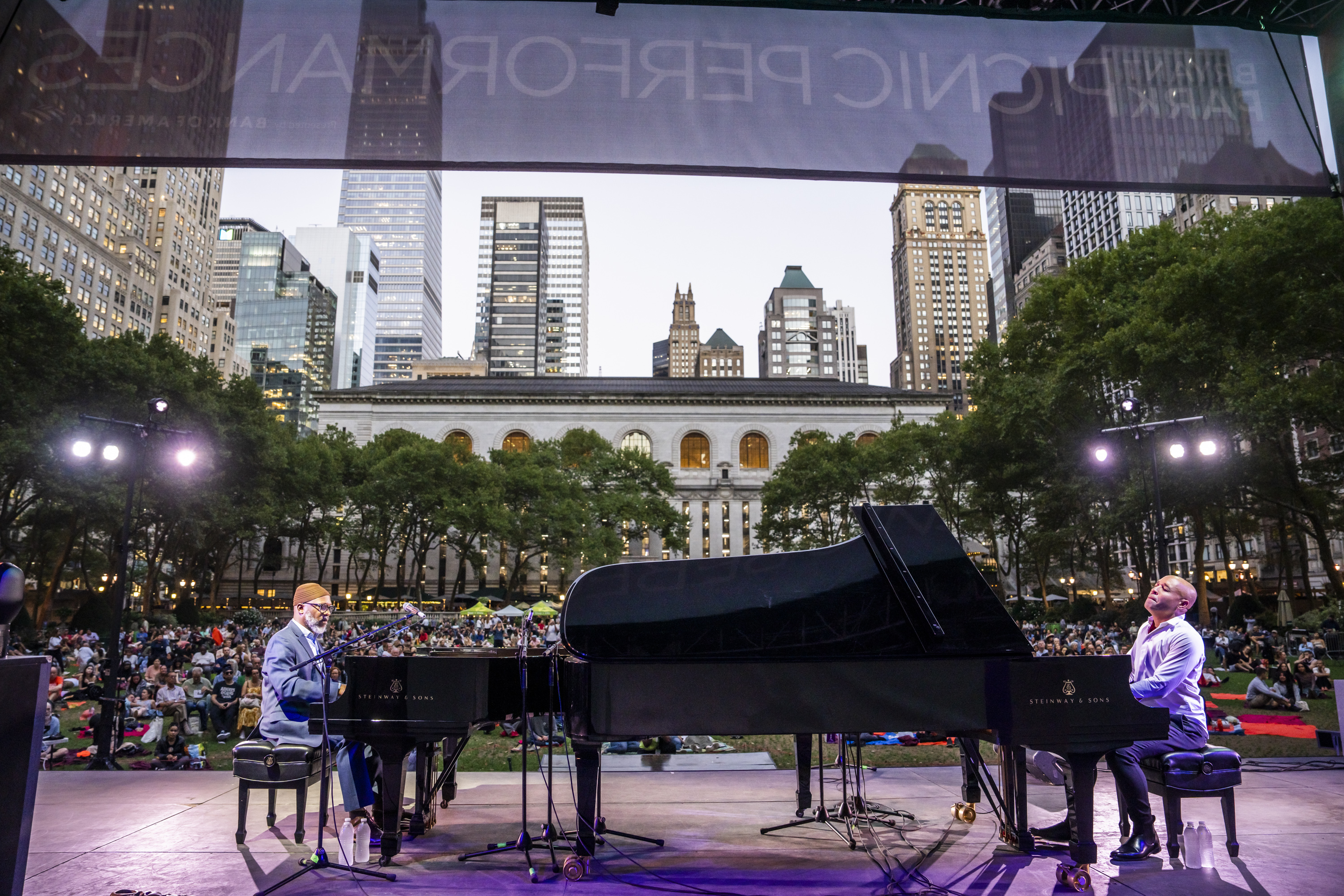 Below is the full, awesome line-up:
June 1 — New York City Opera: La Bohème at 7pm
June 2 — Jazzmobile: Steve Oquendo Latin Jazz Orchestra at 7pm
June 8 — Contemporary Dance: Robin Dunn with Buddha Stretch and Mr. Wiggles and more at 7pm
June 9 — Contemporary Dance: Dance Heginbotham and others at 7pm
June 15 — Contemporary Dance: Terk Lewis + Kayla Farrish at 7pm
June 16 — Contemporary Dance: Soles of Duende + Josh Johnson at 7pm
June 23 — Emerging Music Festival: THUS LOVE, Psymon Spine, Katy Kirby at 7pm
June 24 — Emerging Music Festival: Ky Vöss, Seramic, Miss Grit, Dead T00th at 5pm
June 30 — Jalopy Theatre: Michael Daves Quartet ft. Tony Trischka, Yacouba Sissoko, Terrell King at 7pm
July 7 — Carnegie Hall Citywide: Arturo O'Farrill and the Afro-Latin Jazz Orchestra at 7pm
July 14 — Carnegie Hall Citywide: Tessa Lark + Michael Thurber at 7pm
July 21 — Carnegie Hall Citywide: Magos Herrera featuring The Knights at 7pm
July 28 — Carnegie Hall Citywide: Champe-Soukous Collective at 7pm
August 3 — Ailey Moves NYC: Ailey II at 7pm
August 4 — Carnegie Hall Citywide: Ndlovu Youth Choir at 7pm
August 11 — Shaina Taub + Friends at 7pm
August 18 — New York City Opera: From Vienna to Broadway at 7pm
August 19 — New York City Opera: Alessandro Lora in Concert at 7pm
August 25 — Accordions Around the World: Diana Burco, Suistamon Sähkö, Ragini Ensemble at 7pm
August 26 — Roulette Intermedium: Immanuel Wilkins, 75 Dollar Bill, Ka Baird at 7pm
August 31 — The Town Hall: Martha Redbone Roots Project
September 1 — Classical Theatre of Harlem: Langston in Harlem at 7pm
September 7 — American Symphony Orchestra: American Expressions at 7pm
September 8 — New York City Opera: Romeo and Juliet at 7pm
September 9 — Drom: Gaye Su Akyol (U.S. Debut) at 7pm
September 14 — Harlem Stage: 40th Anniversary Celebration at 7pm
Almost all performances will be livestreamed for free on Bryant Park's social media channels and website in case you can't make it in person.
These Picnic Performances have become popular, so much so that last year, 75,000 people attended and nearly half a million watched online.
Don't miss out—put these on your calendar this summer!