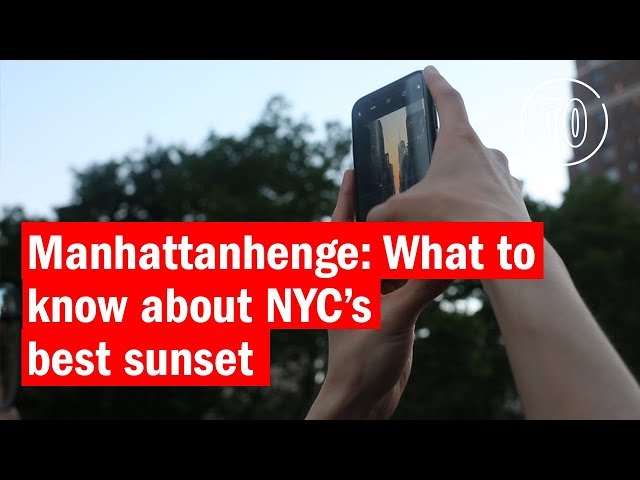 Manhattanhenge returns for its second leg this week, and we are here for it. The phenomenon occurs two times a year when the sunset perfectly aligns with the grid of Manhattan. In late May, New Yorkers were graced with the first set grid-kissing sunsets of 2018. And on Thursday, July 12 and Friday, July 13, another pair of Manhattanhenge sunsets are poised to once again dominate Instagram feeds across the five boroughs.
Thursday's sunset is known as "full sun on the grid," which is the primo day to gawk at the 'henge. But don't write off Friday's event—the difference between the two is indiscernible to the casual viewer.
You can take in the full Manhattanhenge experience at nearly every east-west street in Manhattan with unobstructed views, but there are a handful of spots that are ideal for snapping a perfect picture without worrying about dodging traffic. The most coveted locations are at Tudor City Place near the United Nations building, which is a small overpass above 42nd Street. The overpass near Grand Central Terminal on Park Avenue above 42nd Street is also a delightful spot to catch the sunset. Gantry State Park in Long Island City is a surprisingly good spot to view the event as well, as it contains views of the Manhattan grid that cut all the way through to New Jersey. Other thoroughfares with stellar views include 14th, 23rd, 34th and 42nd Streets.
The sunset on Thursday will go down at 8:20pm, with Friday's taking place at 8:21pm. If you're planning on heading out to one of the most coveted viewing spots, plan to arrive early—very early. Tudor City Place typically fills up several hours before sunset on Manhattanhenge days, and pedestrians roaming across 42nd and 34th Streets are wont to gunk up traffic when the sunset occurs.
If you don't manage to see the sunset this week, you can still see a similar kind of Manhattanhenge effect for the following week or two. The sun won't directly kiss the center of the grid during that stretch, but the canyons created by New York's building will still be beautifully illuminated. But with clear skies on the forecast, this is a great week to check a Manhattanhenge sunset off of your NYC bucket list.
Subscribe for just $25 and enjoy an entire year of Time Out New York.