Back in the early 20th century, when Harry Houdini was famous for his vanishing-elephant trick, the architect of the Belasco Theatre assumed that a greenroom should be able to handle a visiting pachyderm. The resulting basement lounge still vaults high above you, but these days the elephant in that cavernous room is Mark Rylance's talent: You speak to him while carefully not mentioning that he's one of the greatest actors in the world. The Oscar, Olivier and (three-time) Tony winner is currently back on Broadway to play King Philippe V of Spain in Farinelli and the King. Written by Rylance's wife, Claire van Kampen, the play is a historical drama about a castrato singer who, in 1737, gave up superstardom to sing exclusively for the Spanish monarch, whose madness was soothed by his otherworldly voice. When he speaks about his character, Rylance often refers to Philippe as "I." He tries not to have any distance between himself and a part. "From drama school on, the artists that have intrigued me were not in control," he says. "They had taken the idea of mirroring nature deeper and further." We talked with him after a recent rehearsal.

How does a sane man play someone who is mentally ill?
When I'm being critical of myself, I remember that the most disturbing moments are when someone is having a rational conversation with you, and they're not jittering or making funny faces, but then you see they are in a totally different reality. My mother was a gestalt therapist, and she once said that when something terrible happens, you have three choices: You either kill yourself and end it, or you decide to get well, or you go mad. The madness is a kind of safe place where neither thing happens.
In the play, Philippe and Farinelli and the queen, Isabella, try to escape the court for a while by running away to the woods. What does the play have to say about finding safety?
The king is constantly trying to make a kind of emptiness, a stillness. The play talks a lot about harmonics—these hidden notes he says he hears when Farinelli sings. The music includes the sound of other notes that individually we cannot hear but that are offshoots, like little children. Isn't it amazing? The sense that all of reality is vibrating? And we know it is! The king wants to set up an empty space where those vibrations can happen. Most instruments have a hollow place, an acceptance of hollowness. Being a king in this court, being so busy, with all these political things happening constantly—there's just no space for resonance, no space for nothing. Without nothing, you can't have something. So he tries to find it, and the music makes it for him.
Do you look for motivations in a character who acts without rationality?
I went and heard Ian McKellen play King Lear two weeks ago, and he said an interesting thing. He said that always when he's played a Shakespeare character, he's made a path alongside the character. So the character walks there, and he's made a path where he walks and explains the character to the audience, pointing out things that the character's doing. With King Lear, he said, he realized he couldn't explain it; He had no choice but just to be it. His job was just to make it manifest.
Are there characters you feel you've walked beside?
Not for a while. So I suppose I can't explain it; you just look to the text.
How much are you playing the historical Philippe?
I wouldn't say that much. I read a biography of him, but history's not all-important. I think there are human beings behind characters in Shakespeare, for instance—he's using real fabric, real experiences, but then he goes hunting for something more essential. Claire's doing that too.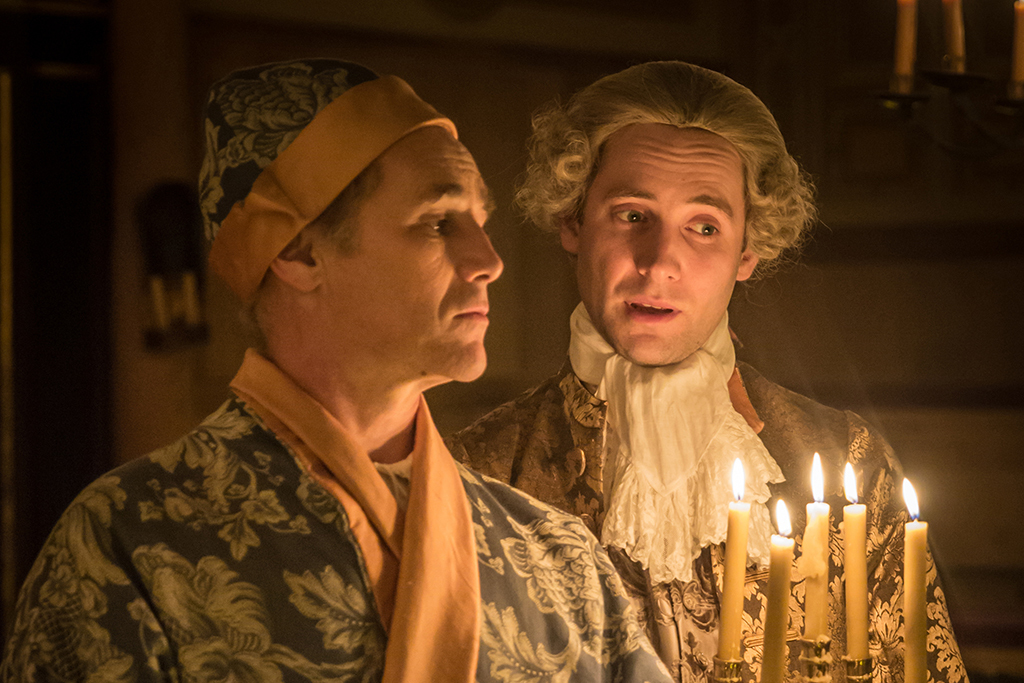 What elements in the play do you think she is taking from life, if not from history? Did she have a source for the friendship, the sense of recognition, between Farinelli and the King?
In 1988 or '89, I was playing Hamlet at the Royal Shakespeare Company, and there was a psychiatrist who came to see it, Dr. Murray Cox. He was the first to introduce group psychotherapy to psychopaths at Broadmoor, a hospital for murderers, rapists and arsonists. And he told me how much his patients would enjoy Hamlet. And I said, "If you have room big enough, we'll go there." This set off a big debate. The doctors were against it, but the nurses said, "No, bring them. Until they get upset, they don't get better." So we went and played Hamlet for 80 patients and about 100 staff. It was a packed room, an old Victorian hall, and I'd say something like, "Foul deeds will rise, though all the earth o'erwhelm them, to men's eyes," and a person would look back. And it was such an experience of understanding. We were shaking with the power of the piece in that audience.
Oh my god.
We went back and did a workshop with them. We thought they'd be disturbed by the stabbing of Polonius or the attempted rape of Ophelia, but no no no, that was all fine. "It was the graveyard scene," they said! "We hadn't imagined the burials of our victims. It really upset us, that graveyard scene!" So we said, "We'll do it again, and you can play and be part of it." There's a line when Hamlet jumps into Ophelia's grave. He says, "I loved Ophelia. Forty thousand brothers with all their quantity of love could not make up my sum." And I'd played the scene so many times, always worried that a woman would stand up in the audience and say, "You asshole, how dare you say that after what you've done to her!" It'd always been a sensitive line. But in the workshop, I said that line and one of the patients came up and put his hand on my shoulder. And he said [long pause] "I believe you." And I was struck. How did he know that? How did he know that it was the thing I needed to be told at that moment?
Do you think that influenced Claire too?
Well, Claire was very worried about it. She finds it very upsetting to be around people who are mentally ill because when she was young, she had an auntie who wasn't very well. But I've always been very drawn to—any kind of suffering, I guess, but towards these people. And after that Hamlet, I remember talking with her as we drove home. I was saying, "I don't know how I can go back to playing for tourists at Stratford-upon-Avon! After that kind of connection?" I think that something like that must be happening between Farinelli and the King.
Is there anyone for whom you'd consider doing something like what Farinelli does?
If I could go and act some Shakespeare soliloquies for Donald Trump, and he suddenly went, "Oh my God, I've made a terrible mistake, I see now that we need to share the wealth and take care of the earth"? [Laugh.] Yeah, it might be worthwhile. I would do it. It would be such a miracle.

Farinelli and the King is at the Belasco Theatre through March 25. $32–$167.
Want to see the best musical theater in New York? Get tickets to upcoming Broadway shows.