Since its beginning, Sugar Hill Creamery in Harlem has drawn inspiration from its neighborhood's history. The family-run ice cream shop's first location at 184 Lenox Avenue picked up the mantle of a beloved neighborhood institution that closed its doors many years earlier.
"When we opened in 2017 there wasn't, for a very long time, a sit down ice cream place," says Petrushka Bazin Larsen, who together with her husband Nick Larsen now owns and operates three Sugar Hill Creamery locations, including one they opened at 3629 Broadway last October and their newest outpost at Time Out Market New York.
"The legacy that we like to follow is that of a place called Thomfordes. It opened at the turn of the 20th century and it closed in like 1983, and it was on the corner of 125th Street and St. Nicholas Avenue," she says."
"A picture of it is up at our Lenox shop. We actually drew inspiration from it because prior to opening we had conversations with octogenarian Harlemites who remembered going to Thomfordes when they were younger, after a show at the Apollo or on Sunday after church, or just to go and have a sweet treat."
Bazin Larsen previously served as vice president for programs and education at the Brooklyn Children's Museum, and Larsen has a background in fine dining. They met in Sugar Hill before naming their trio of shops for the Harlem neighborhood and raising their three children in the area. In addition to Thomfordes, they each have myriad of local and far-flung inspiration points that imbue their hand-made ice cream and non-dairy frozen dessert flavors.
"Being seasonal, using raw ingredients, being off the beaten path but also approachable is important. Also, using fresh ingredients and things that are relevant, that's one way that we create the flavor," Larsen says.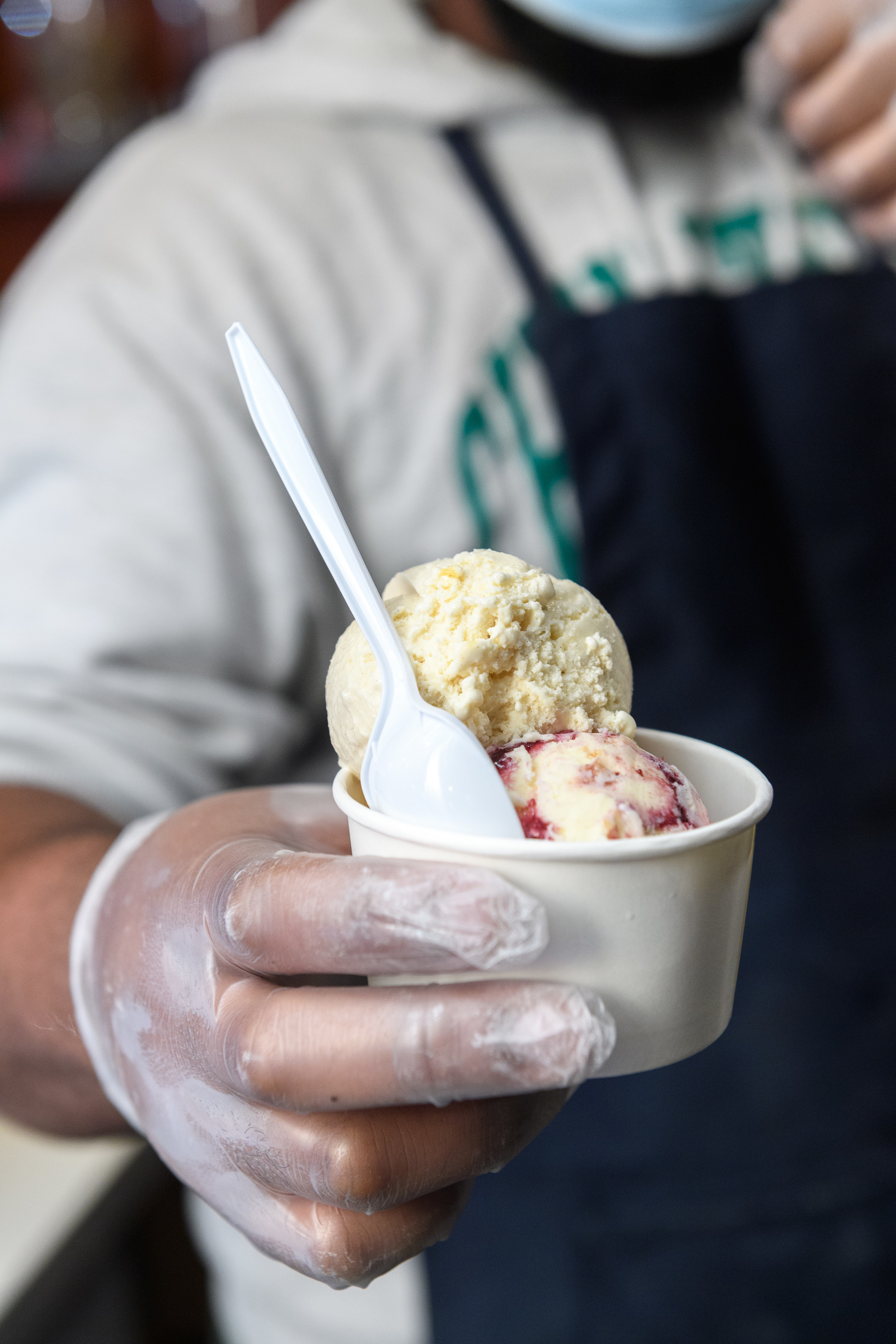 "A lot of the flavors are inspired by Harlem, by people who live in Harlem, cultures that live in Harlem, nationalities that live in Harlem. For example, the Cafe Touba [coffee-based ice cream] is Senagalese, and there's a large Senagalese population in Harlem, so that flavor is inspired by them and their presence in the neighborhood."
One of those "off the beaten path" ingredients you'll see at Sugar Hill are the mashed green peas in its Green New Deal ice cream. The flavor combines the peas (and a promise on the menu that reads, "yes, it's actually delicious in ice cream") with rhubarb and chickpea brittle to fresh effect.
"Even like the green pea and rhubarb, people are like, 'oh, it's surprisingly good'," Larsen says.
"Specifically from my years working in restaurants, especially in fine dining, the way you find out tricks in fine dining; one is eavesdropping, two is checking the plates at the end of the day. It's called show plates, you gotta show the chef the plates when you come back in the kitchen. If they haven't finished, now you've gotta go find out, did they like it, did they not like it, are they full, are they not full, and in an ice cream shop they're right in front of me. They don't have to say anything but I can see how their eyes react, I can see if they're smiling, I can see their reaction."
"So that is an easy way for us to determine if someone likes something. Feedback is important to what we're doing, too. Being in Harlem, the neighborhood in which we live, we care what our neighbors think. That was the idea of the shop, we want Harlem to love our ice cream shop, it's very important to us."
Sugar Hill's expansion to the Time Out Market and its surroundings in Brooklyn Bridge Park and DUMBO open up a whole new inspiration landscape that we might some day see reflected among the creamery's Nunu Peach Cobbler, Harlem Sweeties and Brown Bombshell flavor varieties.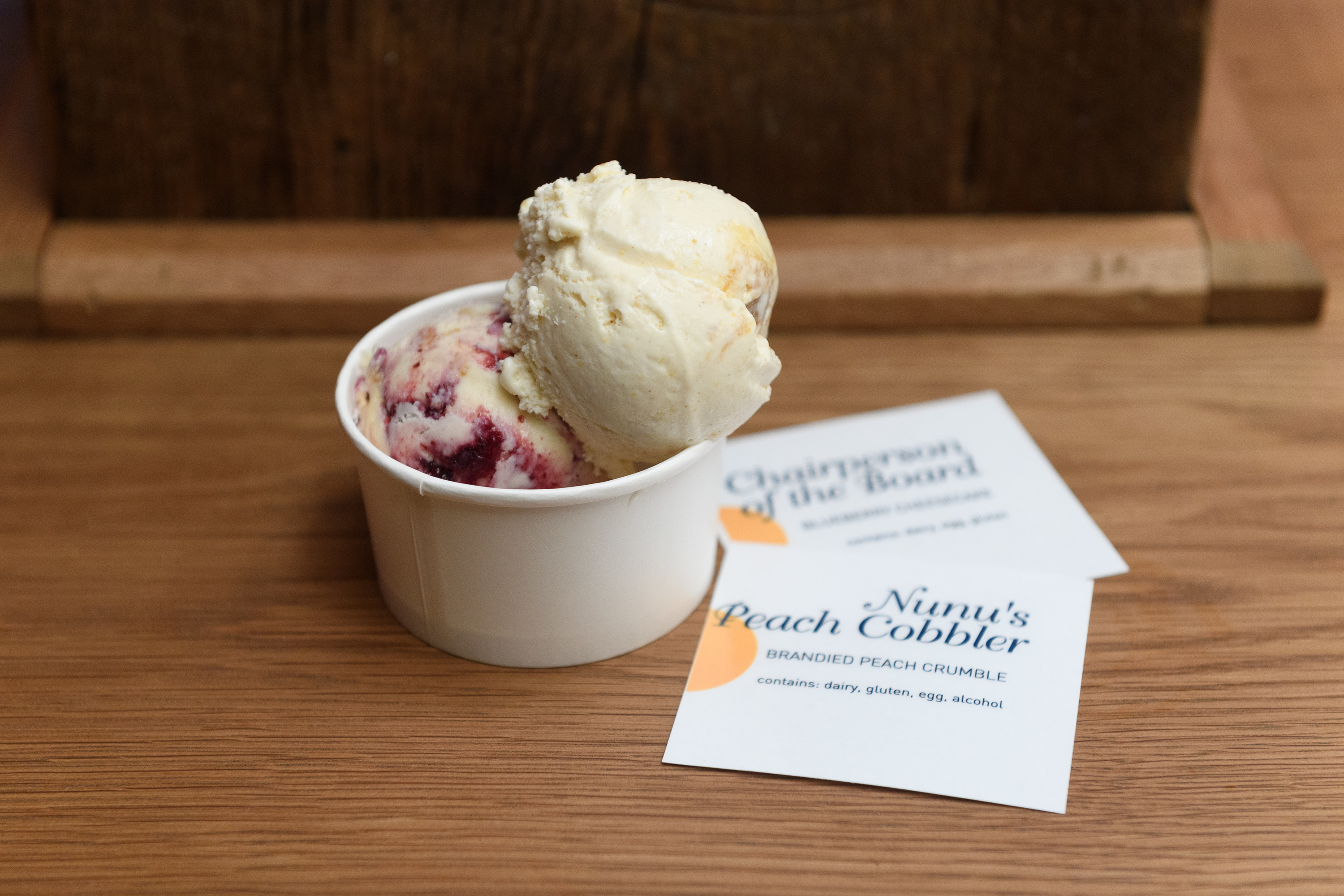 "I don't know if it's because of the scenery, being able to look at a picturesque view of the bridge and the water combined with pretty clean design and a lovely roster of vendors, but it felt different and it felt like you could just stay here all day," Bazin Larsen says. "And perhaps I'm Covid-deprived of people and socializing, but I was already envisioning hanging out there, and making a day of it on the days we are not at our own stall. Being able to bring the kids, do a little work and then go to the carousel and come back for lunch and then maybe one of us takes the kids home and then we stay for drinks with a friend."
That water is the sparkling East River, those vendors include Clinton St. Baking Company, Pat LaFrieda and Wayla and Sugar Hill's location in the market is just a short walk along cobblestone streets from the historic Jane's Carousel.
"And it's probably an outlier in the food hall landscape in New York because it does have some pretty prime real estate and it's able to accommodate a lot of different needs. It's not just stuck on a block, it's holding down a whole corner in a neighborhood," Bazin Larsen says.
Come taste Sugar Hill Creamery's inventive confections for yourself Wednesday through Sundays at 55 Water St. in DUMBO.