Anyone who lives in or near the Queensboro Bridge knows the area is a cacophonous symphony of car horns, subway train screeching and the constant whirr of traffic.
It's not a particularly soothing or even a desired destination, but it's a thoroughfare—an in-between space for many New Yorkers coming and going.
But NYC officials are hoping the $1.6 million renovation of a small park at the foot of the bridge (at East 59 Street, between First and Second Avenues) will bring a place of respite for New Yorkers passing through the area.
RECOMMENDED: NYC just named its 'Rat Czar'
Honey Locust Park, which was named after the line of honey locust trees once lining the block, has been a park since 1938 but has in recent years been a staging area for crews working on the bridge and tunnel.
Starting in January 2022, the city began reconstructing the space with new benches, plaza space, pavements, landscaping, and water service to all provide a green space to "soften the imposing nature of the bridge and surrounding traffic," according to a press release.
The reconstruction still allows DOT access to perform maintenance and repairs to the bridge and retain stormwater within the property.
Note: A honey locust tree is mostly found along the eastern coast and its wood is heavy and durable, making it ideal material for railroad ties, fence posts, and agricultural implements, according to the parks department. Its fruit usually provides food for deer, rabbits, and squirrels.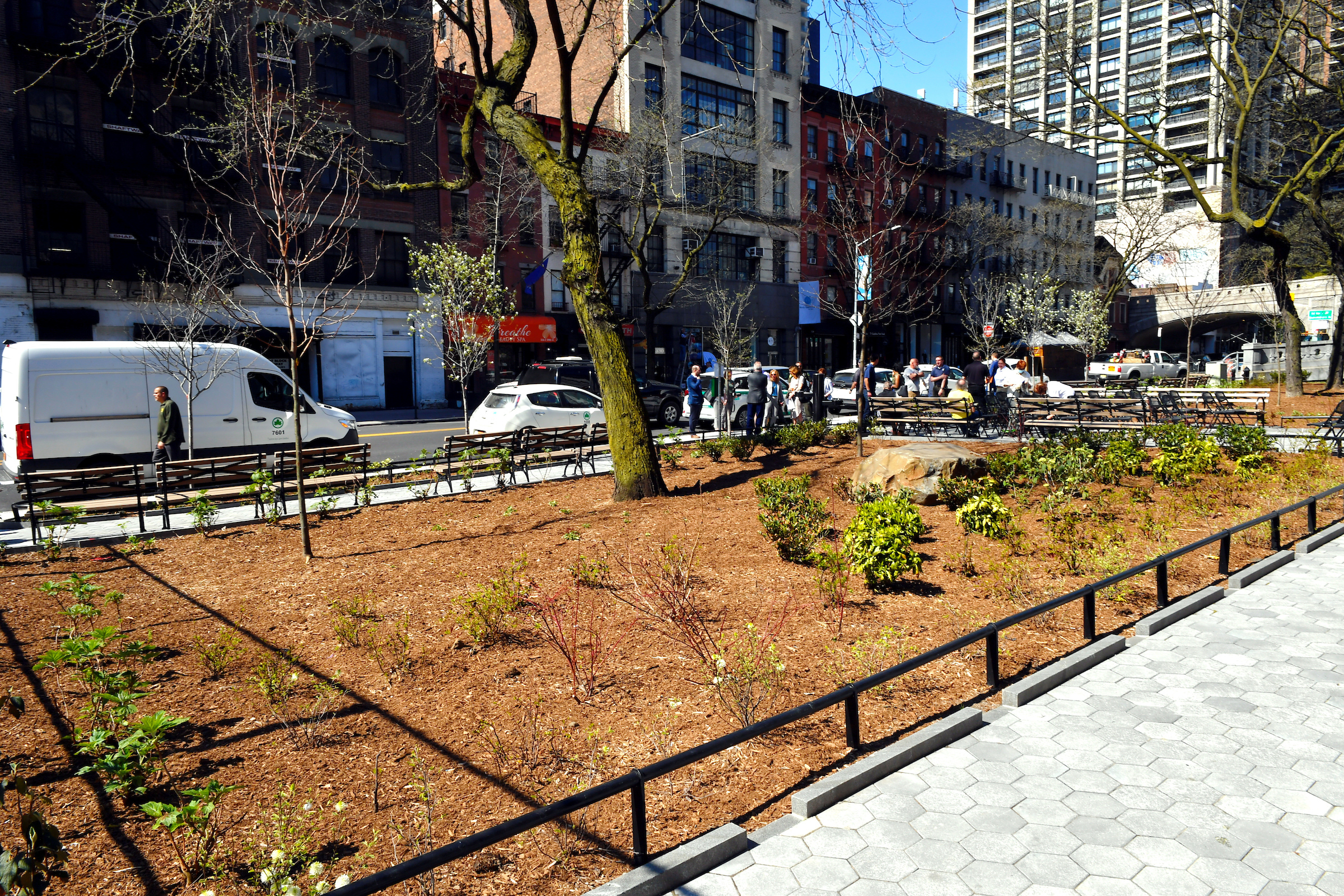 "Honey Locust Park provides much-needed green space and tranquility at the foot of the Queensboro Bridge," said NYC DOT Commissioner Ydanis Rodriguez in a statement. "The Adams Administration is reimagining the use of public space by making our roads more inviting for pedestrians and cyclists while ensuring access to maintain our infrastructure. DOT is thrilled to have partnered with Commissioner Donoghue and NYC Parks to make this project a reality."
Manhattan Borough President Mark Levine said the park gives a "drab municipal equipment staging area a second life as a beautiful community gathering spot" and that it "perfectly embodies the paradox of New York City—this serene respite abuts and coexists with a major traffic artery."
He said the value of the park to the community "cannot be overstated."
Even if it's at the foot of one of the city's most-used bridges, any added public greenspace here in NYC is a win.