For better or worse, Japanese artist Yayoi Kusama's psychedelic "Infinity Rooms"—mirrored environments featuring lights or objects reflected ad infinitum—have become Instagram sensations. In fact, people are waiting up to four hours to enter the two new "Infinity Rooms" showcased in Kusama's knockout multispace exhibition at David Zwirner's uptown and downtown locations.
If it seems odd that these works, which the artist has described as embodying egoless-ness, have become selfie bait, it's worth remembering that Kusama herself is a contradiction: an exhibitionist whose work articulates feelings of self-obliteration. From a young age, she's experienced terrifying hallucinations, in which patterns on everyday objects proliferate until they engulf everything, including the artist. These visions continue to sustain her output, and at 88, she's as relentlessly productive as ever.
Recently, Kusama has revisited her "Infinity Net" paintings, which she began two years after arriving in New York City in 1957. (She lived here until she returned to Tokyo in 1973.) Large canvases evenly covered with small half-round flicks of paint, they split the difference between Expressionism and Minimalism and were much admired by peers including Donald Judd. The new versions of these paintings on view at Zwirner's uptown gallery vary from the earlier iterations in their looser, more variable brushstrokes, suggesting swirling sand or floating clouds.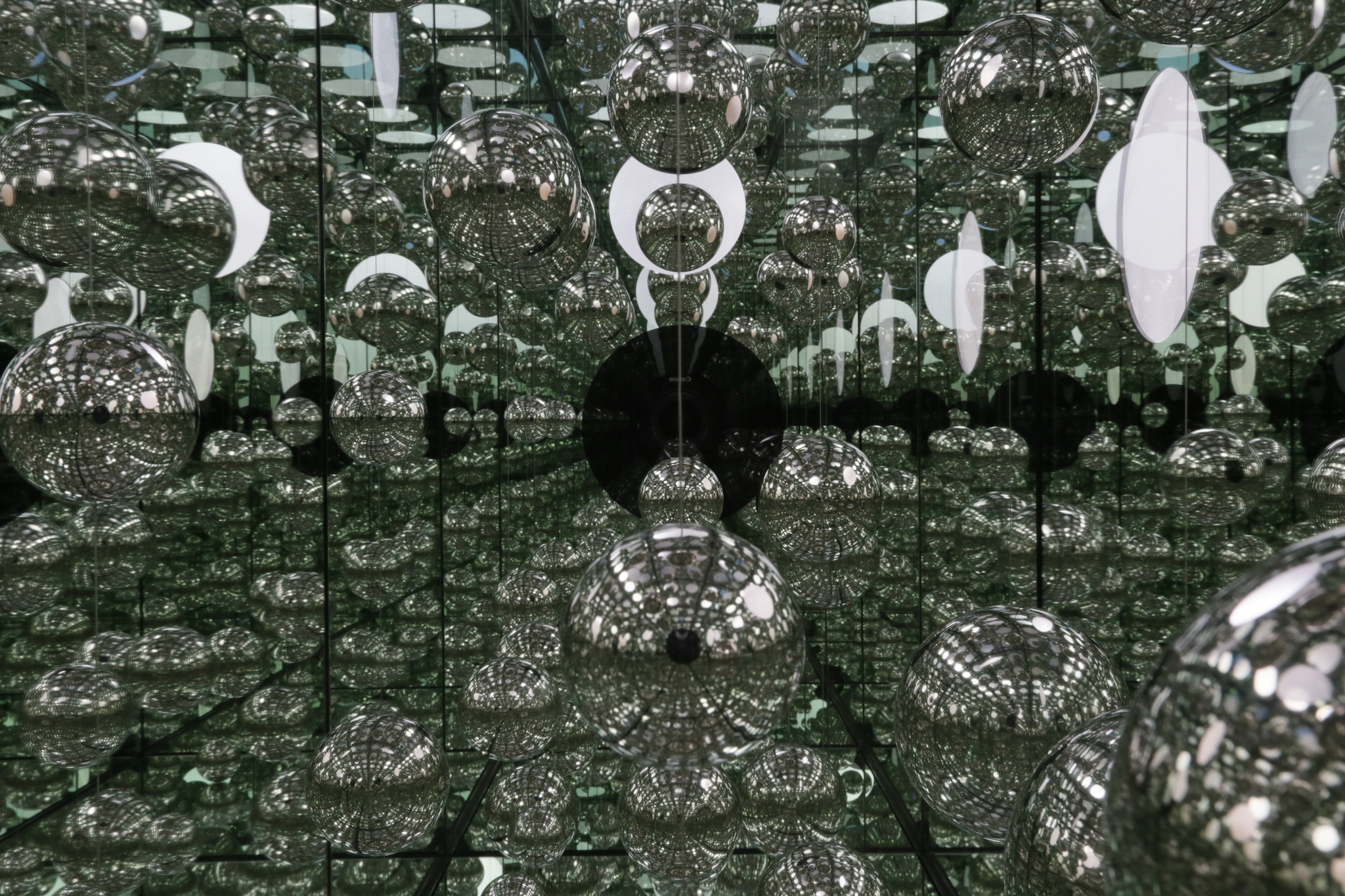 In 1961, Kusama took her obsessive art into three dimensions, upholstering everyday objects with sewn-fabric phallic forms stuffed with batting. The mirrored rooms begun in 1965 were, in a sense, labor-saving devices that allowed her to produce the illusion of multiplying phalluses (or pumpkins, another favorite motif) without having to make them.
Polka dots followed, finding their way into numerous works, including orgiastic performances featuring men and women painted in dots. Zwirner's Chelsea space features a white room covered with red polka dots inhabited by three large, similarly patterned fiberglass tulips. And of course there are the "Infinity Rooms"—one filled with reflective globes, the other with colored lights.
The final room downtown is dedicated to Kusama's colorful "My Eternal Soul" paintings, started in 2008. Hung edge to edge in two rows around the gallery, these outsiderish canvases employ a lexicon of eyeballs, abstract faces, squiggly lines and other elements in various combinations. They are exceptional. Filled with color, life and feeling, they convey not only the vastness of our universe but—more so than even the "Infinity Rooms"—its infinite multiplicity. And you don't have to stand in line to see them.
David Zwirner, 525 & 533 W 19th St ∙ 34 E 69th St ∙ davidzwirner.com. Through Dec 16.