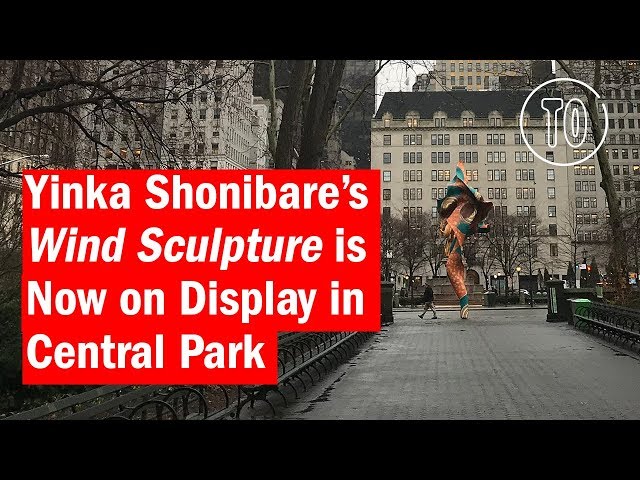 Celebrated for his art exploring the links between colonialism and globalism, Yinka Shonibare MBE has created a instantly recognizable style of work through his inventive use of boldly patterned Dutch wax fabrics. A regular exhibitor at NYC's art galleries and art museums, the British-Nigerian artist has just added a major New York City public art project to his resume: Wind Sculpture (SG) I, a monumental outdoor sculpture being presented in Central Park by the Public Art Fund. We recently spoke with the British-Nigerian artist about his work and his hopes for what New Yorkers will get out his latest piece.
What made you want to become an artist?
I liked making art when I was in school, and I knew I wanted to do more of it. When I was about 16 years old, my family went on holiday to Rome, and I was completely blown away by what I saw there.
Did your parents encourage you?
Just the opposite! My father was a lawyer and he wanted me to go into law. But I was a rebellious kid, and the fact that my parents didn't like the idea obviously meant that it was what I was going to do. I wanted to be part of creating beautiful things in the world, but most important, I liked the work of other artists.
What plays a bigger role in your work, the concept or the aesthetic?
I don't separate the two. For me, the concept is in the aesthetic. With any kind of good art, content should be an extension of form and vice versa.
You're known for using brightly colored, patterned fabrics in your art. They've become your signature, so where did the idea come from?
Well it starts with the fact that when people see those fabrics, they think that they're authentically African, but they are not. They actually originated in Indonesia. They were a form of local textile know as batik and later as Dutch wax, because Dutch colonists reproduced the fabric and tried selling it back to the Indonesians, who preferred making their own. So the Dutch started selling the fabric in West Africa and it became very popular there.
So what is the significance of that for you?
My work questions the origin of things, so in that respect, the hybrid nature of the fabrics, and the different cultural layers behind them, fits right in.
How many different ways have the fabrics appeared in you work?
Well, I've created Victorian costumes out of them and used their patterns for sculptures, like I'm doing for the piece in Central Park. I've created bronze pieces using the patterns and also done a number of installations made with the fabrics. Primarily, the fabrics have become a language of expression for me, as well as a vehicle to explore other interests.
Your Central Park piece derives from a previous series of "Wind Sculptures." Where did those get their start?
They evolved out of a project I did for Trafalgar Square titled Nelson's Ship in a Bottle. The sails were made out of African textiles, but when I fabricated them I felt that they could actually be sculptures in and of themselves. I liked the idea of representing global migration as the movement of sails in the wind propelling people across the sea.
The form you use is abstract, but it can also be read figuratively. Is that your intention?
Well, it's mainly about questioning the meaning of public monuments. Here in the U.S., for example, there's been a big debate over removing Confederate statutes, as I'm sure you know. So given that backdrop, the Central Park piece isn't meant to be figurative or monumental. It's fluid. It's a non-sculpture in a way, an attempt to sculpt emptiness, to sculpt wind, to sculpt something that's not there. And it's solid, though it's made to look soft.
How did your formulate the piece initially?
I started by blowing a piece of cloth with a hair dryer, so I could study the shapes it would form. I took photographs, enhancing and modifying the images to simulate wind blowing through cloth. Then I used 3D printing to create a maquette, which was digitally scaled up to produce the larger, final work.
Do you invent your own fabric patterns or do you use existing ones?
I usually invent patterns for public sculptures. Sometimes they're adapted from existing textile designs, and other times they're completely new creations.
How many Wind Sculptures have you made?
Nine originally, but the one in Central Park represents the start of a new series. It's taller than the sculptures from the initial group, one of which is in the collection of the National Museum of African Art in Washington, D.C.
Is the form always the same or does it change each time?
The form in original series is the same, though the patterns differ from piece to piece. However, I've changed the shape for this new series.
What is the piece made of and how is it made?
It's cast fiberglass fitted to a steel armature running through the middle. Then it's painted by hand using stencils.
Where do these sculptures fit into your oeuvre overall?
The interesting thing is that the outdoor works are shared with the general public, whereas the rest of my artworks are in galleries and museums, so you have to make a consciousness decision to go see them. I like the democratic nature of public sculpture. It's the more accessible part of my practice.
Do you consider your work political?
I'd say that there are political beliefs in my work, but I don't make didactic works of art. I aim for nuance and complexity, so it depends on what the audience brings to the work. I certainly don't want to make work that lectures people about what they should or should not be doing.
How do you hope the public will respond to your piece in Central Park?
I hope that they'll be surprised by the gravity-defying effect of the piece and find pleasure in discovering who made it and what it's meant to be.
Sign up to receive great Time Out deals in your inbox each day.