The former nightlife hotspot of Williamsburg, Brooklyn—presently an expensive new construction campus populated by the elder millennials who may have caught the tail end of its erstwhile buzz—is looking up once more. To hotel rooftops, precisely.
The William Vale's Westlight is a modern classic of the elevated drinking genre; relative newcomer Laser Wolf caught popularity that can't be bought when it opened on the Hoxton's 10th floor last year, and now the latest Moxy will unveil its own LilliStar viewstaurant and bar on Wednesday, April 26.
LilliStar's seats span inside and outdoor areas, with vistas of the lower Manhattan skyline, East River and Williamsburg Bridge throughout, due to the floor-to-ceiling windows lining the former. The 11th-floor space's lofty interior is fitted with plush banquettes, soft bursts of foliage, and candlelit tables under its high ceilings. The terrace is similarly appointed with an unobstructed look at its main attractions.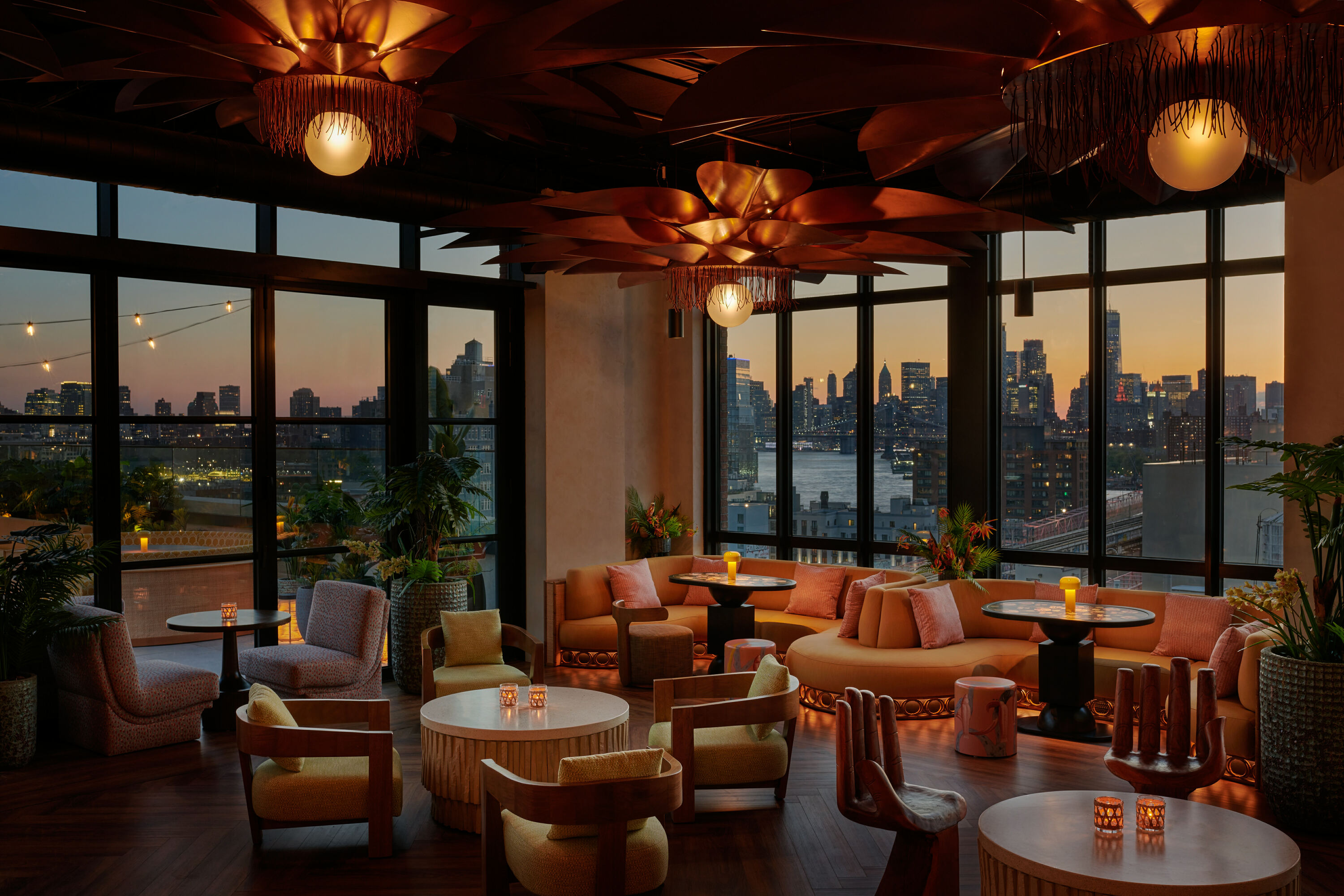 Cocktails from the Indonesian Australian-influenced menu aim to reflect the seasons and incorporate fresh ingredients. The Bumbu Marg, made with tequila, strawberry and kiwi oleo, bird's eye chili, lime juice and strawberry salt and the Uluwatu's (pandan-infused sherry, toasted coconut, pineapple sea moss) are among the bar's premiere offerings. Planned plates include short rib rendang bao and ayam goreng wings.
LilliStar is located on the 11th floor of Moxy Williamsburg at 353 Bedford Avenue. It will be open Monday-Friday from 4pm-11am and Saturday-Sunday from noon to midnight beginning Wednesday, April 26.