As they stood at 49th Street Station back in 2019, knitters Sue Hunter and Karima Sundarji realized how much the subway's mosaic signs mimicked knitting patterns. That sparked an idea to knit tributes to the NYC subway—and now, four years later, they've created an entire subway car interior made out of textiles.
Using their skills in knitting, crocheting, quilting, sewing, screen-printing, cross-stitching and needlepoint, the dynamic duo created uncannily realistic orange seats, advertisements, a spilled coffee cup and even a pizza rat. Dubbed "The Straphangers Lounge," the installation is making its NYC debut this weekend, and it's free to visit (find it on the sixth floor of the Marriott Marquis at 1535 Broadway).
RECOMMENDED: Feel ASMR tingles at this new video art exhibit in Times Square
"[The subway] is a mobile museum. There are so many aspects of the subway that are stunning; the palette of those 1970s cars with the orange and the yellows is beautiful. Whether it's an ad or a sign, just all these incredible elements, no matter what they are, that that are all pieces of art," Sundarji told Time Out.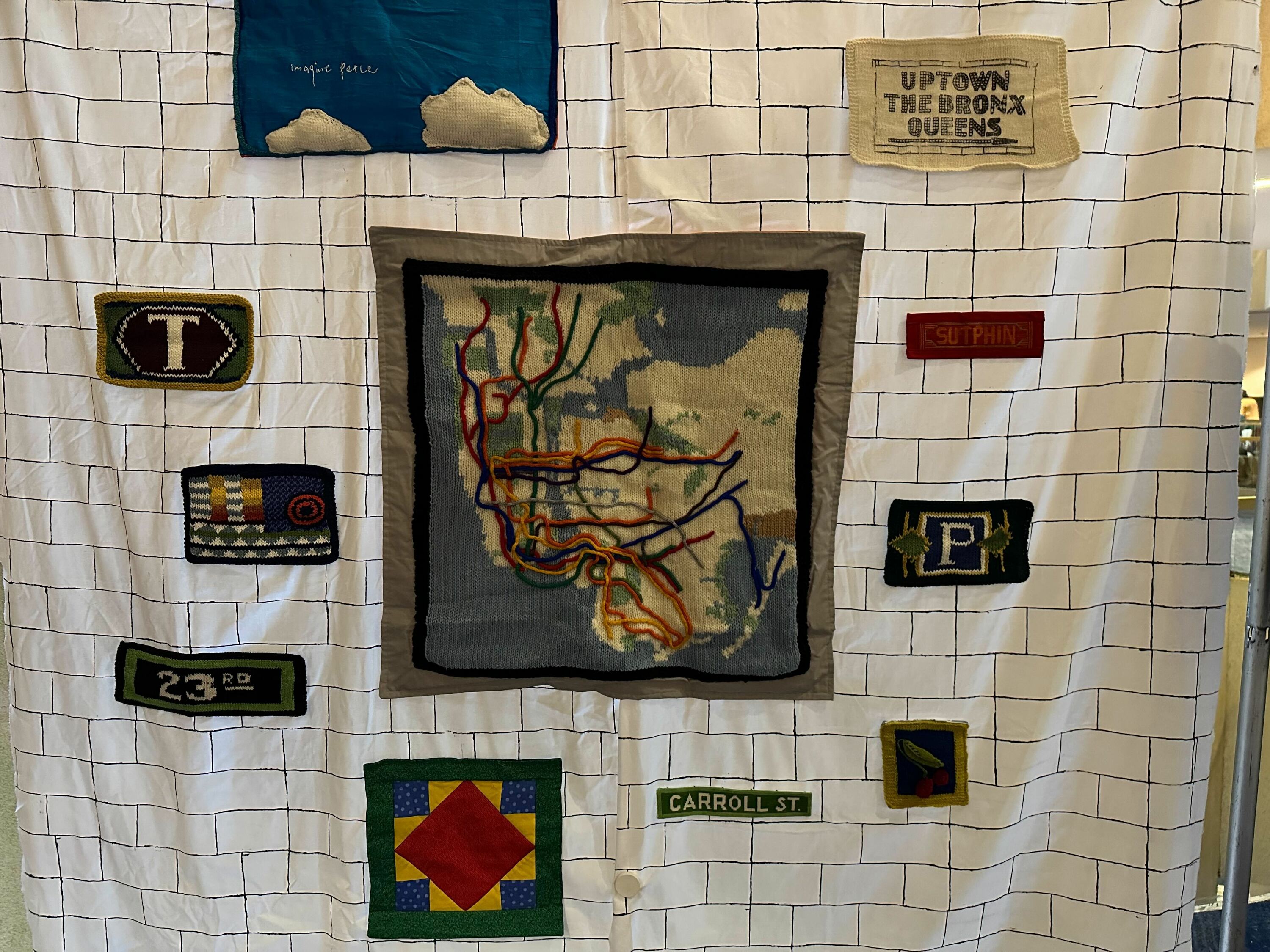 Every time they the knitters ride the subway, they think about ways to re-create pieces of the experience, from the doors to the straphangers bar. They've expertly designed each aspect, down to the manspreading posters, a Dr. Zizmor ad, a Poetry in Motion sign and even Sophie Blackall's "Missed Connections" illustration.
The installation features all of these life-size pieces in a subway car and platform, along with fun facts and historical notes about the subway. And yes, you can even sit on their carefully sewn "subway" chairs.
"We've been a bit nostalgic about the project because we started documenting things in textiles that no longer exist, like the Dr. Zizmor poster," Hunter says.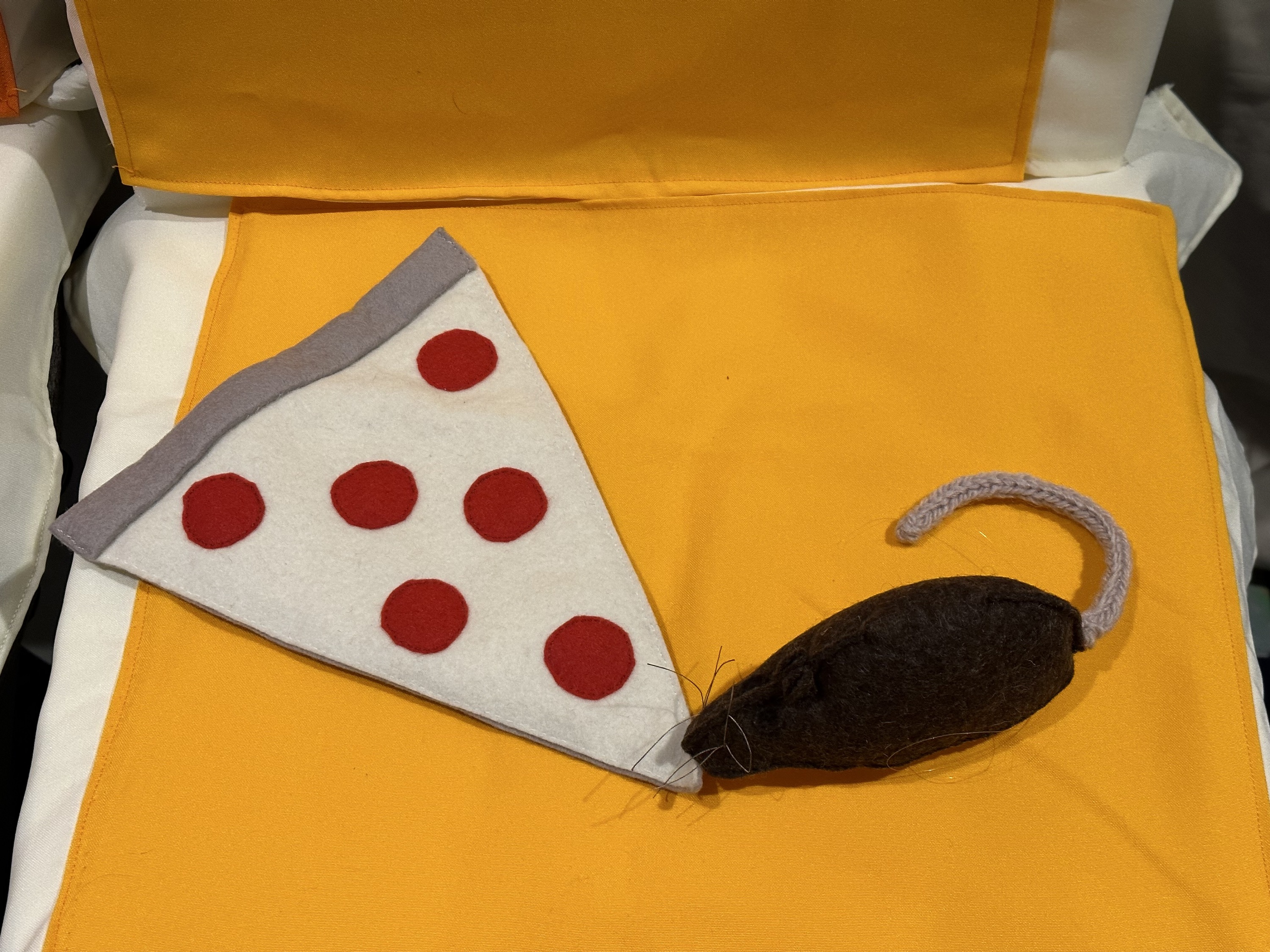 Long-time knitters, the two became friends after meeting as part of a knitting group in Astoria. They used the extra time amid the pandemic to work on The Straphangers Lounge.
The installation is presented part of the Knitting Live conference in Times Square this weekend, during which the friends gave a talk about finding creativity. One of their top tips: "A lot of it is about noticing, slowing down, taking your time to be observant and take things in," Hunter says.
Head to Times Square this weekend to admire their creativity. While you're in Times Square, there are two other cool pieces of free art to check out: An AMSR video art exhibit at 1500 Broadway and a romantic floral sculpture in Duffy Square.
"The Straphangers Lounge," is on view Friday, Feb. 10 until 8pm; Saturday, Feb. 11 from 10am-6:30pm; and Sunday, Feb. 12 from 10am-3pm. Find it on the sixth floor of the Marriott Marquis at 1535 Broadway.