We can't believe we're saying this... but Penn Station just got more beautiful, thanks to the installation of a new permanent artwork by Diana Al-Hadid inspired by Alfred Eisenstadt's iconic 1943 photograph of the famous clock that used to hang at the entrance of the original transportation hub.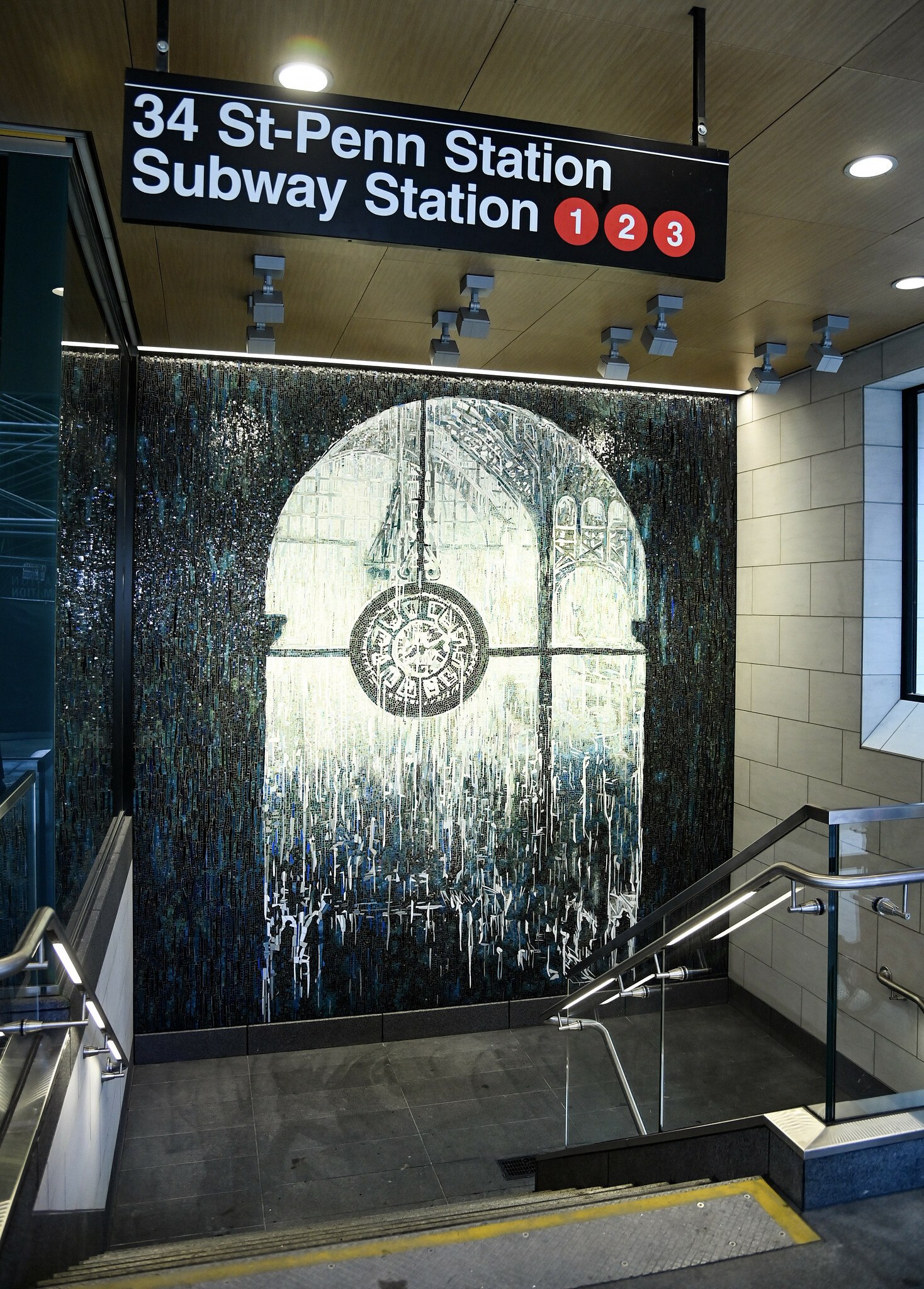 The Metropolitan Transportation Authority (MTA) unveiled "The Time Telling," a glass mosaic that measures nearly 15 feet tall, at the new, fully accessible entrance at 7th Avenue and 33rd Street late last week, joining another new calming artwork, this one by Brooklyn-based artist Derrick Adams, that brings the outside in on premise.
"In recent years, Diana Al-Hadid has created multiple timepieces," said Sandra Bloodworth, the MTA arts and design director, in an official statement. "In this new mosaic, she references one forever connected with the memory of the original Pennsylvania Station. All-Hadid's work blurs the boundaries between figuration and abstraction, creating a scene that feels drawn from our collective memories of this historic space, real or imagine. The line work is fluid, not fixed. It invites viewers to travel into a moment in time."
As commuters can note for themselves, the artwork depicts the station from above, where folks are seen running around while a giant clock hangs right above them.
There are actually two other mosaics by Al-Hadid that were installed right below where "The Time Telling" now is, in the control area of the 1, 2, 3 station, back in 2019. Both commissioned by Arts & Design, "The Arches of Old Penn Station" and "The Arc of Gradiva" are clear displays of the Al-Hadid's artistry. According to an official press release, the former "is based on an image of the original 1910 Beaux-Arts Pennsylvania Station grand interior" while the latter focuses on Gradiva, the mythological female character that can walk through walls.
The artwork's unveiling coincided with the debut of a number of accessibility improvements at Penn Station, including four new elevators and the revamped and now fully accessible entrance where the piece is found, all part of a much-needed larger renovation of the entire hub.