Living in New York City presents an exercise in contradictions. Enjoying a walk through Central Park until a rat darts into your path. Finding the perfect new outfit at a Soho boutique until you see the price tag. Marveling at the efficiency of the subway until your train gets delayed. Feeling awed by living among millions of other New Yorkers and yet feeling lonely.
Those quintessential New York City experiences, it seems, are nothing new. In fact, these love-hate moments have been woven into the fabric of what it means to be a New Yorker for generations. A major new exhibit by the Museum of the City of New York titled "This Is New York: 100 Years of the City in Art and Pop Culture" explores those contradictions through the lenses of visual art, television, film, music, theater, literature and fashion. The exhibition, which celebrates the museum's centennial, opens on May 26 in Manhattan. Here's a sneak peek at what you'll see in this landmark show.
RECOMMENDED: This new book about the ups and downs of living in NYC is way too accurate
As the museum celebrates 100 years, it's exploring several threads through This Is New York: The city's mighty cultural energy in 1923; the five boroughs as a constant inspiration for creatives; and New Yorkers' complicated relationship with the city of grit, grime and glamour.
"There's this kind of love and hate around New York City. There's that saying that it's the most American city and the least American city. This is warts and all," Lilly Tuttle, curator at the Museum of the City of New York, told Time Out. "It's the idea that the city is this engine that generates this reflection and this creative interpretation—full of contradictions."
The exhibition highlights more than 400 objects through several sections. The first, called "Tempo of the City," spotlights the joys and struggles on the streets and subways of NYC. The next, called "Destination NYC," focuses on iconic and hidden places from parks to rooftops to nightclubs. Next, the exhibit moves to a peaceful room called "At Home in New York" featuring depictions of home life in books and films. Finally, take a seat for "You Are Here," a compilation of more than 400 film scenes about New York City stitched together to create a stirring narrative that'll make you smile and laugh.
With more than 400 film scenes and 400 objects ranging from old music to newly created paintings, it's an exhibit you've got to see for yourself. But we'll spotlight a few of our favorite things.
9 can't-miss objects at This Is New York
1. The Sesame Street lamppost
Home to Elmo, Bert, Ernie, Grover and the rest of the gang, Sesame Street blends together characteristics of many NYC neighborhoods. As the museum says, "it is both somewhere and nowhere in New York City." For now, the iconic green 123 Sesame Street lamppost finds a home at the Museum of the City of New York.
2. Artwork commemorating the Young Lords
Fed up with the lack of garbage collection in East Harlem during 1969, the Young Lords pushed back. Members of this Puerto Rican-led radical political movement organized a "garbage offensive," blocking traffic with garbage and cleaning the neighborhood themselves. They created systemic disruption or "dentera" (literally: tooth irritation). A broom with teeth called "Deity (In the Spirit of the Garbage Offensive)" created by Shellyne Rodríguez pays homage to this movement. Also don't miss the manuscript of "Puerto Rican Obituary," a 1973 poem by Young Lords member Pedro Pietri.
3. Carrie Bradshaw's iconic tutu
Sex and the City's Carrie Bradshaw knows that a relationship with New York can be, well, complicated. One minute she's strutting her stuff in a white tutu and pink tank top combo in the show's opening credits. The next minute, a passing car drives through a puddle splashing her ensemble with dirty gray water. Now her outfit designed by Patricia Field hangs on a mannequin at the museum, safe from the elements. In the popular 1990s show, New York City itself becomes a character as a playground for the young, wealthy and beautiful.
4. A jacket worn by a Grandmaster Flash member
Fifty years ago, hip-hop began in the Bronx, eventually launching groups like Grandmaster Flash and the Furious Five. The members, who often wore animal prints and military-style leather, gained a following performing at parties and shows throughout the city. A studded, fringed leather jacket worn by group member Scorpio epitomizes the style of the time in the 1980s.
5. Songs of New York
From hip-hop to jazz to salsa, music plays a major role in New York's story, and you can truly get into the music with this cool digital experience. At the Songs of New York display, the five boroughs are projected onto the floor. Step onto one and you'll hear music with a connection to that borough. For example, if you step onto The Bronx, you might hear "Lean Back" by Fat Joe who grew up in the neighborhood or "Un Jíbaro en el Subway" by López Anguita who sings about being "like canned sardines" jammed into a Bronx-bound subway train.
6. A powerful quilt by Faith Ringgold
Faith Ringgold's quilt depicts the "tar beach" of a Harlem rooftop as both a place to socialize and a place to dream. In this 1988 canvas, the 8-year-old protagonist simultaneously spends time with her family and imagines herself flying high above their building, taking in the vantage point to view the city and the sweeping George Washington Bridge.
7. Film noir depictions of a brutal city
A collection of film noir posters from the 1940s through the early 1980s don't paint the city in the best light. Instead, they depict the city as a den of sin for murder, muggings and terror. While these representations of the city have been around since the beginning of film and still continue today, the genre was particularly harmful to the city's image during the film noir era. "Most of them perpetuate stereotypes of various kinds while creating new ones for their times," the exhibit explains.
8. Scenes of home life in NYC
To the outside world, New York may be the city that never sleeps. But New Yorkers know they need a somewhat-quiet respite to rest their heads. This calming section of the exhibition explores how artists and writers tell the story of people making a life in New York City. Visitors are encouraged to pick a book or DVD from the vast collection and set it on a counter where a screen will then populate with scenes from the selected story, from the children's book Gina to the hit TV show Seinfeld.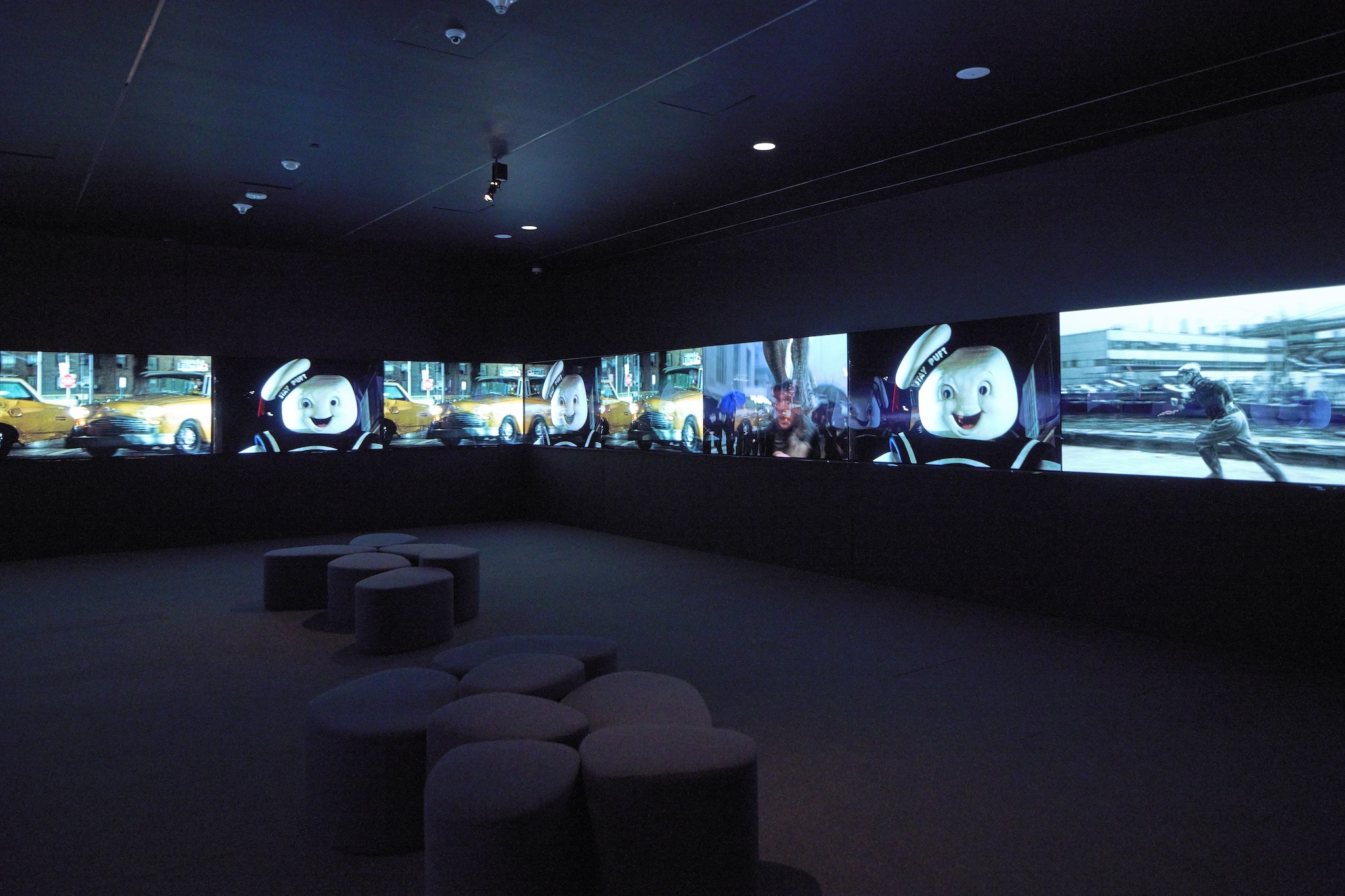 9. Film clips paying homage to the city
With New York City as a backdrop for countless films, people around the world know the Big Apple even if they've never stepped foot inside the five boroughs. In this one-of-a-kind film creation called You Are Here, you'll see clips from 400-plus films made in and about New York City.
Some of the movies include An Affair to Remember (1957), Black Swan (2010), Breakfast at Tiffany's (1961), Coming to America (1988), Do the Right Thing (1989), Fame (1980), The French Connection (1971), Ghostbusters (1984), King Kong (1933), Love Story (1970), Midnight Cowboy (1969), Rear Window (1954), Saturday Night Fever (1977), Shaft (1971), Taxi Driver (1976), The Muppets Take Manhattan (1984), Uncut Gems (2019) and many more. The film experience runs about 20 minutes.
You'll see recognizable clips and hear unforgettable lines like, "Only in Times Square the dawn gets turned on by an electrician," "It's good to remember anything is possible. This is New York," and "I'm still here and I'm staying."
"This Is New York: 100 Years of the City in Art and Pop Culture" opens on May 26, 2023 and runs through June 21, 2024 at the Museum of the City of New York at 1220 Fifth Ave (at 103rd Street in East Harlem, Manhattan). The museum is open on Thursdays from 10am–9pm and Fridays–Mondays from 10am–5pm. Admission is $20/adult (you can opt for pay-what-you-wish admission if you buy tickets in person at the museum).