Gimmicky, for-social-media foodie trends are everywhere these days but, sometimes, a truly wonderful one lands on our feed that is actually deserving of our attention.
Case in point: the giant pizza bagel served at Utopia Bagels at 1909 Utopia Parkway in Queens.
Before we go any further, you should watch this video to understand what it really takes to make the insane dish:
As explained in the clip by its creator Brandon Hayes, who happens to be a friend of the shop's owners, the 10-pound bagel takes about 24 hours to make, so customers are advised to order their treat a day or two in advance.
A bit about the process: After rolling the dough, the staff at Utopia lets it sit in the fridge for 24 hours and then cooks it the same way they would a bagel—on a board (albeit a custom, huge one) inside a rotating oven that allows for easy flipping. After retrieving the cooked bread and scooping it out to prevent the pizza from becoming too thick, it's time for the sauce (a homemade one prepared following a "secret" recipe), the cheese and another round in the oven.
Recently, explains 22-year-old co-owner Jesse Spellman, the shop has also been using the scooped out portions of the bagel to make garlic knots that are served alongside each order.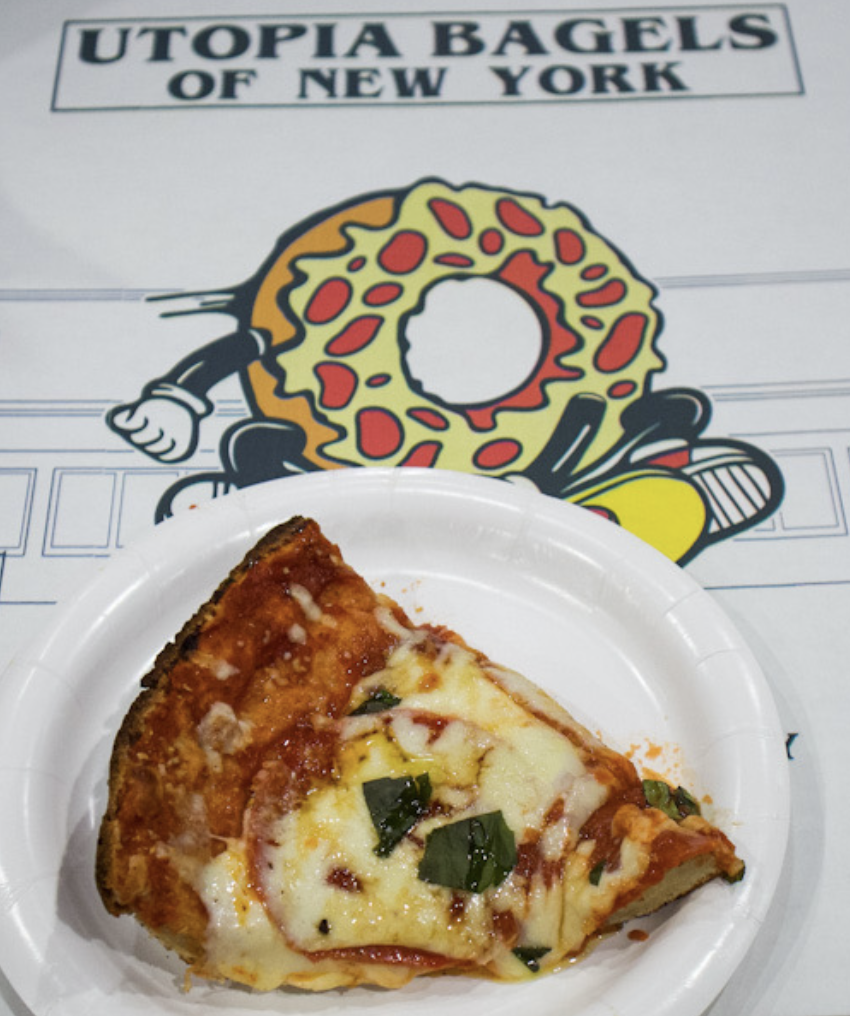 Each $85 order actually includes two pizzas (there are two sides to each bagel, after all!) for a total of, more or less, 30 slices. That's less than $3 per slice—which sounds like a steal these days!
Although Spellman and Utopia Bagel's 56 employees have been making the giant pizza bagel for over five years already, a recent marketing and (duh!) social media push have drastically increased the amount of requests that the shop receives weekly. "We went from selling one or two giant pizza bagels a month to serving about 10 of them a week throughout the past month," reveals Spellman.
Among those pies were some special requests, including one involving barbecue chicken and another one focusing on lamb chops. "If you bring something in, we'll put it on top of the pizza," says the owner, who also points out that the menu lists a vast variety of other "crazy" items to choose from.
On offer, for example, are a red velvet bagel, a piña colada one and even a strawberry blueberry pancake version that will surprise and delight in equal measure.
Perhaps most exciting, though, is the pepperoni bagel that Spellman hopes to be able to soon serve. "I want to put the pepperoni inside the dough," he reveals. "The idea is: once the bagel is done, we make little slits in it and fill them with mozzarella and pepperoni then put it back in the oven and serve it with a little vodka sauce on the side for you to dip it in."
That, of course, sounds like a classic social media culinary stunt... that happens to be wonderfully delicious.