Park Slope's gamers and dungeon masters just got more than 200 board games to play. And they're all conveniently located in one place!
Sip & Play, a board game cafe that opened at 471 Fifth Ave on Jan 2, allows players of all ages to eat and drink while racking up points or moving their meeples across classic titles like Monopoly and Yahtzee or deeper cuts like Settlers of Catan, Ticket to Ride, Machi Koro, Jaipur and Codenames. A mere five dollars will buy you more than three hours of play.
Brooklyn has its fair share of board game spots, including The Brooklyn Game Lab and the Brooklyn Strategist (Manhattan has The Compleat Strategist and the Uncommons). And NYC is no stranger to bars with games.
Owner Jonathan Li seems to be tapping into what some call a "board game Renaissance," where the hobby has become less about Monopoly and Life and more about new and creative games that span genres and formats.
For those who don't know the first thing about these games, Sip & Play staffers are happy to teach customers how to play, especially gateway games like Splendor, Ticket to Ride, Settlers of Catan and Cockroach Poker, Li said.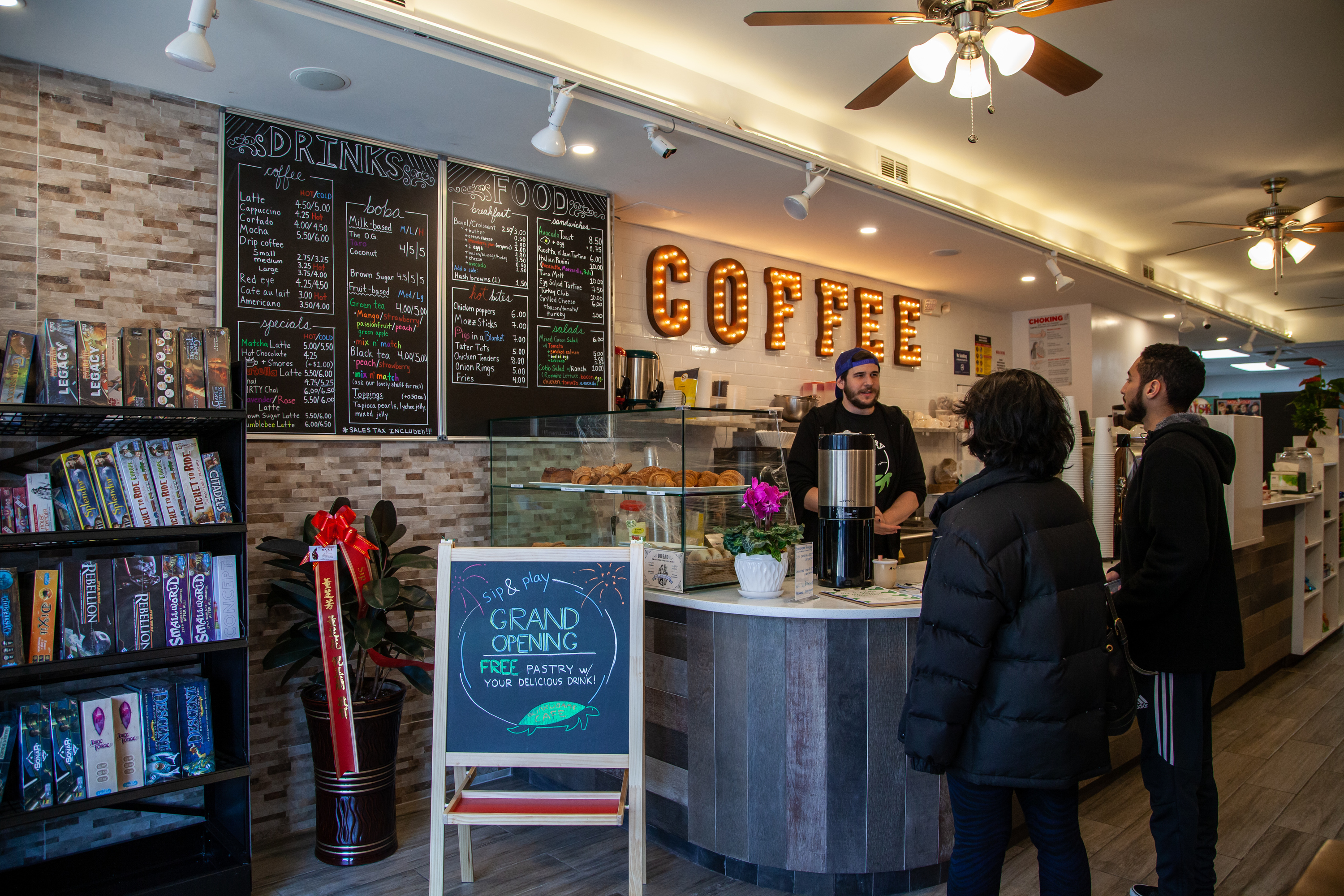 By opening the cafe, Li, 22, says he is acting on two of his passions–culinary arts and board games. Having just graduated college in 2019, Li was looking to open his own eatery, and when he and his parents found the Park Slope spot, it was kismet, he said.
"My parents, who have been a great help, approached me about the space but I thought it wasn't fit for a restaurant, so I pivoted to a passion of mine," Li said. "I love board game cafes, but most of them are cramped and small and the menu isn't the best. I wanted to change it up and expand what a board game cafe can really look like."
Unlike other board game shops, Sip & Play has a full cafe that whips up coffee and specialty drinks, including boba tea, and tasty bites like chicken tenders, fries, avocado toast and bagels mostly priced under $10.
Sip & Play isn't just for gamers, though. Li stresses that it's for everyone who needs place to get their morning coffee or to just sit and read, study or work.
"We have so many coffee and breakfast options," he said. "We're trying to change it up."
Because of a good response (Li said the space filled up these past couple of weekends), Sip & Play has extended its hours from 7am to 10pm to 9am to 11pm on Sundays through Thursdays and from 9am until midnight on Fridays and Saturdays.