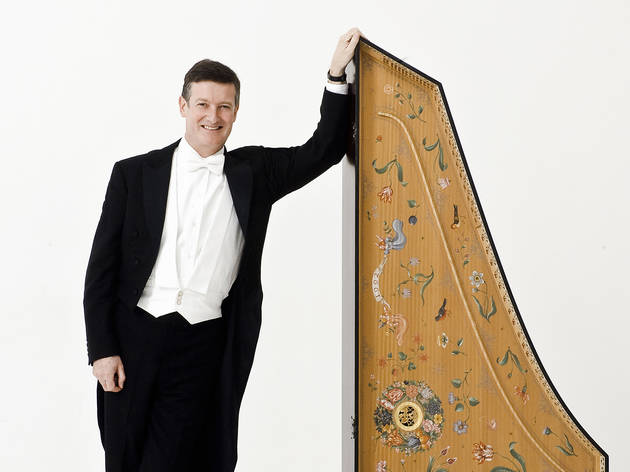 English conductor Harry Bicket launches a busy NYC season
The distinguished early-music specialist brings his skill to the Met and Carnegie Hall
Low-key, articulate and sensible in conversation, on the podium Harry Bicket brings music to vivid life. Liverpool-raised and Oxford-trained, Bicket covers the musical waterfront—he loves Stravinsky and has Dvorak's Rusalka coming up—save 19th-century fare. "I'd like to think I could show up and deliver a perfectly fine Brahms Second, but I'm not sure I'd have much to add to what the orchestras already know," he says at the Metropolitan Opera after a rehearsal. His growing worldwide reputation centers on 17th- and particularly 18th-century music: As last season's Rodelinda at the Met reminded us, no other conductor associated with the early-music movement has worked so successfully and seemingly amicably with the Met orchestra to achieve such fine results in Handel's gorgeous scores.
Two great Handelian operas await Bicket's attention in New York this season, but first he returns to the Met with Mozart's penultimate opera, 1791's La clemenza di Tito ("The Clemency of Titus"). The Roman Empire–set Clemenza has been a touchstone in Bicket's Gotham career: It furnished his initial entry to the Met as James Levine's assistant conductor, his debut vehicle at New York City Opera (in a staging starring Lorraine Hunt Lieberson) and a well-received Met run in 2008. "Clemenza is just not done that often, but it's an absolute masterpiece," says Bicket. "Jimmy [Levine] felt it imperative that the Met do it—like with Pelléas et Mélisande, it's something a great opera house has to put on."
Mozart had written opera serie before Clemenza—most successfully the youthful but strong Mitridate, which Bicket has led in Vienna, and Idomeneo, a recent Toronto triumph—but with Clemenza, the composer was working ingenious variations on a soon-to-expire form in haste—and with a sense of his approaching early death, Bicket suggests, citing the opera's emotional urgency and links to Mozart's sacred music.
"There are so many wonderful things in it: Servilia's gem of an aria, with all its little detail, and the incredible trio when Vitellia learns she's been chosen empress just after she's sent Sesto [her lover] off to kill the emperor," he says. "Every bar has some kind of expressive musical marking—composers just didn't do that in the 18th century. What [Mozart] took 100 bars to express in Mitridate, he could now telegraph into 30 bars." The plot, Bicket acknowledges, is straightforward and simple. "But it's a psychodrama: Each character must go deep, deep back in his or her history to react," he says. "What an amazing libretto! With an intelligent cast like this one, the exploration can be profound, and a joy."
Bicket has worked extensively with Lucy Crowe (Servilia), a fine soprano making her Met debut, and done concerts with striking-voiced Elina Garanca, as Sesto the opera's all-but-nominal star. "Oren Gradus was Publio last time we did Clemenza," says Bicket. "Giuseppe Filianoti, Barbara Frittoli and Kate Lindsey I knew through their high reputations, and all have been most welcome."
Once Clemenza is launched, Bicket and Crowe will collaborate with the Ensemble ACJW, the exciting Carnegie/Juilliard joint venture for young musicians, in a December 2 concert at Zankel Hall. The program features music by Bach (including his entrancing Cantata No. 51, "Jauchzet Gott"), Gluck and Jean-Féry Rebel.
On the Handelian front, Bicket will helm the English Concert in a starry tour of unstaged performances of Radamisto, including one at Carnegie Hall on February 24. He'll lead an equally luminous ensemble in the Met's new production of Giulio Cesare, opening on April 4. David Daniels (with whom Bicket did an acclaimed Radamisto in Santa Fe) and Patricia Bardon are in both works. The concert also features Luca Pisaroni and two rising American Baroque sopranos, Brenda Rae and Joélle Harvey. Cesare comes in a crowd-pleasing David McVicar dancefest first seen at England's Glyndebourne Festival; ace Handel singers Alice Coote, a frequent and valued Bicket collaborator, and Christophe Dumaux join the mix.
More appetizingly cast Handel is on the way in Bicket tours during the next two seasons. "Handel, like Wagner, has his own audience," says Bicket. "And now, we have the casts to make general audiences appreciate these brilliant scores."
La clemenza di Tito opens Fri 16 at the Metropolitan Opera House.
See more in Opera & Classical Music