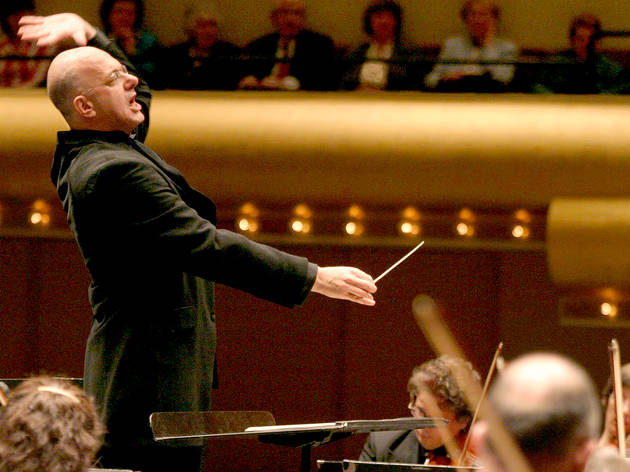 The Bard Music Festival salutes Saint-Saëns
Leon Botstein and the Bard Music Festival mend a French master's unjustly maligned reputation
History has not been kind to French composer Camille Saint-Saëns, an oversight the Bard Music Festival hopes to amend with a two-weekend focus on "Saint-Saëns and His World." As a youth, this prodigious talent earned comparisons to Mozart; as an adult, his romantic symphonies garnered him renown as France's Beethoven. But by the time Saint-Saëns died in 1921 at the age of 86, he had become a reactionary, predictable in his complaints about modern composers. After his death, even his accomplishments as a cultural critic were largely forgotten; ironically, he became best known for a kid-friendly compendium, The Carnival of the Animals, which he refused to publish while he was alive to avoid that exact fate.
"Here is someone who was incredibly famous during his lifetime, but he's now a more minor figure," says Leon Botstein, the festival's founder and artistic codirector. "He vanished from the scene." Close to the center of the Parisian musical and intellectual world for more than 70 years, Saint-Saëns initially rose to fame as a virtuoso pianist and organist. He wrote his first symphony at 16, and published essays on mathematics, science and philosophy, in addition to writing and teaching music. But it was his longevity—his life bridged European Romantic symphonic traditions and 20th-century modernism—that initially attracted Bard's organizers, who had last featured a French composer with 2001's "Debussy and His World." Saint-Saëns's music had a cameo role that year, serving as a counterpoint to (and a critique of) the festival's primary subject.
For 2012, Botstein decided to return to a French theme, planning around a now-concluded run of Emmanuel Chabrier's opera The King in Spite of Himself. The rest of Bard's seasonal offering followed suit, with a production of Molière's The Imaginary Invalid and a Gallic-themed lineup of spiegeltent performances. Botstein then sought a French composer to profile in the festival. "We looked at Fauré as a possible alternative, but Saint-Saëns was the bolder and less obvious choice," says Botstein, citing a dearth of scholarship about the composer. "We wanted to be provocative."
Two of Saint-Saëns's most familiar works serve as jumping-off points for the festival's two thematically driven weekends. The first, "Paris and the Culture of Cosmopolitanism," showcases The Carnival of the Animals. Presciently, Saint-Saëns worried that the playful work could tarnish his reputation as a serious composer, so he only published one of its 14 movements during his lifetime; his fears came true after the entire piece was performed posthumously and became a hit. On Sunday 12, Bard will present the familiar piece alongside compositions that Saint-Saëns ingeniously parodied in its movements. Other programs focus on how Saint-Saëns shaped belle epoque tastes and musical traditions, founded the Société Nationale de Musique and helped to create a French symphonic tradition.
The second weekend's centerpiece program, "Out of the Shadow of Samson and Delilah: Saint-Saëns's Other Grand Opera," invokes another of the composer's best-known works, in this case to avoid it. Instead, on August 19, Botstein will conduct the American Symphony Orchestra in a concert performance of a lesser-known historical opera, Henry VIII. Botstein calls the rare work his greatest discovery from his combing of Saint-Saëns's catalog. The weekend's overarching theme, "Confronting Modernism," is meant to portray the composer as a harbinger of 20th-century music rather than as the reactionary who notoriously stormed out of the premiere of Stravinsky's Rite of Spring. (Botstein questions the veracity of that well-worn anecdote.) Saint-Saëns will be portrayed as an author of neoclassical suites decades before Stravinsky embraced the style, as well as an early adapter of modern technology. Actor David Strathairn and tenor Paul Appleby perform in Saint-Saëns's score for Charles Pathé's 1908 art film, L'assassinat du Duc de Guise, which Bard considers to be the first film score by a major composer.
"Saint-Saëns was eclectic," says Botstein. "He tried to merge German and French music, and he borrows from multitudes of sources. But all of his music bears his signature."
"Saint-Saëns and His World" is at the Richard B. Fisher Center for the Performing Arts at Bard College Fri 10–Sun 12 and Aug 17–19.
You might also like
See more in Opera & Classical Music