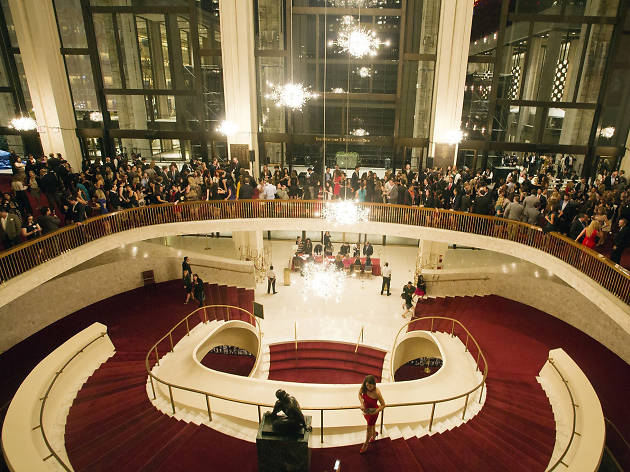 1/8
Photograph: Caroline Voagen Nelson
Nearly 500 burgeoning opera buffs gathered on the Metropolitan Opera House's Grand Tier last night for a stunning reception and concert. Shimmering in the glow of Lobmeyr chandeliers, members sipped champagne and snacked on lox canapés.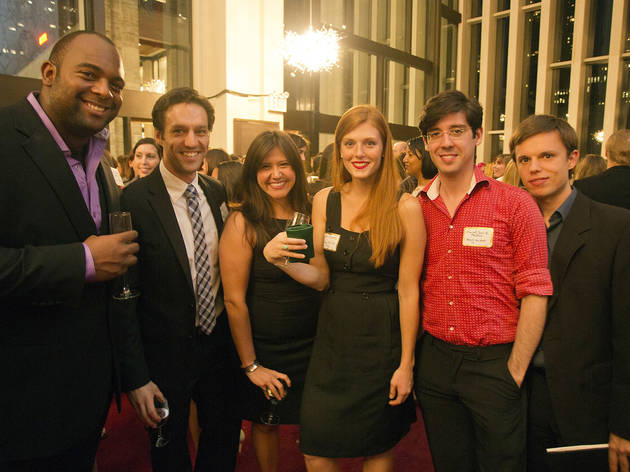 2/8
Photograph: Caroline Voagen Nelson
Singers and pianists from the Met's prestigious Lindemann Young Artist Development Program mingled with a crowd of people their own age (for once), chatting excitedly about the upcoming season. Starting her second year in the program, mezzo-soprano Wallis Giunta, second from right, looks forward to her Met debut in the Rat Pack–themed production of Rigoletto as the flamboyant Countess Ceprano. "Expect lots of feathers and glitter," she told us.
3/8
Photograph: Caroline Voagen Nelson
Attendees were entered in a drawing for several lavish door prizes such as a Uniform Hard Satchel by Reed Krakoff ($1,790), an Estée Lauder gift basket ($550) and a three-month membership to Equinox ($450) paired with $750 Olatz Schnabel pajamas, certain to induce a luxurious night's sleep.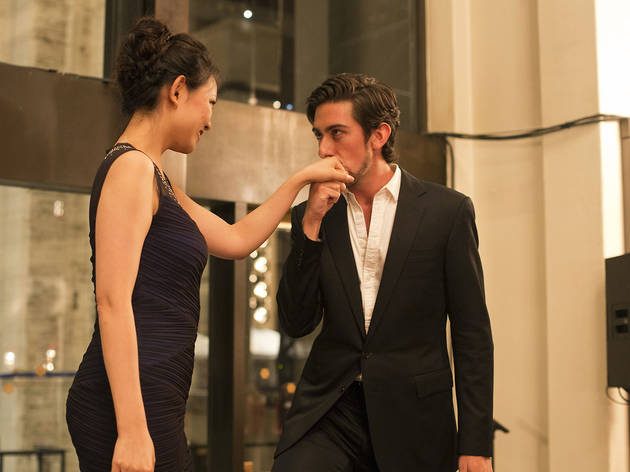 4/8
Photograph: Caroline Voagen Nelson
Ending the evening on a high note (or series of high notes) Lindemann Young Artists performed a brief concert of arias in the vast lobby. In a convincing portrayal of the lascivious Don, bass-baritone Evan Hughes ( who's in his third year of the program) wooed sweet-voiced soprano Lei Xu during the duet "La ci darem la mano" from Mozart's Don Giovanni.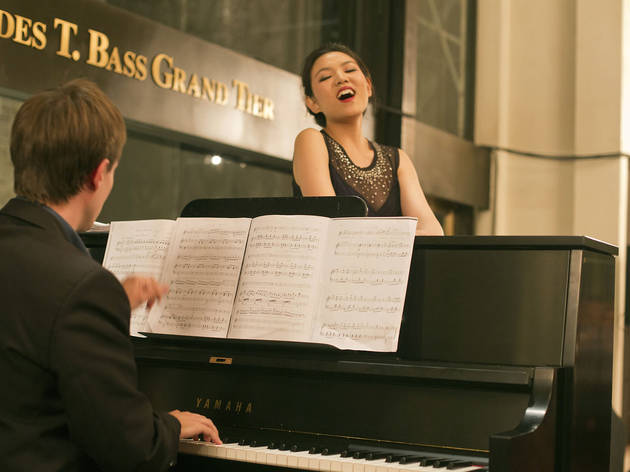 5/8
Photograph: Caroline Voagen Nelson
While Canadian pianist Bryan Wagorn showed off his skills on the ivories, Xu, now in her final year of the program, sang a rousing interpretation of Juliette's lively love-induced waltz "Je veux vivre" from Gounod's Roméo et Juliette, her lyrical voice blossoming with each virtuosic run.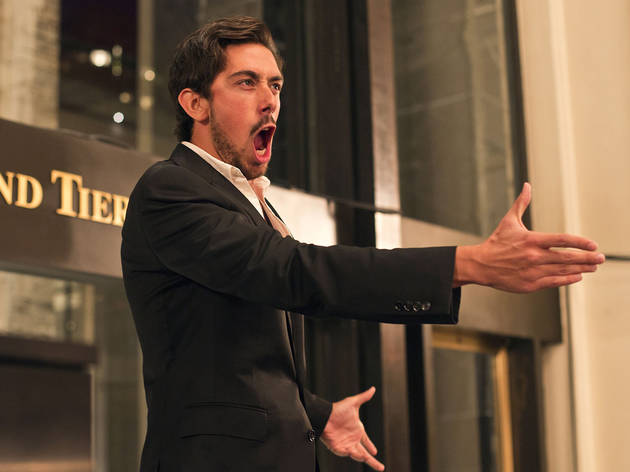 6/8
Photograph: Caroline Voagen Nelson
The handsome Hughes played into the theatrics of Rossini aria "Come un'ape ne'giorni d'aprile" from La Cenerentola, unbuttoning his shirt to comedic effect during  the action-packed piece. Just to mix things up a bit, Wagorn sang a solo line from behind the grand piano as the audience looked on, clearly impressed.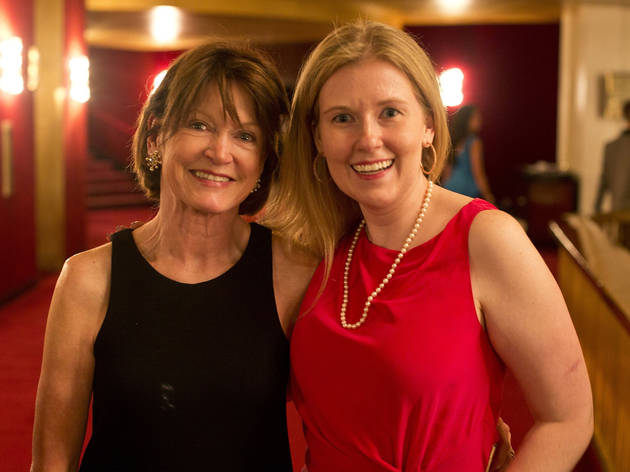 7/8
Photograph: Caroline Voagen Nelson
Young Associates founder Camille LaBarre, left, posing with a committee member, loves watching an interest in opera turn into a full-blown passion. "I've seen members who didn't know anything about opera when they arrived, and after a season, they're trying Philip Glass and Wagner!" she said. LaBarre started the Young Associates ten years ago with a mere 150 members. Based on the group's current success, she feels that the sky's the limit for how big it could become.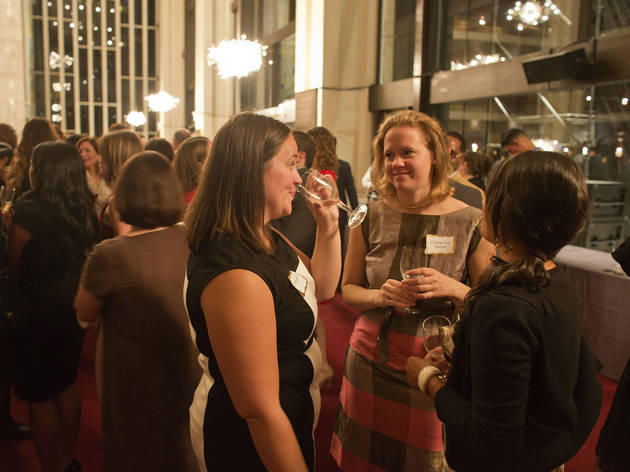 8/8
Photograph: Caroline Voagen Nelson
As the evening lingered on, Young Associates enjoyed the environs, discussing which performances of the specially curated program offered to members. Beginning with L'Elisir d'Amore on opening night and continuing with new productions such as The Tempest and Giulio Cesare, the young philanthropists have access to complimentary preperformance receptions with the purchase of their tickets.
The Metropolitan Opera's Young Associates Season Preview Party (slide show)
A glamorous cocktail party and performance at the Metropolitan Opera house brings the world of opera to young philanthropists.
The Metropolitan Opera kicked off the 2012–13 season with a swanky cocktail party for the young opera-loving crowd, complete with arias sung by members of the Lindemann Young Artist Development Program. Formed ten years ago, the Met's Young Associates program has now grown to include nearly 500 members who explore the genre while mingling with fellow operaphiles through a series of educational and social events put on throughout the season, such as backstage brunches and preperformance receptions.
You might also like
Fall preview: Classical music & Opera
See more in Classical & Opera