Heads up! We're working hard to be accurate – but these are unusual times, so please always check before heading out.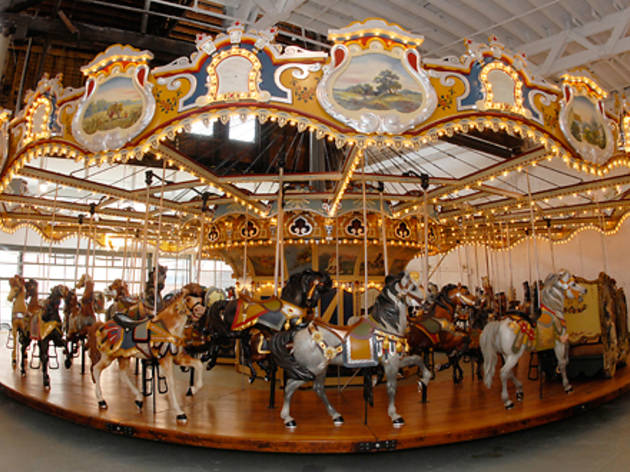 1/8
Photograph: Julienne Schaer
Ride Jane's Carousel at a reopened Empire--Fulton Ferry Park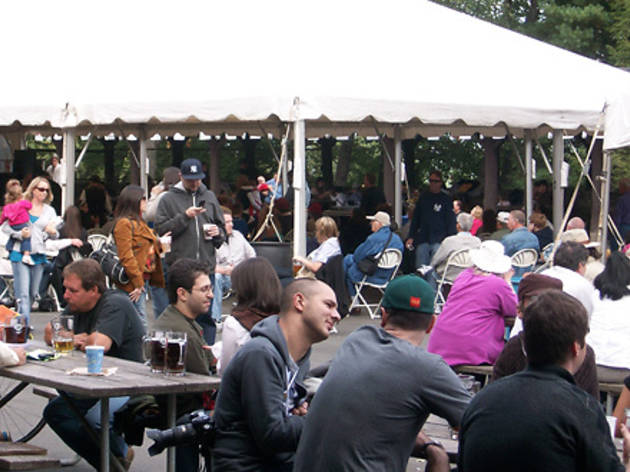 2/8
Drink beer at Bear Mountain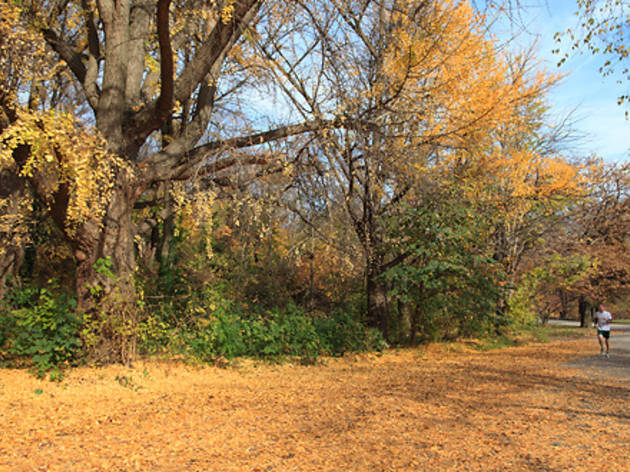 3/8
Photographer: Wendy Connett
Behold the colorful, slow death of the leaves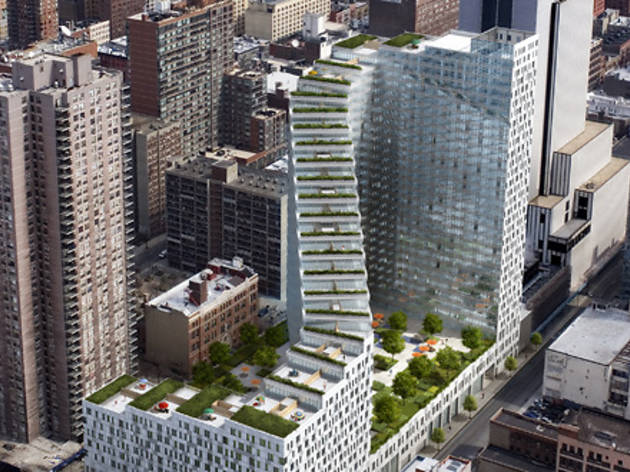 4/8
Rendering: Courtesy Enrique Norten/TEN Arquitectos
Go behind the scenes during Open House New York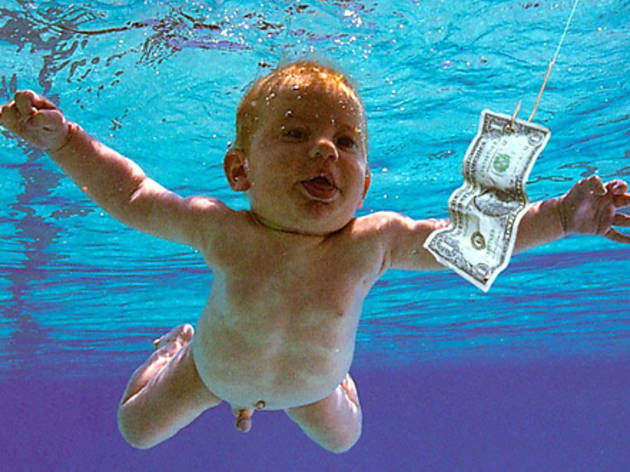 5/8
Toast Nirvana's Nevermind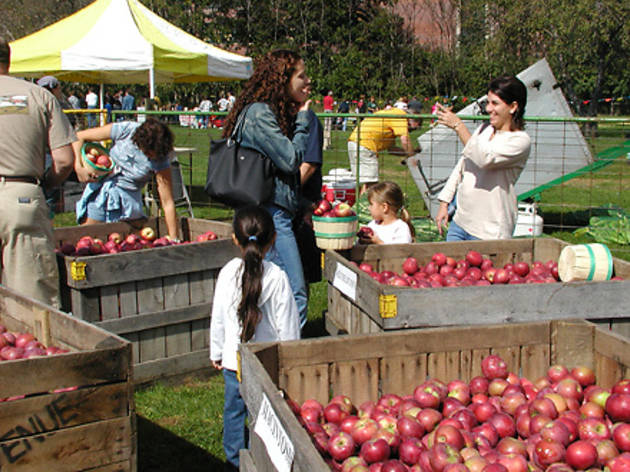 6/8
Photograph: Jeff Kollbrunner
Go apple crazy at the Queens County Farm Museum Apple Festival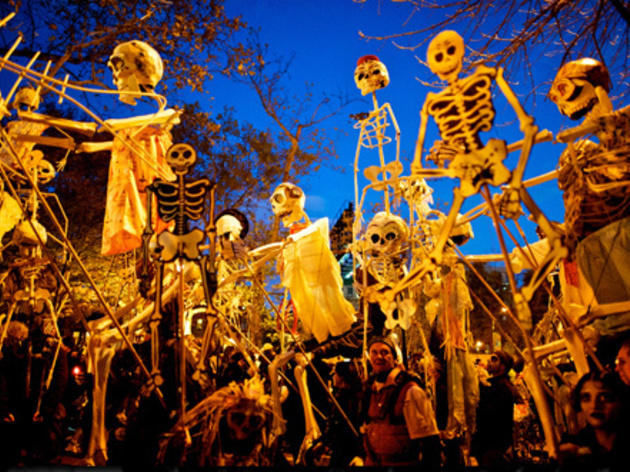 7/8
Photograph: The Smoking Camera
March in the Village Halloween Parade
8/8
Check out masterpieces at MoMA. Pictured: Interchanged by Willem de Kooning
101 things to do in New York City in the fall
1. Ride Jane's Carousel at Empire--Fulton Ferry Park
By September 16, this waterfront park should be reopened with some new and old amenities. A painstakingly restored 1922 carousel is the main attraction, but a new set of lights will keep the park open after dark for the first time. Empire--Fulton Ferry Park, Dock St at the East River, Dumbo, Brooklyn (718-802-0603, janescarousel.com). Mon, Tue--Sun 11am--7pm, through Nov 5; Thu--Sun 11am--6pm through Apr 5. $2.
2. Check out Streb's acrobatics at the Armory
The massive Park Avenue Armory is one of New York City's most breathtaking venues. For two weeks in December, it'll be the setting for "Kiss the Air!," a program of acrobatic performances by Brooklyn's Streb Extreme Action. Using techniques inspired by action-film stunts and the circus, the company stages a site-specific show that utilizes the Armory's unique spatial potential. Expect more than a few gasps as dancers fly though the air. 643 Park Ave between 66th and 67th Sts (212-616-3930,armoryonpark.org). Dec 14--16, 20, 22 at 7pm; Dec 17, 21 at 2, 7pm; Dec 18 at 3pm. $35, children under 12 $25.
3. Drink beer on Bear Mountain
Get out of the city and hoist a stein alfresco at Bear Mountain State Park. Through the end of October, Circle Line is offering return cruises along the Hudson River, allowing day-trippers three hours to roam t he park. Nature lovers can hike and bike more than one hundred miles of trails; beer lovers can make a beeline for Oktoberfest festivities at Bear Mountain Inn, which include Bavarian food, brews and entertainment ($3--$23).Pier 83, W 42nd St at the Hudson River (circleline42.com). Sat, Sun 8:30am--5:30pm; $50, with bike rental $79. Sept 17--Oct 30.
4. Behold the colorful, slow death of the leaves
Natural death in the animal kingdom is a sad, ignoble thing, but when it comes to plants, it's colorful and photogenic. You don't have to schlep out of the city to see the leaves lose their green; Central Park has you covered. Stroll around the 1.58-mile track surrounding the Central Park Reservoir, dodging runners as you take in the changing leaves and their mirror images. Prospect Park has a similar mix of colorful foliage: Head for the ravine trails, located between the Nethermead and the Long Meadow. The trees—ash, tulip and others—are reflected in ponds, doubling the stunning spectacle. Fort Greene Park is home to nearly 40 different species, while Alley Pond Park's Tulip Tree trail will lead you past one of NYC's tallest such specimens. For more on NYC's prime leaf-peeping locales—including Green-Wood Cemetery, the Cloisters and the New York Botanical Garden—see our list of the best places to see fall leaves.
5. Go behind the scenes during Open House New York
This annual festival gives attendees access to some of the coolest and most exclusive architectural sites and city landmarks. This year, attendees can go off the beaten path at spots such as Williamsburg's new Nitehawk Cinema (located in a converted warehouse); the third, undeveloped section of the High Line; and the New York Marble Cemetery, which is rarely open to the public. Keep an eye on the website during the first week of October, when the full lineup is announced: Tours that require reservations tend to fill up fast. Location, time and price vary; visit ohny.org for details. Oct 15, 16.
6. Toast Nirvana's Nevermind
Is grunge's essential album really turning 20-years-old this September? God, that makes us feel old. Celebrate your moshing days and the legacy of that seminal record by attending the launch party for Mark Yarm's tome Everybody Loves Our Town: An Oral History of Grunge at the powerHouse Arena (37 Main St at Water St, Dumbo, Brooklyn; 718-666-3049, powerhousearena.com; Sept 7 7--9pm; free). Or see musicians who were there, man, when the Meat Puppets hit Le Poisson Rouge (158 Bleecker St at Thompson St; 212-505-3474, lepoissonrouge.com; Nov 4 at 6:30pm; $15). The band famously accompanied Kurt & Co. onstage during Nirvana's MTV Unplugged in New York taping (to play its own songs, no less) and recently covered "Smells Like Teen Spirit" for Spin's Nevermind tribute album.
7. Go apple crazy at the Queens County Farm Museum Apple Festival
Nothing says "Autumn is really here, mofo" like wooden bins full of just-picked apples and bottles of freshly pressed cider. These wonderful icons of the season will be in abundance at this annual fest, which brings a variety of pommes from upstate producers to the farm's apple orchard. Chow down on a slice of an aromatic 8' x 8' apple cobbler ($3), listen to a country & western band, take a hayride ($2) or sup the good stuff from Jericho Cider Mill (glass $1.25, quart $3, half gallon $4.50, gallon $7.75). There's also a cider-pressing demonstration, where you can crank a hand-turn press, but beware of yellow jackets—they're attracted to the sweetness and pack quite a sting. 73-50 Little Neck Pkwy between 73rd Rd and 74th Ave, Floral Park, Queens (718-347-3276, queensfarm.org). Oct 2 11am--4pm; free.
8. March in the Village Halloween Parade
We usually forget about this annual masquerade and drunken circus until the moment we get on the 1 train and find ourselves surrounded by hundreds of proton-packed Ghostbusters, inebriated not-so-Real Housewives and overweight comic-book heroes. So circle the date in your calendar and plan ahead. If you want to walk with the throng, just turn up in costume (Sixth Ave between Canal and Spring Sts; Oct 31 6:30--8:30pm). Alternately, sign up online to become a volunteer puppeteer and carry a marionette through the streets—it's best to register before Oct 15 to avoid missing out on the plum jobs. There's also the chance to help build the puppets over three Saturdays (Oct 1, 15, 22) in Rhinebeck, NY. Sixth Ave from Spring St to 16th St (halloween-nyc.com). Oct 31 at 7pm; free.
9. Watch Samuel L. Jackson on Broadway
Mr. Cool stars as Martin Luther King Jr. on the night before his assassination in playwright Katori Hall's highly anticipated The Mountaintop. (It's worth noting that Jackson served as an usher during King's funeral.) As the scribe put it in a recent interview with us, the play attempts to humanize the civil-rights leader's final hours. "[W]e see him afraid; we see him dealing with daily death threats and what that does to a person's soul. We see him smoking because he's so stressed out." Bernard B. Jacobs Theatre, 242 W 45th St between Broadway and Eighth Ave (212-239-6200,telecharge.com). Previews begin Sept 22, opens Oct 13; $75--$130.
10. Check out masterpieces at MoMA
This season, the Museum of Modern Art examines two of artists with whom the institution shares a strong connection: "de Kooning: A Retrospective" (Sept 18--Jan 9) and "Diego Rivera: Murals for the Museum of Modern Art" (Nov 13--May 14). The first is a complete retrospective of De Kooning's career, bringing together 200 of his works—many drawn from MoMA's extensive collection. The second exhibit shows a series of eight murals the Mexican artist created for the museum in 1931 (along with studies made for the large-scale works at MoMA and ones for a 63-foot-long work in Rockefeller Center made at the same time). 11 W 53rd St between Fifth and Sixth Aves (212-708-9400, moma.org). Mon, Wed, Thu, Sat, Sun 10:30am--5:30pm; Fri 10:30am--8pm. $25, seniors $18, students $14, children under 16 free. Fri 4--8pm free.
11. Make the city more comfy at the BMW Guggenheim Lab
The uptown institution stakes out a temporary downtown claim on an unused piece of city parks land, to foster ideas about better urban planning. Screenings, meditation sessions, talks from renowned thinkers and a pop-up caf run by Brooklyn eatery Roberta's will keep the open-air space abuzz through the fall. E Houston St at Second Ave (bmwguggenheimlab.org). Wed, Thu 1--9pm; Fri 1--10pm; Sat, Sun 10am--10pm; through Oct 16; free.
12. Scope out the new Madison Square Garden
You may have noticed that an eerie quiet overtook the Garden this summer. That's because the arena was undergoing the beginnings of an $850 million renovation that'll shutter it every off-season for the next two years. This fall, MSG will be able to show off the first phase in time for Rangers games (who knows if the Knicks will even get to play). Improvements include a revamped Seventh Avenue entrance, new seats for the lower bowl, fancy premium boxes, and more concessions and bathrooms. Sports will start up at the Garden in October, but you'll also be able to see the changes at concerts, such as Katy Perry's gig on November 16. 4 Pennsylvania Plaza (Seventh Ave) between 31st and 33rd Sts (212-465-6741, thegarden.com)
13. Brew your own beer
Fall is the best time to brew your own alcoholic tipple. Compared with the sweltering summer, the climate in your apartment should be more friendly to the fermentation process (the ideal temperature for ale yeasts is between 65 and 75 degrees). But to take advantage of these favorable conditions, you'll need equipment. Brooklyn Brew Shop (brooklynbrewshop.com) sells convenient one-gallon brewing kits (equipment plus ingredients) in varieties like Everyday IPA and Chocolate Maple Porter ($40). One place you can buy the packages in person is the Beer Room at Whole Foods Bowery (95 E Houston St between Bowery and Chrystie St; 212-420-1320, wholefoodsmarket.com; daily 8am--11pm), which carries a wealth of other hardware, such as five-gallon fermenters, siphon tubes and air locks. In addition to supplies, brew shop Bitter & Esters (700 Washington Ave between Prospect Pl and St. Marks Ave, Prospect Heights, Brooklyn; 917-596-7261, citybrewshop.com; Tue--Sun noon--8pm) offers a Homebrewing Essentials class that'll take you through the process step-by-step (Sept 4, 17, Oct 2 at 2pm; $55).
14. Indulge at the Chocolate Show
You'll spoil your sweet tooth rotten at this cocoa expo, where more than 65 companies will showcase their sugary wares. Taste your way around stands from Valrhona, 2 Chicks with Chocolate and Xocolatti before hitting the demonstration theaters to watch the likes of Zac Young (Top Chef Just Desserts) and Serena Palumbo (The Next Food Network Star) at work. Metropolitan Pavilion, 125 W 18th St between Sixth and Seventh Aves (chocolateshow.com). Nov 10--12 10am--7pm, Nov 13 10am--6pm; $30--$40.
15. Sit in on chats with arts heavyweights
The New Yorker Festival returns for its 12th year of conversations between the mag's scribes and cultural luminaries. We're particularly jazzed for tell-all talks with Owen Wilson (Directors Guild of America, 110 W 57th St between Sixth and Seventh Aves; 212-581-0370; Oct 1 at 10pm; $35), glam-rockers Scissor Sisters (Gramercy Theatre, 127 E 23rd St between Park Ave South and Lexington Ave; 212-777-6800; Oct 1 at 10pm; $35) and director David Cronenberg (SVA Theatre, 333 W 23rd St between Eighth and Ninth Aves; 212-592-2980; Oct 1 at 4pm; $30). Set an alarm for Sept 9, when tickets go on sale, and snap them up fast. Location, time and price vary; visitnewyorker.com/festival for details.
16. Get a fashion education
All amped up after seeing the Alexander McQueen show at the Met, but confused about where to direct your fashion curiosity? One good place to start this fall would be the "Daphne Guinness" exhibit at the Museum at FIT. Guinness—a fashion patron and designer who has inspired such iconic creators as McQueen and Karl Lagerfeld—cocurated this survey of approximately 100 pieces from her closet, including designs from Christian Lacroix, Tom Ford and Gareth Pugh. Seventh Ave at 27th St (212-217-4558, fitnyc.edu/museum). Tue--Fri noon--8pm, Sat 10am--5pm. Sept 16--Jan 7. Free.
17. Relive Broadway's glory years on Broadway
At a time when revivals of Stephen Sondheim masterpieces are hobbled by orchestras that are too small (cough, cough, A Little Night Music), a new staging of his 1971 classic Follies makes for a refreshing change. A 28-piece pit accompanies star Bernadette Peters, Jan Maxwell, Danny Burstein and Elaine Paige in Sondheim and James Goldman's gorgeous ode to Broadway's faded glories. Marquis Theatre, 1535 Broadway at 46th St (877-250-2929, folliesbroadway.com). $47--$137, premium $225--$275.
18. Get your hands dirty at the World Maker Faire
This gathering brings together individuals obsessed with crafts, technology and science. Participants will display human-sized mousetraps, creatively adorned chariots constructed from bicycles and other vehicles, and robotic creations of every ilk. There's no shortage of participatory activities: You can get your hands on compressed air rockets and marshmallow canons, or get schooled at a lock-picking workshop for aspiring cat burglers. New York Hall of Science, 47-01 111th St at 47th Ave, Flushing Meadows--Corona Park, Flushing, Queens (707-827-7074, makerfaire.com). Sept 17 10am--7pm, Sept 18 10am--6pm. $25, seniors $20, students $15, children 2—7 $18, children under 2 free. Weekend passes: $50, seniors $40, students $30, children 2—17 $10, children under 2 free. Advance tickets available at makerfaire.com through Sept 8.
19. Pay your respects at the 9/11 Memorial
The official monument debuts on the tenth anniversary of September 11, 2001, with a special ceremony planned for the relatives of those who were lost. It opens to the public the following day, with reservations required for admission. Among the elements visitors will see are two pools in the footprints of the original Twin Towers, each surrounded by bronze plaques inscribed with the names of those who died on 9/11 and during the 1993 attack on the World Trade Center. The 9/11 Memorial, enter at Albany and Greenwich Sts (212-312-8800, 911memorial.org). Sept 12--Jan 8: Mon--Fri 10am--8pm; Sat, Sun 9am--8pm. Jan 8--Mar 2012: Daily 10am--6pm. Free; advance reservations required.
20. Support a good cause and burn some calories at Bike MS NYC
With the economy still in the doldrums, nonprofits need more support than ever. Sign up for this ride and you'll get to circle Manhattan—taking a 30-, 50- or 100-mile route—and raise funds for the National MS Society to help find the cause and a cure for MS. This year will be the last time participants get to ride through the Lincoln Tunnel, so if you've ever wondered what it's like to haul ass under the Hudson River on two wheels, now is the time. Meet at Pier 94, Hudson River at 55th St (bikemsnyc.org). Oct 2 at 7:30am. Before Sept 24 $50, Sept 24--Oct 1 $100; plus $150 fund-raising minimum. Registration required.
21. Tickle your funny bone at the Eugene Mirman Comedy Festival
Expect plenty of snarky shenanigans during the Brooklyn comic's eponymous extravaganza, which showcases the talents of alt-comedy stalwarts across two venues. A Kickstarter campaign is funding unusual events to bolster the entertainment, like a petting zoo and an awkward party bus. Among this year's goofy offerings are "An Evening of Science," during which hip astrophysicist Neil deGrasse Tyson will explain scientific phenomena to Kristen Schaal, John Oliver (unless the Daily Show sends him elsewhere) and Mirman, and a variety hour dedicated to FX spy spoof Archer, featuring songs and dancing from the show's cast. Location, times and prices vary; visiteugenemirmancomedyfestival.com for more info. Sept 15--18.
22. Coo over dogs in costumes
The Village Halloween Parade is fun and all, but does it have a plethora of puppies in adorable outfits? For that, you'll have to head east for the Tompkins Square Park Halloween Dog Parade. The getups themselves are remarkably elaborate and high-concept. Last year, we saw dogs dressed as Mr. Potato Head, a character from Tron and as Breakfast at Tiffany's (one of the iconic shop's boxes provided the bulk of the outfit). Enterprising owners stand to win an iPod Touch if their pooch is selected Best in Show, so start planning Fido's outfit now. Ave A between 7th and 10th Sts (firstrunfriends.org). Oct 22 at noon; suggested donation $5.
23. See a slew of indie-rock bands
Over a mere five-day spell, the annual CMJ Music Marathon & Film Festival stages more than 1,000 gigs throughout the city. Catch established acts like Eleanor Friedberger (of Fiery Furnaces fame) and Wild Flag at Bowery Ballroom (6 Delancey St between Bowery and Chrystie St; 212-260-4700, boweryballroom.com; Oct 18 at 7:30pm; $15), the sweat-inducing Brazilian outfit CSS (with support from MEN and EMA) at Webster Hall(125 E 11th St between Third and Fourth Aves; 212-260-4700, bowerypresents.com; Oct 22 at 6pm; $25, advance $20) and others. Location, time and price vary; seecmj.com for details (212-235-7027). Oct 18--22.
24. Watch the Macy's Parade balloon inflation
While millions of people around the nation watch the Macy's Thanksgiving Day Paradeon television, we lucky New Yorkers get to experience the event in person. Our tip? Instead of being jostled by a crowd of 3 million spectators on November 24, turn up the day before to see the enormous balloons being inflated with helium in preparation for the march. The best time to visit is late in the evening when the gigantic characters like Spider-Man, Sailor Mickey, Hello Kitty and Sonic the Hedgehog will have taken shape.79th St at Columbus Ave (macys.com/parade). Nov 23 3--10pm; free.
25. Screw the haters—sip a pumpkin-flavored brew
Pumpkin beer is a divisive drink—some people love it; others find it cloying and gross. We're staunchly pro pumpkin, especially since there are several beers that buck the stereotype and skillfully incorporate the gourd. A perennial favorite is Dogfish Head Punkin Ale, a not-too-sweet version of the drink sold at Bierkraft (191 Fifth Ave between Berkeley Pl and Union St, Park Slope, Brooklyn; 718-230-7600, bierkraft.com; single bottle $3.75, four-pack $13.95). After the success of last year's Pumpkin Brewster, Sixpoint will debut a new seasonal quaff, Autumnation, on September 21. Not only will it be on tap at bars around the city, it'll also be available in the brewery's 16-ounce cans. And Greenport Harbor Brewing Company will release its Leaf Pile beer (which is also flavored with nutmeg and vanilla) on September 1. Head to the brewery's headquarters in Long Island to pick up a growler.
26. Run around with a broomstick during the Quidditch World Cup
Do you think that because the Harry Potter series has ended, people were going to stop playing Muggle Quidditch? You would be sorely mistaken. In November, more than 100 teams from across the country will descend on Randalls Island to throw Quaffles around. The game itself resembles a cross between lacrosse and basketball, but with players carrying brooms around. Watch all the teams march into Icahn Stadium (in costume!) during the opening ceremony, and later that evening, catch a performance from a to-be-announced musical act. Randalls Island (worldcupquidditch.com). Nov 12, 13 at 10am; $4--$99.99.
27. Cavort with the beautiful people at Fashion's Night Out
For one night a year, shoppers can stay out late and mingle with some of the big names in fashion: More than 1,000 local shops will keep their doors open until 11pm, hosting sales and events and enabling celebrity sightings ranging from Heidi Klum to Joe Jonas. Check out our picks for the ten best participating stores. Location and time vary, visitfashionsnightout.com for details. Sept 8; free.
28. See stars at the New York Film Festival
Cinastes should flock to the 49th installment of this fest, which hosts screenings at three venues on the Upper West Side. The big-ticket draws this year are Alexander Payne's The Descendants, a George Clooney--starring dramedy that marks the director's first feature since Sideways; My Week with Marilyn, wherein Michelle Williams channels the blond bombshell; and Roman Polanski's dark comedy Carnage, starring Kate Winslet, Christoph Waltz, Jodie Foster and John C. Reilly. Other don't-miss entries include Martin Scorsese's doc George Harrison: Living in the Material World, Pedro Almodvar's The Skin I Live In and provocateur Lars von Trier's Melancholia. Location, time and price vary; see filmlinc.com for details. Sept 30--Oct 16.
29. Behold the world's largest fleet of floating vegetables at the Pumpkin Sail in Central Park
A flotilla of illuminated carved gourds (including yours) will be launched on the Harlem Meer at twilight as the centerpiece of this annual Halloween celebration. Check the website in October for weight requirements and other stipulations, then drop off your artistic endeavor before 6pm—the Central Park Conservancy will provide the tea light and flotation device. Central Park, Charles A. Dana Discovery Center, enter at 110th St and Fifth Ave (212-860-1370, centralparknyc.org). Oct 23 4--7pm; free.
30. Watch thousands of crazy people run the New York City Marathon
Stake out a spot to see the more than 45,000 people expected to run the annual race. For an especially good race-watching perch, situate yourself along Fourth Avenue in Park Slope, Brooklyn; First Avenue between 60th and 96th Streets in Manhattan; or Central Park South near the finish line. Get there early to see the front-runners (the elite women and men start at 9:10 and 9:40am, respectively), or later in the day as amateurs flood the streets. Locations vary (nycmarathon.org). Nov 6 at 9:10am; free to watch.
31. Get out of the museum and into the Art in Odd Places festival
Responsible for thousands of only-in--New York moments every year, this annual fest brings installations and performances from more than 50 artists to 14th Street—this year with a "ritual" theme. Get involved by attending the opening keynote address by Linda Mary Montano (Parsons the New School of Design, Kellen Auditorium, 66 Fifth Ave at 13th St; Oct 1 at 2pm; free). Attendees are requested to dress in one color of the rainbow, and may be asked by Montano to become a performer at the event. 14th St between Ave C and Hudson River (artinoddplaces.org). Oct 1--10; free.
32. Down gratis brews during Oktoberfest
Celebrate the kickoff of this drink-tastic holiday at Loreley Williamsburg, when the watering hole taps an HB brewery Oktoberfest keg that will flow free of charge until it goes dry. Between slugging rounds and raising your mug to German party tunes, soak up the suds with a plate of spit-roasted pig (spanferkel) with mashed potatoes and red cabbage ($19). For more sweet spots to gulp a stein outside, consult our roundup of the best beer gardens in NYC. 64 Frost St at Meeker Ave, Williamsburg, Brooklyn (718-599-0025, loreleynyc.com). Sept 17 at 3pm; free.
33. Be traumatized by stories from your childhood at Nightmare: Fairy Tales
Wolves eating children. Bears eating children. Witches eating children. We're sensing a dark pattern in many of the beloved yarns that kids have grown up with for centuries. Creator Tim Haskell and his team have harnessed some of this tykes-as-snacks energy for the annual installment of this popular haunted house. Actors and theatrical set pieces are sure to remind you of the terror of childhood stories. Clemente Soto Vlez Cultural and Educational Center, 107 Suffolk St between Delancey and Rivington Sts (212-352-3101, hauntedhousenyc.com). Sept 30--Nov 5. Times vary; $30-$100.
34. Catch Kanye and Jay-Z in Jersey
The two biggest names in hip-hop (who sport, arguably, some of the genre's biggest egos) recently released their joyous joint effort, Watch the Throne—and now you can see the boys in action during this twofer of shows. If you need to be greased to throw down for tix, we suggest watching Spike Jonze's awesome video for "Otis," which samples "Try a Little Tenderness," on repeat. Izod Center, Meadowlands Sports Complex, 50 State Rte 120, East Rutherford, NJ (201-935-3900, izodcenter.com). Nov 5, 6 at 7:30pm; $55--$178.50.
35. Find the funny at the Metropolitan Museum of Art
A new exhibit, "Infinite Jest" (Sept 13--Mar 4), spotlights the lighter side of fine art by focusing on caricatures and satires of politics and society. Curators have chosen pieces from the museum's permanent collection that reveal the senses of humor of such artists as Da Vinci, Delacroix, Goya and Toulouse-Lautrec. The show also includes work from well-known humorists, such as Al Hirschfeld and David Levine. 1000 Fifth Ave at 82nd St (212-535-7710, metmuseum.org). Tue--Thu, Sun 9:30am--5:30pm; Fri, Sat 9:30am--9pm; suggested donation $25, seniors $17, students $12, members and children under 12 free.
36. Discover the way we live now at the Brooklyn Book Festival
Future book festivals may just entail virtual readings by Elizabeth Gilbert and Tucker Max on Google+, but in the meantime we can still enjoy physical congregations of books and the people who love and write them. Jennifer Egan, Jonathan Safran Foer, Pete Hamill and Joyce Carol Oates will join scores of other writers for this huge literary extravaganza. Check out our picks for the five best events at the Brooklyn Book Festival. Brooklyn Borough Hall and Plaza, 209 Joralemon St between Adams and Court Sts, Downtown Brooklyn (brooklynbookfestival.org). Sept 18 10am--6pm; free.
37. Eat funnel cake at the Atlantic Antic
In a city full of street fairs, this one is among the largest. It spans ten blocks of the Brooklyn artery, and features live music, food and pony rides. Start at the Fourth Avenue end and walk the length of the Antic, to finish by admiring the New York Transit Museum's collection of vintage hot rides at the 18th Annual Bus Festival (Boerum Pl between Atlantic Ave and State St , Downtown Brooklyn; 718-694-1600,mta.info/museum; Oct 2 10am--5pm; free). As a bonus, the museum (Boerum Pl at Schermerhorn St, Downtown Brooklyn; ; 11am--5pm) waives its entry fee for the day.Atlantic Ave between Hicks St and Fourth Ave, Brooklyn (718-243-1414,atlanticave.org). Oct 2 noon--6pm; free.
38. Wish Boz a happy birthday
Marvel at literary greatness at "Charles Dickens at 200," a new exhibit marking the bicentennial of the author's birth. Among the items on view will be the Victorian novelist's letters, photographs, illustrations from his early books and the original manuscript for A Christmas Carol. A program of films and talks are also planned, including a screening of the Oscar-winning 1946 adaptation of Great Expectations (Oct 14 at 7pm; free with museum admission) and a lecture on Dickens's comic writings (Nov 2 at 6:30pm; $15, members $10). The Morgan Library & Museum, 225 Madison Ave at 36th St (212-685-0008, themorgan.org). $15, seniors and students $10, children under 12 free, Fridays 7--9pm free. Sept 23--Feb 12.
39. Dance your butt off underneath fake stars
After a summer hiatus, One Step Beyond returns for another season of dance parties in the American Museum of Natural History's Rose Center for Earth and Space. Though the lineup was unannounced as of press time, past years included appearances from Passion Pit, Scissor Sisters, Dan Deacon and Kanye West; we're predicting another stellar crew of musicians will be on board in the fall. Plus, the setting is pretty spectacular: The shindig takes place underneath the enormous Hayden Sphere, and you can explore all of the nifty exhibits (such as the Cosmic Pathway, a spiral walkway that features displays about the evolution of the universe) within the center itself. American Museum of Natural History, Central Park West at 79th St (212-769-5200,amnh.org/osb). Next event: Oct 14 9pm--1am; $25.
40. Get ready for the fall of the gods during the Met's next installment of theRing cycle
The machine starts whirring again in October. The 45-ton, 24-plank contraption is the scenic backbone of Robert Lepage's production of Wagner's Der Ring des Nibelungen.For Siegfried, part three of the cycle, the starry cast includes Deborah Voigt as the newly mortal, former Valkyrie Brnnhilde; Bryn Terfel as the one-eyed Wanderer; and Gary Lehmann taking on the demanding title role. Venerable Met artistic director James Levine, who's been sidelined in previous seasons for poor health, is scheduled to conduct all three performances. Metropolitan Opera House (at Lincoln Center), Lincoln Center Plaza at 65th St (212-362-6000, metoperafamily.org). Oct 27, Nov 1 at 6pm; Nov 5 noon. $17--$440.
41. Spend a day (or three) at the New York State Fair
It may be a 4.5-hour drive to Syracuse, but once you're there, you'll have a weekend's worth of entertainment at your fingertips for just a Hamilton a day—from thrill rides to art exhibits and circus performances. Snap a picture of the 180-ton sand sculpture (a special 9/11 tribute depicting firefighters) or the giant butter and cheese carvings; try a donut bacon burger ($6) or deep-fried bacon-wrapped Snickers bar ($5); and catch free concerts by Bruno Mars, Charlie Wilson, the Glenn Miller Orchestra and others. Separate tickets are required for entry to the State Fair Grandstand, an outdoor venue that is hosting big-ticket shows like Lady Antebellum (Sept 2; $35--$45), Sugarland (Sept 3; $50) and the state demolition derby championships (Sept 5; $15--$20). 581 State Fair Blvd, Syracuse, NY (nysfair.org). Daily 8am--midnight, exhibit buildings 10am--10pm; $10, advance $6, children under 12 free. Grandstand: $15--$65, includes fairground admission. Through Sept 5.
42. Celebrate an early Oktoberfest at the German-American Steuben Parade
Sure, we and the Germans have had our differences in the past, but that's all beer under the bridge, as it were. Celebrate America's rich German heritage at this annual parade, where there will be no shortage of steins, pigtails and other reminders of our fun-loving Prussian cousins. An Oktoberfest in Central Park will follow; tickets are required, and while it's currently sold out, check the website on September 7 to see if more tickets have become available. If you're housebound after a rough night at the biergarten, you can still catch the parade on WNET. Fifth Ave from 67th St to 86th St (germanparadenyc.org). Sept 17 11:30am--2:30pm; free.
43. Venture to the cosmos (sort of) in "Beyond Planet Earth: The Future of Space Exploration"
If you're mourning the end of the space-shuttle program, check out this exhibit, which looks at the steps scientists are taking to explore the universe. The show features artifacts from past missions, such as tires used on lunar rovers. You can also check out a life-size replica of a future habitat on the moon and a model of a lunar elevator, which would travel between the surface of the moon and a point about 100 miles above Earth's atmosphere (where it would rendezvous with spacecrafts). American Museum of Natural History, Central Park West at 79th St (212-769-5100, amnh.org). Daily 10am--5:45pm. Suggested donation $25, seniors and students $19, children $14.50. Nov 19--Aug 12.
44. Shake it to garage-rock royalty at the Bell House
The local garage-rock revivalists at Norton Records are throwing a four-night shindig at the Bell House to mark the label's 25th anniversary. And boy, have they put together a doozy of a bill, promising headliners like '60s stalwarts the Sonics and Question Mark & the Mysterians (of "Have Love, Will Travel" and "96 Tears" fame, respectively) and openers including King Khan (under the moniker Tandoori Knights), Jared Swilley of the Black Lips (as the Gaye Blades), Reigning Sound and other garage-punk standouts from the past decade. 149 7th St between Second and Third Aves, Gowanus, Brooklyn (718-643-6510, thebellhouseny.com). Nov 10--13; $25.
45. Hit the ice at Rockefeller Center
Sure, it's a little early to be skating, but the preseason rates at NYC's most famous rink are half of what they'll be over the holidays. Take advantage of the discounted price (and lack of crowds) from October 8 to November 3 to practice your spins and jumps—and tick an item off your New York bucket list. 30 Rockefeller Plaza between 49th and 50th Sts (212-332-7654, therinkatrockcenter.com). Mon--Thu 9am--10:30pm; Fri, Sat 8:30am--midnight; Sun 8:30am--10pm. $6--$14, skate rental $8.
46. Listen closely to New York Philharmonic
Now in his third season as music director, Alan Gilbert continues to push the venerable orchestra in new directions with a premiere of One Sweet Morning from composer John Corigliano (Sept 30--Oct 4), featuring the powerhouse mezzo-soprano Stephanie Blythe. On November 2 and 3, the Philharmonic performs Philip Glass's score alongside a screening of Godfrey Reggio's 1982 film Koyaanisqatsi: Life Out of Balance. Former directors Lorin Maazel and Kurt Masur also return to their once-familiar podium this season: Maazel will conduct programs featuring the music of Mozart, Debussy and Strauss (Oct 13--22), and Masur follows with Shostakovich's Symphony No. 13, Babi Yar and Schubert's Unfinished Symphony (Oct 27--29). Avery Fisher Hall (at Lincoln Center), 132 W 65th St at Broadway (212-875-5656, nyphil.org). Season opens Sept 21. $33--$115, opening night $65--$225.
47. Get a top score at an arcade in Sunset Park
The plinking of quarters and mashing of buttons was suddenly silenced in February when Chinatown Fair, an independently owned arcade that served as a home for NYC's gamer population, shut its doors. Thankfully, a new room has opened up to fill the void: Next Level Arcade. The Sunset Park space is equipped with nine cabinets that focus on fighting games such as Street Fighter IV and Marvel vs. Capcom 3. Consoles like Xbox 360 and PlayStation 3 are set up to play contemporary titles, which can be selected from Next Level's extensive library. Tourneys for hard-core players are held Wednesday nights at 6pm. 4013 Eighth Ave between 40th and 41st Sts, Sunset Park, Brooklyn (347-618-8813, nycnextlevel.com). Mon--Thu, Sat, Sun noon--midnight; Fri noon--3am. First hour $3, subsequent hours $2.50 plus 25 per play; All-day pass $10 plus 25 per play.
48. See rare movies at Film Society of Lincoln Center's new theaters
The Elinor Bunin Munroe Film Center, which opened over the summer and houses two small, sleek theaters, is a welcome departure from the less-than-optimal viewing experience that multiplexes often afford. This season, convene with fellow cinephiles for a handful of music-focused films like John Zorn: A Film in 15 Scenes (Oct 8 at 9:30pm), and the operas Anna Bolena (Oct 18 at 1pm) and Don Giovanni (Oct 29, Nov 1 at 1pm).70 Lincoln Center Plaza between Ninth and Amsterdam Aves (filmlinc.com). $13; seniors, students and children $9; members $8.
49. Place a wager at Belmont Park
You don't have to wait for the Belmont Stakes for an excuse to head out to cheer (or bet) on the ponies. The New York Racing Association has 37 days of events through the fall, including the New York Showcase Day with seven state-bred stakes races (Oct 22 at 11:30am) and eight Breeders' Cup Challenge races. The latter series features thoroughbreds vying for a chance to qualify for the ultimate competition in horse racing, the Breeders' Cup in Louisville, Kentucky. 2150 Hempstead Tpke at Cross Island Pkwy, Elmont, NY (516-488-6000, nyra.com) Sept 14--Oct 30; $3.
50. Hole up in a cabin
We're not talking about Death Hunt--style retreats, when Charles Bronson hid from Lee Marvin the Angry Mountie. You don't have to tear up the floor and rig the thing with shotguns. Escape the city with some pals at one of these four affordable rental retreats, boasting yoga studios, hot tubs, lakes and activities such as horse riding.
51. Flip the bird to pixels and shoot some film
Today, everyone has some manner of digital photographic device—why not distinguish yourself as a photographer by going back to film? Lomography cameras are an affordable and creative way to express yourself on celluloid; the Lomography Gallery Store has regular classes on how to make the most of its throwback photographic technology. Recent offerings include "Lubitel Lovers Workshop," which introduced shooters to working with the iconic twin-lense camera, and "Analog in an Instant," covering techniques for working with instant film. On Thursdays, "Lomography's Blue Hour" (at the 23rd Street location; 6pm; free) attracts analog enthusiasts to sip free drinks and sway to music on vinyl. 106 E 23rd St at Park Ave * 41 W 8th St between MacDougal St and Sixth Ave (212-529-4353) * lomography.com/nyc
52. Chat among the mute swans at Jamaica Bay wildlife refuge
Some may be surprised to learn that there is a huge nature preserve located in the middle of all this urban sprawl. The 9,155-acre Queens park is a birdwatcher's dream and boasts well-marked trails. In the fall, head over to the West Pond, where you can expect to see ducks, mute swans, snow geese and other birds that haven't joined their cowardly brethren in warmer seasonal climes. Crossbay Blvd at Broad Channel, Jamaica, Queens (718-318-4340, nps.gov). Daily dawn--dusk; free.
53. A revived orchestra grows in Brooklyn
The Brooklyn Philharmonic makes a triumphant return since cutting back on concert offerings two years ago for financial reasons. With new leader Alan Pierson (who also directs the avant-garde ensemble Alarm Will Sound) at the helm, the ensemble has adopted a more contemporary repertoire that it's taking to all corners of the borough. The first full orchestra concert (Nov 3 at 7:30pm; $10--$55) features a program of Russian cartoons to be presented in Brighton Beach. The orchestra will explore 70 years of Russian and Soviet animation with scores from composers such as Shostakovich.Millennium Theater, 1029 Brighton Beach Ave between Brighton 11th and 12th Sts, Brighton Beach, Brooklyn (718-488-5700, bphil.org)
54. Lose your head during a visit to Sleepy Hollow
Those seeking a spooky experience at any time of year can find it here. Immortalized in Washington Irving's story (and later Tim Burton's film) about the murderous Headless Horseman, Sleepy Hollow is proud of its exceptionally creepy lore (to wit: the local high school's athletics team is the Horsemen). The Sleepy Hollow Cemetery (540 N Broadway; 914-631-0081, sleepyhollowcemetery.org; free) is open daily from 8:30am to 4pm, giving day-trippers plenty of time to explore the 90-acre grounds. You'll find almost as many famous New Yorkers there as at Brooklyn's famed Green-Wood: Take your own self-guided tour (free maps are available), and look out for the graves of Elizabeth Arden, Brook Astor and Irving himself. Travel: Metro-North's Hudson line to Philipse Manor. Off-peak $3.80--$16.50, peak hours $5.23--$22.50.
55. Walk the East River Waterfront Esplanade
Opened in July, this rehabilitated stretch of waterfront, wedged neatly between FDR Drive and the East River, includes new benches and seating (such as lunch-counter-style barstools that face the river with a little ledge to put your meal or book), a dog run and a down-into-the-water staircase. While it's not exactly an ideal location for a relaxing chill-out session (under the highway can get a bit noisy), it's still worth your time for the riverside view, if you're in the area. These renovations are one link in the ongoing project to connect Battery and East River Parks via a continuous walking-and-biking path, which should be completed by 2013. East River between Maiden Ln and Wall St (nyc.gov)
56. Say hello, say goodbye, at the New York City Ballet
The company's season opens with the return of Ballet Master in Chief Peter Martins' full-length staging of Swan Lake, before welcoming Paul McCartney to the world of dance. Macca penned the orchestral score to Ocean's Kingdom (Sept 22), which receives its world premiere at NYCB's fall gala. (McCartney's daughter Stella also designed the costumes for the production.) The final performance of the season bids farewell to principal dancer Charles Askegard, but fear not, the ballet has new talent on the rise: meet new soloist Anthony Huxley. David H. Koch Theater, 20 Lincoln Center Plaza at 63rd St (212-870-5570, nycballet.com). Time and price vary; Sept 13—Oct 9.
57. Mark the "discovery" of America at the Columbus Day parade
Well, he's still one of the most popular failures in history, but 35,000 marchers and nearly 1 million spectators are expected along Fifth Avenue, to mark the day in history when Christopher Columbus landed in the Americas and to celebrate the heritage of the Italian-American community. It may not be the glitziest of New York's parades, but where else can you catch the tarantella (a frenzied Italian folk dance)? Fifth Ave from 47th St to 72nd St (columbuscitizensfd.org). Oct 10 11:30am--3pm; free.
58. Ride in a hot-air balloon
You won't be going around the world like Phileas Fogg, but you will get a fairly excellent view of the lands around Orange County, NY, with Above the Clouds, Inc. Bonus points if you start singing the lyrics to John Parr's classic '80s track "St. Elmo's Fire" while airborne. That right there is worth the price of admission alone. Rides go out at early morning and twilight, and can last a half hour or full hour. Randall Airport, 100 Airport Rd, New Hampton, NY (845-692-2556, abovethecloudsinc.com). Through November; $169--$250.
59. Learn how to toss watercolors like Edward Hopper
The 92nd Street Y hosts a number of outdoor watercolor classes this fall. On Sept 21 there's a session in Central Park; on Sept 22, students will be painting near the High Line. On Oct 6, there's an indoor offering titled "Approaches to Abstraction with Watercolor," at which everyone can pretend they're Kandinsky for a day. For those less advanced, there is a beginners course on Nov 29. Instructors include former NEA and Yaddo fellows; materials aren't provided, but at this time of year, who doesn't fantasize about raiding Pearl Paint (308 Canal St between Church St and Broadway; 212-431-7932, pearlpaint.com) to stock up on tubes of cerulean blue and cadmium red? 1395 Lexington Ave between 91st and 92nd Sts (212-415-5500, 92y.org). Multiple sessions $185--$490; see website.
60. Check out some artists of the floating world
In a room filled with silver speech-bubble balloons, a poem that begins "The Truth Is I Am You" is written on the gallery walls. It's a message of unity, linguistics and antigravity that's worth checking out before Governors Island closes for the season at the end of September. And, if you're so moved, you can write your own aphorism on the balloons. The Gallery at Building 110, Governors Island (mocada.org). Fri--Sun noon--5pm, through Sept 25; free.
61. Meet royalty at the New York City Wine & Food Festival
The fourth annual festival brings together Food Network stars and culinary glitterati for a four-day feeding frenzy of tasting events, dinners and seminars. Be quick if you want to snag tickets to demos and talks with Ferran Adri, April Bloomfield, Anthony Bourdain, Daniel Boulud, Alain Ducasse and even Luxembourg royal (and Domaine Clarence Dillon wine company president) Prince Robert. Location and price vary; visitnycwineandfoodfestival.com for more information. Sept 29--Oct 2.
62. Eat like a king during Harvest in the Square
Union Square transforms into a giant outdoor buffet for this annual tasting event. Try unlimited samples of signature dishes from more than 50 restaurants, including Gramercy Tavern and Hill Country Chicken; local producers, including Wlffer Estate Vineyard, will provide wine and beer pairings. Tickets are dear, but proceeds go to a worthy cause: to help the Union Square Partnership maintain the park. Union Square Park, E 16th St at Union Sq West (harvestinthesquare.org). Sept 22 7:30--9pm, VIP preview 6--7:30pm; $125, VIP $400.
63. Find serenity in the city
Relaxation is yours for a mere $50 during Spa Week, when more than 100 venues throughout the city discount up to three services of their choosing. Last year's specials included a 45-minute Dead Sea--salt and aromatherapy-oil scrub paired with a warm paraffin hand treatment at Dorit Baxter Day Spa, a colon hydrotherapy treatment from Provence Wellness Center, and a Brazilian wax plus Swarovski-crystal application (called the Vajazzle) from Completely Bare. Fair warning: Many services will be fully booked within hours after reservations become available September 12. Locations throughout the city; visit spaweek.com from Sept 12 for more information. Oct 10--16.
64. Feel the burn at the Chile Pepper Fiesta
Heat-seeking capsaicin lovers won't want to miss this spicy celebration. Tour the pepper plants in the Brooklyn Botanic Garden's Herb Garden, catch fire shows by circus performers Robbins and Ringold, and listen to a performance by the Grammy-nominated Cajun music band Lost Bayou Ramblers. Vendors like People's Pops, Fine & Raw Chocolate, Sour Puss Pickles and Mama O's Premium Kimchee will be offering gratis samples of their most incendiary snacks. Turn up before 12:30pm and you'll also have the chance to judge the amateur entries in the Brooklyn Chile Chocolate Takedown competition. 900 Washington Ave at Eastern Pkwy, Prospect Heights, Brooklyn (718-623-7200, bbg.org). Oct 1 11am--6pm; $15, seniors and students $10, children under 12 free.
65. Sing along to a holiday-themed cartoon with Secret Formula
The guys behind Secret Formula Productions spent the summer throwing nostalgia-fueled TV parties and sing-alongs and they're not letting up for the fall. The season kicks off with a Moulin Rouge Sing-Along (The Bell House, 143 7th St between Second and Third Aves, Gowanus, Brooklyn; 718-643-6510, thebellhouseny.com; Sept 3 at 8pm; $8) featuring movie trivia, a dance-off and French pastries. In October, you can attend one of three Halloween-themed events: a TV party devoted to spooky episodes of '90s television shows (The Bell House; Oct 25 at 8pm; $5); a creepy edition of the cartooncentric Spoons, Toons & Booze (Union Hall, 702 Union St between Fifth and Sixth Aves, Park Slope, Brooklyn; 718-638-4400, unionhallny.com; Oct 30 at 2pm; $5);and on the day itself, a costumed A Very Tim Burton Halloween sing-along (The Bell House; Oct 31 at 8pm, $8), where you can gobble free candy, bob for beer and enter a costume contest.
66. Stock your pantry
Greenmarket shoppers, take note: Now is the time to preserve seasonal produce in preparation for the barren winter months. The Brooklyn Kitchen periodically runs classes where you can learn how to extend the life of your favorite ingredients—on September 15, ex-Angelica Kitchen chef Peter Berley instructs on creating fermented preserves like Kosher pickles, sauerkraut and jalapeo jardiniere (6:30pm; $55). On September 26, Bob McClure of McClure's Pickles will run a seasonal Pickling 101 class (6:30pm; $50). 100 Frost St at Manhattan Ave, Williamsburg, Brooklyn (718-349-5032,thebrooklynkitchen.com). Check the website for more information on upcoming classes.
67. Try for a pair of discounted rush tickets
With so many cultural offerings in the city, ticket deals are vital. See TONY's "Cheap Seats!" guide to find out how to score discount theater tickets. In addition, Carnegie Hall (carnegiehall.org) offers rush seats at its box office, and Lincoln Center has its own discount window (similar to the TKTS booth) at its David Rubenstein Atrium(lincolncenter.org). Plus, the Metropolitan Opera (metoperafamily.org) offers cash-strapped music fans $20 to $25 rush tickets for practically all of its performances. Protocol for obtaining tickets varies, so check each institution's website for detailed instructions.
68. Gather with fellow alums for a college football game
During college football season, show allegiance to your alma mater at a bar that supports your team. In New York, that's no problem; there's a tavern devoted to almost every (decent, Division I) squad. For example, Penn State grads can root on the Nittany Lions at Mercury Bar West (659 Ninth Ave between 46th and 47th Sts; 212-262-7755,mercurybarnyc.com). If you jumped on the Cam Newton bandwagon last year, head to Bar 515 (515 Third Ave between 34th St and 35th Sts; 212-532-3300, bar515.com),where the patrons support the defending BCS champion Auburn Tigers.
69. Visit Austria in Nolita
Order a Sacher torte (a Viennese chocolate cake) or apfelstrudel ($6) and pretend you're in a Salzburg coffeehouse at this two-week pop-up store promoting all things Austrian. Art geeks can eye pieces from the collection of sculpture and decorative arts that will soon reopen at Vienna's Kunsthistorisches Museum, or pucker up for a photo with Gustav Klimt's famous 1908 painting The Kiss as the backdrop. The space will host concerts, film screenings, and food and wine events; check the website for more information. Openhouse Gallery, 201 Mulberry St between Kenmare and Spring Sts (austria.info/popup). Oct 5--19 Mon--Thu, Sun noon--9pm; Fri, Sat noon--10pm. Free.
70. Explore loftier thoughts at the White Light Festival
Lincoln Center's fall series, which explores the transcendent quality of various art genres, touched a nerve with concertgoers when it debuted last year. (All of the programs practically sold out—though complimentary glasses of prosecco postevent didn't hurt.) This fall brings another month's worth of events that invite audiences to unplug and consider the human condition. Among the highlights is Sir Colin Davis conducting the London Symphony Orchestra in Beethoven's Missa Solemnis (Oct 21 at 8pm; $35--$92). Location and time vary; call 212-875-5456 or visitwhitelightfestival.org for details. Oct 20--Nov 19; $25--$92.
71. Be your own best vintner at Brooklyn Winery
Rather than heading out for a vineyard to crush your own grapes, make your own wine from up to 12 varietals at this Williamsburg facility. Grab a group of oenophiles to go in together on the packages (prices vary depending on the extent of your involvement in the winemaking process and number of bottles of wine made, but expect a several-hundred-dollar commitment per person). If that's still too rich for your blood, you can still see how the winemaking process works on one of the winery's free weekend tours (Sat, Sun 1, 2, 3, 4pm). 213 North 8th St between Driggs Ave and Roebling St, Williamsburg, Brooklyn (347-763-1506, bkwinery.com). Winemaking by appointment, price varies.
72. Learn about the city's past at the New-York Historical Society
When the 207-year-old Upper West Side institution reopens to the public on November 11, nearly every facet will have changed. Among the upgrades is the Great Hall, a permanent display featuring several new elements that highlight different events in America's history through the lense of New York. Artifacts on view include a piece of the ceiling from Keith Haring's now-defunct Pop Shop on Lafayette Street, and "manholes" visitors can peek inside to see historic relics. An orientation film in the refurbished Robert H. Smith Auditorium will offer an introduction to the Historical Society and a drive-by of the city's past. 170 Central Park West between 76th and 77th Sts (212-873-3400, nyhistory.org). Tue--Thu, Sat 10am--6pm; Fri 10am--8pm; Sun 11am--5pm. $15, seniors and educators $12, students $10, children 7--13 $5, children under 7 free. Opens Nov 11.
73. Enjoy an adult puppet musical (no, not Avenue Q)
Drag artist and cabaret singer Joey Arias and puppeteer Basil Twist revive their acclaimed 2008 stage show, Arias with a Twist Deluxe, for a monthlong run. The transgressive spectacle (which earned a five star review from TONY) involves alien probes, blow jobs, magic mushrooms and other naughty nuttiness—as well as eye-popping puppetry and good old-fashioned chanteusery. Abrons Arts Center, 466 Grand St at Pitt St (212-598-0400, ariaswithatwist.com). Wed--Fri 8pm; Sat 8pm, 10:30pm; Sun 7pm; $35--$65. Sept 14--Oct 15.
74. Find some pumpkins to carve (or smash)
You know what October means—getting creative with gourds. This year, forgo the corner bodega and make your annual pumpkin purchase a true pilgrimage: Scads of nearby farms have them available for public consumption. Queens County Farm Museum (queensfarm.org), Pennings Orchard (penningsorchard.com), the Orchards of Concklin (theorchardsofconcklin.com), and Milk Pail Farm & Orchard Farmstand (milk-pail.com) are just a few. Happy smashing!
75. Take a rock & roll walking tour
The History of Art, Crime, Drugs and Punk Rock on the Lower East Side is a three-hour sojourn into the gritty history of a now-gentrified neighborhood. Musician and tour guide John Joseph peppers the walk with personal anecdotes. One stop on the tour is his old building on East 9th Street, where his upstairs neighbor, Daniel Rakowitz, infamously murdered and dismembered his own roommate (he also allegedly boiled her head in a soup, which he served to the homeless in Tompkins Square Park). Meeting location disclosed with ticket purchase; visit rocksoff.com/walkingtours for details. Sat 3pm; $35.
76. Laugh at a kungsploitation flick with Cinematic Titanic
Last year, all the original denizens of Mystery Science Theater 3000's Satellite of Love toured as Cinematic Titanic, cracking jokes while terrible films screened before a live audience. If you missed those high jinks, good news: Joel Hodgson & Co. return to clobber MST3K fans with their scripted wit. The flick is East Meets Watts, which tells the story of Chinese immigrant and kung fu master Larry Chin and his new partner in ass-kicking, Stud Brown. You can trust that the gang will delightfully skewer the '70s "kungsploitation" (Hodgson's word) movie. Best Buy Theater, 1515 Broadway at 44th St (ticketmaster.com). Sept 24 at 8pm; $40--$45.
77. Be tantalized at the New York Burlesque Festival
The cream of the burly-Q world converges upon Gotham for this annual four-day festival of tease. Visiting international tassel-twirlers include Australia's Imogen Kelly, Japan's Cherry Typhoon and France's Gentry de Paris. The stateside lineup is headed by Miss Exotic World 2011, Seattle-based Indigo Blue, and features plenty of Gotham talent, including Gin Minsky, Darlinda Just Darlinda, Harvest Moon and Angie Pontani.Location, time and price vary; visit thenewyorkburlesquefestival.com for more information. Sept 29--Oct 2.
78. Doll up your dog at a Harvest Festival
Most city slickers are pretty far removed from agricultural activities, but don't let that stop you from celebrating fall's bumper crop on October 22 (any excuse for a party, right?). There will be music, theater, local restaurant food and a canine costume contest (which featured two adorable pups in unicorn outfits last year) at Socrates Sculpture Park (32-01 Vernon Blvd at Broadway, Long Island City, Queens; 718-956-1819, socratessculpturepark.org; 11am--2pm; free). At the same time, Brooklyn Bridge Park will offer pumpkin decorating, live music, a Halloween parade and other festivities at Pier 6 (Furman St at Atlantic Ave, Dumbo, Brooklyn; 718-802-0603,brooklynbridgeparknyc.org; 10:30am--1pm; free).
79. Navigate the Amazing Maize Maze
Solve clues and puzzles to find your way out of this playfully named three-acre corn maze in Queens. On October 8 and 15, the cereal labyrinth shuts at 9pm instead of 4:30pm—test your sailor skills and see if you can use the stars to navigate your way out. Queens County Farm Museum, 73-50 Little Neck Pkwy, Floral Park, Queens (718-347-3276, queensfarm.org). Sat, Sun 11am--4:30pm; $9, children under 11 $5, children under 3 free. Sept 17--Oct 30.
80. Step back in time at the Brooklyn Museum
Head up to the museum's fourth floor to peruse more than 20 beautifully preserved period rooms, which, unlike the rooms in the Met's new American wing, are mostly devoid of crowds. Get a glimpse of the lavish Gilded Age with the Moorish-style smoking room from John D. Rockefeller's late-19th-century midtown house. Marvel at the elegant drawing room from Col. Robert J. Milligan's mid-19th-century residence, or admire the understated living room from Maj. Henry Trippe's Maryland estate from the early 1700s. 200 Eastern Pkwy at Washington Ave, Prospect Heights, Brooklyn (718-638-5000, brooklynmuseum.org). Suggested donation $10, seniors and students $6, children under 12 free, members free, first Saturday of every month (except Sept 1) 5--11pm free.
81. Finally go back to school and learn a new language
Graduate school is expensive. And while it may teach you about torts or Cartesian philosophy, you can expand your mind for a fraction of the cost. Drop by FluentBrooklyn (or its outpost, FluentManhattan) for affordable ten-week courses in French, Spanish, Italian, German or Arabic taught by the kind of dreamy, young cosmopolitan that got you interested in languages in the first place. The sessions are on evenings and weekends, and taking the level one course will help you to speak confidently in the present tense. 143 Skillman Ave between Graham and Manhattan Aves, Williamsburg, Brooklyn (fluentbrooklyn.com). Ten weeks/20 hours $285--$325.
82. Explore the birdlife of Freshkills Park
The former Staten Island landfill is being transformed into a natural refuge nearly three times the size of Central Park. Currently, the grounds are accessible only by NYC Parks--organized tours, so check out the area's fowl on a bus-and-walking expedition. Representatives from the Staten Island Museum and Freshkills Park will lead the two-hour walk around wetlands and meadows as you try to track down species like red-tailed hawks, northern harriers and meadowlarks. Meet at Eltingville Transit Center, 90--98 Wainwright Ave at Richmond Ave, Staten Island (212-788-8277). Next tour Sept 25 at 10:30am; free. Reservations required. To R.S.V.P., e-maildoug.elliott@parks.nyc.gov or call 212-788-8277.
83. Get high-minded at BAM
Take your bookish self over to BAM's annual Next Wave Festival for a host of dance and musical performances, plays, discussions and more. We're particularly intrigued by the US premiere of a new adaptation of Bertolt Brecht and Kurt Weill's The Threepenny Opera (BAM Howard Gilman Opera House; Oct 4--8 7:30pm; $17.50--$110) and a talk entitled "Think You're Pretty Smart," wherein playwright Neil LaBute, philosopher Clancy Martin and others discuss the perks and travails of intelligence (BAMcaf; Sept 22 at 8pm; $10). BAM Howard Gilman Opera House, 30 Lafayette Ave between Ashland Pl and St. Felix St, Fort Greene, Brooklyn * BAM Harvey Theater, 651 Fulton St between Ashland and Rockwell Pls, Fort Greene, Brooklyn (718-636-4100, bam.org). Prices vary, see website for details. Sept 21--Dec 18.
84. Minigolf along the Hudson
Perfect your putting on this 13,000-square-foot course, which opened this year. Youngsters should get a kick out of smacking the ball among the waterfalls and footbridges, while you'll likely enjoy the view of the river. For more great places to play minigolf, check out our handy guide. Pier 25, Hudson River at North Moore Sts (hudsonriverpark.org). Daily 10am--10pm. $5, children under 14 $4.
85. Pretend to be master of all that you survey at a new park on Roosevelt Island
Situated between the boroughs of Manhattan and Queens, Roosevelt Island (formerly Hog Island) is an ideal spot to take in the panoramic grandeur of our city. Do so from the newly opened 7.25-acre Southpoint Park, among the latest green spaces to set the stage for one of the world's best skylines. Other sights include Lighthouse Park, at the island's northern tip, which features a 50-foot-high stone lighthouse; Blackwell House(East Rd and Main St), one of the oldest historic farmhouses in NYC; and the classic diner Trellis (549 Main St, 212-752-1517). Take the iconic tram (59th St at Second Ave; Mon--Thu, Sun 6am--2am; Fri, Sat 6am--3:30am; $2.25), newly reopened and featured in Fiery Furnaces Eleanor Friedberger's homage to the isle, "Roosevelt Island."rioc.com
86. Go on an end-of-daylight-saving-time club crawl
You know when the club announces last call, and you wish you had just one more hour of boozing, dancing and fist pumping? It's a crummy feeling, we know. Luckily, on the night of Saturday, November 5, your wish comes true when the clocks turn back an hour at 2am. We suggest kicking off your trek at the stylish Sutra in the East Village, where turntablist extraordinaire Rob Flow spins everything from hip-hop to Latin beats for the always packed room (16 First Ave between 1st and 2nd Sts; 212-677-9477,sutranyc.com; Nov 5 at 10pm; free). Then head just a few blocks downtown to the appropriately named Lower East Side den Dark Room for new wave and goth cuts, and a young, hot scene (165 Ludlow St between E Houston and Stanton Sts; 212-353-0536; Nov 5 6pm--4am; free). Afterward, hop over the East River to polish off the night by getting down to funky Afro rhythms at Bembe, which lies under the Williamsburg Bridge (81 South 6th St at Berry St, Williamsburg, Brooklyn; 718-387-5389, bembe.us; Nov 5 10pm--4am; free).
87. Meet the Muppets
Delve into the universe of The Muppet Show—and Fraggle Rock, Sesame Street and other timeless creations from the mind of Jim Henson—at the Museum of the Moving Image. "Jim Henson's Fantastic World" includes everything from the puppeteer's illustrations from the '50s to pieces from the set of The Dark Crystal, as well as special programs such as "Muppet Music Moments" (Sept 24, 25 1pm; free with museum admission), a screening of classic Muppet Show sing-alongs and performances by guest stars like Elton John and Linda Ronstadt. 36-01 35th Ave at 37th St, Astoria, Queens (718-777-6888, movingimage.us). Through Jan 16; $12, seniors and students $9, children 3--18 $6, members and children under 3 free; film tickets free with museum admission.
88. Hunt for 'shrooms in Central or Prospect Park
There are plenty of workshops that will teach you how to grow your own food; fewer will show you how to find it in the wild. Learn to forage in the city's green spaces on this four-hour walking tour led by environmental educator "Wildman" Steve Brill. You'll look for natural ingredients both edible and medicinal, including seasonal items like apples, nuts and mushrooms. Location and time vary; visit wildmanstevebrill.com for more information. Suggested donation $20, children $10; reservations required.
89. Expand your knowledge of Indian culture beyond Trader Joe's frozen paneer during the Diwali Festival of Lights
Help commemorate the end of king and deity Rama's 14 years of exile alongside hundreds of local Indian-Americans during this annual extravaganza. Fashion, music, educational programming and other activities make this one of the largest culturally-Indian events in the city, and it has been going strong for over two decades. South Street Seaport, 19 Fulton St at Front St (212-732-7678, southstreetseaport.com). Oct 2; free.
90. Wander through the gardens of Wave Hill
People sometimes forget that the Bronx isn't all just pinstripes and fish markets. There are actually some rather lovely parts to it, like this 28-acre oasis on the Hudson. Enjoy terrific views of the Palisades, a rainbow of foliage and, for early risers, free admission every Saturday from 9am to noon. W 249th St at Independence Ave, Bronx (718-549-3200, wavehill.org). Tue--Sun 9am--5:30pm; $8, seniors and students $4, children 6--12 $2, children under 6 free. Tue, Sat 9am--noon free.
91. Catch a lecture at the 92nd Street Y
There are plenty of celebs circling through the uptown institution for lectures this fall. Among the notable offerings: Legendary designer Calvin Klein chats with New York Fashion Week founder Fern Mallis about his career (Oct 17 at 8pm; $29) and two of the Food Network's most indulgent personalities—Paula Deen (Oct 11 at 8pm; $29) and Nigella Lawson (Nov 16 at 8pm; $29)—give the scoop on their careers. Will Deen throw sticks of butter into the audience? We can only hope. 92nd Street Y, 1395 Lexington Ave at 92nd St (212-415-5500, 92y.org)
92. Laugh your ass off at the New York Comedy Festival
A host of big-name stand-ups hit town for this annual citywide laughathon, including the wonderfully acerbic Louis C.K. (Nov 10 at 7:30pm, 10:15pm) and his bubbly pal from across the pond Ricky Gervais (Nov 13 at 7:30pm), as well as foul-mouthed females Sarah Silverman (Nov 12 at 8pm) and Kathy Griffin (Nov 12 at 8pm). Location, time and price vary; visit nycomedyfestival.com for more information; Nov 9--13.
93. Brave the queue at Shake Shack's new location
You've seen the lines. Tourists unfamiliar with the siren song of the Shack might have assumed that someone was giving away gold bullion. But no—it's the next best thing: diet-killing burgers and the finest shakes that doubloons or fiat money can buy. Outdoor seating, a generally shorter line than at some of the other local branches, and the full array of concretes and custards—including pumpkin pie in November—make this Battery Park City spot worth the wait. 215 Murray St between North End Ave and West St (646-545-4600, shakeshack.com). Daily 11am--11pm.
94. Veg out en masse
Looking to escape your stuffy apartment and watch some shows with other human beings for once? True Blood fanatics take over both floors of East Village bar Professor Thom's during a screening of the HBO hit's much-anticipated fourth season finale (219 Second Ave between 13th and 14th Sts; 212-260-9480, professorthoms.com; Sept 11 at 9pm; free). Down a free Jell-O shot whenever a character bites the dust, and quaff $3 domestic drafts such as Harpoon IPA between kills. For a dose of classic television, head to the Paley Center for Media, which celebrates the 60th anniversary of I Love Lucy by presenting rare sketches, TV cameos and long-lost episodes (25 W 52nd St between Fifth and Sixth Aves; 212-621-6600, paleycenter.org; Sept 28--Oct 30 Wed--Sun 12:30pm; $10, seniors and students $8, children under 14 $5).
95. Cast on, knit and purl
Create your own fall accessories at Make Workshop (195 Chrystie St between Rivington and Stanton Sts, suite 402f; 212-533-9995, makeworkshop.com), where Diana Rupp has taught crafts for almost a decade. Sign up for a three-part beginners course to learn the fundamentals of knitting, and stitch yourself a scarf (Sep 24, Oct 7; $150). If you're already familiar with the basics, learn to make mittens and a hat during two 1.5-hour sessions (Oct 28, Nov 4; $120). Brooklyn General Store (128 Union St between Columbia and Hicks Sts, Cobble Hill, Brooklyn; 718-237-7753, brooklyngeneral.com)also offers beginners classes over three consecutive Monday evenings every month. Instructor Heather Love caters to all skill levels, including absolute novices who have never held a pair of needles (Sep 12, Oct 10, Nov 7; $120).
96. Go with Boston expats to eat some of their beloved clam chowder
Chances are you know some Bostonians in the city, and that here, they are like cod out of water. Help them feel a little more at home with a trip to the Pearl Oyster Bar, which has some of the best double-cured-bacon-enhanced New England clam chowder found outside of Patriots Country. 18 Cornelia St at Bleecker St (212-691-8211,pearloysterbar.com). Bowl $7.
97. See a tornado in Central Park
Ponder Michael Sailstorfer's Tornado, a new public artwork inspired by the powerful weather phenomenon. The 34-foot-tall sculpture consists of more than 200 dark "clouds," made from the inner tubing of truck tires, which rustle in the wind. The piece will be unveiled on Sept 20; on the following day the artist will discuss it and his other works during a talk at the New School (66 W 12th St between Fifth and Sixth Aves; Sept 21 at 6:30pm; $10). Doris C. Freedman Plaza, Fifth Ave at 60th St (publicartfund.org). Sept 20--Feb 19; free.
98. Welcome a new gay nightclub
Boys who like boys have a new party playground opening this fall, a collaboration between '90s nightlife promoters John Blair and Beto Sutter, and the FV Events team of Tony Fornabaio and Brandon Voss (currently behind the Club 57 and Rockit affairs). XL Nightclub will be open seven nights a week, with a house- and pop-driven dance floor, a more low-key lounge and a cabaret bar on offer. Early next year the rest of the building will launch as the Out NYC, a straight-friendly hotel for gays. XL Nightclub at the Out NYC, 510 W 42nd St between Tenth and Eleventh Aves (xlnightclub.com). Opens October.
99. Kayak the Hudson River
Just because summer's over doesn't mean you can't still take advantage of the Downtown Boathouse's free kayaking along the Hudson River, which continues through October 9. The boats are available on the weekends and on Labor Day. And if you're a newbie, don't worry—an expert will be on site to monitor your progress (though you still need to know how to swim). Pier 40, 353 West St at Houston St. 9am--6pm. * Pier 96, Hudson River at 56th St. 9am--6pm. * Hudson River at 72nd St. 10am--5pm. * (downtownboathouse.org)
100. Shop at Brooklyn Flea
After Thanksgiving, the indie market moves indoors, so you can pick through vintage duds, funky jewelry, quirky furnishings and more handmade fare from a variety of local vendors without freezing to death. To find out who's selling that weekend, check Brooklyn Flea's site on the Friday before doors open. Location TBA (brooklynflea.com). Sat, Sun 10am--5pm; opens Nov 26. Free.
101. Host your own homecoming party
So it's been a few years since you graduated from school. Everyone you know is older, fatter and more injury-prone. You guys still got it, though. Reconnect with your old pals and relive your college days for a day. Things you will need: Beer, Ping-Pong balls, a few packages of ramen, Advil, a babysitter, a dial-up connection, a football jersey and a lame excuse for why you can't stay out drinking past 10pm.