Heads up! We're working hard to be accurate – but these are unusual times, so please always check before heading out.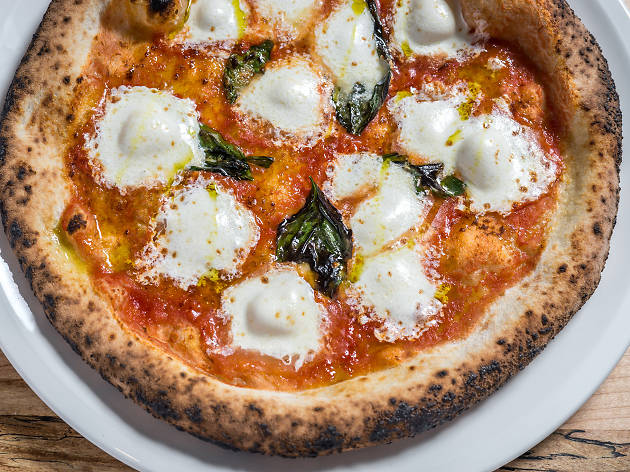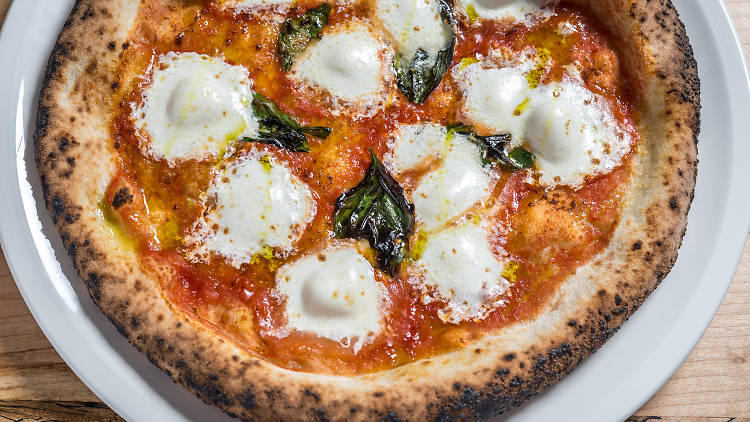 A pair of red-sauce progressives go head-to-head downtown
On face value, Pasquale Jones and Café Altro Paradiso are neo-Italian kin—but their differences are vital
They could very well be siblings, Café Altro Paradiso and Pasquale Jones: similar in demeanor and design and marked by a kindred upbringing. Both are anticipated sophomore efforts—the former, a follow-up to Ignacio Mattos and Thomas Carter's genially esoteric, Obama-frequented Nolita dining room Estela; the latter, a sequel to Ryan Hardy, Grant Reynolds and Robert Bohr's jaunty, wine-charged Soho spot Charlie Bird. Both are decidedly set in downtown's cool-kid belt (Hudson Square and Nolita, respectively), and are members of New York's nuova scuola of Italian trattorias, scruffy and slack-postured while they charge upwards of $20 for a bowl of spaghetti.
In terms of physical comforts, Café Altro Paradiso is an improvement upon its squat, clamorous ancestor, Estela: The 75-seat, split-level dining room is airy and bright, if nondescript, with bare white-oak finishes, vaulted ceilings and large windows flooding everything with natural light. A long brass-topped bar welcomes customers upon arrival, appeasing the women draped in leather jackets and men in crisply pressed suits with amaro cocktails and small-town Italian vino until their table is ready.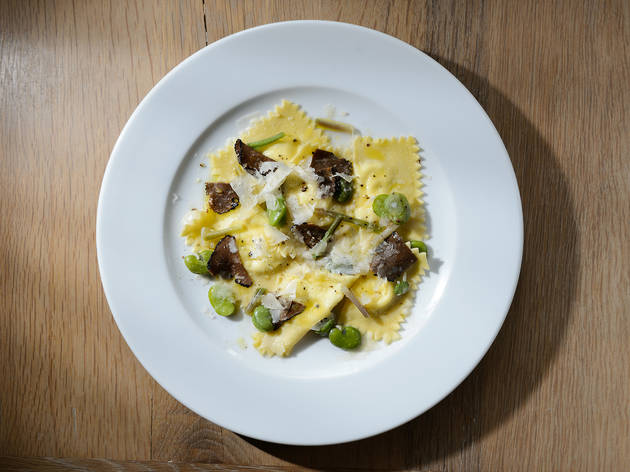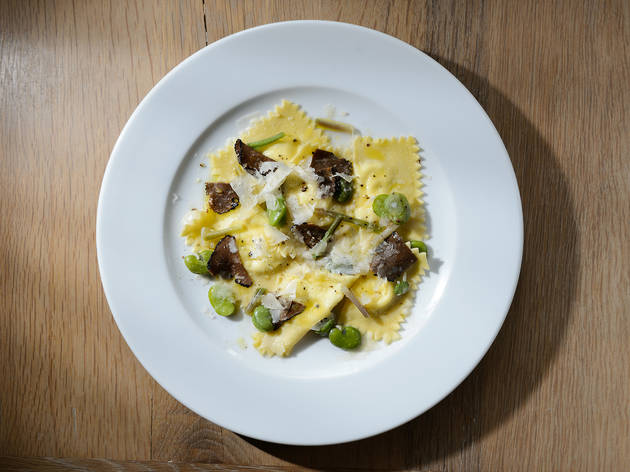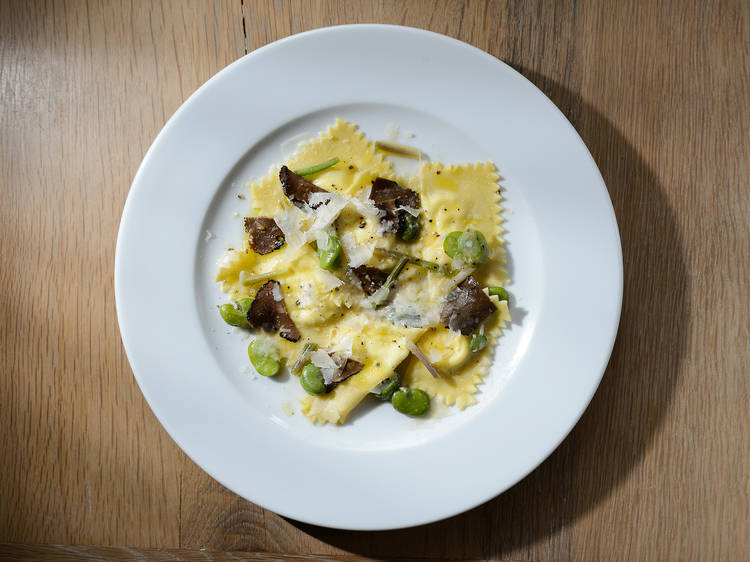 Photograph: Filip Wolak
Ravioli with fava beans at Café Altro Paradiso
Photograph: Filip Wolak

But on the plate, things are a bit too comfortable, even bordering on complacent. Mattos, overseeing chef de cuisine Aidan O'Neal (M. Wells Dinette) in the kitchen, made a name for himself with his cutting-edge, space-oddity cooking at the now-shuttered South Williamsburg restaurant Isa, and even his mellower work at Estela can seem downright kooky in comparison to Altro's middlebrow dishes. Carpaccio ($18), fixed with fried capers, potato chips and a puddle of aged balsamic, may have the same genetic makeup as Estela's exemplary steak tartare, but it doesn't thrill the way that sunchoke-studded stunner does.
Fennel salad with Castelvetrano olives and curls of provolone has a nice citrus pluck ($15), as does fluke crudo dotted with caper berries ($16), but such starters are uniformly pale in color and paltry of portion. Things liven up around the menu's house-made pastas: ricotta-plump ravioli with fava beans and meaty black truffle ($23) and pudgy gnocchi pillows with nubs of sausage and pecorino stagionato ($22). Pastas are meant to occupy dinner's midcourse, but with mains like a characterless chicken milanese ($28) following, you're better off making a meal out of them.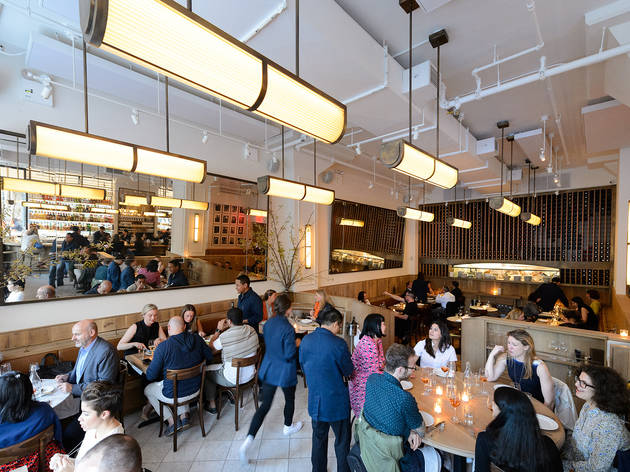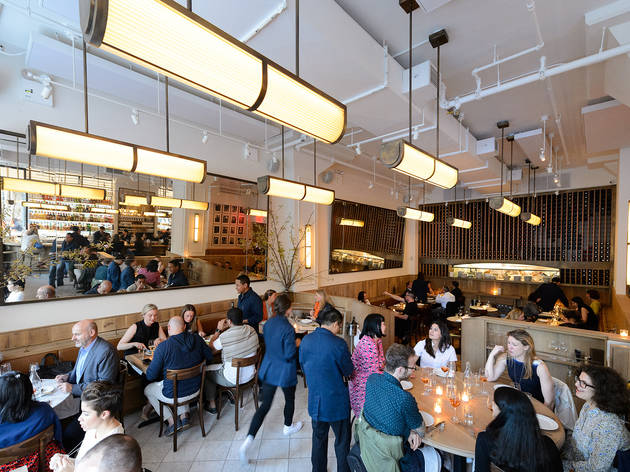 Photograph: Filip Wolak
Café Altro Paradiso
Photograph: Filip Wolak

Pasquale Jones is an altogether warmer affair than Altro. That might be due to Reynolds's graciously priced wine list or the Prince hits on heavy rotation overhead (what Charlie Bird did with blaring hip-hop, Pasquale does with foot-tapping funk) or to the actual glow emanating off a pair of wood-burning ovens in the nimble open kitchen, the promise of pizza within. Manned by San Francisco chef Tim Caspare, those roaring hearths produce one of the city's best new pies: the clam pizza ($23), a char-puffed beauty covered in briny littlenecks, wilted rapini and a delicate garlicky cream. Finish it with a few oily, lip-swelling chili peppers from an accompanying crock for the kind of bite that will make you forget that you're eating at a cramped counter, with the blaze of a 900°F pizza oven giving you a secondhand sunburn.
Alongside first-rate za, those ovens produce mains like a lardy, fennel-flecked pork shank for two ($48), which slinks off the bone at the sight of a fork prong, and even the kitchen's sole dessert, a gorgeous singed-soft rhubarb with mascarpone gelato and toasted pistachio ($8). That wood-fired power is a small difference between Pasquale Jones and Café Altro Paradiso, but it's those differences that render one of these kindred spirits formidable and the other forgettable.
Read the full review
Why go?
Because Pasquale Jones serves New York's best clam pizza since Franny's famed pie. Average pizza: $20.
Why go?
Because you could make a feast out of Café Altro Paradiso's beautifully handmade pastas. Average main course: $28.