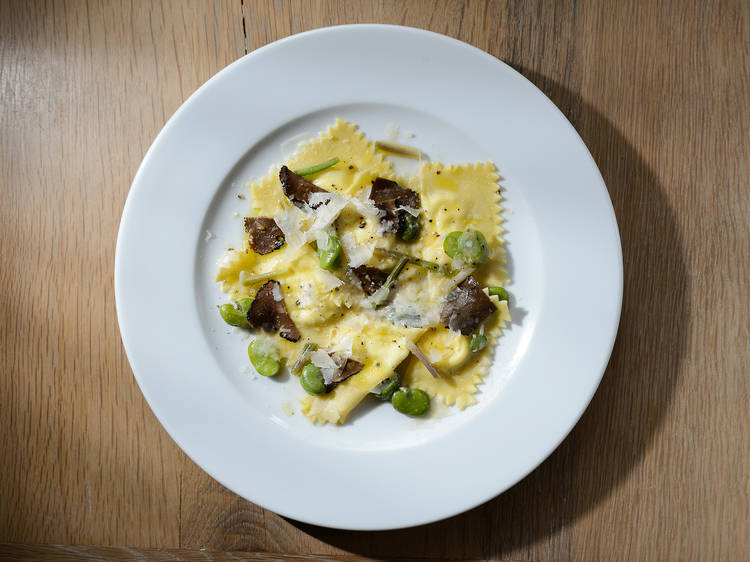 Photograph: Filip Wolak
Ravioli with fava beans at Café Altro Paradiso
Photograph: Filip Wolak

But on the plate, things are a bit too comfortable, even bordering on complacent. Mattos, overseeing chef de cuisine Aidan O'Neal (M. Wells Dinette) in the kitchen, made a name for himself with his cutting-edge, space-oddity cooking at the now-shuttered South Williamsburg restaurant Isa, and even his mellower work at Estela can seem downright kooky in comparison to Altro's middlebrow dishes. Carpaccio ($18), fixed with fried capers, potato chips and a puddle of aged balsamic, may have the same genetic makeup as Estela's exemplary steak tartare, but it doesn't thrill the way that sunchoke-studded stunner does.
Fennel salad with Castelvetrano olives and curls of provolone has a nice citrus pluck ($15), as does fluke crudo dotted with caper berries ($16), but such starters are uniformly pale in color and paltry of portion. Things liven up around the menu's house-made pastas: ricotta-plump ravioli with fava beans and meaty black truffle ($23) and pudgy gnocchi pillows with nubs of sausage and pecorino stagionato ($22). Pastas are meant to occupy dinner's midcourse, but with mains like a characterless chicken milanese ($28) following, you're better off making a meal out of them.