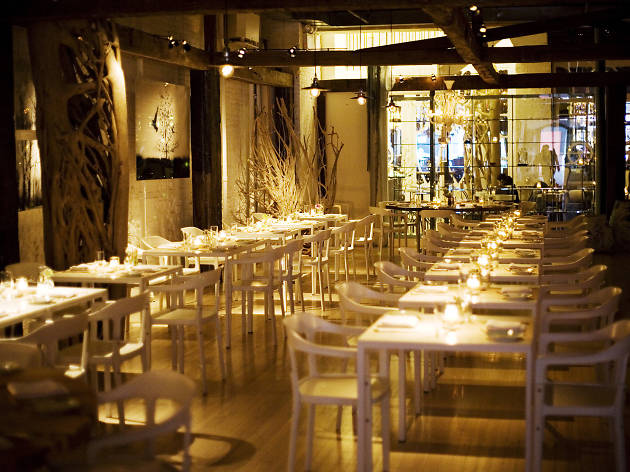 1/7
Photograph: Noah Fecks
ABC Kitchen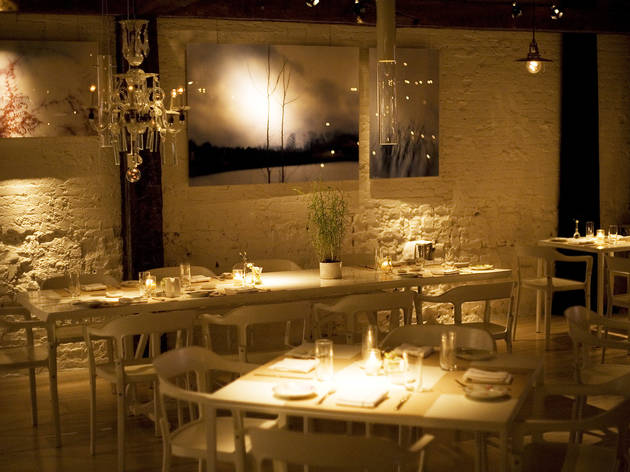 2/7
Photograph: Noah Fecks
ABC Kitchen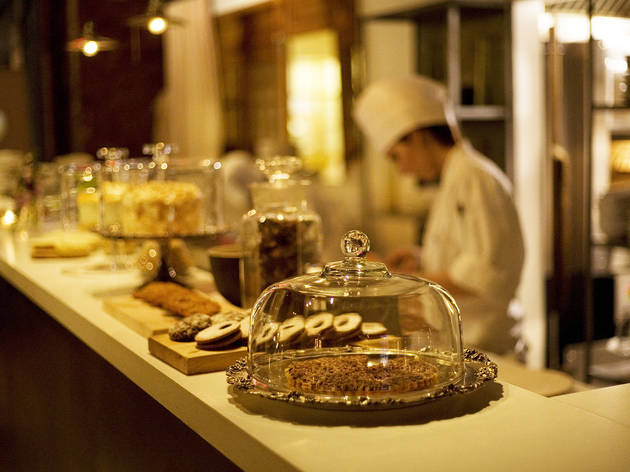 3/7
Photograph: Noah Fecks
ABC Kitchen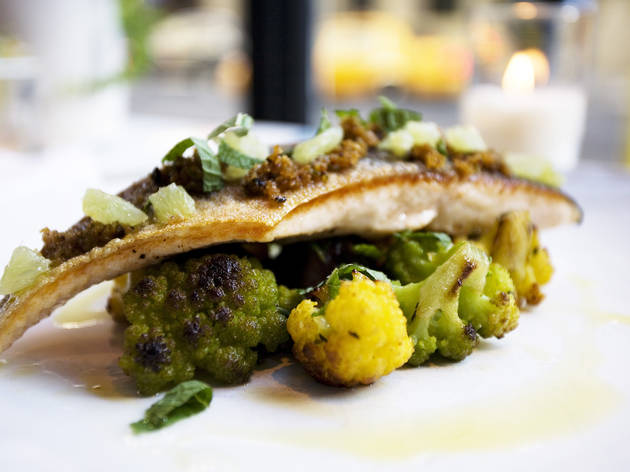 4/7
Photograph: Noah Fecks
ABC Kitchen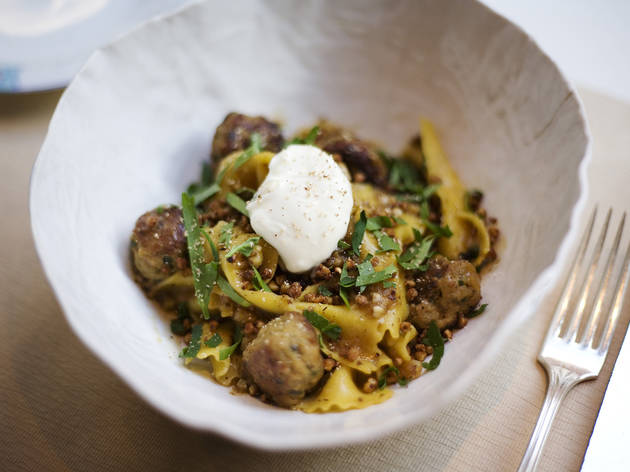 5/7
Photograph: Noah Fecks
ABC Kitchen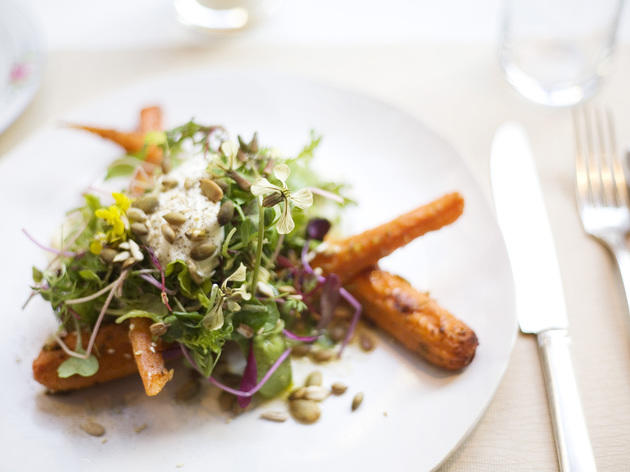 6/7
Photograph: Noah Fecks
ABC Kitchen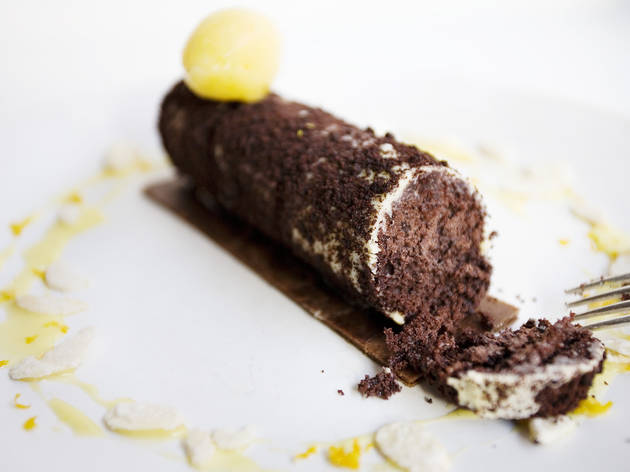 7/7
Photograph: Noah Fecks
ABC Kitchen
Time Out says
While plenty of New York restaurants have lately made the environment a priority—sourcing their ingredients locally and crafting dining rooms from salvaged materials—none have done so with quite as much visual and gastronomic panache as chef Jean-Georges Vongerichten's ABC Kitchen. Everything, including the antique armoires, reclaimed-wood tables, porcelain plates and chandeliers entwined with flowering vines is gathered from area artisans.
Though the restaurant's sustainable ethos is outlined on the back of the menu like an Al Gore polemic, the cooking, based on the most gorgeous ingredients from up and down the East Coast, delivers one message above all: Food that's good for the planet needn't be any less opulent, flavorful or stunning to look at. It's haute green cuisine.
In step with fashion, the menu is a sprawling collection of small and large shareable plates—but unlike so many, it features reasonable pricing and dishes that all seem to work well together. After passing around pastas, salads, maybe a bowl of fried calamari—beautifully encrusted with crushed Martin's Pretzels, lending an extra-crispy saline crunch—you might covet an entree all for yourself. A supremely buttery arctic char fillet, featuring skin that's as crisp as a kettle-fried chip and nutty florets of roasted Romanesco, is certainly worth hoarding. As is a flattened golden roasted half chicken, its juicy flesh bathed in a vinegary glaze with wilted escarole and heady, butter-sopped potato puree.
While some diners might be drawn to ABC Kitchen for its politics—the soap is organic, leftovers composted, herbs snipped from the rooftop garden—if you strip away the rhetoric, you're left with a beautiful restaurant, offering food that's as distinctive as it is thrilling.
Details
Address:
ABC Carpet & Home, 35 E 18th St
New York
10003

Cross street:
between Broadway and Park Ave South
Transport:
Subway: L, N, Q, R, 4, 5, 6 to 14th St–Union Sq
Price:
Average main course: $30.
Contact:
Opening hours:
Mon-Wed noon–3pm, 5:30–10:30pm; Thu noon–3pm, 5:30–11pm; Fri noon–3pm, 5:30–11:30pm; Sat 11am–3pm, 5:30–11:30; Sun 11am–3pm, 5:30–10pm
Do you own this business?
Average User Rating
4.2 / 5
Rating Breakdown
5 star:

8

4 star:

5

3 star:

3

2 star:

1

1 star:

0
Beautiful restaurant, full of flowers and amazing decoration from the ABC furniture store. I went there a couple of nights ago for the first time and I have to say it was my favorite, not disappointed at all. Starting for the beautiful vintage china. I ordered the carrot salad with avocado (a little bit spicy but really tasty) and then the pork confit with mash potatoes and sea salt (to die for!) for desserts we ordered the chocolate cake (a must) the sundae, the lemon pie and the carrot cake. Highly recommended!!!
First of all, how cool is this building?? A furniture store and a restaurant? Amazing. We came right before they opened because we didn't have a reservation and as soon as the doors opened there was already a wait! Definitely do reservations. Totally worth the wait! We enjoyed a selection of things off the menu. The crab toast was the winner of the night. Our pizza took a little longer to come out so the chef gave us something complementary for the wait! So nice.
Love, love, love this place. The interior decor is out of this world beautiful and the food is absolutely delicious. The crab toast is a must order and don't forget to try the calamari too! Highly recommended for a date night out you will not be disappointed.
Love this place. The food is really good and they're really accommodating with large groups. I'd highly recommend the chocolate cake for desert, delicious!
The decor to this place is phenomenal! I took my partner here for his birthday. We were completely pleased with service, ambiance, and food! I would recommend this place to anyone that wants to have an intimate moment for any special occasion.
OK, the decor of this restaurant is spectacular. It is spacious and simple but also gives you a feeling of comfort. Unfortunately the table we sat at was much too large for our party of 5, we had to scream across the table for anything to be heard. The food, well it was fine - went for brunch and there is not many ways to mess up eggs. Way too expensive for what it is and the waitstaff was pretty much unavailable for anything. Not so much a fan...
This restaurant is total eye candy and a perfect spot for a special occasion. The laid-back vibe attracts glitterati and celebrities still even after several years of being a city hotspot. That said, while the food is still great, it's not as fantastic as it once was. The restaurant seems to pump food out on a conveyor belt making it feel less special. That said, it's still delicious. Must order dish for first-timers is the roasted carrot and avocado salad. Oh and all the desserts.
The restaurant decor is outstanding, the food, not so much. I've been here 3 times and it has always been lackluster... I'm not sure how or why people rave so much about it. It wasn't bad but I was expecting to be a lot more impressed.
I thought the decor was definitely really nice, but was it worth the wait? It gets great reviews and I'll admit it was quite romantic for the misses and I on date night. However we left there feeling so-so. The food again had it's ups and downs, with the desert selection actually being the best hands down. I just didn't think the entres we ordered we anything special and therefore left a somewhat sour (no pun intended) taste in our mouth. I'd definitely like to give them another try and see how we go with some of the other recommendations. Giving it the benefit of the doubt it's probably a great restaurant but I'll need another visit to confirm. I'll give it 3 stars.
People rave about ABC Kitchen, and I still haven't figured out why. Until recently, I've been avoiding it since my last visit since what I remembered was the most flavorless food I had ever had. I am happy to say that the food today was measurably better than it was on my first visit.
I ordered the pre-fixe lunch. My appetizer was the pea soup. It was very good. I especially like the croutons. My entree was the chicken. This is what I was dreading from my bland earlier experience. It was definitely better. The chicken was well-cooked and the jalapenos added a nice spice. However, I found the dish to be rather salty. It was like all the salt they sucked out of my first meal was doubled into this one. But hey, I'll take salty over bland any day, no matter what my cardiovascular system says.
The dessert was the highlight of my meal. The raspberry tart was so good. It was the perfect amount of sweet, and the fresh berries tricked my mind into thinking that it was healthy. What more could a girl want in a dessert?
Classy and I really like the ambiance, very romantic.