Artisan in residence: Gilles Verot
We go behind the scenes at Daniel Boulud's new East Village commissary to see how a legendary French charcutier creates DBGB's globe-trotting sausages.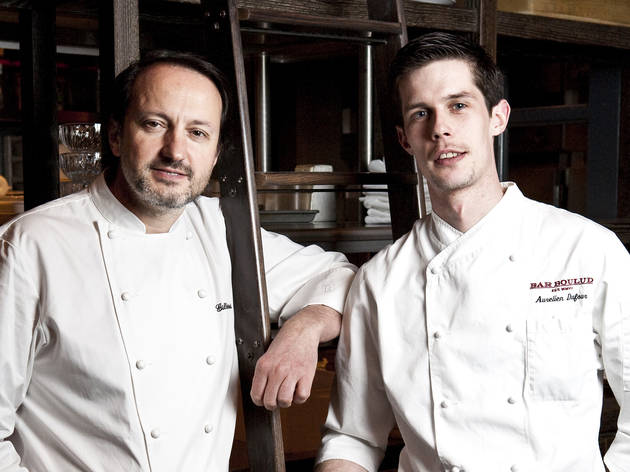 1/9
Photograph: Jakob N. Layman
Gilles Verot and Aurelien Dufour, from left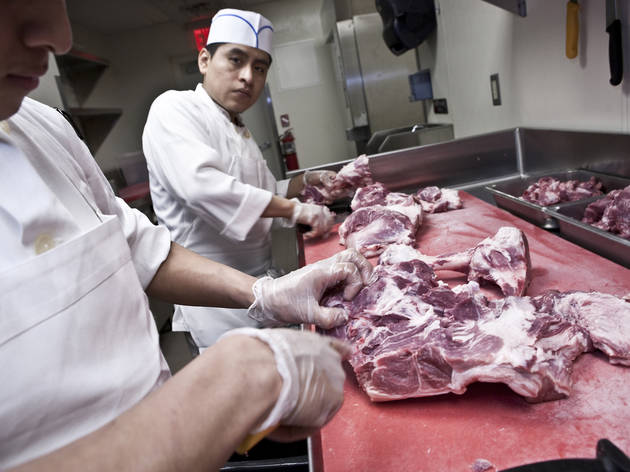 2/9
Photograph: Jakob N. Layman
Cooks butchering meat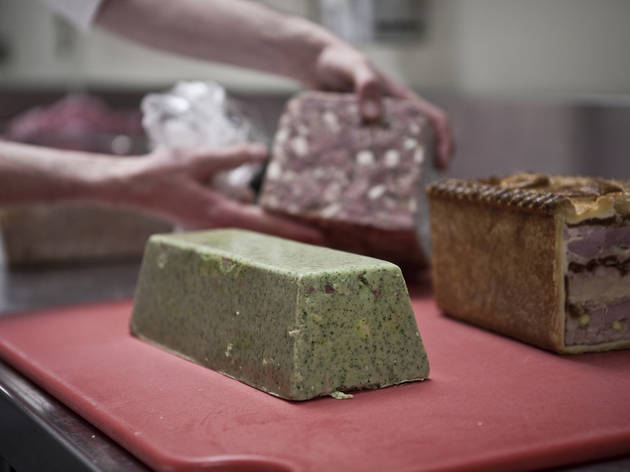 3/9
Photograph: Jakob N. Layman
A selection of traditional charcuterie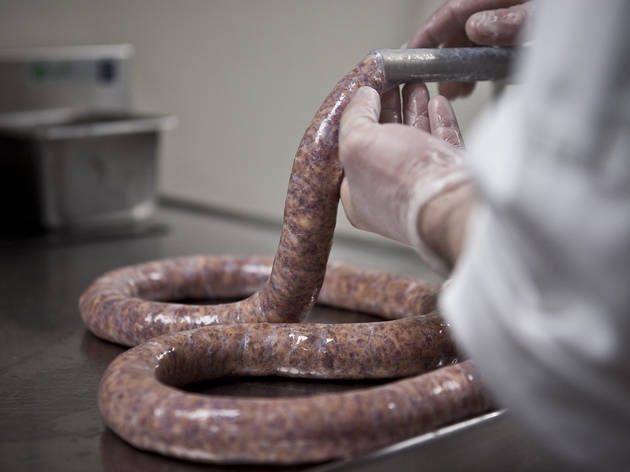 4/9
Photograph: Jakob N. Layman
Working the sausage meat into its casing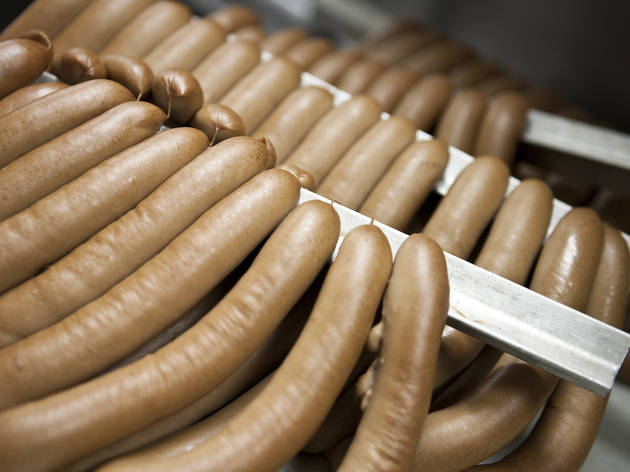 5/9
Photograph: Jakob N. Layman
DBGB dogs fresh out of the smoker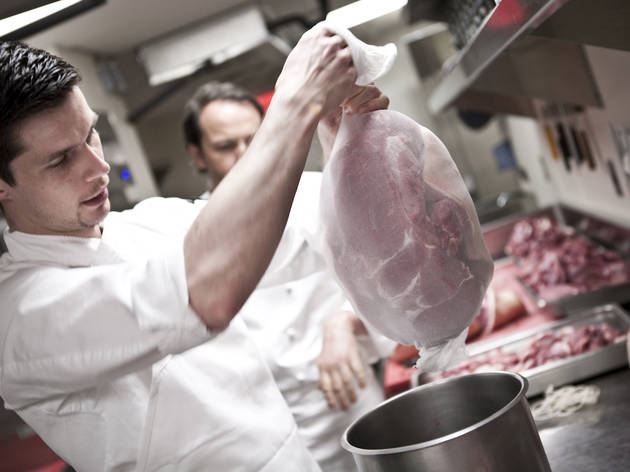 6/9
Photograph: Jakob N. Layman
Dufour preparing jambon de Paris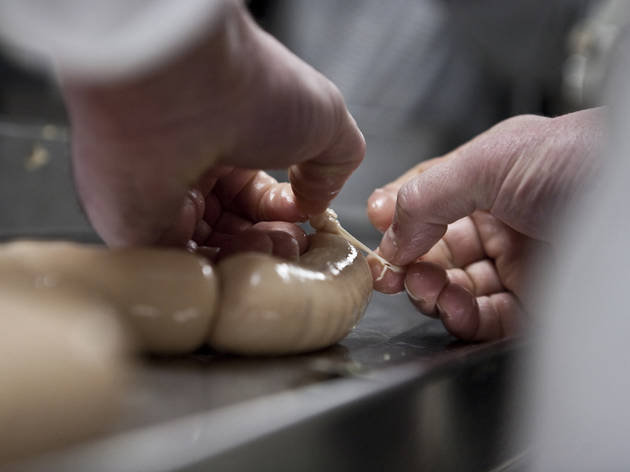 7/9
Photograph: Jakob N. Layman
Making boudin blanc de volaille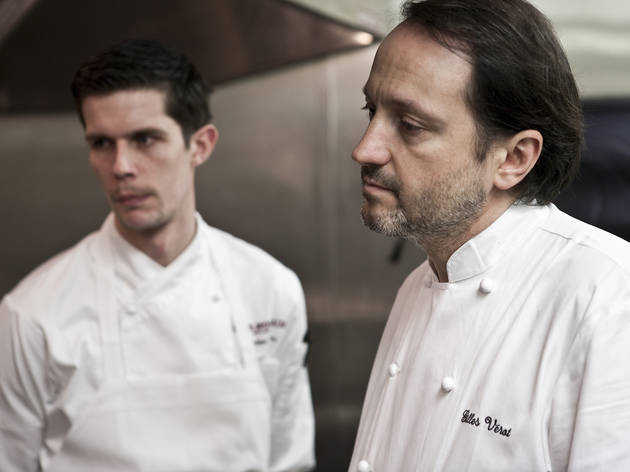 8/9
Photograph: Jakob N. Layman
Dufour and Verot, from left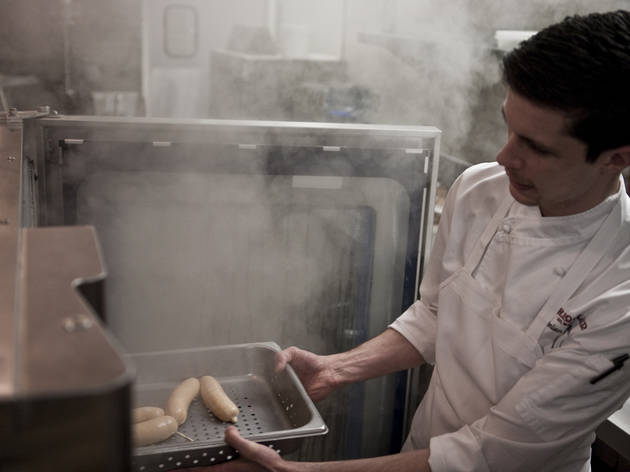 9/9
Photograph: Jakob N. Layman
Steaming the boudin blanc de volaille
Behind every great French chef is an army of culinary talent—not just a sous chef, saucier and the rest of the brigade de cuisine, but also the bakers, cheese makers and other artisans who craft the raw materials of fine dining.
For haute-cuisine titan Daniel Boulud, the man responsible for such delicacies as the pâté en croûte at Bar Boulud and the blood-and-pig's-head sausage at DBGB is third-generation Gallic charcutier Gilles Verot. Though he's not quite a household figure among New Yorkers (observant diners will have noticed his name on Boulud's menus), his pedigree runs deep in Paris. He operates two renowned boutiques with his wife and has racked up countless accolades, including a "Champion de France du Fromage de Tête" nod in 1997 for his superlative headcheese terrines. Since a chance meeting in 2005, Verot has been working with chef Boulud to introduce real-deal French charcuterie to the NYC dining scene.
During a recent visit to the city—he still lives in Paris, but comes to New York every few months to supercharge the charcuterie program—Verot took us on a tour of Boulud's newly christened commissary, secreted away at the end of an alleyway off the Bowery. Navigating through the flurry of morning activity—boulangers shaping baguettes, pâtissiers crafting sweets for the display case at Épicerie Boulud—he leads us to the spacious workshop, where his protégé Aurelien Dufour runs the show when he's not there.
At one station, a cook slices the shank away from a ham to create jambon de Paris, which the charcutiers massage by hand to tenderize the meat and work out excess moisture. At another, Dufour manipulates a freshly ground blend of lamb leg and fat, fragrant with mint and harissa, into a natural sheep's-intestine casing.
For Verot, this artisanal approach—working with the best-quality meat (the pork is sourced from Heritage Farms) and doing as much as possible by hand—is essential. Above all, what he's imported to this unlikely sliver of lower Manhattan is the high standards set by the masters who taught him the trade back in Lyon. "When we started to work with Daniel, I told him I want to do the same thing we do in Paris in New York," he recalls. "I think [we get closer to that] every day."
Looking across the kitchen at links of all-American tube steaks strung up on a metal rack, though, it's clear that doing things the way they're done in Paris is only half the story. While the rustic pâtés and immaculate terrines he brought to Bar Boulud in 2008 may not look much different from the stuff he sells at his own shops, his stateside oeuvre has moved well beyond the classics. DBGB, the beer-fueled ode to bangers that chef Boulud launched in 2009, gave Verot an opportunity to unleash his meat-molding talents on a global hit list of sausages, from the rich boudin of Basque country to the dirty-water dog of NYC.
As he shows us the various DBGB links at different stages of preparation—a fatty slab of pork belly ready to be butchered for the Vermont; coarse-ground hunks of lamb destined for the Tunisienne—he stresses the importance of good R&D when making sausages from around the world. To master each type, Verot and his team tapped into Boulud's international network so that they could talk to other artisans and taste the source material.
"When we wanted to make very good sausage from Germany, we spoke to German people and went to the street carts [in Munich]," says Verot. Other times, inspiration was closer at hand: A Korean cook at Bar Boulud taught him how to work with kimchi and deploy Asian seasonings in place of salt and pepper for the Coréenne, a spicy pork sausage served with bok choy and kimchi coulis.
Finally, he turns his attention to a brand-new sausage for DBGB's spring menu: boudin blanc de volaille, a delicate and creamy chicken sausage laced with curry spices. The lemongrass-spiked Thai, chorizo-packed Espagnole and wine-soaked Beaujolais each have a lineage that is easy to follow; here, the provenance seems less obvious.
"This one we can call a New York sausage," says Verot as he feeds the chicken mousse into its casing, explaining the lightness of the meat and gentle spicing in chefly rather than anthropological terms.
The notion of a New York sausage—an impressionist creation that's free to be whatever it wants, without adhering to a specific regional antecedent—is telling. For a master of tradition, Verot isn't afraid to channel a bit of Gotham-brand iconoclasm from time to time. With his crack team of charcutiers installed in their new digs, the opportunity to tinker is greater than ever. Gourmands will want to watch closely to see where their art takes them next.
Bar Boulud, 1900 Broadway between 63rd and 64th Sts (212-595-0303) • Épicerie Boulud, 1900 Broadway at 64th St (212-595-9606) • DBGB, 299 Bowery at E Houston St (212-933-5300)
Related: A cheat sheet of our favorite sausages at DBGB