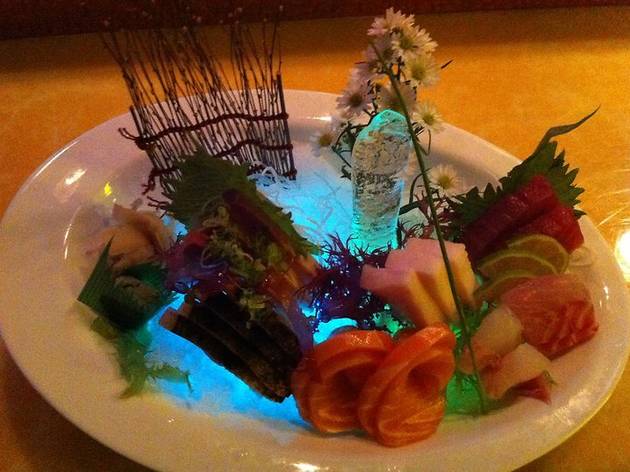 The content on this page is provided by a Time Out partner.
Known as one of the premier sushi caterers in New York City. #1Asuka Sushi has an established national reputation for exceptional food, creativity, and presentation combined with outstanding service.
Venue name:
Asuka Sushi
Contact:
Address:
300 West 23rd Street
New York
10011

Price:
$30 and under
Do you own this business?
You may be interested in:
Average User Rating
2.5 / 5
Rating Breakdown
5 star:

0

4 star:

1

3 star:

0

2 star:

0

1 star:

1
Slightly-bonkers-splashes of neon and colorful décor – and the tables are packed in – but I've not had a bad dish served to me here. All you'd expect from a strong sushi bar in Chelsea; good fresh hunks of salmon and tuna, a broad range of crunchy spicy rolls and a handful of strong (probably too sweet) cocktails.
I will try to be short and clear, Asuka Sushi place is not for vegan or vegetarian. Please do not go to this place ever if you are not eating animals product! I would ask another way, if they don't respect vegan or vegetarians, will they respect omnivores? I'm strong vegan for about 15 years, i was visiting many countries and restaurants in this world from Australia to Tehran or Morocco, for example, but i didn't meet such a cynical attitude to vegans! So, this is a story, we came together with my wife, who is vegan for about 20 years, she was in this place couple of times and she likes Asuka Sushi restaurant, so we were pretty loyal to this place and we felt safe there. I told waitress that we don't eat animal products and asked her for vegetarian dish recommendation. She suggested me Vegetable Noodle Soup. Ok, i asked her if it was made on vegetarian broth or animals, she told us that, it was based on vegetarian broth. I double check it with her, and she confirmed that broth was made only based on vegetables. So i order Vegetable Noodle Soup. In addition i asked her if ramen noodles contain eggs, since we don't eat animals products, she told me that there were no eggs. I asked her if we could add some tofu, since we don't eat meat or any other animal products, the waitress told me that don't have such an option, but i could order a separate Age Tofu which is vegan product, so i ordered it. We order it together with salad and avocado sushi. Last two dishes was vegan, but tofu came with fish skins. Well i have been vegan for 15 years i understand its not so easy to following vegan requests sometimes, so i kindly asked waitress to change a plate to tofu without fish skin, so she brought it a little bit later.

After about 15 minutes when we finished all appetizers i asked her where is our noodles? The waitress was told me that our table is to small to handle a noodles plate, despite that fact that i asked her to bring everything in one time, just when it would be ready. Well it not a big deal to repeat second time you request, so i did asked her to bring a Vegetable Noodle Soup which we where ordered 30 minutes ago, one more time. She brought it in another 10 minutes. I tried it and realized that it smells like animal. If you don't eat animals protein for years you can easily recognize that smell. So i asked her to double check if the Vegetable Noodle Soup broth was made on vegetables or not. The lady disappear.

So i asked another waiter same question, if this broth was made bath on vegetables or animal products like chicken, pork or meat. He told me that this is a vegetables broth. I was sure that it was not, so i asked him to invited a manager, at the same time i took my thermos which i luckily had in a backpack and added to a couple spoons of broth with a words that I'm going to expertise it later. So finally manager was appeared and confirmed me that broth was made of chicken! I don't want to repeat that sad and long conversation.

In short, he suggested me not to pay for dinner, but i felt like it was totally unfair deal, since they lied us several times. So i asked for my check where i asked him to mentioned vegetables broth and i'm going to make an expertise of that broth if it was containing a chicken or vegetables. He brought me a check and i paid for everything except that dish that contained animal products.

Im not sure if it will works for me, my wife was so disappointed, Asuka Sushi staff were so cynical and lied to us till the end. Many people like this please, i don't want to change their mind, but do you think if they don't respect vegan or vegetarians, they will respect omnivores? I don't think so, so please be aware of this place Asuka Sushi! I personally will come there only with camera and my lawyer next time

More venues
Sponsored listings