B.B.R. opens in Williamsburg
Cal Elliott launches a basement bar underneath his Brooklyn bistro, Rye.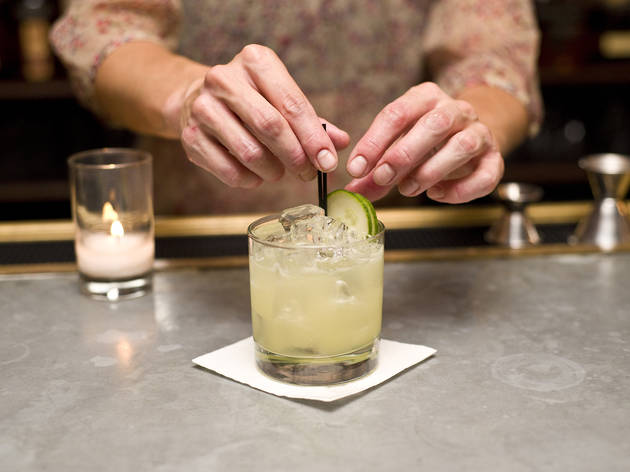 1/9
Photograph: Alex Strada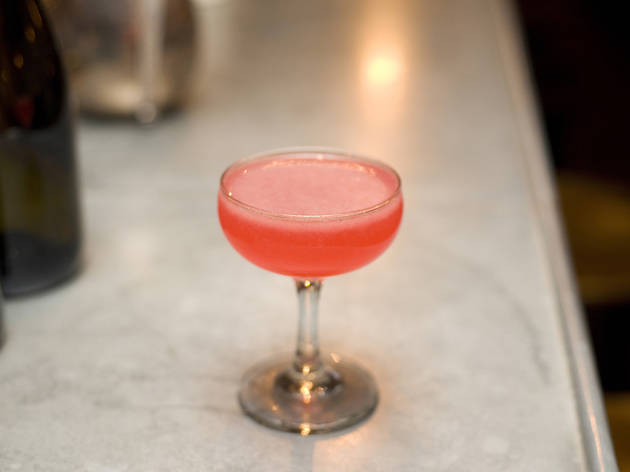 2/9
Photograph: Alex Strada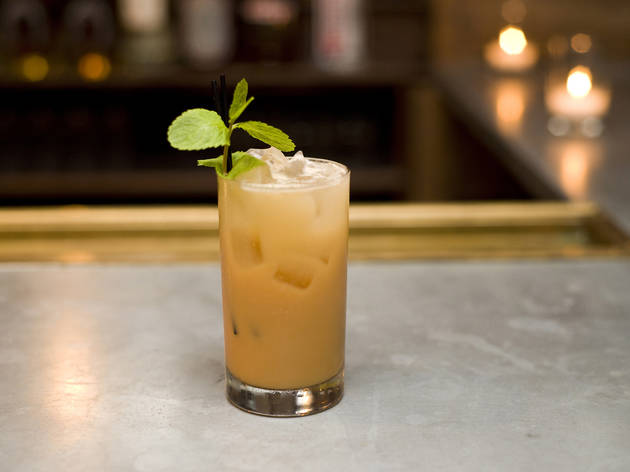 3/9
Photograph: Alex Strada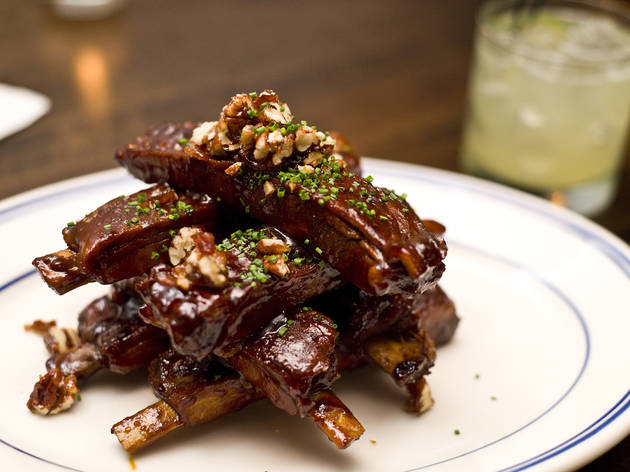 4/9
Photograph: Alex Strada
St. Louis-style BBQ ribs at B.B.R.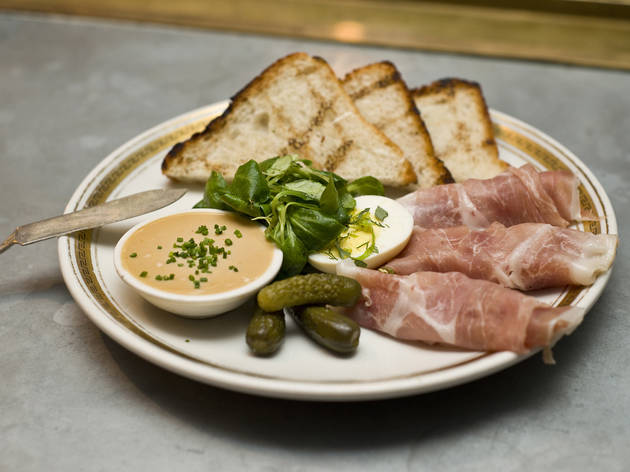 5/9
Photograph: Alex Strada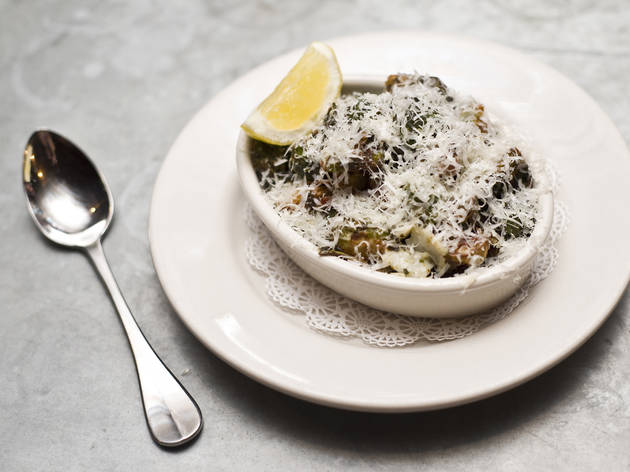 6/9
Photograph: Alex Strada
Brussel sprouts at B.B.R.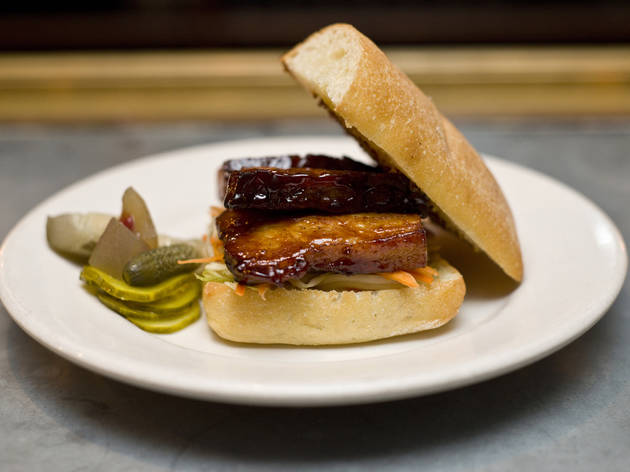 7/9
Photograph: Alex Strada
Smoked pork-belly sandwich at B.B.R.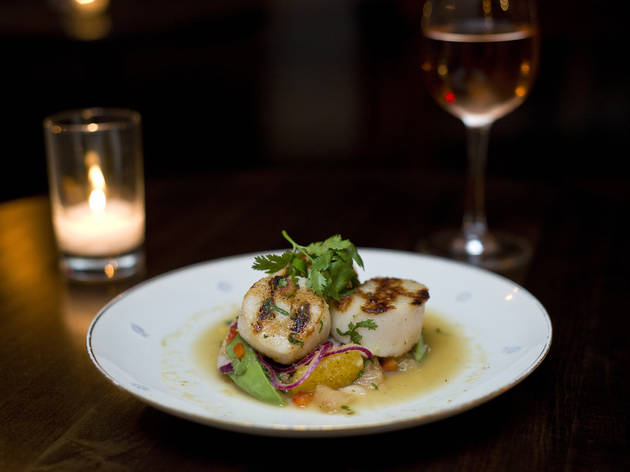 8/9
Photograph: Alex Strada
Scallop ceviche at B.B.R.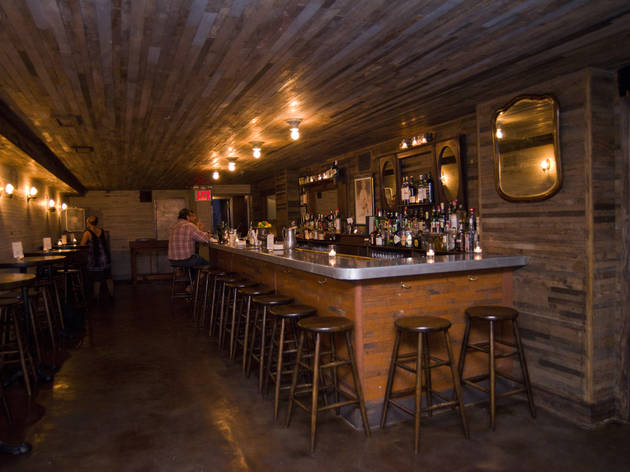 9/9
Photograph: Alex Strada
Tucked beneath Rye restaurant—the acronym stands for "Bar Below Rye"—this 45-seat subterranean saloon is kitted out with wooden planks to resemble a ship's hull, an allusion to the longshoremen in chef-owner Cal Elliott's family. Dram owner Tom Chadwick runs the beverage program, with cocktails like the Diablero (tequila, Cocchi Americano, lemon, raspberries and Tiki bitters) and the Coco Rosie, a piña colada–meets–dark-and-stormy. The beer list features brews on tap (Bitburger, Flying Dog), and vintage bottles—salvaged from when the space was a 1920s members-only club—line the back bar. To accompany the booze, Elliott dispatches casual plates: Scotch eggs, crab croquettes and smoked-pork-belly sandwiches. See the cocktail menu below. 247 South 1st St between Havemeyer and Roebling Sts, Williamsburg, Brooklyn (718-218-8047).
COCKTAIL MENU:
Cocktails, $11
Diablero: Pueblo Viejo tequila, Cocchi Americano, lemon, fresh raspberries and Tikki bitters
Busman's Holiday: Gordon's gin, aperol, Combier, grapefruit, lemon juice and angostura bitters
Northern Tonic: Krogstad aquavit, Perry Tot gin, Strega, celery bitter and cucumber
Crimson Derby: Buffalo Trace bourbon, lemon, grenadine and orange citrate
Rye Stirred: Rittenhouse rye, Cocchi Rosso, Wormwood Bitter Rinse and Reychauds bitters
Strictly Rhythm: Beef Eater gin, aperol, Dolin Dry, grapefruit bitters and zucca
Coco Rosie: Gosling's rum, coconut, pineapple, lime, ginger syrup and angostura bitters
Sponsored listing
Dinosaur Bar-B-Que
Pit powerhouse John Stage—the Harley enthusiast behind the wildly popular 'cue empire—expands to Brooklyn with this 208-seat Gowanus outpost. A former tool-and-dye factory, this expansive honky-tonk is done up Dino-style, with exposed-brick walls, reclaimed banquette booths and sidewalk picnic tables. An installation of recycled whiskey bottles hangs from the high ceiling, and the bar is a set piece from the Russell Crowe film Cinderella Man, stocked with draft beers from Kelso, Sixpoint and Brooklyn Brewery.
Venue says: "Trivia starts at 8pm on Tuesdays! Grab a bite to eat & some beers and get your quiz on. Check our site for our live music line-up & catering"