Barley & Grain opens on the Upper West Side
The Tangled Vine team opens a bourbon-fueled American restaurant, serving 100 varieties of whiskey.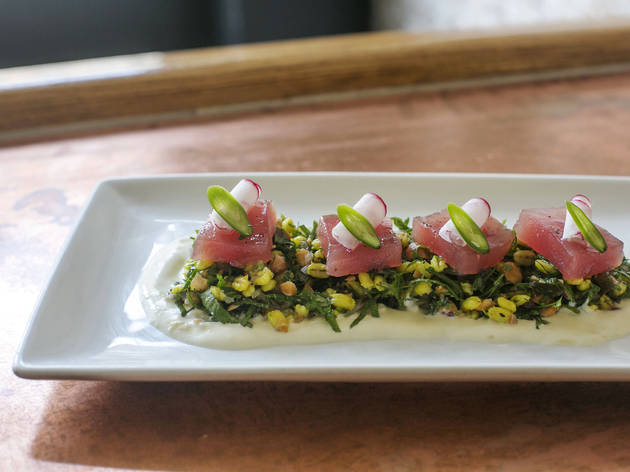 1/5
Photo: Caroline Voagen Nelson
Tuna crudo at Barley & Grain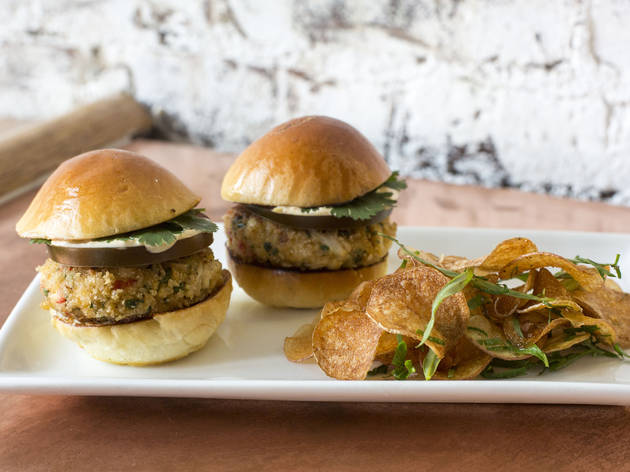 2/5
Photo: Caroline Voagen Nelson
Crabcake sliders at Barley & Grain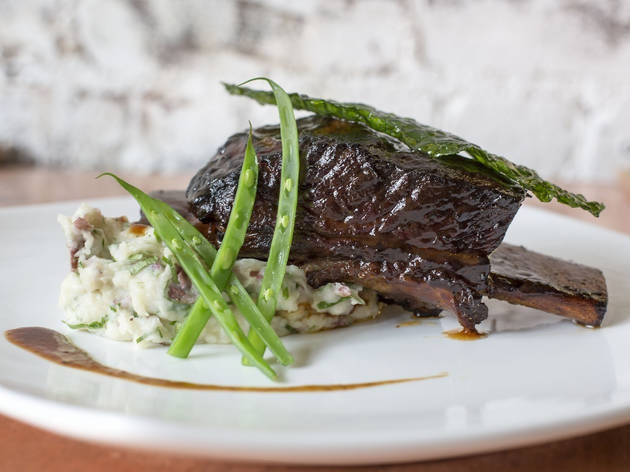 3/5
Photo: Caroline Voagen Nelson
Short rib at Barley & Grain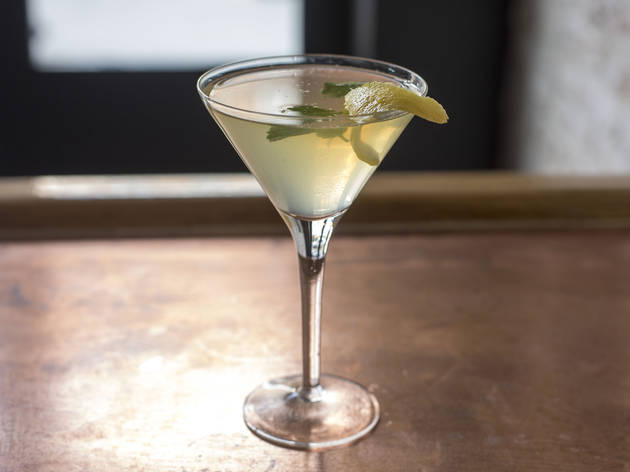 4/5
Photo: Caroline Voagen Nelson
Bourbon & Ginger Bees Knees at Barley & Grain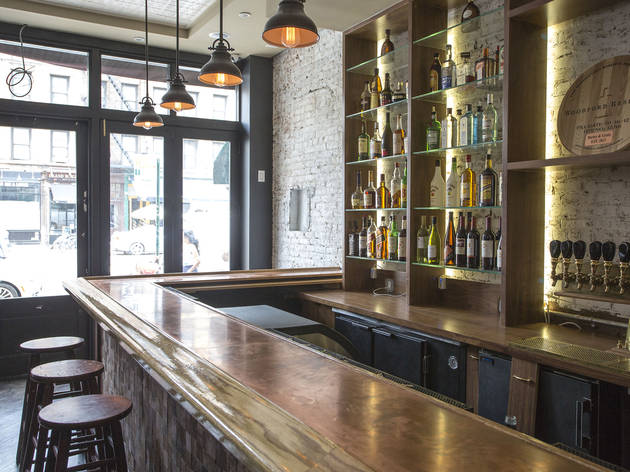 5/5
Photo: Caroline Voagen Nelson
The team behind wine bar Tangled Vine turns its attention to whiskey with Barley & Grain, an American restaurant serving the dark stuff both in glasses and on plates, set to open August 9th. From the kitchen, chef Eli Kahlon (Balaboosta, Oceana) sends out elevated comfort food, with dishes like foie gras with truffles, pistachio puree and apricot-whiskey jam; "cowboy" steak with a bourbon demi-glace and tobacco onions; and free-range chicken with cilantro dip and that malt favorite, barley. The copper-topped bar is stocked with 100 whiskey varieties, hailing from the U.S., Scotland and Ireland: bourbons including 1792 Ridgemont Reserve and Pappy Van Winkle 23-year; Glenmorangie and Cragganmore Scotch; and rye such as Four Roses Yellow Label and Michter's. Along with the brown stuff, there are a dozen American craft brews on tap (Sly Fox Irish Stout, Empire White Aphro) at the 12-seat bar. Whitewashed brick walls, walnut-stained tables and leather banquettes decorate the rustic corner spot.See the opening menu below. 421 Amsterdam Ave at 80th St (646-360-3231)

MENU:
Small:
Housemade Sausages Pork & Fennel or Lamb & Olives 6
Short Rib Bites Caramelized Onion, Bacon, White Cheddar 8
Dry Aged Strip Loin Smoked Whiskey, Tobacco Onions 13
Grilled Baby Lamb Lollipop Mint Cranberry Puree 7
Vegetable Croquette Black Lentils, Chickpea, Zucchini, Mint Sheep Yogurt 6
Foie Gras Truffles, Trumpet Mushroom Crust, Pistachio Puree, Apricot Whiskey Jam 18

Medium:
Tuna Crudo Barley Salad 13
Crab Cake Sliders Lump Crab Meat, Roasted Pepper Remoulade 12
Roasted Eggplant Skordalia, Pine Nuts, Chili Oil 8
Kohlrabi Quinoa Salad Mango, Snow Peas, Marcona Crispy Almond 11
Organic Local Green Salad Radish, Onion. Cherry Tomato, Apricot Fried Wild Rice 9
Kale & Beet Cheese Snow, Dried Cranberries, Champagne Vinaigrette 12

Large:
Maine Lobster Mac & Cheese Gruyere, White Cheddar, Buttered Breadcrumbs 18
B&G Burger 8oz Grass Fed, Brioche, New York Cheddar, Triple Cooked Fries 16
Seared Halibut Wild Mushrooms, Black Barley, Crispy Wild Rice, Carrot Ginger Puree 32
Free Range Plancha Chicken Boneless Half, Cilantro Dip, Black & White Barley 19
Beef Short Rib Celery Root Puree, Stout Glaze 23
Cowboy Steak 18oz Prime Rib-Eye, Triple Cooked Fries, Tobacco Onions, Bourbon Demi-Glaze 35
Porterhouse for Two 32oz Prime-Aged, Sliced, Choice of Three Sides 99
Raw & Chilled (By The Piece):
Jumbo Shrimp 4
Oysters East Coast 3
Little Neck Clams ½ Shell 2
Chilled Lobster MKT

Sides: 7
Triple Cooked Fries
Celery Root Puree
Organic Local Greens
House Pickles
Black & White Barley

Desserts: 10
Chocolate Ganache Cake
New York Cheesecake
Apple Tart with Vanilla Ice Cream
Strawberry Rhubarb Crumble
Fruit Crème Brulee
Sponsored listing
PASTAI
Craving a warm bowl of pasta smothered in sauce? Stop into PASTAI, an Italian restaurant in Chelsea that offers everything from bucatini to tagliatelle. In the Italian tradition, order several antipasti for your first course. Fried olives stuffed with pecorino ($9), charred octopus with fennel-citrus salad ($18) and a thinly sliced cantaloupe and prosciutto salad ($15) might tempt you. Follow it up with ravioli stuffed with ricotta and mint in white wine sauce ($20), lemony tagliatelle with lobster, spinach, cherry tomatoes and crispy artichoke hearts ($27) or classic lasagna with short rib ragu, bechamel, ricotta and broccoli rabe ($22). Those looking for a lower carb option could try the seared salmon with quinoa and fava beans ($28) or the roasted half-chicken with mushroom marsala sauce ($20). Don't miss the house-made desserts like ricotta doughnuts rolled in cinnamon sugar and filled with orange-scented pastry cream ($12) or flourless mocha cake drizzled with warm chocolate sauce ($11).
Venue says: "Pastai new Specials of the Day and Happy Hour, everyday! Great for your next birthday, celebration, or group outing."