Heads up! We're working hard to be accurate – but these are unusual times, so please always check before heading out.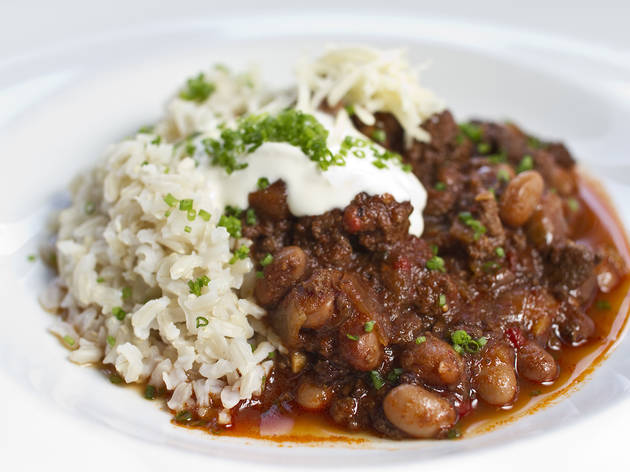 1/9
Photograph: Caroline Voagen Nelson
Fall 2005: Northeast Kingdom Years before foraging became a buzzword, husband-and-wife team Paris Smeraldo and Meg Lipke were scouring Hudson Valley forests for ingredients to showcase at their farm-to-table restaurant. Along with locavore eats—fiddleheads in early spring, strawberries in late summer—the Vermont-bred couple conjure their love of the great outdoors, with floral wallpaper and mini stag heads rusticating the 44-seat spot. In 2009, the pair also gave the 'hood its first high-profile bar, taking a chain saw to the floor in order to open a now-shuttered live music venue in the basement. 18 Wyckoff Ave at Troutman St (718-386-3864, north-eastkingdom.com)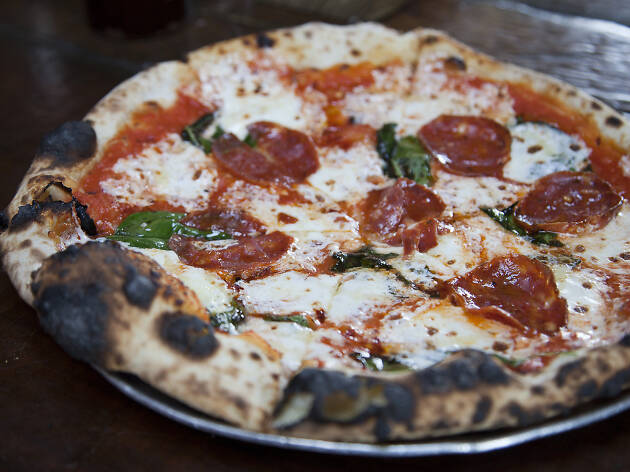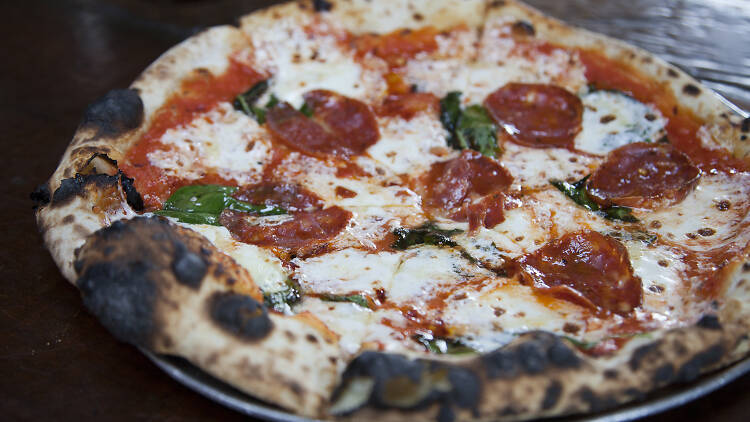 2/9
Photograph: Dominic Perri
January 2008: Roberta's Five years back, the appearance of Bill and Hillary Clinton in Bushwick—they dined at Roberta's last fall—would have seemed as likely as the VMAs being held in Prospect Heights, but times have changed. The unofficial headquarters for Brooklyn's DIY food movement—opened by Chris Parachini, Brandon Hoy and Carlo Mirarchi—pushed the neighborhood's transformation forward, with game-changing features like a serious rooftop garden, shipping containers doubling as a home for Slow Food USA's Heritage Radio Network and the pristine plates that garnered accolades from gastro-cognoscenti the world over. 261 Moore St between Bogart and White Sts (718-417-1118, robertaspizza.com)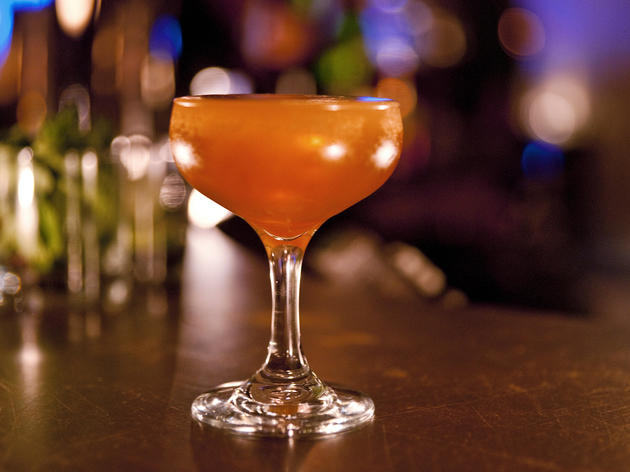 3/9
Photograph: Paul Wagtouicz
July 2010: The Narrows Keith Cochran and Matt Weber (who owns the Soft Spot) gave booze-thirsty locals a stylish sanctuary when they opened this Art Deco drinkery in 2010. Hidden behind old planetarium doors, the cocktail hub embodies old-school glam with sleek black-and-white decor, including vintage light fixtures and leather-topped stools. Taking a cue from locavore neighbors like Roberta's and Northeast Kingdom, the bar installed a garden, using homegrown herbs in tipples like the Caulfield's Dream (rye whiskey, cava, spearmint). 1037 Flushing Ave between Morgan Ave and Vandervoort Pl (narrowsbar.com)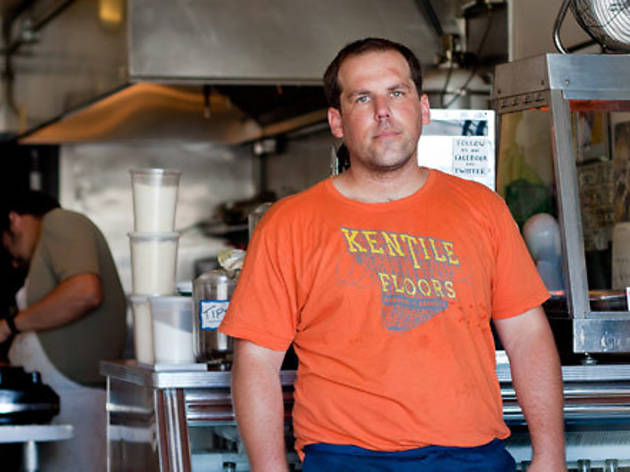 4/9
Photograph: Jakob N. Layman
January 2011: Arancini Bros. A few decades ago, Sicilians were part of the diverse immigrant population in Bushwick. A piece of that Italian past returned when David Campaniello and Giulia Della Gatta set up a brick-and-mortar iteration of their Dekalb Market arancini stand. The ball boosters dole out more than 40 varieties into the wee hours, filling up drinkers stumbling in from adjoining watering hole the Wreck Room. 940 Flushing Ave between Central and Evergreen Aves (718-418-6347, arancinibros.com)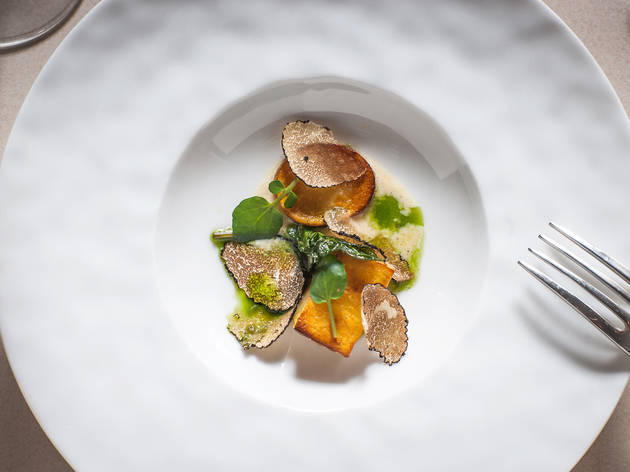 5/9
Photograph: Paul Wagtouicz
May 2012: Blanca The lines at Roberta's got even longer when Carlo Mirarchi launched his tasting-menu dinners, held twice weekly in the back of the restaurant. As popularity mounted, the operation moved to a more fitting locale, a sleek 12-seat space behind Roberta's labyrinth of shipping containers and tents. Just five months after opening, Blanca earned Bushwick its first Michelin star. Mirarchi's artfully crafted plates don't come cheap, but the $195 price tag (up from its original $180) hasn't stopped the reservations list from ballooning to a months-long wait. 261 Moore St between Bogart and White Sts (646-703-2715, blancanyc.com)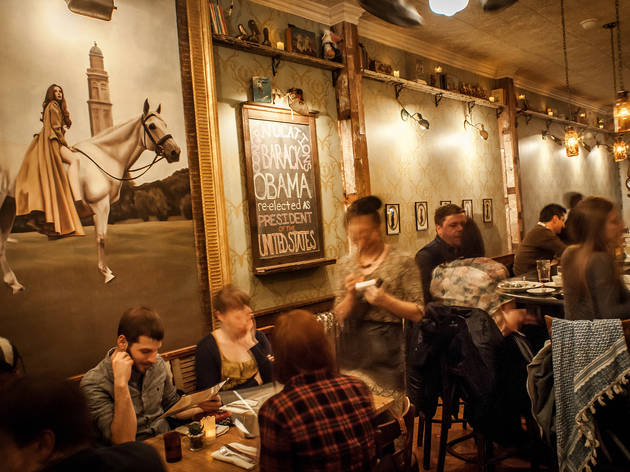 6/9
Photograph: Paul Wagtouicz
September 2012: Dear Bushwick Adding a cozy touch to the otherwise desolate Wilson Avenue, Julian Mohamed's diminutive den is the walk-in neighborhood pub that Bushwick lacked. Along with British fare (mussels in whiskey broth, country cheese curd with toast), there are Anglo cocktails from drinks maven Natasha David (Maison Premiere), like the floral Iron Lady (rose-infused gin, Aperol and Lillet Rose). While the spirits and pictures of royalty bow to Britain, the cozy gastropub—outfitted with milk-bottle lights, a pressed-tin ceiling and reclaimed-wood chairs—is all Brooklyn. 41 Wilson Ave at Melrose St (929-234-2344, dearbushwick.com)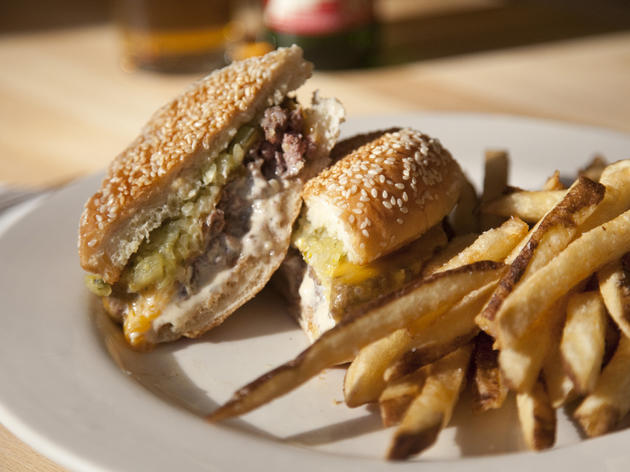 7/9
Photograph: Melissa Sinclair
March 2013: Fritzl's Lunch Box Chef Dan Ross-Leutwyler (Fatty 'Cue, Roberta's) parked his life-size lunchbox right off the L train this past March, filling the neighborhood's need for casual, all-American fare (fried chicken, cheeseburgers). But the menu boasts more than just good sandwiches—there are also composed dishes like ricotta dumplings with crabmeat and poblano pepper crema, served in a sunny yellow room. Unsurprisingly—this is gluten-free, compost-loving Bushwick, after all—there's a back garden, teeming with tomatoes, cucumbers and herbs. 173 Irving Ave between Stanhope and Stockholm Sts (929-210-9531, fritzlslunchbox.com)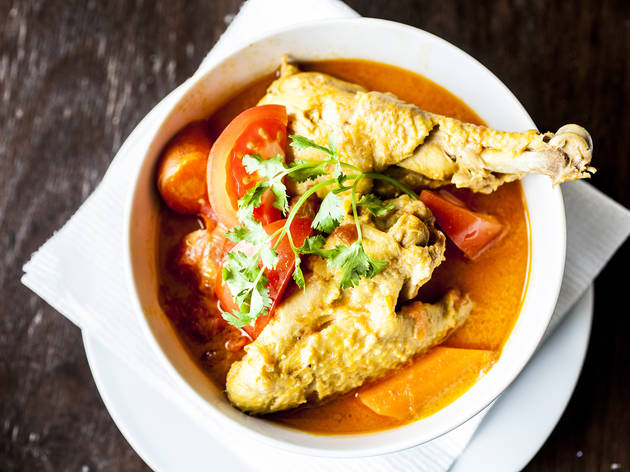 8/9
Photograph: Krista Schlueter
May 2013: Falansai San Francisco toque Henry Trieu (of Charles Phan's lauded Slanted Door) fulfilled a void for Asian eats when he debuted this quaint restaurant in May. His French-Vietnamese crowd-pleasers include thit heo kho (braised pork belly with coconut water and soy sauce) and shaking beef (wok-fired filet mignon with salt-and-pepper sauce). Trieu recruited Ruth Shin (Northeast Kingdom) to craft vegan desserts, like bitter grapefruit ice cream. 112 Harrison Pl at Porter Ave (347-599-1190, falansai.com)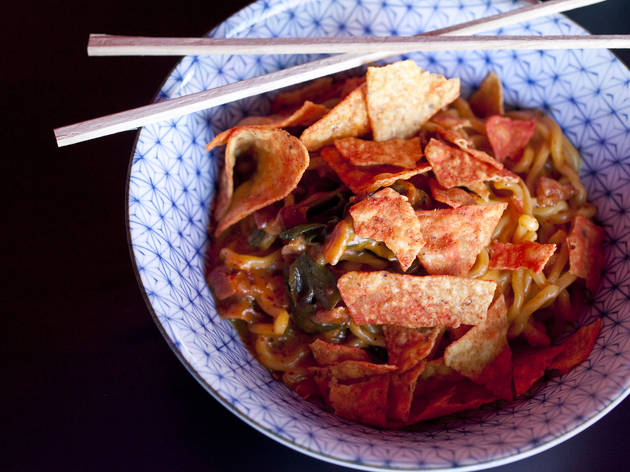 9/9
Photograph: Melissa Sinclair
July 2013: King Noodle Following the success of their other Brooklyn projects, Keith Cochran (the Narrows) and Nick Subic (Do or Dine) stuck close by for their latest venture. The psychedelic joint—plastered with color-changing LED lights and a neon coral-reef mural—boasts a menu of wacky Asian selections: kimchi carbonara topped with Doritos, rice cakes with imitation crab and mozzarella, and flaming tiki cocktails. 1045 Flushing Ave between Morgan Ave and Vandervoort Pl (718-456-6543, kingnoodlebk.com)
Bushwick: A timeline of Williamsburg's sidekick nabe coming into its own
Gritty Bushwick grows into a food-world favorite, with craft cocktails, pedigreed French-Vietnamese and a Michelin-starred tasting-menu restaurant.
Once a no-man's-land of warehouses and parking lots, Bushwick has quickly established itself as a cool-kid hub, thanks to the skyrocketing rents of nearby Williamsburg pushing artsy denizens—and their retail comforts—farther afield. We trace the neighborhood's transformation since game changer Northeast Kingdom opened eight years ago. Here's what you'll find down the L line.
RECOMMENDED: See the full Bushwick, Brooklyn guide