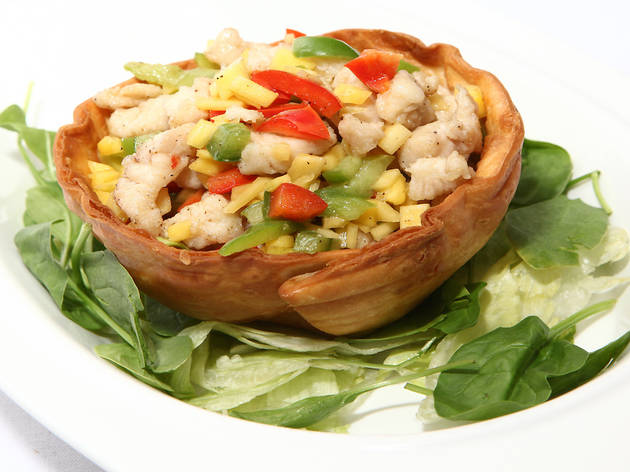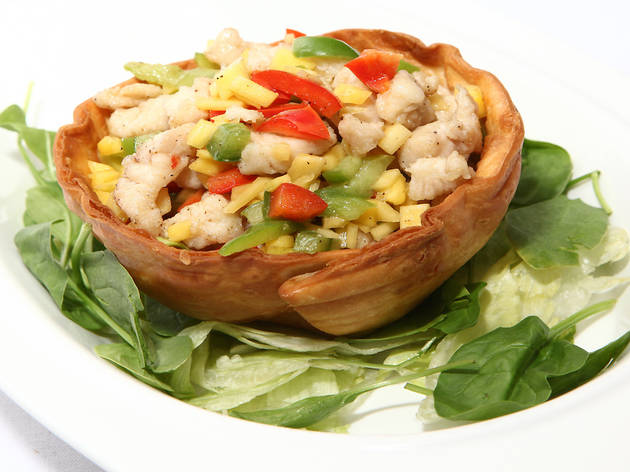 1/15
Photograph: Courtesy China Glatt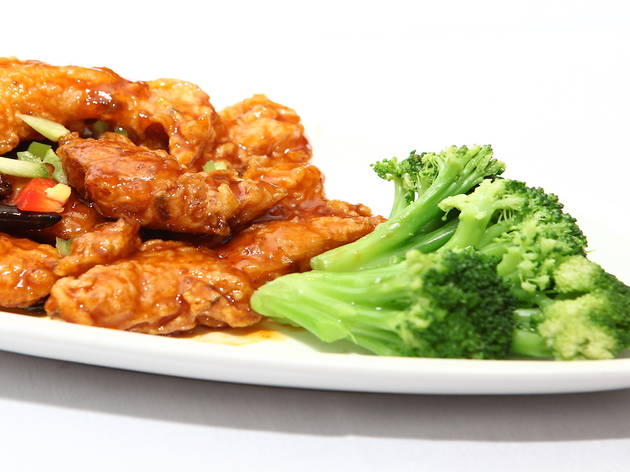 2/15
Photograph: Courtesy China Glatt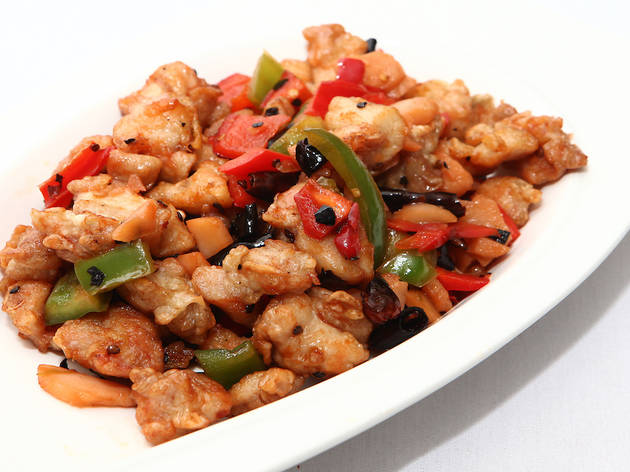 3/15
Photograph: Courtesy China Glatt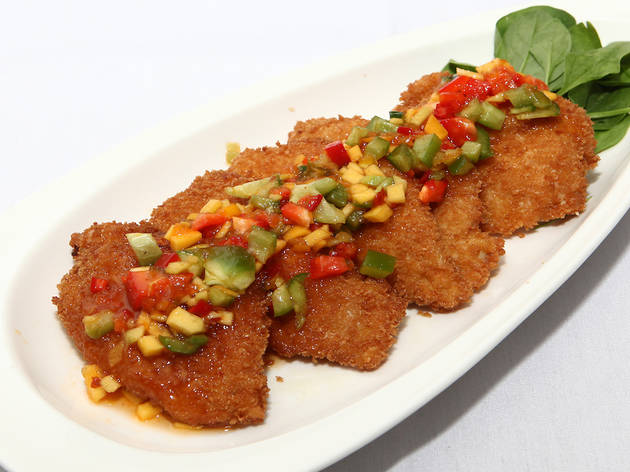 4/15
Photograph: Courtesy China Glatt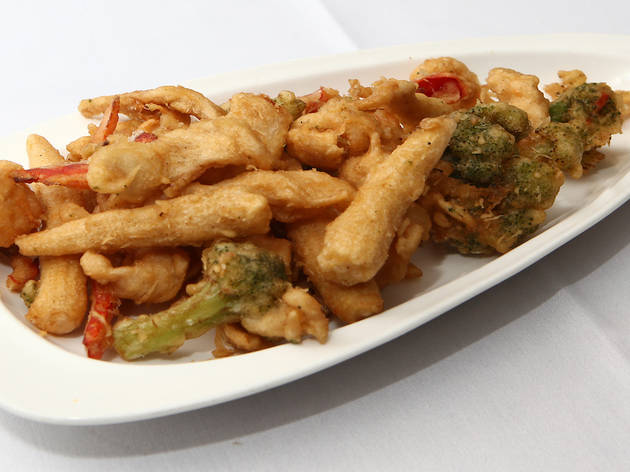 5/15
Photograph: Courtesy China Glatt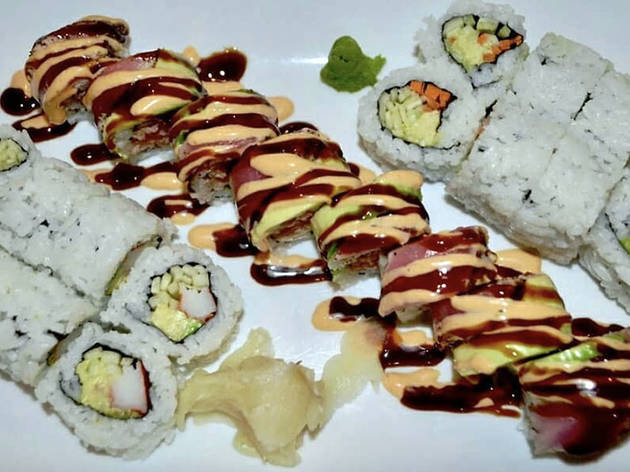 6/15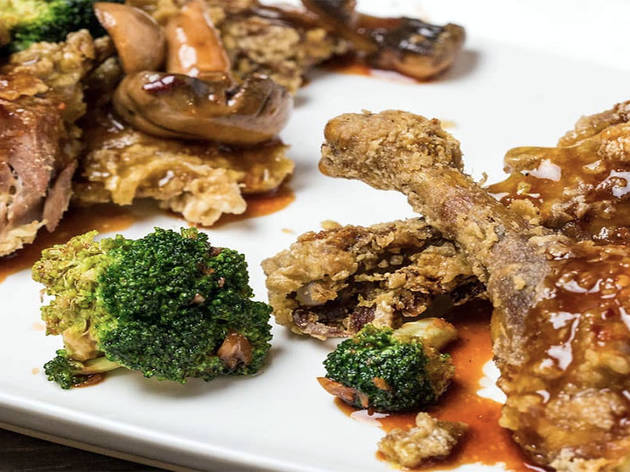 7/15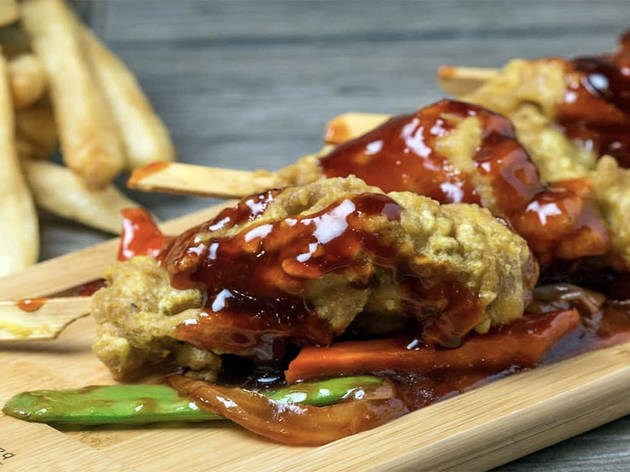 8/15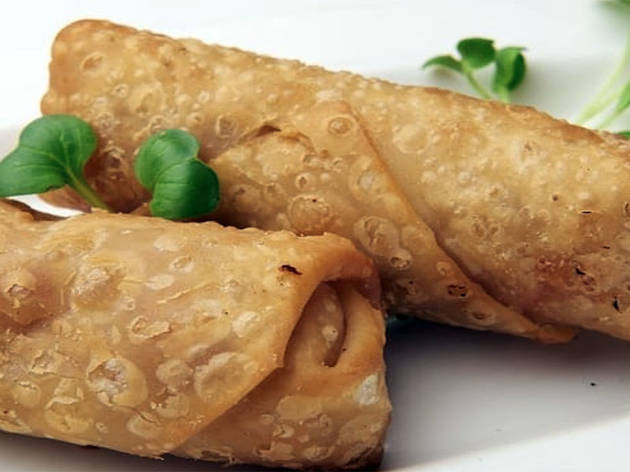 9/15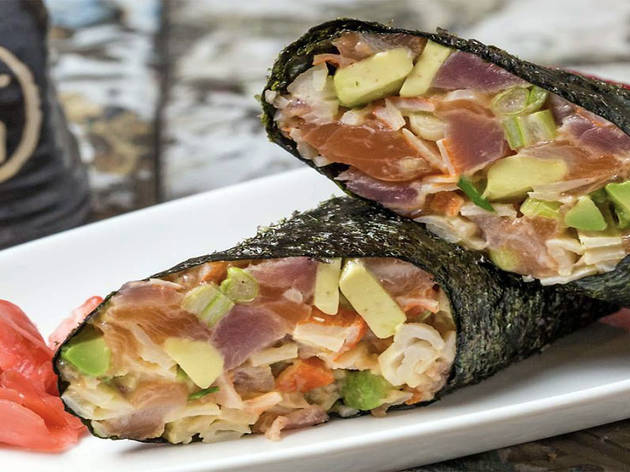 10/15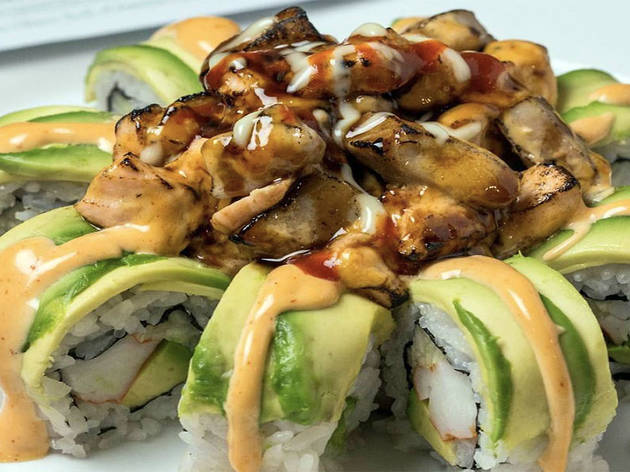 11/15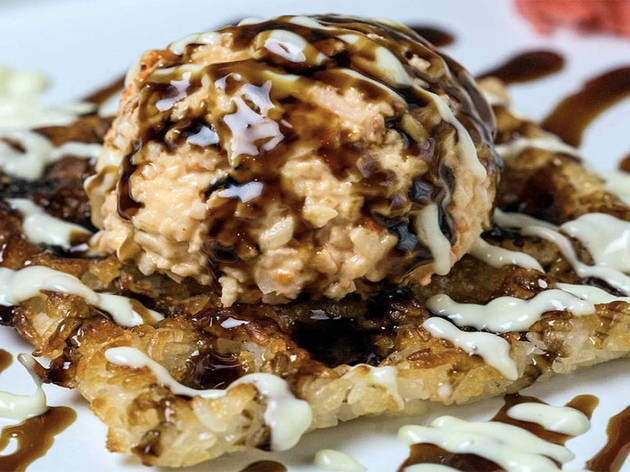 12/15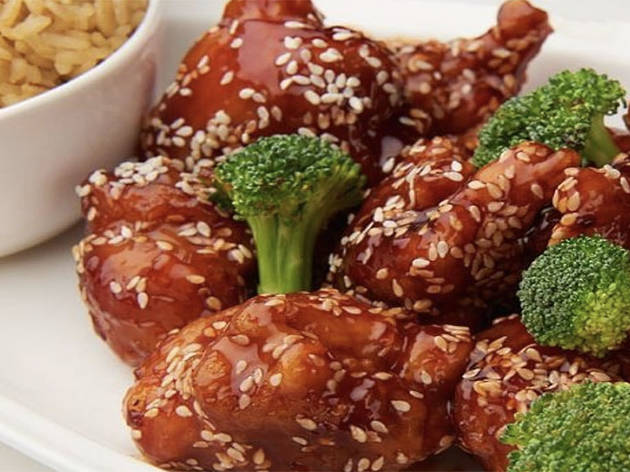 13/15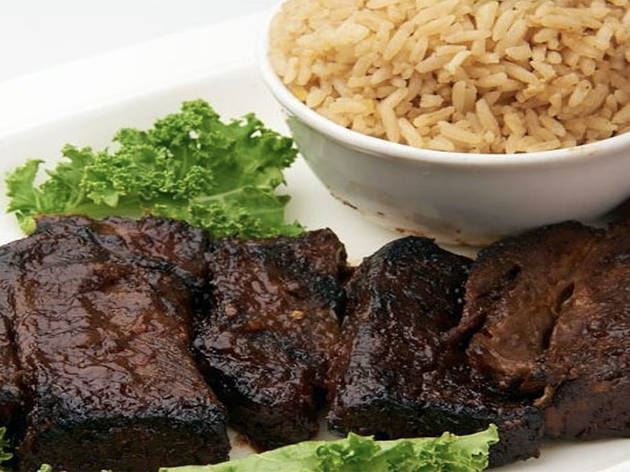 14/15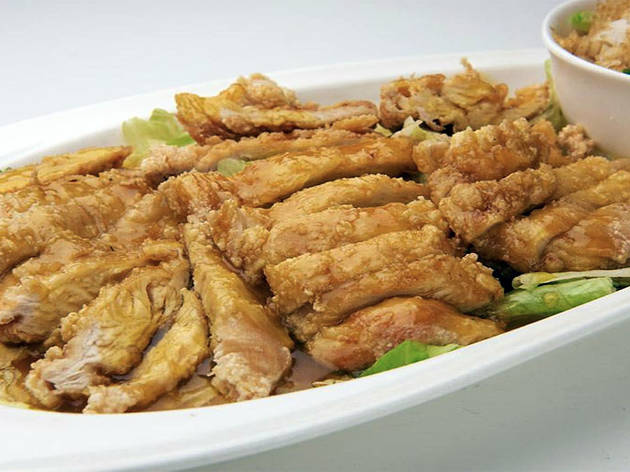 15/15
Smack in the middle of one of the largest Orthodox Jewish communities outside of Israel, China Glatt in Borough Park offers a massive menu reflecting a mix of cultures. Dinner guests can choose not only from kosher Chinese food, but also from American fare and sushi.
While you might not guess it, the sushi, mostly fish rolls and tempura, is very good. You won't find shrimp tempura on offer at the kosher spot, and the crab meat is actually kani, imitation crab, but the Combo Dragon ($10.95), with kani, spicy salmon, cucumber and avocado, is sweet and refreshing. Curious diners can order the Celebration roll ($13.95) with the tagline "It's your occasion…make it a celebration!": It includes kani, sweet potato, spicy salmon on top and a generous sprinkle of crunchy tempura flakes. The Chinese fare itself is typical of American Chinese food restaurants. Definitely ask for a vegetable egg roll ($3.50), just one per order, that arrives hot and crunchy with fresh cabbage on the inside. The cheeky menu touts Blai Zing Beef ($22.95), "the dish that stole the show," featuring slices of beef breaded and sauteed with vegetables (baby corn, water chestnuts, broccoli, jagged-cut carrots) in a sweet and spicy sauce (not nearly as spicy as the pepper icon would have you believe), with rice.
Not much attention is paid to the dessert menu, which lists basics like a chocolate bundt cake ($6.95) with ice cream, but the dairy-free ice cream is very good and "creamy."
The space is presented as a fine dining room, with white linen tablecloths, stemmed glassware and pale gray walls. Even weekday evenings prove busy, with large circle tables filled with families and groups of Orthodox Jewish friends catching up over shared plates of food. China Glatt offers a dining experience that's unique to Brooklyn. That alone, plus the eccentric menu, is reason enough to go.
BY COMMUNITY REVIEWER: JAIME BROCKWAY
More
Less
China Glatt says
When proprietor, Sholom started this venture, his goal was to come up w/ a fusion menu that the orthodox connoisseur couldn't find, w/ exotic & innovative dishes & a boutique kosher wine list, from all over the world. China Glatt are has been located in the heart of Boro Park, Brooklyn, since 1994. They have been offering generous portions of Glatt Kosher Chinese cuisine, choice American steaks & award-winning sushi rolls in their upscale restaurant. Children's Menu. Free local delivery.
More
Less
Venue name:
China Glatt
Contact:
Address:
4413 13th Ave
Brooklyn
11219

Cross street:
between 44th and 45th Sts
Opening hours:
Mon-Thu 11am-11pm; Sun 12:30-11pm
Transport:
Subway: D to Fort Hamilton Pkwy (New Utrecht Ave)
Menu:
View Menu
Do you own this business?
Rating Breakdown
5 star:

2

4 star:

0

3 star:

0

2 star:

0

1 star:

0
I made it a thing to go and enjoy the finest of Kosher Chinese places, here in Brooklyn.
And so over to China Glatt on 13th Ave, in Borough Park I went.
I was met promptly with service in a place located in the heart of borough Park, Brooklyn on 13th Ave. It's decorated quaintly with marble adorning the sides of the walls – interesting and unique light bulbs which hang down from the ceiling provided just the right amount of lighting for everyone around me to enjoy their meals and feel cozily comfortable, while it was bitterly cold outside.
I examined closely the Lamb Riblet which I ordered. I went to ask and finally they cracked and told me their secret. It's the slow roasting before the grilling which makes it so epic. This method leads to butter-like meat and fat that simply slips right off the bone. Many a rib dish I have enjoyed in my day, but this here one has been perfected.
Their 13th Ave sushi Roll comes ripe with chunky pieces of freshly caught fish – and they don't hold back when it relates to portions. it's worth mentioning that the sushi here is excellent and at par with some of the finest sushi joints I've been to.
The Pu Pu Platter comes with delights all scattered, like chicken kebab, beef stick, beef egg roll (popular here even by itself – and for good reason), chicken toast, chicken wings and crispy wontons to treat and impress even the toughest of meat critics, which is what I fancy myself to be. Each of these is delectable and I'd say worthy of praise individually.
When your taste-buds are met with one excellent, elegant and artful gathering of ingredients after another, all whilst utilizing the freshest stuff, you can bank on this here connoisseur of excellence making it a regular stop – now that it's on my radar.
I was very conveniently provided a small BBQ grill to be utilized in case someone in the party wants their meat done well(er). Absolutely brilliant, fresh and delicious was everything.
If meat were candy, this here is Willy Wonka's chocolate factory.
Supreme purveyors of tasty treats for us connoisseurs of high quality foods.
Even the small things stick out here, like their egg rolls. Soft and obviously just made freshness. Not the type of place where things lay around.
I went with the house special steak as my entree. Hibachi style, this dish is prepared at your table, and is quite a spectacle. Ordering this blessed me with a grilled prime rib, mushrooms and shallots dish which came swimming with black pepper sauce and sizzling on a hot plate – an experience which feeds all of the senses. And once again the quality freshness shines thru.
All complimented by one of Spain's finest wines – from their Rioja collection.
China Glatt is known for their quality meats here in Brooklyn and I am glad to experience their food and show support.
P.S. You'll be surprised their chocolate fudge desert is not dairy – as it does the perfect job of topping off a meal fit for a king.
I came here with a friend who is kosher, and I have to say the food is so good, it doesn't matter whether you are or aren't. The fish was fresh and the service was great. I would go back even though it's quite far from where I live.