Decoy debuts in the West Village
Ed Schoenfeld and Joe Ng convert RedFarm's basement into a Peking-duck-focused dive.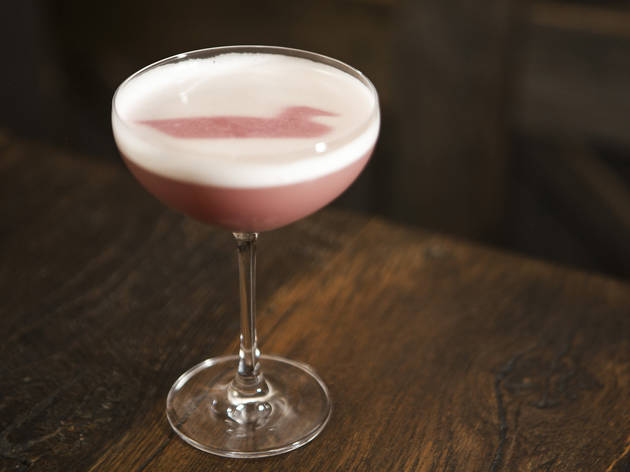 1/5
Photograph: Erica Gannett
Sitting Down for Dinner at Decoy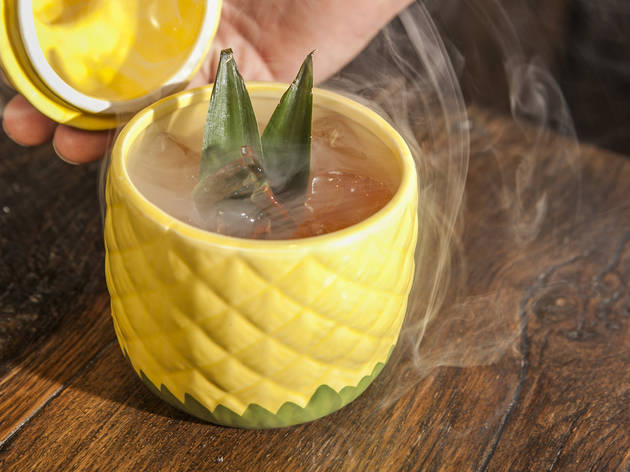 2/5
Photograph: Erica Gannett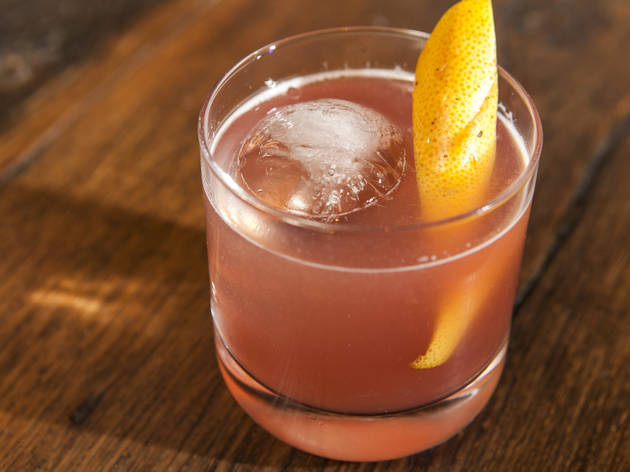 3/5
Photograph: Erica Gannett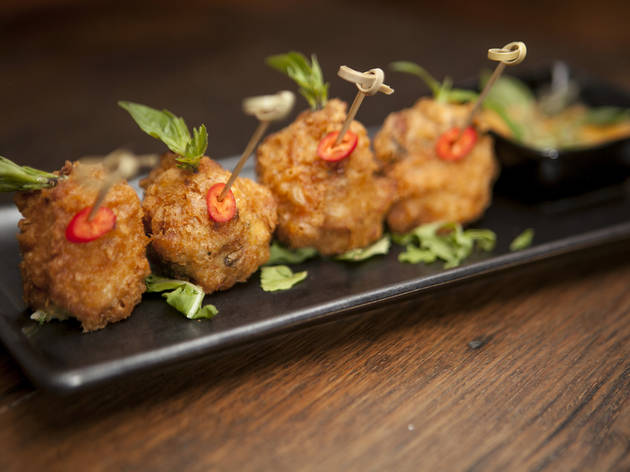 4/5
Photograph: Erica Gannett
Shrimp-stuffed chicken wings at Decoy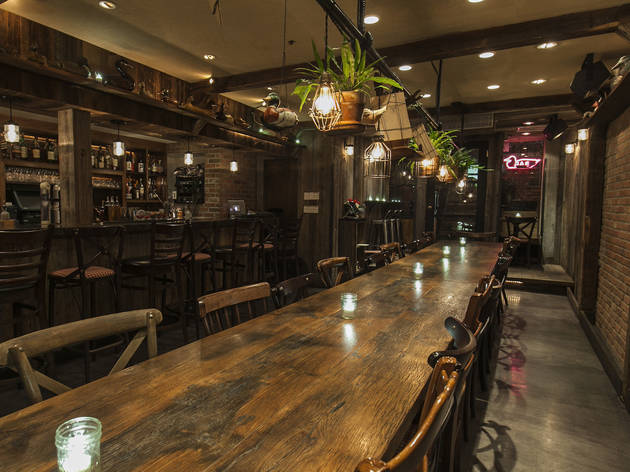 5/5
Photograph: Erica Gannett
Don't let the wash-and-dry Laundromat façade fool you—you'll find Peking duck, not pressed shirts, at Ed Schoenfeld's birdcentric restaurant and cocktail bar, located beneath RedFarm's West Village flagship. The kitschy space features duck hunting decoys, 180-year-old red-brick walls and 22-seat barnwood communal table. Starting in January, chef Joe Ng will crisp the poultry to order in a custom-made tandoor oven and serve the quacker with paper-thin, house-made pancakes. In addition to China's national dish, the menu is padded with upscale bar bites like roast duck wraps, soup dumplings and lobster-claw tempura, complimenting a bar program of Asian-accented quaffs like an yuzu-infused Caipirinha. See the bar menu below. 529 1/2 Hudson St between Charles and W 10th Sts (212-691-9700)
BAR MENU

COCKTAILS, $14
Osakatini
AO Rice Vodka, Dassai 50 Daiginjo

Dos Alas
Bacardi Superior Rum, lime, chipotle, coconut water

Sitting Down For Dinner
duck fat-washed George Dickel, lemon,egg white, red wine

Dry Summer
Hendrick's Gin, Tito's Vodka, Noilly Prat & Martini Bianco Vermouths, orange oil

¡El Luchador!
Cabeza Tequila, Sorel, Grapefruit, Lime, Ginger

Smoke N Spice
Thai Chili-infused Sombra Mezcal, pineapple, Aperol, Sriracha bitters, lime

Lucky 8
Laird's Applejack, D'Usse, honey, lemon, apple

Yuzu Caipirinha
Leblon Cachaca, lime, agave, yuzu

House Mule
Tito's Vodka, lime, ginger

Timelessness
Hibiki, pomegranate molasses, sherry, Yellow Chartreuse, Laphroaig mist

FROM OUR AGING BARRELS, $15
Aged Manhattan
Old Overholt Rye, Carpano Antica

Aged Negroni
Bulldog Gin, Campari, Carpano Antica

TRIPLE LUCK, $42 (a round of 3 specialty sochu cocktails)
1
Sochu, Grey Goose L'Orange, guava puree, lime, Cherry Heering
2
Sochu, Starr Rum, pineapple, lime, rhubarb, cinnamon
3
Sochu, Bulldog Gin, jasmine peach tea, agave, yuzu

BAR SNACKS
Shrimp Stuffed Jalapeno Poppers, $14
Pork & Shrimp Dumpling Skewers, $14
Crispy Four Mushroom Dumplings, $12
Sea Bass & Avocado Tart, $10
Shrimp Stuffed Crispy Boneless Chicken Wings, $14
Spicy Crispy Beef, $16
Katz's Pastrami Egg Roll, $7.5
Lobster Claw Tempura, $16
Double Duck (Grilled Duck Wrap, Roast Duck Wrap), $16

Sponsored listing
Buenos Aires
You might think you've been transported to this restaurant's namesake city once you step inside and smell the aroma of meat sizzling on the grill. The menu full of traditional Argentine dishes—and plenty of beef—is a carnivore's dream come true. Dig into empanadas stuffed with fillings like ham and cheese or mozzarella and onions ($7.95 for two) to start the meal. Chorizo sauteed with onions and peppers ($9.95) or sweetbreads in a white wine and shallot sauce ($19.95) might tempt you, too. If you stick to the grill for your main course, you'll choose from every cut of beef you can imagine or a mixed grill of short ribs, skirt steak, sausage, blood sausage and grilled sweetbreads ($50.95). You'll probably want some papas a la provenzal, or fries with garlic and parsley (included with entrees or $5.95 for a side). Finish the night with flan ($7.50) or a crepe topped with dulce de leche and a scoop of vanilla ice cream ($11).
Venue says: "Lunch Special 20% off Monday-Friday 12-4. Enjoy the most affordable wines and best service in all of Manhattan!"