Dish of the moment: Chicken and waffles
Long a Southern classic, chicken and waffles pop up in restaurants around New York City.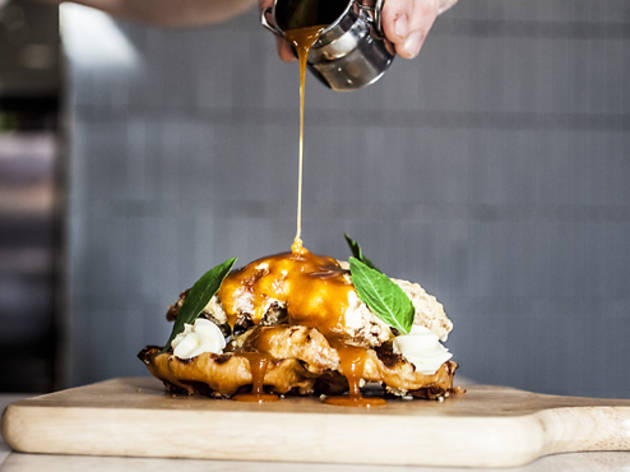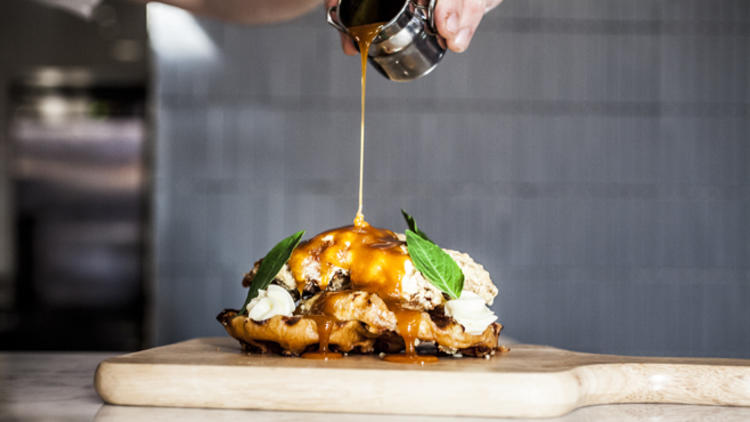 Harlem may have been the original Gotham landing spot for soul-food icon chicken and waffles, but the dish is on the move throughout New York City. In always-on-trend Williamsburg, the aptly named Sweet Chick (164 Bedford Ave at North 8th St, Williamsburg, Brooklyn; 347-725-4793, sweetchicknyc.com), which debuted in February, makes the sweet-savory union its headlining specialty: succulent, crisp-skinned chicken on fluffy Belgian waffles ($16). Purists should stick with the traditional rendition, but you can add a twist to your order with flavored waffles (bacon and cheddar, rosemary and mushrooms) and butters (cranberry, herb, lemon-honey). Also in the neighborhood, Hope Garage (163 Hope St between Keap St and Union Ave, Williamsburg, Brooklyn; 718-388-4626, hopegarage.com) makes a straightforward version, placing three crunchy chicken strips on a yeasty round waffle, with hot sauce and fragrant cinnamon-maple butter (brunch only, $14). But other restaurants are taking creative license. At newly opened American gastropub Distilled (211 West Broadway at Franklin St; 212-601-9514, distilledny.com), chef Shane Lyons tweaks the formula with upmarket ingredients: duck confit, pressed brioche and smoked-serrano maple syrup ($20). In the brunch-only plate at Rogue & Canon (128 W Houston St at Sullivan St; 646-398-8700, rogueandcanon.com), golden-crusted breast meat is sandwiched in a sliced Belgian waffle for a handheld adaptation ($16). Piri piri–infused butter, inspired by a Portuguese hot sauce, balances out a maple-sweetened slaw of cabbage and carrots. Ramen shop Dassara (271 Smith St between DeGraw and Sackett Sts, Carroll Gardens, Brooklyn; 718-643-0781, dassara.com) also offers a cross-cultural take—juicy chunks of twice-fried chicken are tossed in a garlicky soy-and-mirin sauce, paired with a pineapple-coconut waffle and drizzled with salted caramel (brunch only, $11). And don't be surprised to see the dynamic duo popping up on more menus soon—Amy Ruth's, you've got some competition.
Missing Time Out magazine?
You can still read our latest issue from the comfort of your couch
Read online