Heads up! We're working hard to be accurate – but these are unusual times, so please always check before heading out.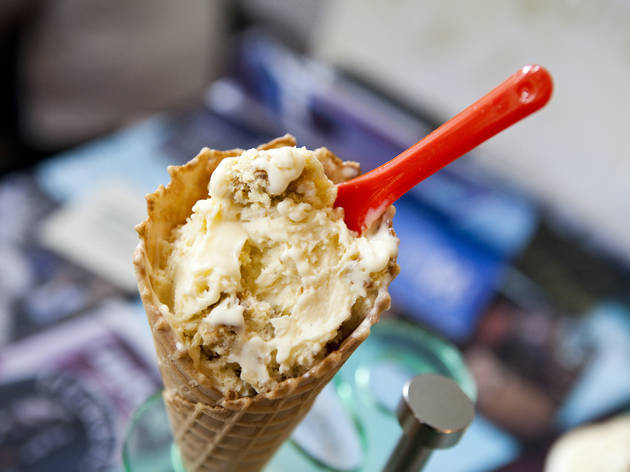 1/8
Photograph: Jessica Lin
Dolce di Primavera at Eataly Gelateria Pastry chef Katia Delogu—who honed her confection skills in Turin, Italy—creates luscious small-batch gelato using milk from local dairy co-op Hudson Valley Fresh. For this new seasonal flavor, zabaglione (foamy egg custard made with marsala wine) provides an ultrarich base. The sophisticated treat is studded with crumbly bites of colomba cake—a panettone-like Easter specialty with nuts, raisins and vanilla—in a nod to springtime in Italy. 200 Fifth Ave between 23rd and 24th Sts (212-229-2560). One scoop $3.90.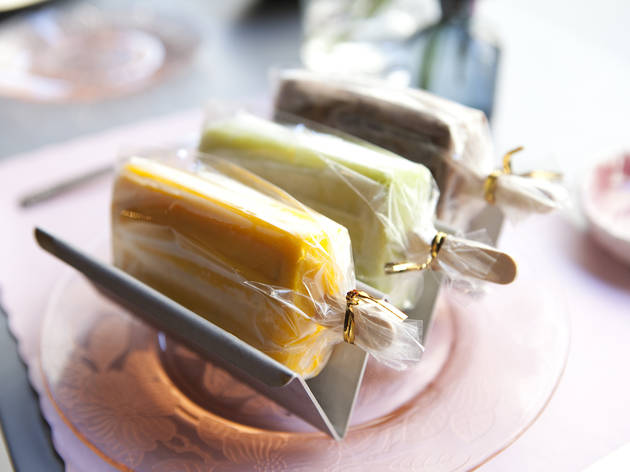 2/8
Photograph: Jessica Lin
Seasonal Popsicles at ABC Cocina Jean-Georges Vongerichten's sleek new foray into Latin American cuisine offers tropical ingredients in frozen form with classic wooden-stick ice pops. Three flavors rotate each season, but our current favorite is this herbal cooler. The prominent, crisp flavor of basil gives way to pineapple's subtle sweetness, mimicking the cleansing sensation of an after-dinner mint. 38 E 19th St between Broadway and Park Ave South (212-677-2233). $3.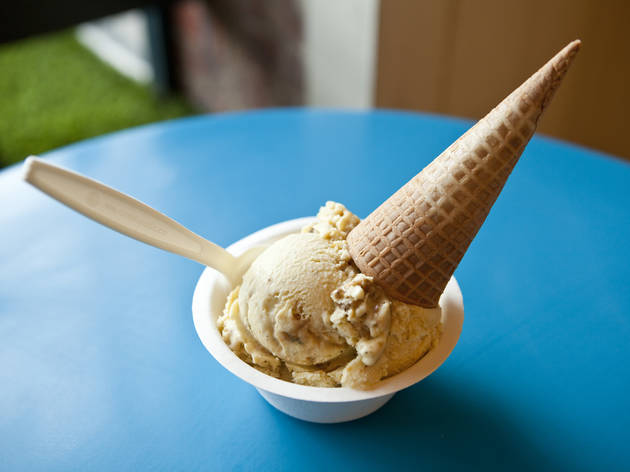 3/8
Photograph: Jessica Lin
Pistachio Square at Ample Hills Creamery The Prospect Heights ice-cream shop sets itself apart by pasteurizing Hudson Valley dairy in-house for its creamy confections—one of the only parlors in the city to do so. This love letter to green nuggets begins with a rich, deeply nutty ice cream churned with pistachio paste from Brooklyn's American Almond. Chunks of pistachio brittle highlight the star ingredient's depth of flavor, giving every bite a sweet and salty crunch. 623 Vanderbilt Ave at St. Marks Ave, Prospect Heights, Brooklyn (347-240-3926). One scoop $4.75.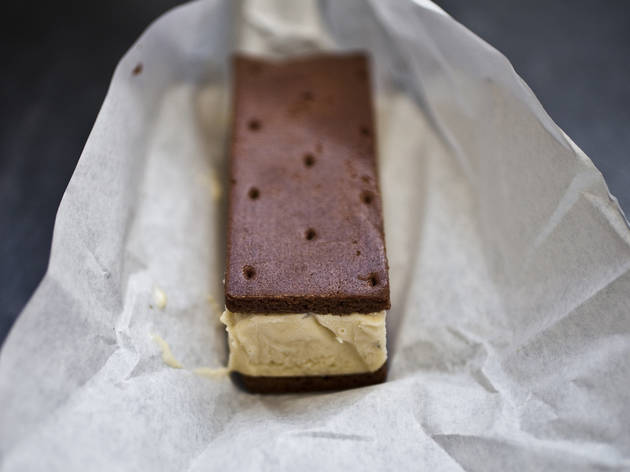 4/8
Photograph: Virginia Rollison
The Fernet Branca Ice Cream Sandwich at Pearl & Ash While Fernet Branca is the liqueur de rigueur on cocktail lists around the city, this new modernist spot gives it prime real estate on the dessert menu. The medicinal Italian amaro is blended into a classic crème anglaise—a thin, milky vanilla custard—and then churned into ice cream, while the cookie rectangles bookending it feature 65-percent dark chocolate. The sweet-bitter adult treat is wrapped in paper adorned with a Sharpied smiley face. 220 Bowery between Prince and Spring Sts (212-837-2370). $6.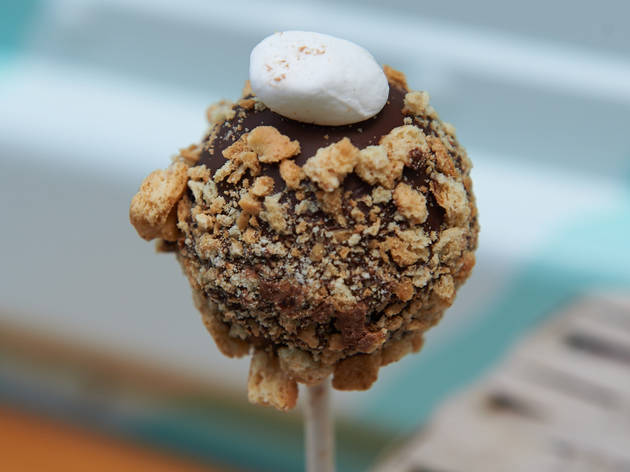 5/8
Photograph: Filip Wolak
S'mores pop at Itizy Inspired by cake pops, founders Ann Yu and Kenneth Chen rolled out their latest mini creations, designed with portability and kid-friendliness in mind. The mobile truck's take on the campfire standby conjures up childhood summer memories with all the fixins, minus the sticky fingers. The orbs feature a double dose of Belgian dark chocolate—the ice cream and its candy coating—covered with a smattering of crushed graham cracker crumbs and one pillowy mini marshmallow. For locations, visit itizy.com. $3.75.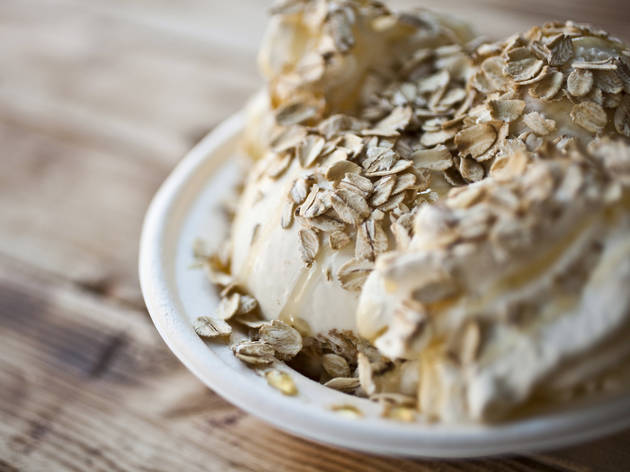 6/8
Photograph: Virginia Rollison
The Sundae Morning at The Evergreen Ice Cream Co. To make this brunch-inspired sundae, owner Francisco Garcia uses sweet-cream ice cream studded with blueberry-lemon sugar cookies from Jane's in Kingston, New York. Two generous, dense scoops are topped with cereal-bowl-minded toppings like raw oats, for a pleasing  savory crunch, and a generous drizzle of honey, while dollops of whipped cream add dessert-hour indulgence. 144 Evergreen Ave between Jefferson and Troutman Sts, Bushwick, Brooklyn (evergreenbk.co). $7.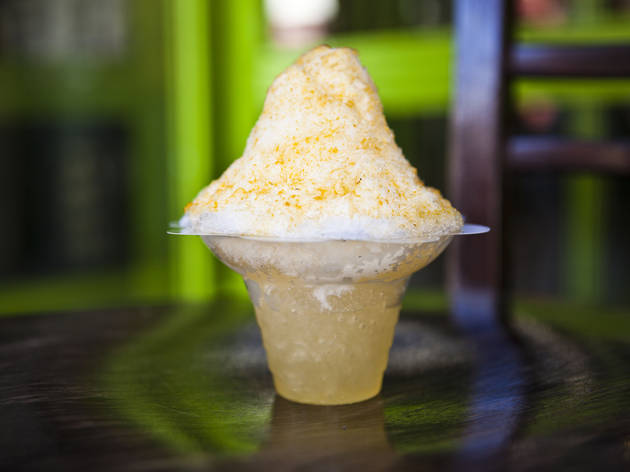 7/8
Photograph: Jolie Ruben
Passionfruit Snocone at Handsome Dan's A Japanese ice shaver takes snow cones to new heights at this pint-size candy shop, producing heaping mounds of fluffy, powdery snow. We loved the passion fruit flavor, topped with condensed milk for a Creamsicle-like contrast with the tart syrup. A smattering of Pop Rocks—from the spot's floor-to-ceiling sweets collection—supplies an airy crackle that disappears on your tongue the way fresh snowflakes do. 218 Bedford Ave between North 4th and 5th Sts, Williamsburg, Brooklyn (410-241-3472). With one topping $4.75.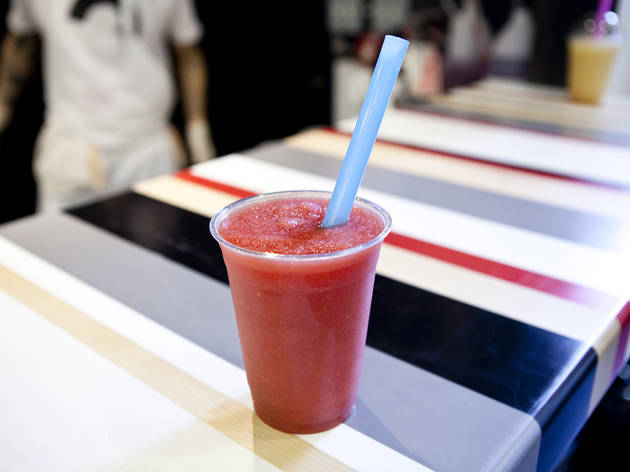 8/8
Photograph: Jessica Lin
Watemelon Jalepeno Loveslush at Hybird Jalapeño is a misnomer for the red sipper at this new fried-chicken stand, from Roots' frontman Questlove. Thai bird chilies, not their Mexican counterpart, provide the gradually building heat, tempered by watermelon's fruitiness in this icy drink. And its convenience-store origins may be carefree, but the harmonious balance is calculated with scientific precision; the kitchen uses a refractometer to check the fruit's sugar levels in each batch before adding any more sweetness. Chelsea Market, 75 Ninth Ave between 15th and 16th Sts (212-989-3332). $4.50.
Eight new frozen desserts to beat the heat in NYC
As the temperature rises, cool off with the best new frozen desserts—including ice cream, ice pops and sundaes—in New York City.
Summer's right around the corner. This season, a luxe Latin restaurant, neighborhood ice-cream parlor and fried-chicken joint are doing their part to keep New Yorkers cool. Whether you're craving an old-fashioned sundae or jalapeño-spiked slush, here are the best new frozen desserts in NYC.
RECOMMENDED: Summer in New York guide